Is Justin Verlander, Miguel Cabrera or Prince Fielder the Most to Blame?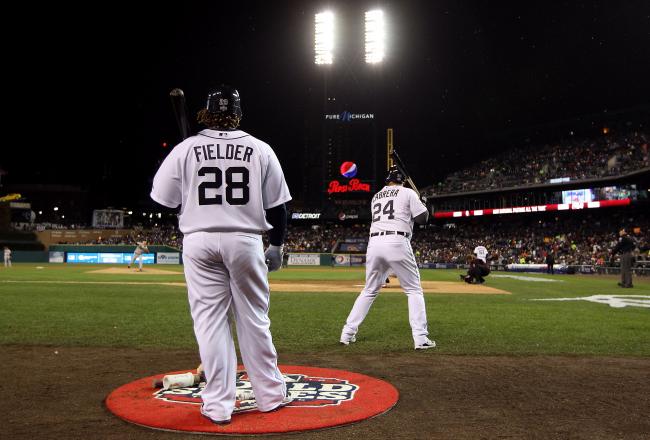 Ezra Shaw/Getty Images
The Detroit Tigers leaned on three superstars to lead them to victory on a regular basis during the regular season. Without Justin Verlander, Miguel Cabrera and Prince Fielder, the Tigers would have been up you-know-what creek without a paddle.
It's no surprise, then, that this is exactly where the Tigers ended up in the World Series. They got little help from their three superstars. As a result, they had little chance of actually beating the San Francisco Giants.
Verlander and Fielder were both no-shows in the Tigers' sweep at the hands of the Giants in the Fall Classic. Verlander lasted only four innings in his start in Game 1, and Fielder collected just one hit and managed a mere .205 OPS.
Cabrera wasn't such a massive failure compared to Verlander and Fielder, but he was certainly not himself in the World Series. The likely AL MVP managed to collect only three hits in the four games, and he ended up making the final out of the series when he watched a Sergio Romo fastball zip through the strike zone for strike three in the bottom of the 10th inning of Game 4 on Sunday night.
Verlander, Cabrera and Fielder may be forgiven for their failures in time. But for now, it's open season on the three of them. Given the circumstances, the blame game is fair game.
But which of them deserves the lion's share of the blame? Of the three, who fell flat the most?
Good question. Let's have an immediate discussion.
The Case Against Verlander
When it was determined that Verlander would be squaring off against Barry Zito in the first game of the Fall Classic at the pitching friendly environment of AT&T Park, everyone and their uncle figured that the Tigers would cruise to an easy victory.
Shows what we know. Our uncles, too.
As it turned out, Verlander cruised for two batters. After getting two quick outs in the bottom of the first inning, he served up a home run to Pablo Sandoval that put the Tigers in a hole and forced them into comeback mode in front of a fired-up hoard of fans wearing black and orange.
Ultimately, Verlander was only able to give the Tigers four innings of work, in which he gave up six hits, a walk and five earned runs. The killer blow of his outing was Sandoval's second home run of the game, a two-run blast to left field that came with two outs in the bottom of the third.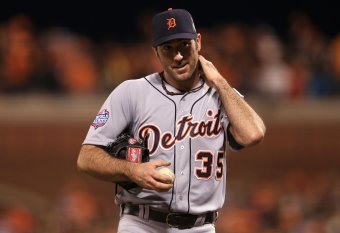 Doug Pensinger/Getty Images
Amazingly, though, that was not the low point of Verlander's outing. That came in the fourth inning when Zito punched a two-out, two-strike RBI single through the left side of the infield to run San Francisco's lead to 5-0. It was just another insult on top of a pile of insults for Verlander in Game 1.
For his troubles, Verlander earned a game score of 33, making his start in Game 1 against the Giants the worst start of his postseason career. When the Tigers absolutely needed Verlander at his best, what they got was Verlander at his worst.
And in hindsight, the Tigers never really recovered from Verlander's failure. His right arm was supposed to give the Tigers momentum, and instead it gave all the momentum to the Giants. They crushed the Tigers in Game 1, and they went on to beat them quite easily in Games 2 and 3.
By the time the Tigers were ready to put up a fight in Game 4, it was too late. Verlander never got a shot to send the series back to San Francisco with a strong showing in Game 5.
Maybe that's a good thing. The last thing the home crowd wanted to see was Verlander pitch exactly like he did in Game 1 with the season on the line.
But in Verlander's Defense...
Verlander was not himself in Game 1 of the series. He reverted to his old bad habit of trying to overthrow his fastball early in the game, and he paid for it. His velocity was just fine, but his command was all over the place.
However, it's fair to say that bad luck played a small part in Verlander's eventual demise in Game 1.
Verlander could have gotten out of the third inning totally unharmed had Angel Pagan's roller down the third base line not kicked off the bag into left field. Later on in the inning, he had to drop what he was doing and deal with a poorly timed visit to the mound by Tigers pitching coach Jeff Jones. Sandoval's second homer of the evening came mere moments later.
Had things gone a little differently, Verlander may have given the Tigers six or seven strong innings and they would have had a puncher's chance of pulling out a win.
Just sayin'.
The Case Against Cabrera
Miguel Cabrera was the best hitter in baseball during the regular season, winning the American League Triple Crown with a .330 average, 44 homers and 139 RBI. Per FanGraphs, Cabrera also led the league in newfangled sabermetric stats like wOBA and wRC+.
Cabrera was held in check by the Oakland A's in the ALDS, but he was heading into the World Series fresh off a successful showing against the New York Yankees in the ALCS. In four games, he hit .313 with a .984 OPS, one homer and four RBI.
With Miggy swinging a hot bat, the Tigers had to like their chances against the Giants. If Cabrera's bat stayed warm, the Giants would be forced into doing battle with an opponent they had no hope of defeating.
Things didn't quite pan out the way the Tigers were hoping. The fire in Miggy's bat was stamped out pretty much immediately, and the result was smooth sailing for San Francisco's hurlers.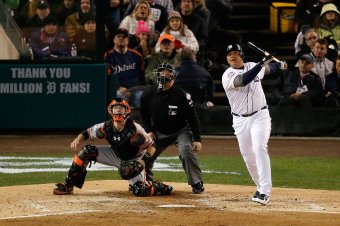 Leon Halip/Getty Images
Cabrera did launch a big home run in Game 4 that gave the Tigers their first lead of the series, but that was really the only bright spot for him in the series as a whole. He hit just .231 with an .837 OPS, and he also played some characteristically iffy defense at the hot corner.
It wasn't just Cabrera's lack of production that hurt the Tigers. He delivered a haymaker to the club's morale when he bolted from the clubhouse after Game 3 at Comerica Park before the media could question him. In doing so, he left his teammates to answer for both the team's 3-0 series deficit and its star player's unexplained absence.
Cabrera eventually defended himself by saying that he had family members in town that required his attention. This excuse was met with much eye-rolling from the gathered members of the media, and deservedly so.
When the World Series is in town, everyone has family present. Cabrera was certainly not the only man in the Tigers clubhouse who had family to see after Game 3, yet he was the only one who ducked out early when he and his teammates had some 'splaining to do.
Nobody would have complained about Miggy's absence if he was a middle reliever or the last guy on the bench, but this is Miguel Cabrera we're talking about. He's a true superstar, and true superstars are more obligated than most to be accountable.
Instead, Miggy made like his bat and disappeared.
But in Cabrera's Defense...
I just read Cabrera the riot act for dodging the media after Game 3. So did many other baseball scribes.
But honestly, who cares? Albert Pujols did the same thing after Game 2 of last year's World Series, and then he came back and put forth one of the greatest performances in World Series history in Game 3. He collected five hits, including three home runs, scoring four runs and driving in six. He let his bat do the talking.
Cabrera didn't explode that much in Game 4, but he did deliver a nice little "[Bleep] you" to his critics by launching that go-ahead homer. For a few moments, redemption was his.
And as easy as it is to chide Cabrera for making the last out of the series and for being largely invisible outside of his home run in Game 4, he actually deserves credit for being one of the only guys in Detroit's lineup who didn't look totally dazed and confused at the plate against the Giants' pitching.
Cabrera only hit .231, but the .837 OPS he posted was actually the second-highest OPS posted by any Tigers hitter in the World Series. The only guy who outdid him was Delmon Young—because of course it would be him.
Like Verlander, Miggy was not himself in the World Series. He did, however, show better than most of his teammates out on the field. And since the Tigers were swept, his failure to be accountable after Game 3 seems to be neither here nor there in the grand scheme of things.
The Case Against Fielder
The first year of Prince Fielder's mega-deal with the Tigers was a success. He posted a career-high .313 batting average and nearly tied his career high with a .412 on-base percentage. He also slugged 30 homers and racked up 108 RBI.
But if you were to restrict your focus on Fielder's numbers from this year's postseason alone, you'd never know that he's one of the most feared sluggers in the game.
Fielder never got on track in the postseason, and his struggles only got worse in the World Series. He went into the Fall Classic hitting .211/.268/.289, and he ended up getting on base only twice in the series' four games.
The defining moment for Fielder in the World Series was the play in which he was tagged out at the plate trying to score from first on a double by Delmon Young in the second inning of Game 2, but even I don't think it's fair to hold that against Fielder. With nobody out in the inning, Gene Lamont never should have sent Fielder in the first place on that play.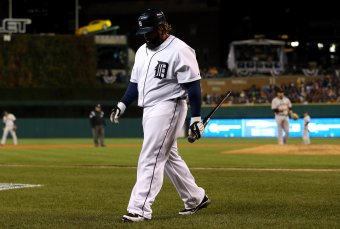 Ezra Shaw/Getty Images
What can be held against Fielder are his repeated failures to capitalize on key situations throughout the course of the series. He had several chances to make a huge difference, and he ended up making no difference at all.
There's a stat called RE24 that calculates run expectancies for each play a given player is a part of, as defined by Baseball-Reference.com. A whole lot of mumbo-jumbo goes into how the stat itself is calculated, but the simple explanation is that it's a stat that essentially quantifies how many runs a given player either provided or cost his team depending on the situations he faced.
In the World Series, Fielder's RE24 was -3.43. A figure of zero is average, so Fielder basically did significantly more harm than good at the plate in the Fall Classic.
This should not strike you by surprise. Fielder grounded into two killer double plays throughout the course of the series, and he punched out in key situations in Games 3 and 4.
Had Fielder capitalized on these chances, we're probably sitting here talking about what the Tigers need to do to win Game 5. In fact, we may even be talking about what they need to do to finish off the Giants once and for all.
Instead, we're sitting here wagging our fingers at him.
But in Fielder's Defense...
Hmmm...
Well...I think...
Hmmm...
You know what? I've got nothing.
The Grand Conclusion
Right off the bat, I'll just say that I'm willing to give Miggy a pass for his poor showing in the World Series. He didn't hit all that much and he made a fool of himself after Game 3, but it's hard to blame him for costing the Tigers a chance to win the series when he was actually one of their better hitters.
I also have a hard time pinning the sweep on Verlander's poor start in Game 1. It was only one game, and Verlander never got a chance to cost the Tigers another one. As such, I'd say he's only responsible for one quarter of Detroit's total failure.
Fielder, on the other hand...
All you can really say is, "Yikes."
Who deserves to be blamed the most?
The Tigers were able to overcome Fielder's poor production in the ALDS and the ALCS, but not in the World Series. He found himself in the spotlight over and over and over again. Every time he ended up in the spotlight, he failed. And because nobody picked up the slack for him after his failures, they ended up looming quite large in the grand scheme of things.
Had Fielder actually come through in the key situations he faced, the narrative of the series would have changed dramatically. The Giants would have been very afraid of Fielder, and their fear of Fielder would have forced them into giving Cabrera a few more pitches to hit. In turn, the Tigers' offense as a whole would have gotten a significant boost.
Seeing as how the Tigers only scored six runs and hit just .159 with a .489 OPS in the World Series, it's fair to say that a significant boost would have come in handy.
There are plenty of goats to blame for the embarrassing end that the Tigers suffered at the hands of the Giants. But of the big three, Fielder is public enemy No. 1.
Note: Stats courtesy of Baseball-Reference.com unless otherwise noted.
If you want to talk baseball, hit me up on Twitter.
This article is
What is the duplicate article?
Why is this article offensive?
Where is this article plagiarized from?
Why is this article poorly edited?

Detroit Tigers: Like this team?