15 All-Time MLB Superstars Who Came Up Small in the World Series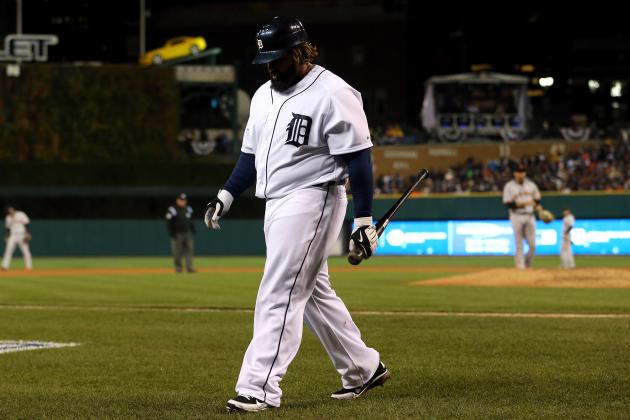 Ezra Shaw/Getty Images

So you're a Detroit Tigers fan and you're losing sleep over Prince Fielder's woeful performance in the World Series.
Today at the office, you wondered aloud whether an All-Star caliber player had ever shown so poorly on baseball's biggest stage.
Disgruntled Detroiter, you have no idea...
Turns out small sample sizes have a way of producing aberrant results. Who knew?
Some of the greatest to play this silly little game have been downright lousy when it matters most.
Gory details ahead.
Begin Slideshow

»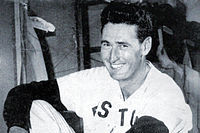 Stranded for decades with a mediocre supporting cast, Teddy Ballgame made only one World Series appearance during his 19-year big-league career.
The year was 1946, Williams' first since returning from World War II, and big things were expected from the league MVP.
Those hopes went unfulfilled as Boston lost a seven-game series to the St. Louis Cardinals and Williams failed to deliver a single extra base hit.
World Series Slash: .200/.333/.200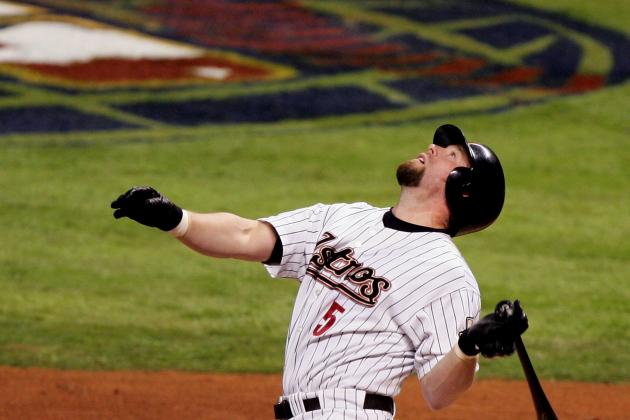 Jed Jacobsohn/Getty Images

To be fair, Bagwell's first and only World Series appearance came during his final major league season.
By that point, the All-Star first baseman was clearly on fumes, appearing in just 39 games during the 2005 regular season due to chronic shoulder arthritis.
With his health in rapid decline, Bagwell mustered just one hit in eight World Series at-bats while his Astros lost four straight games to the Chicago White Sox.
World Series Slash: .125/.300/.125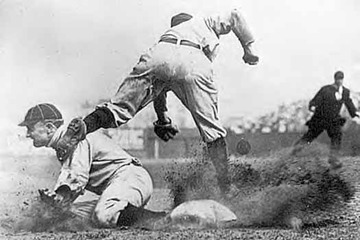 Cobb's Tigers made the World Series in each of his first three full seasons and lost all three times.
While the Georgia Peach wasn't awful by standard measures, his composite performance was many leagues below what fans had come to expect from the game's best offensive player.
Cobb was a .350 hitter over those three seasons, but he hit just .262 in Detroit's 17 World Series games.
World Series Slash: .262/.314/.354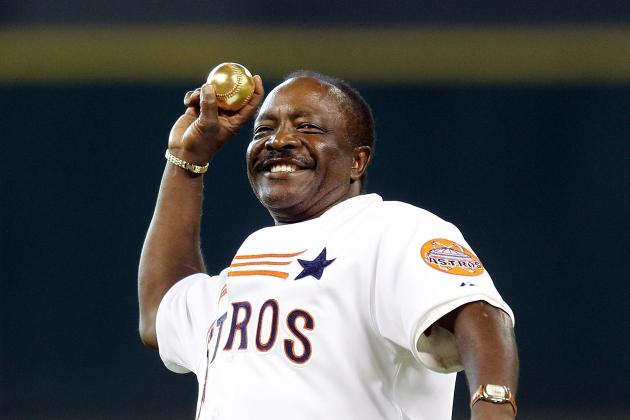 Bob Levey/Getty Images

As a commentator, Joe Morgan routinely lambasted Oakland GM Billy Beane on his Moneyball disciples for their inability to produce playoff wins.
From where did this vast reserve of self-righteousness come?
Morgan would probably tell you it came from first-hand experience, but his playoff track record as a player makes that a pretty hard sell.
Over 181 postseason at-bats, Morgan hit just .182 with an OPS south of .700. That includes five series where he registered two hits or fewer.
Morgan was a bit better in his four World Series appearances, but not by much.
The legendary second baseman was a .235 hitter on baseball's biggest stage.
He did, however, drive in the winning run during Game 7 of the 1975 World Series—a well-timed breakthrough for this perennial postseason underachiever.
World Series Slash: .235/.347/.435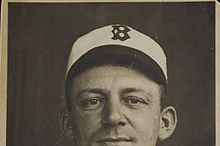 "Bad Bill" Dahlen was one of baseball's best shortstops at the turn of the 20th century, hitting .272 for his career and accumulating 70.9 WAR.
Alas, "Bad Bill" made only one World Series appearance, in part because the concept didn't exist until Dahlen turned 35 years old.
And when he did make it to the big time in 1905 as a member of the New York Giants, Dahlen was, well, bad. Like the bad kind of bad.
Over five games, Dahlen made 18 plate appearances and reached base just once.
World Series Slash: .000/.167/.000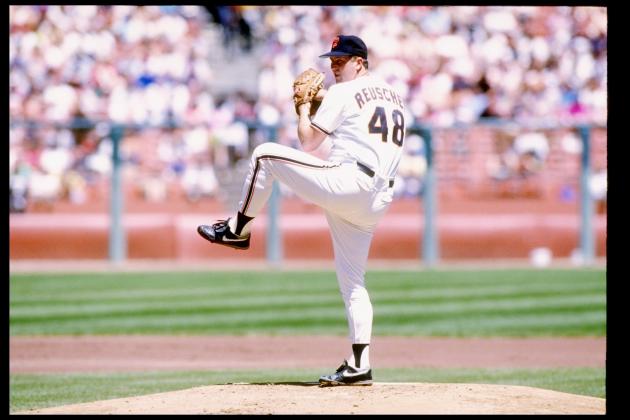 Otto Greule Jr/Getty Images

Rick "Big Daddy" Reuschel pitched in three different decades for four different teams, earning three All-Star nods and two top five Cy Young finishes.
October was a different story.
In his two World Series starts, the normally reliable Reuschel never made it past the fourth inning.
World Series Pitching Line: 7.2 IP, 8.22 ERA, 4 strikeouts, 7 walks, 0-1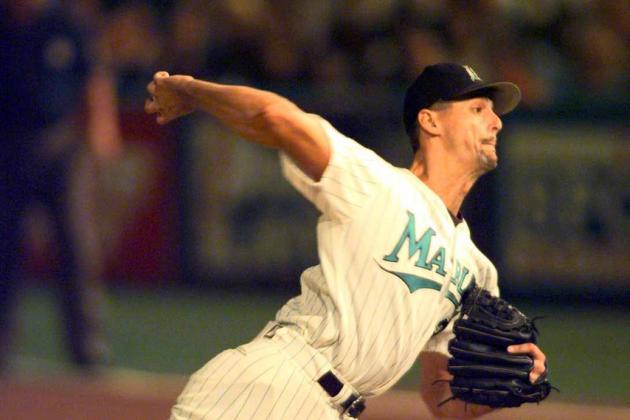 Jed Jacobsohn/Getty Images

A magnet for controversy throughout his 19-year big league career, tempestuous righty Kevin Brown made back-to-back World Series appearances in the late '90s despite changing uniforms during the interim offseason.
As a member of the Marlins in 1997, Brown allowed 10 earned runs over 11 World Series innings. His team recovered to win the title in seven games.
Traded to San Diego that winter, the Georgia Tech product made two starts during the Padres second ever World Series appearance. Brown took a loss and a no-decision as San Diego dropped four straight to the New York Yankees.
In all, Brown's teams didn't win a single one of the four World Series games he started.
World Series Pitching Line: 25.1 IP, 6.04 ERA, 19 strikeouts, 11 walks, 0-3
Jim McIsaac/Getty Images

Those seeking a historical comparison point for Prince Fielder's 2012 struggles need to look no further than Mike Schmidt's 1983 World Series showing.
Coming off a season where he hit 40 home runs and led the league in on-base percentage, Schmidt went 1-for-20 with zero walks in a five-game loss to the Baltimore Orioles.
The backlash from Schmidt's Fall Classic flop was surely mitigated by the fact that he'd won a World Series MVP with the Phillies just three seasons earlier.
Tigers fans can only hope that Fielder's World Series career has a similar, Jekyll-and-Hyde sort of dynamic.
World Series Slash: .219/.282/.347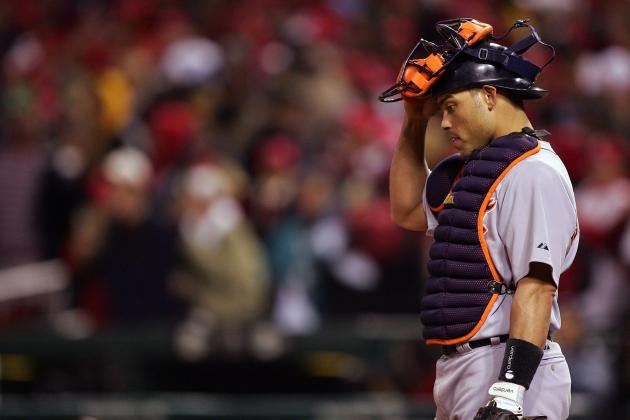 Jed Jacobsohn/Getty Images

As a playoff performer, Pudge Rodriguez is best remembered for securing the final out of Florida's 2003 NLDS victory over the San Francisco Giants despite first baseman J.T. Snow's best attempt to knock him senseless.
His Fall Classic performances have been considerably less noteworthy.
The 13-time All-Star manged only three extra base hits in 41 World Series at-bats.
World Series Slash: .220/.233/.293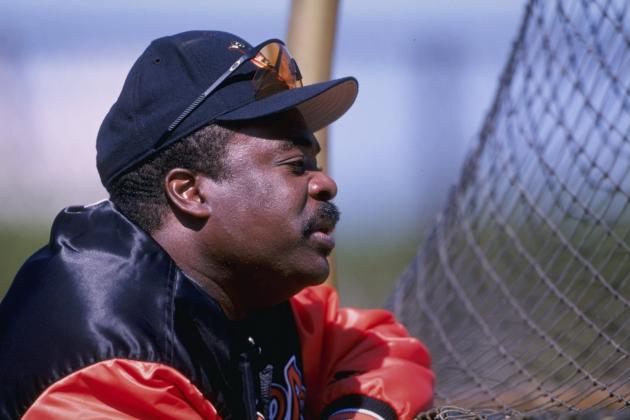 Jamie Squire/Getty Images

The tone of Eddie Murray's World Series legacy hinges on whether fans choose to forgive his many failures for one rather memorable triumph.
As a member of the 1995 Cleveland Indians, Murray, then 39, hit a walk-off single in the 11th inning of Game 3 off Atlanta reliever Alejandro Pena.
It was one of just two hits for Murray in the series, and the Indians would go on to lose in six games.
World Series Slash: .169/.280/.369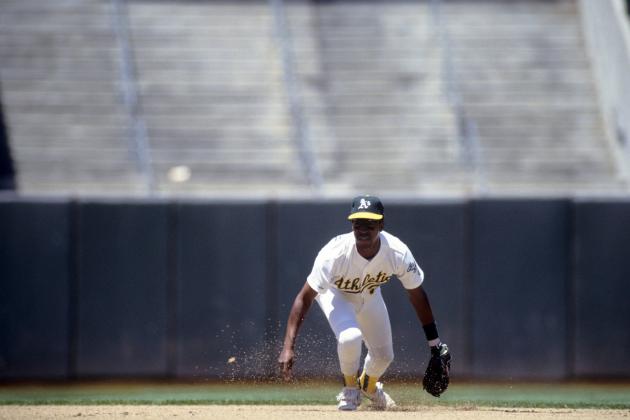 Otto Greule Jr/Getty Images

Before he became the most unfairly maligned manager in New York Mets history, Willie Randolph was a criminally underrated core member of the New York Yankees' late-'70s dynasty.
Perhaps some of the gap between perception and performance—aside from a pre-Moneyball slant against high-OBP contributors—stems from Randolph's postseason woes.
Randolph hit below .230 in each of his first three World Series appearances. Though it should be mentioned that Randolph's World Series slugging percentage was 24 points higher than his career average.
Trading outs for pop, I presume.
World Series Slash: .181/.302/.375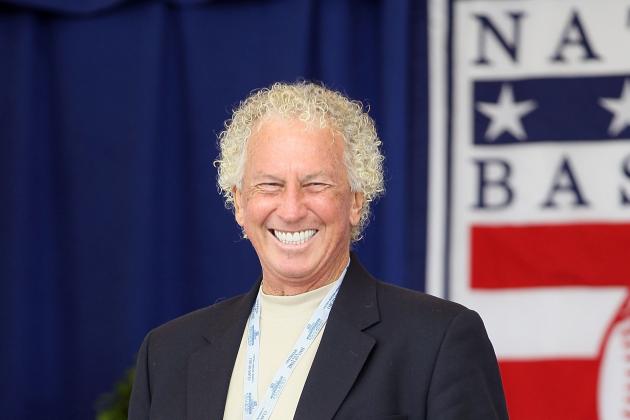 Jim McIsaac/Getty Images

Hall of Fame pitcher Don Sutton made four World Series appearances over his 23 big-league seasons and didn't win a single ring.
Worse yet, Sutton's performances in those series were a major reason why.
Sutton allowed four runs or more in four of his eight Fall Classic starts, punctuated by a disastrous 1982 start in which the right-hander allowed five earned runs over 4.1 innings with his Brewers on the brink of a series victory.
It was the last World Series start of Sutton's career.
World Series Pitching Line: 51.1 IP, 5.26 ERA, 31 strikeouts, 9 walks, 2-3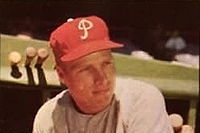 Like Ted Williams, Richie Ashburn spent most of his big-league career toiling for teams with little chance at championship glory.
When Whitey did get his one shot at a title with the 1950 "Whiz Kids," he hit .176 and his Philadelphia Phillies lost each of their four games against the mighty New York Yankees.
Asburn was only 23 then, but his teams would fare no better than third place over the next 12 years of his big-league career.
World Series Slash: .176/.176/.235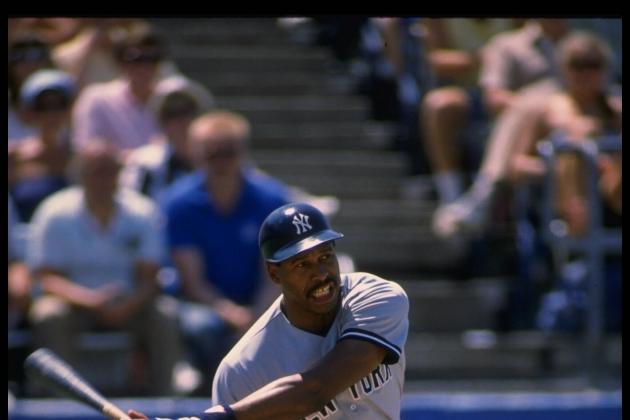 Rick Stewart/Getty Images

Disparagingly nicknamed "Mr. May" by former Yankees owner George Steinbrenner, Dave Winfield wore the dreaded "un-clutch" label for most of his Hall of Fame career.
And although Winfield didn't deserve anywhere near the volume of criticism he received, there's little denying his poor postseason play.
The rocket-armed right fielder hit just .208 in 26 career playoff games, punctuated by his 1-for-22 performance in the the 1981 Fall Classic.
Over a decade later, with his career in its final act, Winfield earned a small token of redemption by delivering a two-out, 11th-inning double in Game 6 of the 1992 World Series that ultimately lifted his Toronto Blue Jays to their first ever championship.
World Series Slash: .136/.255/.159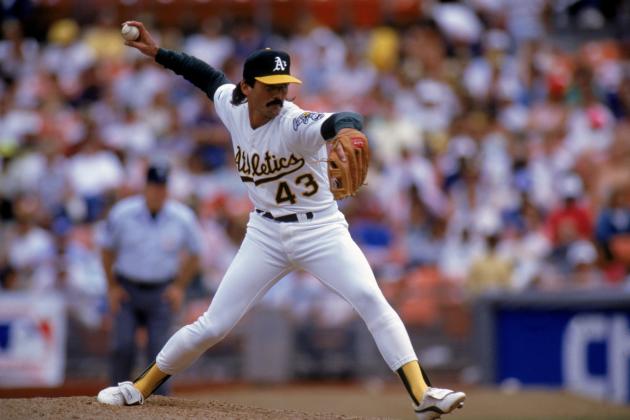 Otto Greule Jr/Getty Images

Dennis Eckersley issued one walk during his World Series career. Unfortunately for him, it was followed by a Kirk Gibson home run that would go down as one of the most memorable hits in postseason history.
So it went for Eck, a dominant relief pitcher haunted by high-profile playoff failures.
In 1990—two years after allowing the Gibson bomb—Eckersley was on the wrong end of another World Series walk-off. This time the hero was Reds catcher Joe Oliver, whose 10th-inning single off Eckersley in Game 2 helped lift Cincinnati to a shocking four-game sweep of the heavily favored Oakland Athletics.
World Series Pitching Line: 4.1 IP, 5.79 ERA, 3 strikeouts, 1 walk, 0-2