South Carolina Football: Grading All 22 Starters from the Tennessee Game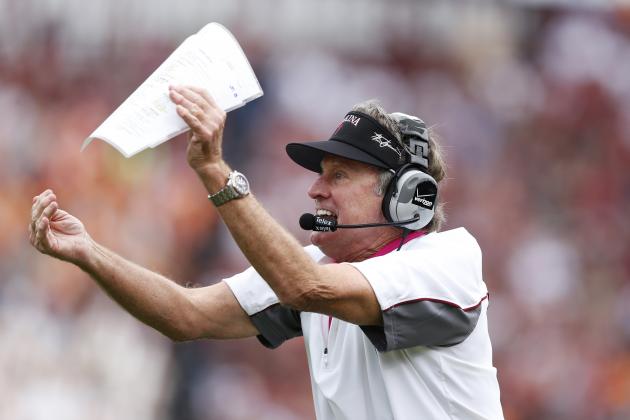 Joe Robbins/Getty Images

South Carolina versus Tennessee is a game I'd much prefer to forget due to the horrible injury to Marcus Lattimore.
However, the game still needs to be analyzed, and lost in the Lattimore news is the fact that the team reversed itself. The offense became dominant and the defense couldn't stop anything.
How did this happen? Which players added to the dismay on defense? Who stepped up on offense?
Here is my take and grades on all 22 starters.
Begin Slideshow

»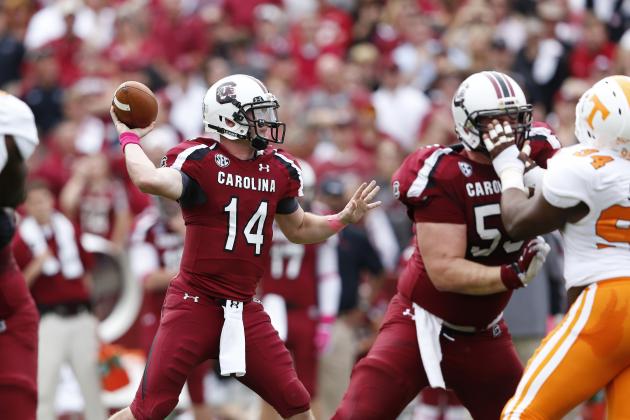 Joe Robbins/Getty Images

Connor Shaw had one of his best games this year, throwing for 356 yards and three touchdowns to only one interception.
He had a very high 186.89 efficiency rating and added 33 yards and a touchdown on the ground. His one interception keeps him from a perfect A+.
Grade: A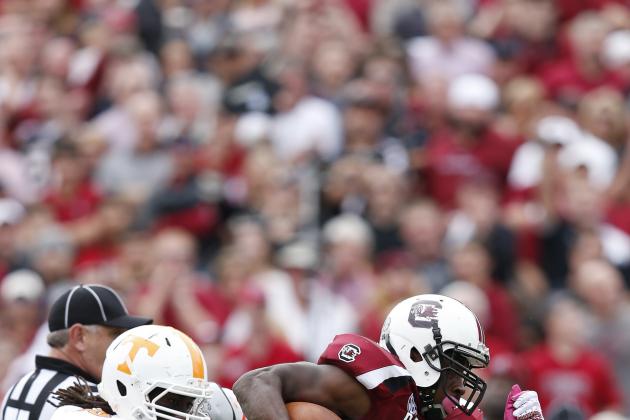 Joe Robbins/Getty Images

I have a hard time even thinking about Marcus Lattimore without getting emotional. Before his catastrophic injury, Latty looked like his old self. He rushed 11 times for 65 yards and a touchdown, showing off his brutal running style and incredible vision.
He would have rolled to a 200-yard day.
Grade: A+
Joe Robbins/Getty Images

Ace Sanders had an excellent day catching the ball. He had five catches for 79 yards and a touchdown. He ran crisp routes and his hands were spot-on.
He utilized his speed to torch defenders. It was an all-around excellent day. There is no need to give him any less than an A.
Grade: A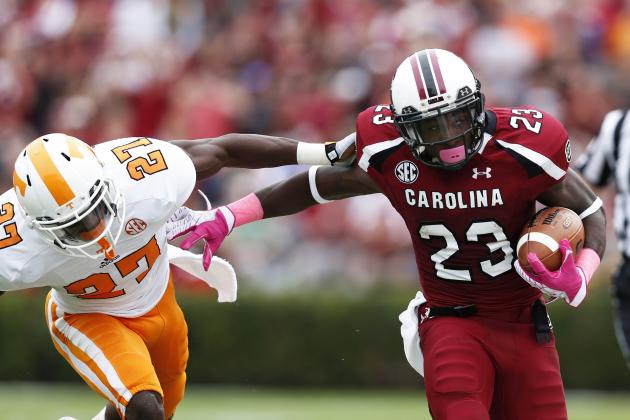 Joe Robbins/Getty Images

Bruce Ellington is slowly becoming a star receiver. He improves every week. This week he had six grabs for 101 yards and a touchdown.
He's looking more comfortable as a football every time he hits the field. Next year could be a really big year for Mr. Double Duty.
Grade: A+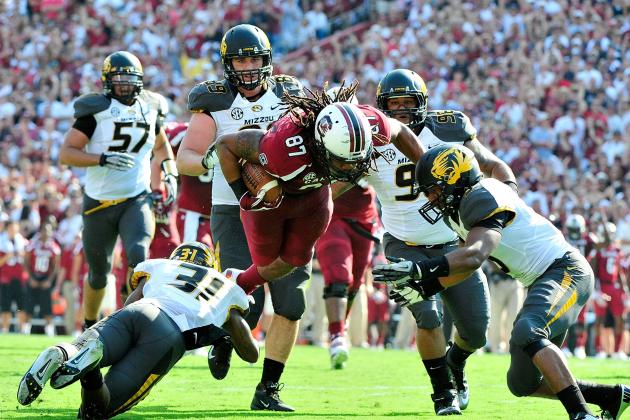 Grant Halverson/Getty Images

Remember when people used to say Justice Cunningham was an incredible blocker and was just a sure-handed target but not a weapon?
Try 108 sure-handed yards against the Volunteers. He continues to block well and has established himself as someone you have to cover. I am smelling an NFL career for Mr. Cunningham.
Grade: A+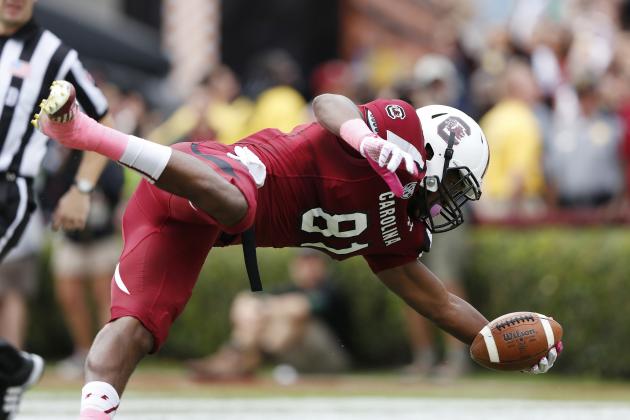 Joe Robbins/Getty Images

Rory Anderson is a touchdown machine. He caught his fifth of the season on three catches for 58 yards. The problem that I had with Rory after watching the tape was some of his routes were sloppier than usual.
He should have lit up this defense; instead he had an average day. Not terrible, but could have been better.
Grade: B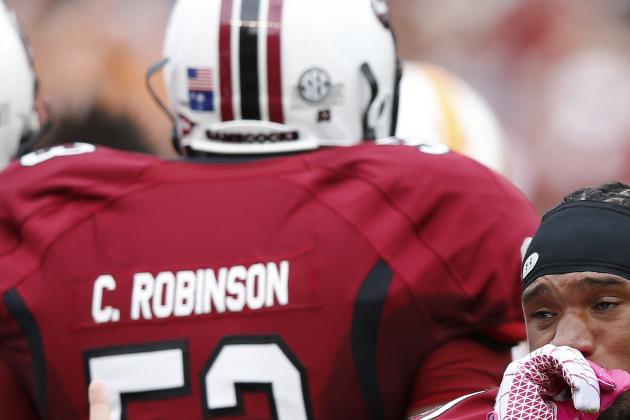 Joe Robbins/Getty Images

All day long, Corey Robinson whiffed blocks, looked lost in space and played terribly. His poor play hampered an offense that could have scored 50 against the Tennessee defense. He was straight-up terrible.
He needs to improve his play a great deal.
Grade: D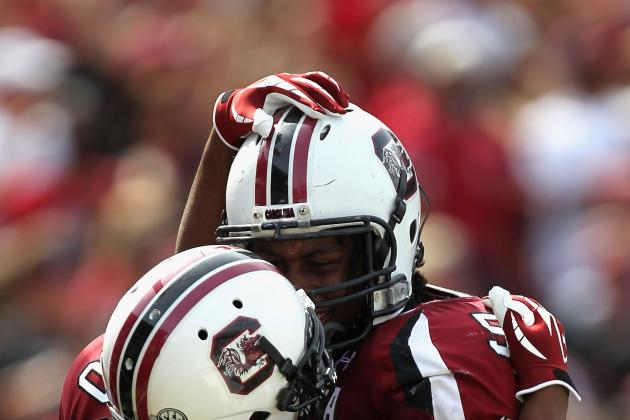 Streeter Lecka/Getty Images

A.J. Cann is a generally reliable player and had an OK game. He wasn't at his best and had some issues with Tennessee's defensive tackles, especially later in the game. He has been regressing since the season started.
He has the potential to be a dominant player. He just needs to improve his technique, specifically the placement of his hands and use of leverage.
Grade: C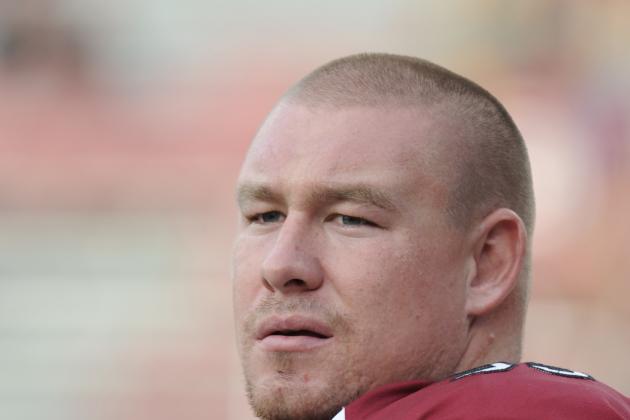 Mary Ann Chastain/Getty Images

Another fairly solid player, T.J. Johsnon had an average game. He struggled with run-blocking but did an admirable job in the pass protection.
He is a player that doesn't have the athleticism of an NFL player, but he works hard and plays pretty well on Saturdays.
Grade: C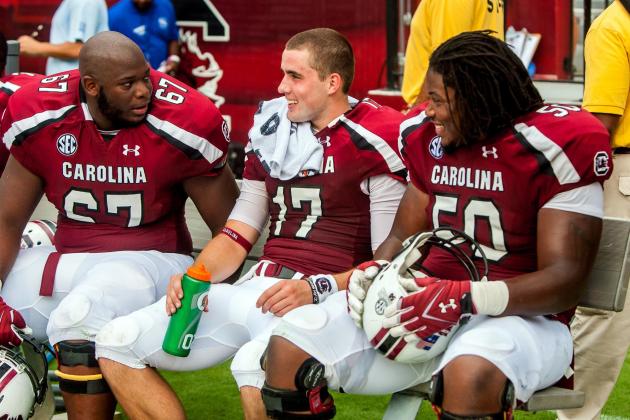 Jeff Blake-US PRESSWIRE

Ronald Patrick is infuriating. I watched the him on three straight drives to end the third quarter. He whiffed on multiple blocks and then turned around and stone-walled the same players. It makes no sense that his consistency is so lacking.
What I see is a strong player who struggles against speed. His agility and ability to shift are severely lacking right now.
It wasn't his best performance.
Grade: D+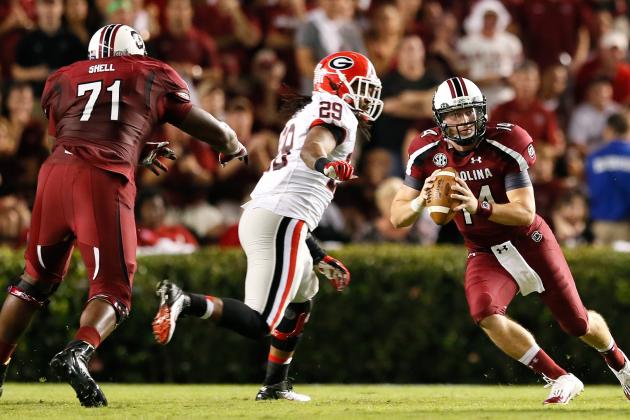 Kevin C. Cox/Getty Images

Besides Shaq Roland, Brandon Shell tops my list of biggest disappointments of 2012. Not because he's been terrible, but because he hasn't been nearly as dominant as advertised. This is a player who has the build to be the next Jake Long with an amazing pedigree to boot.
It hasn't been great. He had a pretty solid game against Tennessee though and was one of the better offensive linemen. He still has a long way to go. He is often too high coming out of his stance.
Grade: C+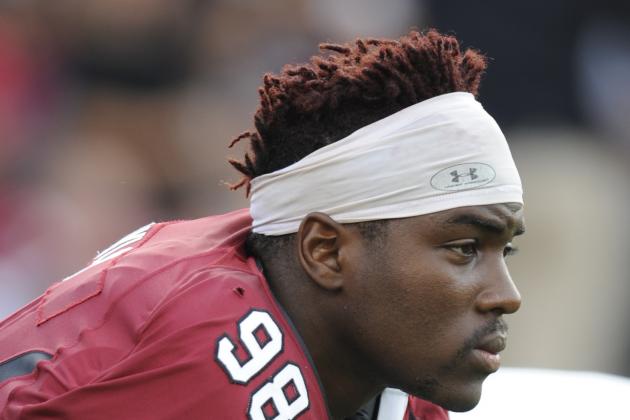 Mary Ann Chastain/Getty Images

Devin Taylor registered two solo tackles, but he was held up most of the game. He didn't get much pressure on the quarterback and had no tackles for loss.
It was another disappointing game in a senior season that is starting to look fairly poor for the one-time potential high draft pick.
Grade: D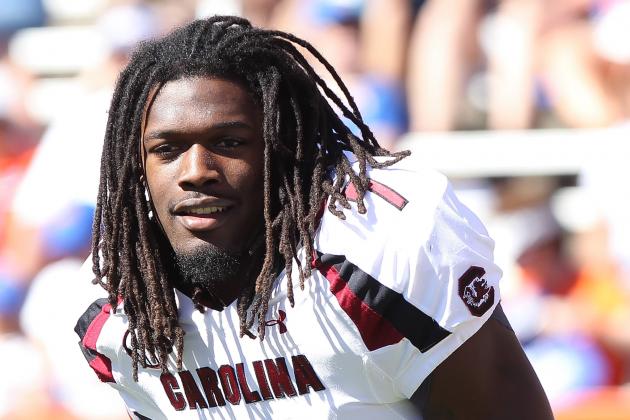 Kim Klement-US PRESSWIRE

Jadeveon Clowney is consistently good. However, Tennessee did a pretty good job with him overall.
Clowney did record the biggest sack of the year which resulted in the Tyler Bray fumble that sealed the game. He's a freak and played big at a big moment.
Grade: B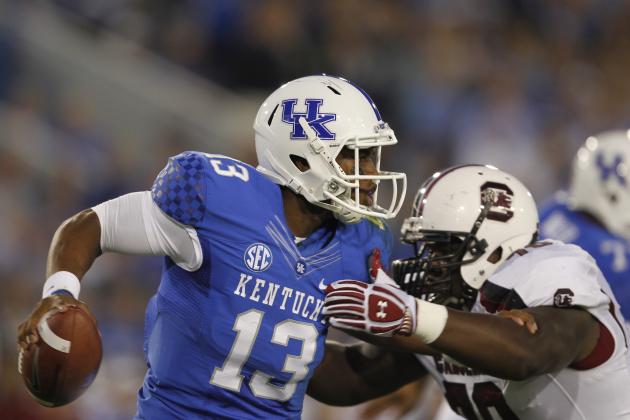 John Sommers II/Getty Images

Byron Jerideau is a physical freak. He's finally in shape and has been playing very well this season. At Tennessee, he played like the old him: out of shape, pushed around and a touch slow.
He only had two tackles in the game and didn't play like the space eater he's supposed to be.
Grade: C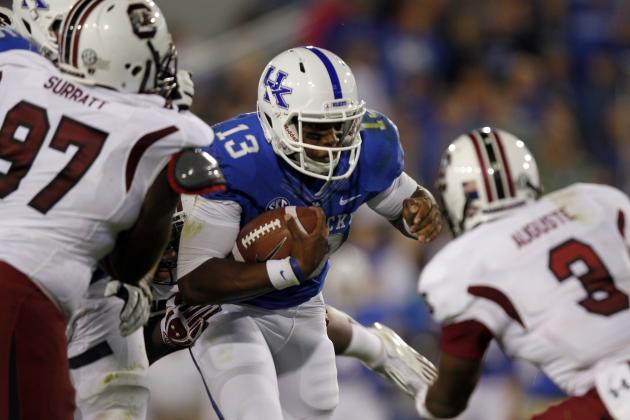 John Sommers II/Getty Images

J.T. Surratt plays so much better of the bench, if the Tennessee game was any indication. He was slow coming off the ball, and he may be a big reason why the Tennessee offense moved the ball so well.
Kelcy Quarles needs to come back, and his absence is making me realize how important he is to the team.
Surratt finished with one tackle and three missed tackles.
Grade: F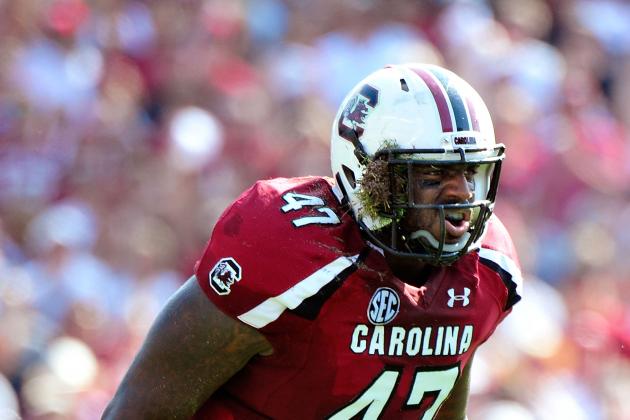 Grant Halverson/Getty Images

Reginald Bowens has been an under-appreciated player for the Gamecocks this year. However, he was awful against Tennessee. He looked lost in coverage and only made one tackle. He was definitely a weak link and must play better against Arkansas and Clemson.
There was one play in particular, in the fourth quarter, where Bowens was playing a zone defense. He didn't have help behind him, and he let the wide receiver just go right behind him for an easy 15-yard completion. He didn't seem aware of what was happening, and he threw up his hands in disgust.
Grade: F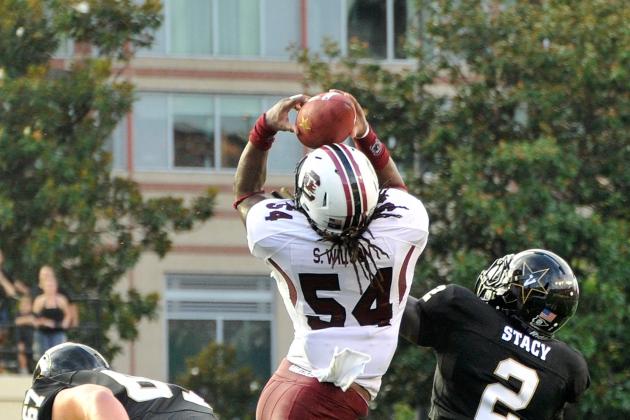 Frederick Breedon/Getty Images

Shaq Wilson is an amazing linebacker and has been a consummate Gamecock leader. He's finally having his big season, and it's great to see. He had three tackles and an assisted tackle to go along with a huge fumble recovery.
He held his own and continued his solid play. He wasn't spectacular, but he was better than most of the defenders around him.
Grade: B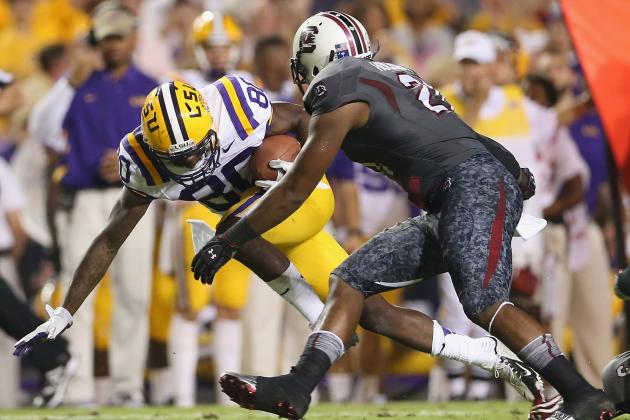 Ronald Martinez/Getty Images

Another great player who had a subpar outing, DeVonte had two tackles to go along with shoddy coverage and an inability to read Tennessee's offense.
He's more consistent than this, and I expect to see him play better in the future.
Grade: D
Ronald Martinez/Getty Images

Victor Hampton finally out played Jimmy Legree, but that wasn't saying much. His big interception really raises his grade a bit, but throughout the game, Hampton was torched.
He has so many physical tools that it's been a real shame he hasn't become the shutdown corner some expected him to be.
Grade: D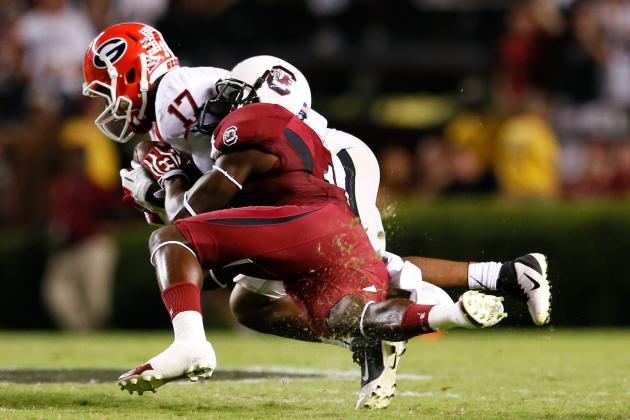 Kevin C. Cox/Getty Images

Jimmy Legree had five tackles in the game, but his pass coverage was terrible. He was absolutely torched by Tennessee. I was appalled at his inability to stay with Tennessee's receivers and play the ball correctly.
He's had a big impact on the Gamecocks this year and has played like an SEC starter. He did not against the Volunteers.
Grade: F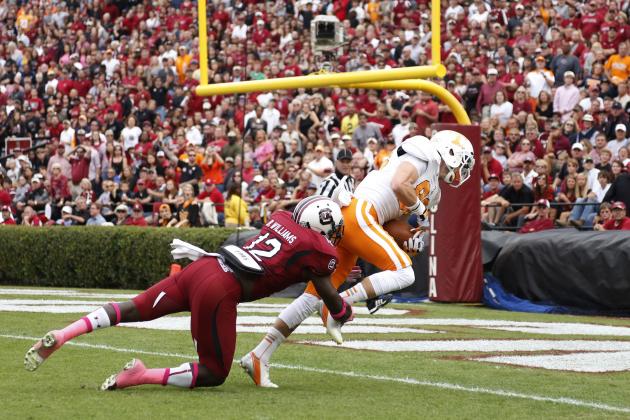 Joe Robbins/Getty Images

Brison Williams was too small to handle the Volunteer receivers, and he didn't put much effort into fighting them. He tackled well, but was out of position way too much.
As a freshman starter he's played very well for the Gamecocks and has the potential to be a star. However, this was a bad game for him.
Grade: F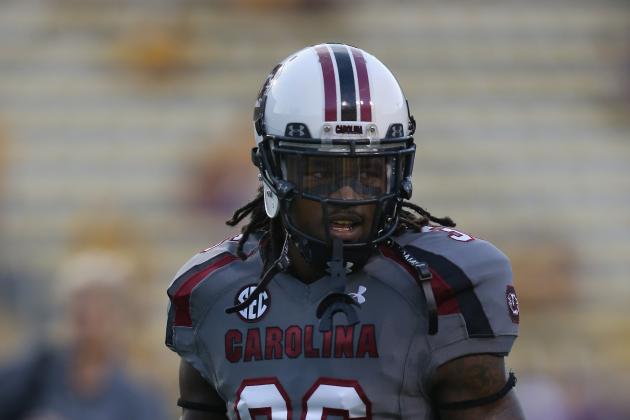 Ronald Martinez/Getty Images

D.J. was all over the field making tackles. He had eight on the day. He was active in trying to make up for some of his teammates' lack of focus. However, he was over-aggressive at times, and he misread a couple of passes.
He was in "tackle" mode more than "read" mode, and it got the Gamecocks in trouble a couple of times. He played well for the majority of the game and maintained intensity throughout, and for that I give him props.
Grade: B