The Moments That Defined the 2012 World Series
Ezra Shaw/Getty Images
The San Francisco Giants pulled off an improbable sweep of the Detroit Tigers Sunday night by winning Game 4 of the 2012 World Series, 4-3.
Winning their second World Series championship in three years, the Giants mixed stellar pitching, timely hitting and solid defense en route to claiming the crown.
From Pablo Sandoval's historic Game 1 to Marco Scutaro's series-clinching single in extra innings, the Giants dominated from the first pitch of the series to the final at-bat.
Here is a closer look at the defining moments of the 108th World Series.
*Statistics via baseball-reference.com.
Pablo Sandoval's Three Home Run Night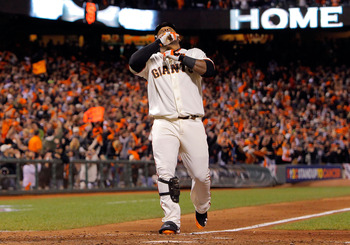 Doug Pensinger/Getty Images
After being a bit player in the Giants' last postseason run in 2010, Pablo Sandoval had three home runs to his credit in this year's postseason going into the World Series.
By his fourth at-bat in Game 1, he had doubled that number.
He hit a first-inning solo blast off of Justin Verlander to right-center and followed that up by hitting the knockout blow in the fourth—a two-run shot to the foul line in left.
By the time he put one into the batter's eye in center off Al Alburquerque in the seventh, Sandoval had become a World Series legend and all but assured his World Series MVP.
While it was not as legendary as Reggie Jackson's three homers off three different pitchers and three straight pitches that won the '77 World Series for the New York Yankees, taking All-World pitcher Justin Verlander deep twice helped keep the momentum San Francisco had going in and was a key part of Verlander's abbreviated appearance versus the Giants (just four innings in the entire series).
Sandoval only had 12 homers in 396 at-bats this regular season, then hit six in his first 53 at-bats of his postseason.
Justin Verlander's Surprise Visit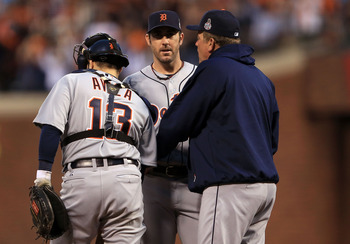 Doug Pensinger/Getty Images
Perhaps the most amazing picture from Game 1 was the look on Justin Verlander's face when Jeff Jones came out to visit his ace in the fourth inning of Game 1.
You did not need to be a lip-reader watching to see a stunned Verlander turn around on the mound and ask, "What are you doing here?"
Instead of settling a rattled pitcher like most visits, the stoppage seemed to further raise the anxiety. The second home run surrendered to Pablo Sandoval quickly followed.
A good visit in theory, it seemed to confirm that the Tigers were a bit rattled in what the Giants had done early in Game 1. By the time the game ended, they seemed very rattled going into the rest of the series.
Madison Bumgarner's Stellar Game 2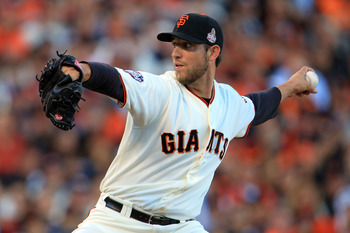 Doug Pensinger/Getty Images
With an ERA of over 11 during the postseason, it was not sure exactly what was to be expected out of Madisom Bumgarner before he took the hill to start Game 2 Thursday in San Francisco.
Until Tim Lincecum's horrid NLCS start against the St. Louis Cardinals, Bumgarner was not even assured of a start in the Series.
After spending some extra time working on his mechanics with pitching coach Dave Righetti, Bumgarner was given one more chance to start, and the 23-year-old kid from North Carolina did not disappoint.
Over the course of seven innings, Bumgarner held the Tigers off the scoreboard and just surrendered two hits. Not known for being a strike-out specialist, Bumgarner struck out eight and just walked two in his 86-pitch stint.
Before the game, Tiger hitters must have been giddy at the chance to face the slumping Bumgarner; after the game, it was the Giant fans who were giddy about a 2-0 series lead.
Prince Fielder's Base-Running Boner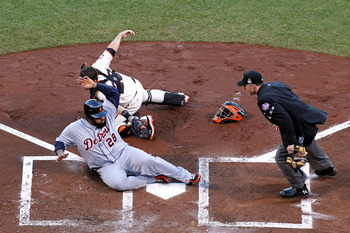 Christian Petersen/Getty Images
There comes a time in every series that we see what could be called a "Buckner Moment." Named after Boston Red Sox first baseman Bill Buckner, the "Buckner Moment" is the moment of a World Series when you see one team make a mistake that you know they will never recover from.
In Buckner's case, it was his error that allowed Ray Knight to score the winning run in Game 6 of the '86 Series. You knew right then and there that the Red Sox were done.
In 2012, that moment might have come in the second inning of Game 2. After being hit by a pitch, Prince Fielder was waved around from first to try and score on a Delmon Young double to left.
With nobody out and a pitcher on the mound who had absolutely been rocked in his first three starts of the playoffs, the decision by third-base coach Gene Lamont to send home the lumbering Fielder backfired, as catcher Buster Posey was able to get the tag in time.
Instead of runners on second and third with no one out, Young was on second with one out. He never left second base. That out settled Madison Bumgarner down and the Tigers could never really string together a rally again. Any momentum that the Tigers might have had was gone, and the Giants just kept rolling along.
Anibal Sanchez's Bad Inning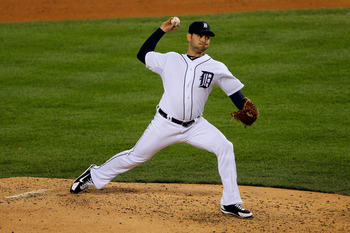 Doug Pensinger/Getty Images
Anibal Sanchez pitched six great innings during Game 3. Sadly for the Tigers, he pitched seven innings in total.
On a cold Saturday night in Detroit, one bad inning saw Sanchez lose control of the strike zone and it cost the Tigers dearly.
Leadoff walks are never a good thing and Hunter Pence drew one to start the second inning. A steal of second and a wild pitch that missed the strike zone by four feet followed, and Gregor Blanco's triple to right-center would bring Pence in.
With two out, a Brandon Crawford single that was misplayed in center by Austin Jackson would bring Blanco in, and those were the only two runs the Giants and Ryan Vogelsong needed.
Sanchez ended up striking out eight in seven innings and allowing just those two runs, but his lack of command and a dead Tiger offense cost them the game.
Tim Lincecum Dominates in Long Relief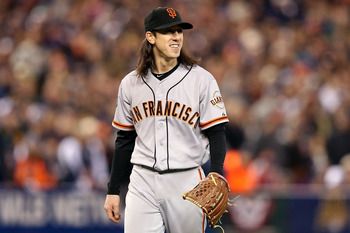 Ezra Shaw/Getty Images
A 10-15 record and a 5.18 ERA cost Tim Lincecum his place in the starting rotation going into the playoffs, and no one could have been happier.
After a rocky start in Game 4 of the NLCS, Lincecum returned to the bullpen for long relief for the World Series and rewarded the Giants with 4.2 hitless innings in two appearances.
Striking out eight of the 16 batters faced and giving up just one walk, Lincecum looked to be back in the form that saw him win two NL Cy Young Awards in 2008 and 2009.
His ability to eat up innings this postseason gave manager Bruce Bochy invaluable flexibility, allowing him to set up the rest of his bullpen as if his starter had pitched seven or eight innings.
Great Giants Defense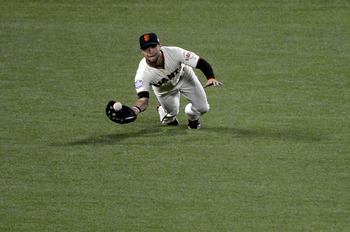 Thearon W. Henderson/Getty Images
From Gregor Blanco's base-hit robbing catches in Game 1 to Sandoval picking line shots down the third-base line to having the infield in the right place at the right time to turn rally-killing double plays, the Giants defense was nothing short of superb.
Whenever it looked like the Tigers were about to start a rally, the Giants flashed some leather and stopped it cold in its tracks.
Blanco not only saved two sure hits in Game 1, but corralled a long foul out off of Jhonny Peralta to start the bottom of the ninth in Game 3.
Time and time again, a double play, like the one Prince Fielder hit into in the first inning of Game 3, would settle an unsure pitcher down and, in turn, help keep Detroit off the bases later on.
Often overlooked on winning teams, the Giants defense was a major reason why they were able to sweep the Tigers.
Marco Sctuaro's Series-Winning Hit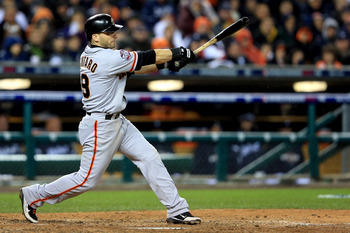 Doug Pensinger/Getty Images
Marco Scutaro's bloop single to right that scored Ryan Theriot will be remembered as the breakthrough moment of the series-clincher for San Francisco.
In the 10th inning of a 3-3 tie in Game 4, Theriot reached on a single and then was sacrificed to second on a bunt by Brandon Crawford.
Theriot's raised hands as he crossed home plate was symbolic of the entire never-say-die attitude these Giants had ever since finding themselves down 2-0 in the NLDS and on a plane to Cincinnati.
Scutaro—the NLCS MVP—delivered the goods one last time.
Sergio Romo Slams the Door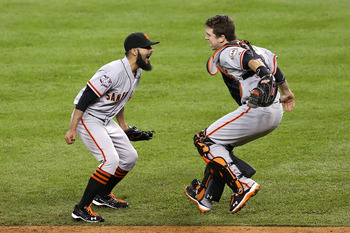 Christian Petersen/Getty Images
Not even the scheduled closer to start the season, Sergio Romo went from being best known for photo-bombing television shots to striking out the side to nail down the 2012 World Series.
When Miguel Cabrera watched a beautiful strike three pass him, it set off the iconic celebration that will be featured on every highlight show and every newspaper's front page in Northern California.
Given the one-run lead heading into the bottom of the 10th, Tigers hitters simply had no answer for Romo.
The last pitch—the one that Cabrera was helpless to watch—symbolized their entire effort. Like the rest of the series, the pitch was flawless, and in the end, so were the Giants.
Keep Reading