Tennessee Football: Grading All 22 Starters from the South Carolina Game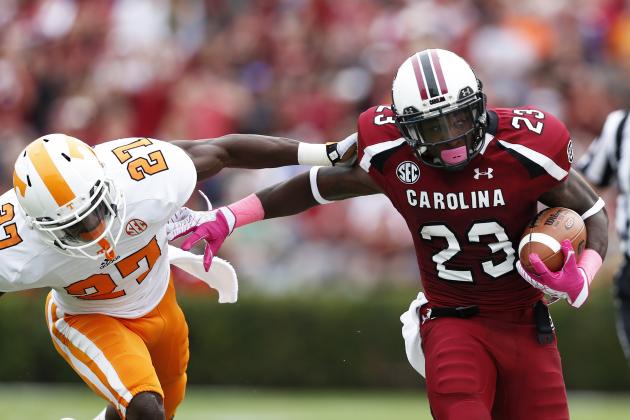 Joe Robbins/Getty Images

Another game against a ranked team, another opportunity to win a game late, another opportunity that slips through the fingers and results in a Tennessee loss.
The script is starting to become predictable to Volunteers fans. Tennessee fell to 3-5 with Saturday's loss, although all five losses have come to teams in the Top 15 in the latest BCS Standings.
The Vols become just the second team in SEC history to start conference play 0-5 three consecutive seasons. However, the schedule lightens up as the calendar gets set to flip to November.
Let's take one more look at Saturday and give grades out to the starters.
Begin Slideshow

»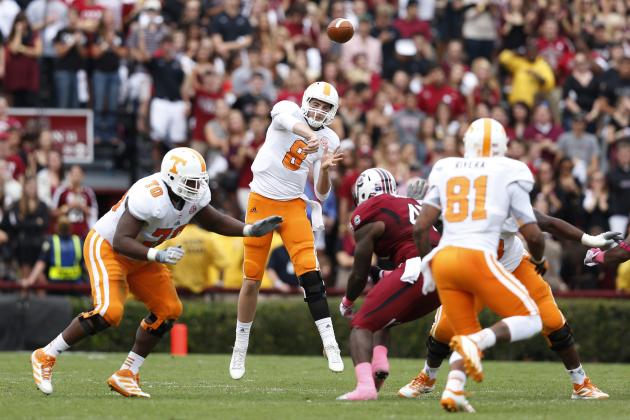 Joe Robbins/Getty Images

Grade: A-
It's hard to find much fault in Bray's performance against the Gamecocks. He tossed for 368 yards and four touchdowns in a performance Tennessee fans have been waiting for against a ranked opponent.
Yes, he did have two turnovers. The fumble is the play that ultimately took Tennessee's chance of winning the game away, but the fault doesn't totally fall on the shoulders of Bray. Then the interception came on a desperation throw in the waning seconds.
Derek Dooley called the junior out early last week, and he seemed to respond pretty well against an average-at-best secondary.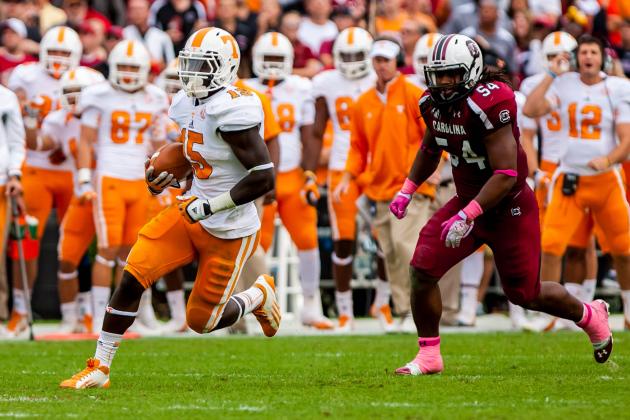 Jeff Blake-US PRESSWIRE

Grade: B
Lane got the start as Raijon Neal was once again not healthy enough to go. The sophomore didn't have a stellar performance, but the Vols didn't run the ball as much as they have in previous games.
Tyler Bray and the passing game were having too much success to pound the ball on the ground. Lane has done a nice job stepping up with Neal on the sideline.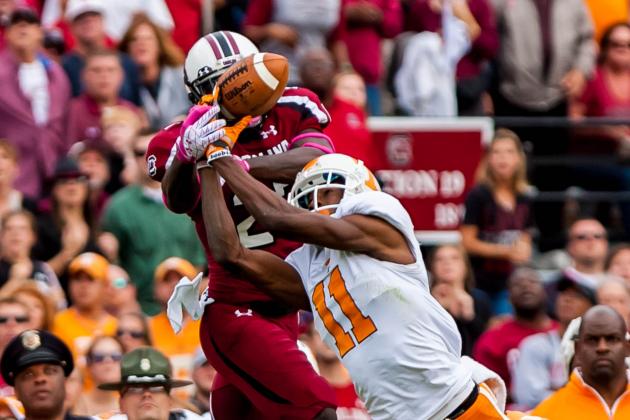 Jeff Blake-US PRESSWIRE

Grade: A-
Hunter was another one that Dooley called up early last week. Like Bray, he responded very well. The Vols made a concentrated effort to get the junior the ball early and often.
Hunter ran crisp routes and found holes in the suspect South Carolina secondary. Eight receptions for 90 yards, and all that was missing was a score.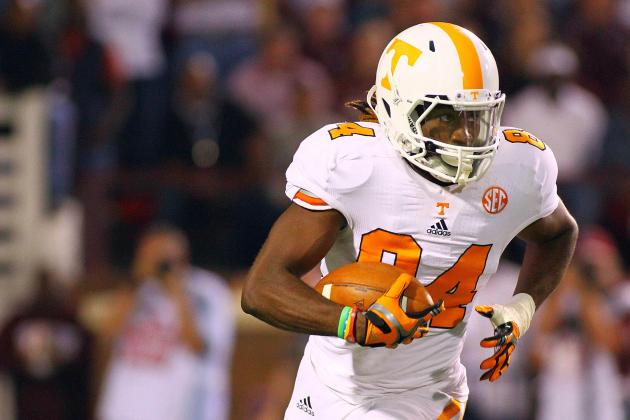 Spruce Derden-US PRESSWIRE

Grade: B
For one of the few times this season, Patterson took a back seat to the other receivers on the team. Tennessee has continued to focus on trying to get the ball in his hands in any way possible, but opposing teams realize this as well.
Patterson was handed the ball three times and also caught three passes, but his overall impact was not huge. Still the threat he provides alters the opposition's game plan, and that is worth a lot in itself.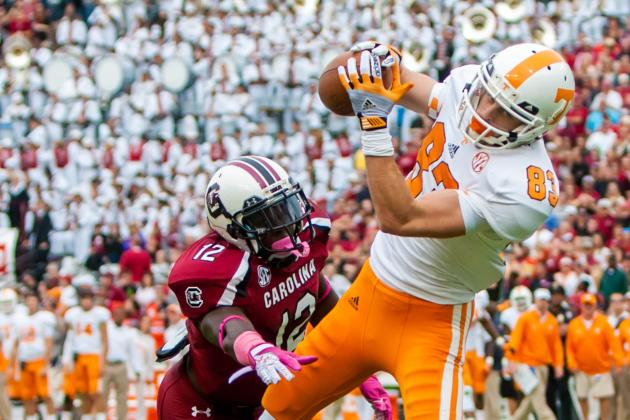 Jeff Blake-US PRESSWIRE

Grade: A+
Nobody on either sideline had a better game than the senior receiver. He made six catches for 107 yards and three touchdowns!
Rogers consistently was able to get behind the defense, and Bray put the ball where it needed to be. Rogers also showed off his athleticism with a spectacular catch in the end zone in the fourth quarter to bring the Vols within three.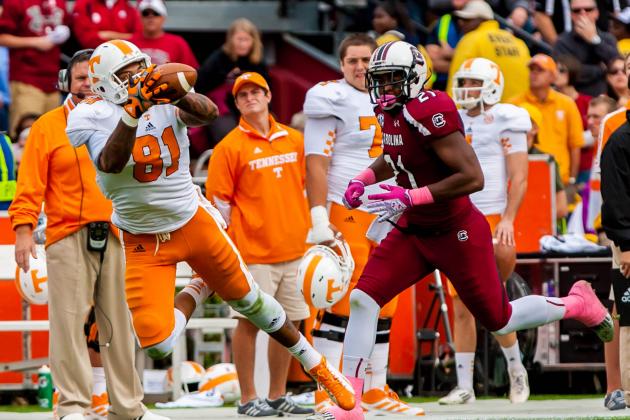 Jeff Blake-US PRESSWIRE

Grade: A
If you look at just the stats, Rivera didn't have a huge game. He made just three catches for 44 yards and a touchdown. Not a bad day, but not spectacular either.
However, when you add in the job he did assisting the offensive line blocking Jadeveon Clowney and company and it becomes a great game.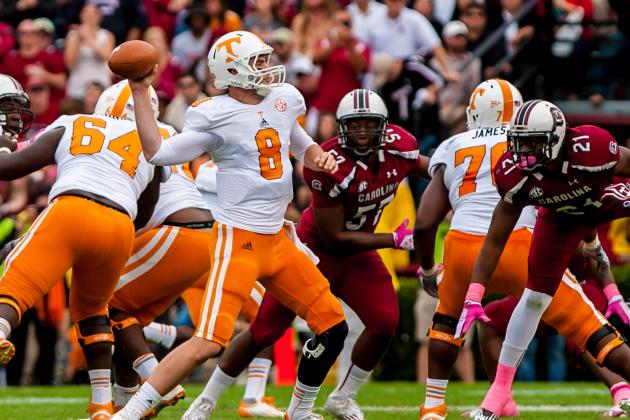 Jeff Blake-US PRESSWIRE

Grade: A-
Richardson spent much of the week talking up the matchup he had with Jadeveon Clowney. The sophomore was confident he would be able to handle him, and he was able to for 59 minutes.
Unfortunately, his afternoon will be remembered for how it ended, with Clowney sacking Bray and forcing the fumble. It's a shame, though, because he played a phenomenal game and kept Clowney's impact to about as little as possible.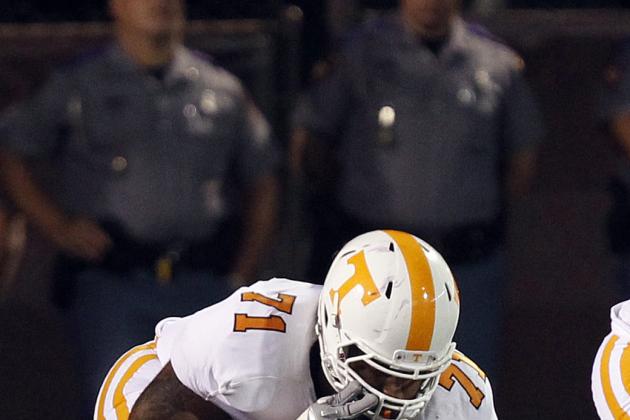 Butch Dill/Getty Images

Grade: B+
Tennessee did a nice job controlling the pass rush of South Carolina. Thomas, along with Richardson and Rivera, helped lock down the left side of the line, which meant spending a lot of time blocking Clowney.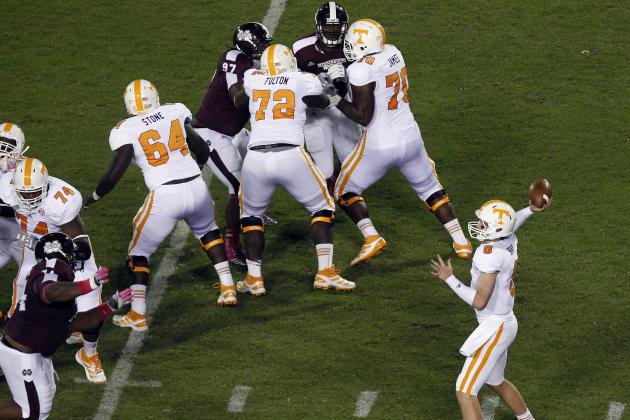 Butch Dill/Getty Images

Grade: B
Stone continues to do a good job controlling things in the middle for the Tennessee offensive line. The Vols didn't run the ball quite as well as they would have wanted to, but they didn't need to with how much success the passing attack was having.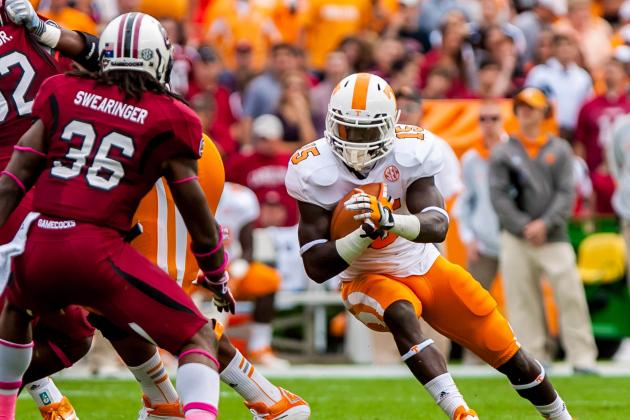 Jeff Blake-US PRESSWIRE

Grade: B
Bullard was moved into the starting lineup after Zach Fulton was unable to go after being injured in the Alabama game. There wasn't a major noticeable difference at that position on Saturday, and that's all you could hope for when a starter goes down.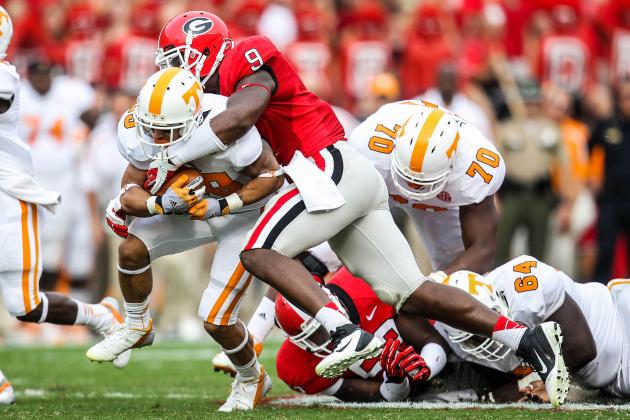 Daniel Shirey-US PRESSWIRE

Grade: B
Most of the focus Saturday was on the left side of the line and blocking Clowney. However, James did a nice job on the opposite side containing the Gamecocks' pass rush. The Vols have only given up four sacks on the season.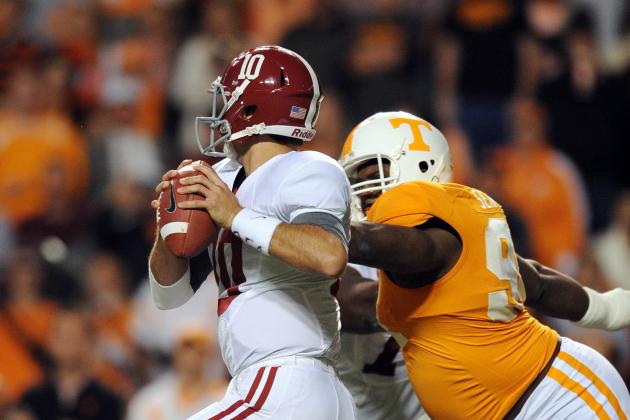 Randy Sartin-US PRESSWIRE

Grade: C
Tennessee didn't get gashed on the ground as bad as it has in some other games, but it still allowed too much, and Connor Shaw wasn't under too much pressure. Sentimore didn't record a tackle in the game.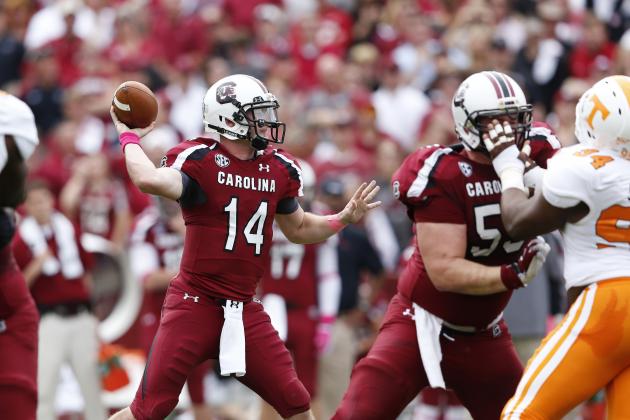 Joe Robbins/Getty Images

Grade: B
McCullers actually had a nice game for a defense that allowed 38 points. The big man recorded eight tackles, including one for a loss.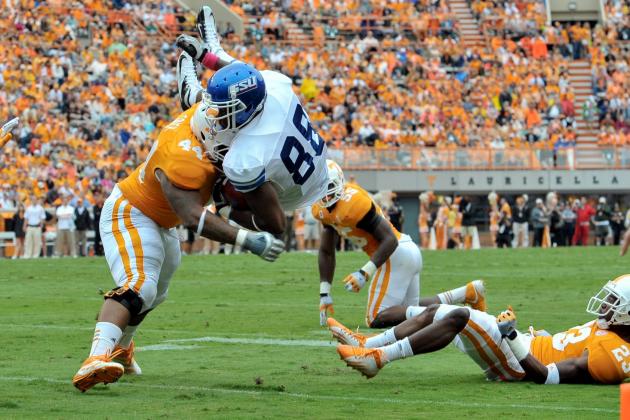 Jim Brown-US PRESSWIRE

Grade: C
Tennessee had six tackles for loss on Saturday, one of which belonged to Couch. However, he had just three tackles on the day and wasn't too much of a force rushing the passer.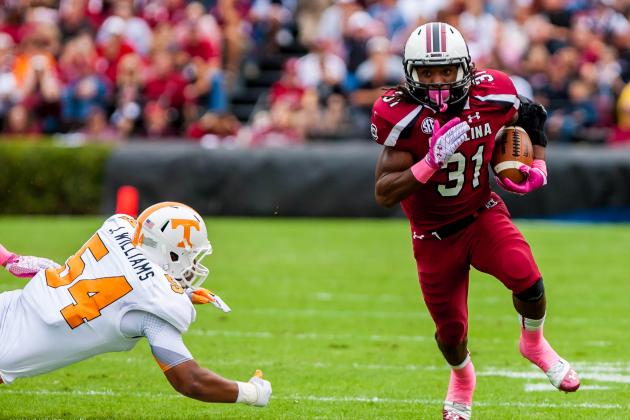 Jeff Blake-US PRESSWIRE

Grade: C-
Williams got the start at the jack linebacker position in place of Jacques Smith. He was banged up early in the game, which limited the impact he had on it. Just two tackles for him for the game.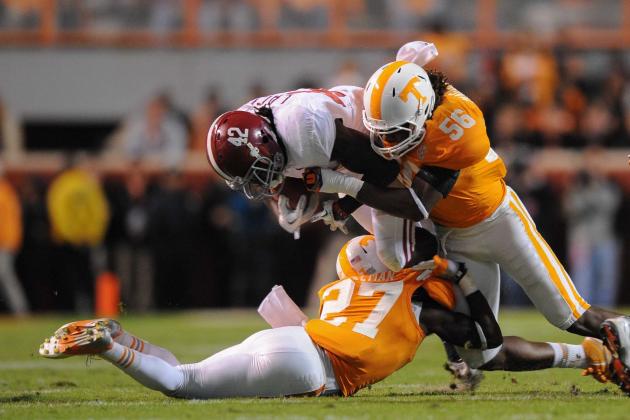 Randy Sartin-US PRESSWIRE

Grade: C-
Maggitt is not near 100 percent, and he probably won't be at any point this season. However, he did record one of two sacks the Vols had on the day. The problem, though, is that it was his only tackle of the game.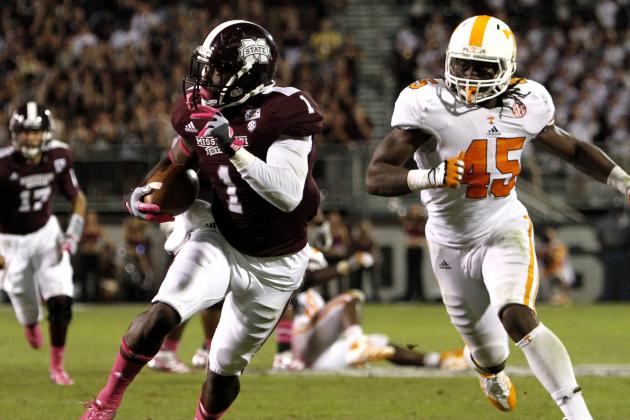 Butch Dill/Getty Images

Grade: B
Johnson had yet another double-digit tackle performance on Saturday. He continues to be near the top in the conference in tackles per game.
Jeff Blake-US PRESSWIRE

Grade: B+
Lathers arguably had his best game of the season. He led the Vols with 15 tackles, two for a loss, an interception and a sack. On a defense that is lacking playmakers, Lathers did a nice job Saturday.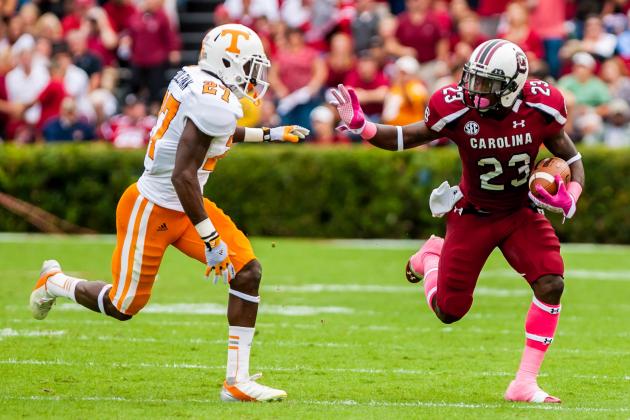 Jeff Blake-US PRESSWIRE

Grade: D
For the third straight game, the opposing quarterback set a new career-high for passing yardage. Coleman is playing right now for the Vols more out of necessity than because of his ability.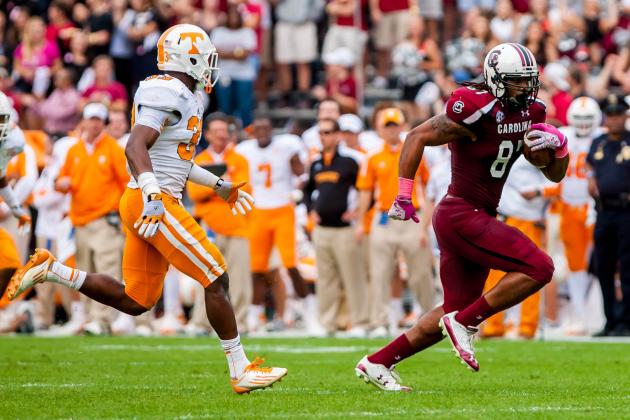 Jeff Blake-US PRESSWIRE

Grade: C-
McNeil continues to learn on the job after entering the starting lineup halfway through the season. Connor Shaw torched the Tennessee secondary on Saturday, and McNeil is part of that group.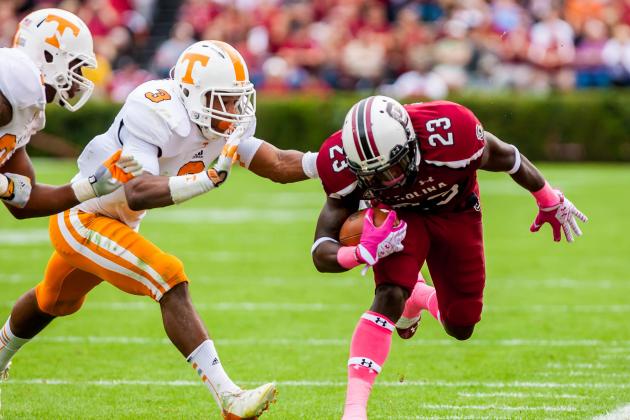 Jeff Blake-US PRESSWIRE

Grade: C
As you can see in the pictures, Tennessee did a lot of chasing on Saturday. Moore did have 11 tackles for the game, though.
Jim Brown-US PRESSWIRE

Grade: C-
Waggner wasn't much of a factor Saturday. Tennessee continues to allow too many big plays through the air and had several inexcusable breakdowns against the Gamecocks.