Ranking the 18 Greatest Hole-in-One Videos on YouTube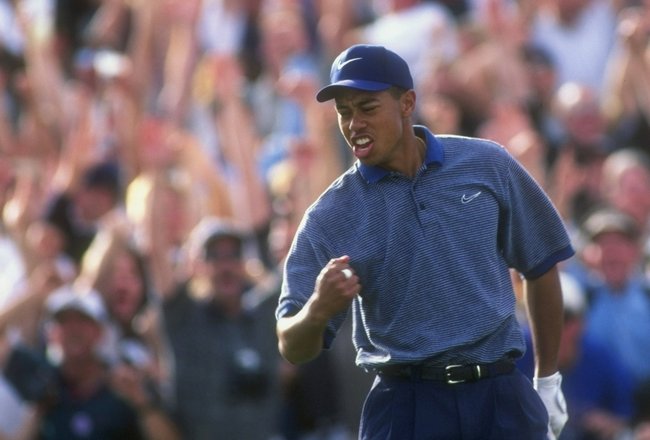 Craig Jones/Getty Images
While there are many special shots a golfer can hit tee-to-green, one stands out from the others: a hole-in-one.
If you're reading this and haven't experienced such a shot, don't feel too bad. Oddsmakers have officially calculated that the average golfer has a one-in-12,500 chance of notching a hole-in-one on his or her scorecard.
At 2,500-to-1, professional golfers have slightly better odds of actually vindicating the crazed fan in the gallery who yells "Get in the hole!" after every shot.
Now, before the age of YouTube and Al Gore's Internet, this was an event that most golfers only knew of via video replays and hearsay, but nowadays, it's possible to see these moments over and over again, even in slow-motion.
Without further ado, we're going to take a look at the top 18 hole-in-one videos on the web today, one for every hole on the links. In case you were wondering, the late Kim Jong-Il's "reported" 11 holes-in-one aren't on this list.
18) Alexander Ovechkin
This video made the list because Alexander Ovechkin doesn't play golf for a living. In fact, he doesn't really ever play golf at all.
The NHL superstar, who is as famous for his inability to find a good dentist as he is for his pedigree on the ice, hit a hole-in-one in his very first time stepping foot onto a golf course.
The shot, which was made at a Washington Capitals charity golf tournament, was followed by Ovie hilariously taunting "Tiger where are you......Tiger?"
17) Jonathan Byrd
Jonathan Byrd, who has had a splendid 2012 on the Tour, currently sits at 70th in the World Golf Rankings.
Byrd has won a total of five PGA tournaments, with his most dramatic victory coming at the Justin Timberlake Shriners Hospitals for Children Open in 2010.
There are three things to take away from this video:
1) JT has his own PGA event?!?!
2) Byrd couldn't see the shot go in due to encroaching dusk.
3) We should start calling him Mr. "Hole-in-Clutch" because the shot gave Byrd the victory on the fourth playoff hole.
16) Phil Mickelson
Phil Mickelson has made multiple holes-in-one in his PGA career, but his most memorable may have come at the 2008 Barclays Scottish Open.
On the second day of the European Tour event, Lefty was battling to make the cut, which was projected to be made at two under par. Stepping into the tee box of the par-three fifth hole at even-par, Mickelson's hole-in-one helped him over the cut line, where he would stay for the remainder of the day.
15) Alvaro Quiros
Alvaro Quiros is known for his no-holds-barred, emotional play on the course, as well as his ability to truly bomb the ball.
He was the longest driver on the European Tour in 2006, 2007 and 2008, and perennially ranks among the game's greats off the tee.
At the 2011 Dubai Desert Classic, though, it was his iron play that propelled him to victory. The Spaniard hit a momentous hole-in-one on the 161-yard 11th, giving him a lead that he would not relinquish for the rest of the day.
When the sand settled, Quiros took home the Dubai trophy by just one shot.
14) Unknown Amateur
We're going to switch it up a bit here, but it's for the best.
This video comes from an unknown amateur at Fairview Mountain Golf Club in Oliver, British Columbia, in Canada.
The official yardage for this par-three was 174 yards, for which the lucky golfer hit a seven-iron.
Aside from getting a rare view of the action, the best part of this video comes via the cameraman, as his cries of "It's on tape, It's on tape!" are excitement in its purest form.
13) Rickie Fowler
Red Bull Off Course is an obstacle-driven event series organized by the energy drink company for one purpose only: awesome highlights.
Much like its popular Flugtag series, Off Course is a way for Red Bull to market its products to sports enthusiasts around the globe in jaw-dropping fashion.
This video comes out of Washington DC's 2011 Off Course event, in which Rickie Fowler hit a hole-in-one on the 106-yard hole built especially for him.
The most amazing part about the shot: it came from an elevated tee box in which Fowler couldn't actually see the hole.
12) David Toms
Getting back to official PGA Tour play, David Toms hit a remarkable five wood in the 2001 PGA Championship's third round for a hole in-one.
The shot, on the 15th hole, gave Toms all the momentum he would need to win the tournament, which is the only major victory in the golfer's 23-year professional career.
11) Sebastian Barcia
Sebastian Barcia, just five years old at the time, hit this hole-in-one at Boca Raton Country Club's sixth hole, a 60-yard shot for the golfer's age class.
Sebastian's shot came at an official US Kids Golf Tournament, late in the summer of 2009.
I imagine that the youngster with the sick TW hat is lighting up the links three years later, and it's easy to say that he surely has a bright future ahead of himself.
You heard it here first.
10) Byron Johnson
Like the unknown amateur from Canada, Byron Johnson's hole-in-one makes the list because of the sheer excitement that erupts after the shot goes in.
Haven't we all stepped up to the tee box on a severely downward sloping par-three hoping to do what Byron did?
Before the shot, the lucky man says "this is the most beautiful hole I've ever played on," and it appears that the golf gods took his compliment very well.
9) Fuzzy Zoeller
Fuzzy Zoeller is widely known on the PGA circuit as quite the jokester, and while he currently moonlights as a commentator for a few events per year, his greatest achievements came on the course.
Zoeller won ten Tour events in his career, including victories at the Masters and the U.S. Open.
In this particular video, Fuzzy sunk a ridiculous hole-in-one on a 173-yard par-three, in which the ball seemingly sat in the rough for a good ten seconds before an act of God guided it directly into the cup.
The shot occurred at the 2006 Allianz Championship, a Senior Tour event, proving that even at his age, the man can still ball with the best of 'em.
8) Rahil Gangjee
Rahil Gangjee, a professional golfer from India, has had moderate success on the Asian Tour. The golfer has one career victory under his belt, the 2004 Volkswagen Masters in China.
Gangjee lost his Tour card in 2009 before gaining it back two years later, this time on the Nationwide circuit.
In the 2011 Mylan Classic, the 33-year-old rookie pulled off one of the rarest feats in golf: a hole-in-one on a par-four.
Also known as an "albatross," Gangjee went driver on the 318-yard hole. Typically, albatrosses are made when a golfer holes out on his or her second shot from the fairway on a par-five, making this video truly an impressive site to behold.
7) Miguel Angel Jiménez
It's not often that a golfer dunks any shot straight in the cup, let alone for a hole-in-one. Miguel Angel Jiménez, who is known as "the Mechanic" for his penchant for sports cars, hit two such shots in 2008, but this one, from that year's Dubai Desert Classic, was the most memorable.
Now, many viewers may make the case for Gangjee's shot to be switched with this on our list, but Jiménez's shot is so special because it provides a perfect definition of the term "pin-seeker."
6) Martin Kaymer
We've all come to love the Masters.
Whether it's a Sunday and the tournament's leaders are playing Augusta National's famed "Amen Corner," or the early-week practice rounds, the course itself is truly one of golf's greatest sanctuaries.
One particular unofficial tradition during Monday practice rounds is for the pros to hit it like the "Joes" for one shot, by attempting to skip it across the 16th's pond.
Now, you're probably aware that this is same par-three that gave us Tiger's amazing chip-in in 2005, but you may have missed Martin Kaymer's hole-in-one after skipping it across the water. Enjoy.
5) Vijay Singh
Nos. 6 and 5 on this list are interchangeable, but we put Vijay's shot higher than Kaymer's because it happened three years earlier.
Another reason that this particular video is exemplary is the camera angle. It's rare that a hole-in-one is seen from the view of the golfer himself.
We can only imagine what it was like to stand on the tee box when Singh's ball found the cup.
Goosebumps.
4) James Kingston
James Kingston's hole-in-one might be the luckiest to appear on YouTube, save for the next golfer mentioned on this list.
Even the announcer and crowd appear speechless as the South African's shot careens of a tree branch into the hole.
We've heard of friendly bounces, but this takes it to the next level.
3) Leif Olson
If Leif Olson ever gets tired of playing on the PGA Tour, he may want to try his hand at professional pool.
In the 2009 RBC Canadian Open, the Duke University graduate hit the shot of a lifetime, landing his ball past the hole with adequate backspin before deflecting off of playing-partner Kris Blanks's ball.
As the announcer says, Olson "calls a combination" off Blanks's ball, earning his first professional hole-in-one.
2) Jason Hargett
In 2009, Jason Hargett did something that only a few other amateur golfers have ever accomplished.
He hit a hole-in-one when major cash was on the line, at the Mark Eaton Classic charity golf event in Heber City, Utah.
Hargett reportedly made a last-minute decision to participate in the million-dollar contest with five other golfers, and it paid off big.
Using his brother's nine-iron, the restaurant manager-turned-millionaire sunk the shot, and promptly texted his wife, who we speculate went nuts.
Instead of taking his money south to Vegas, Hargett's family opted to let their prize money draw out over the next 40 years, at $25,000 installments.
For the sake of his kids' college education, it was the correct call, but for the sake of a chance to reenact The Hangover, it was probably the wrong move.
1) Tiger Woods
Tiger Woods is arguably the greatest golfer of all-time.
In his lifetime, he has hit a total of 18 holes-in-one, with two coming in actual PGA Tour play.
Sunk at the 1997 Phoenix Open, Tiger's shot in this video occurred on what may be the most exciting par-three in professional golf.
The Stadium Course at TPC Scottsdale is known for its hoards of drunken and enthusiastic fans, and it's especially rambunctious on the 16th hole, which seats a whopping 20,000 people.
Put those two facts together, and it's easy to see why this shot is the most epic hole-in-one on YouTube.
Keep Reading