Tennessee Vols Football: Winners & Losers from Week 9 Game vs. South Carolina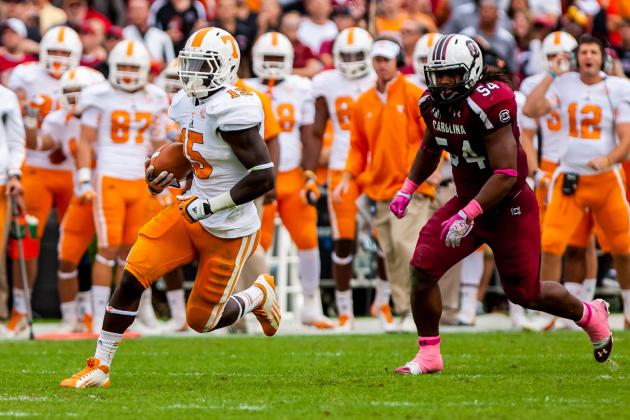 Jeff Blake-US PRESSWIRE

The Tennessee Volunteers nearly pulled off the upset at No. 13 South Carolina last Saturday. The players were prepared, the coaches were sharp and Derek Dooley's crutches were polished—you couldn't have asked for much more.
But as always, there were some things that stood out from the rest, for better or worse.
One thing is for sure, though. The entire Vol Nation is a winner after surviving another treacherous October. That's the month that features the bulk of the SEC East teams and Alabama, meaning it's a brutally difficult month.
There are few more winners, too. Take a look!
Begin Slideshow

»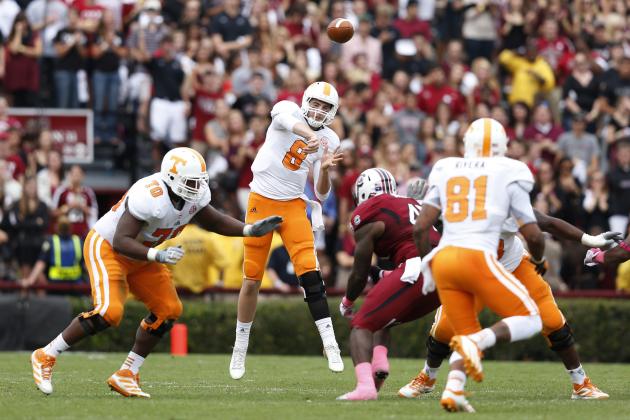 Joe Robbins/Getty Images

Tyler Bray's performance was integral to the outcome of the game, win or lose. The primary reason Tennessee was nearly able to pull off the upset was the play of Bray.
He had dismal statistics against the SEC this year, but Bray put those behind him against South Carolina. Throwing for 368 yards and four touchdowns on a 62.8 percent completion rate may qualify the Week 9 game as his best ever as a Volunteer, especially when you consider the opponent.
Bray connected on touchdowns of 37 and 61 yards, finally giving the Vols the big-play threat that other teams have gotten all year. It makes a huge difference when you can convert a few long plays here and there.
He was poised and behind an offensive line that kept him clean most of the game; Bray showed us why he was so highly touted coming into the season. Now to keep up that consistency...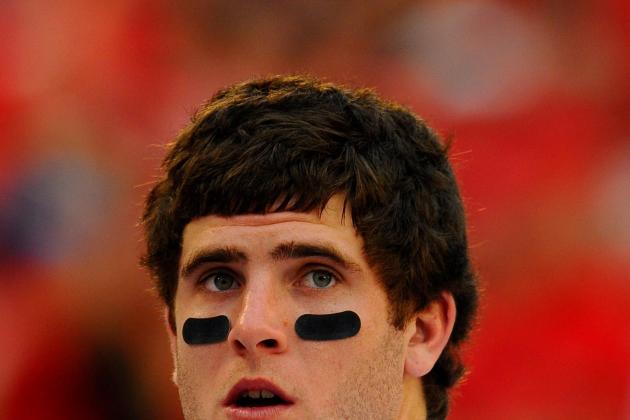 Dale Zanine-US PRESSWIRE

But Tyler Bray is also a loser from the South Carolina game. For a second time this year, he fumbled the ball in the closing minutes on a drive that would've tied or won the game.
The Tennessee Volunteers' offensive line, especially Antonio Richardson, had done a masterful job slowing star Gamecock defensive end Jadeveon Clowney all game. But on the final drive, Clowney fought off Richardson's block, sacked and forced Bray to fumble the ball in the red zone with 3:38 minutes left.
It was a crushing blow and an awful way to end the game. Great players must be kept at bay on every single play, and Clowney proved that. He capitalized at the first sign of a bad block and made a great play.
The fumble really wasn't Bray's fault, and I don't want to scold Richardson either. But the fact remains that the fumble goes down on the quarterback's record, and it cost the Vols.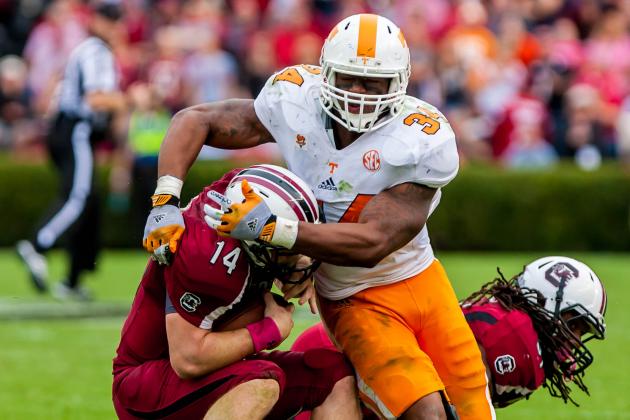 Jeff Blake-US PRESSWIRE

Herman Lathers has always been the "if-he-could-just-stay-healthy" guy. He showed some flashes of brilliance against South Carolina.
He led all tacklers with 13 solo takedowns and 15 overall. Two of his tackles were for losses, one a 12-yard sack. Lathers also collected his first career interception on a failed fourth down attempt.
Lastly, Lathers blew Connor Shaw up on one hit, forcing him to leave the game for a play.
If he can stay healthy for the rest of 2012, the Week 9 game could serve as a stepping step for the senior linebacker, which would be a huge boost to the defense.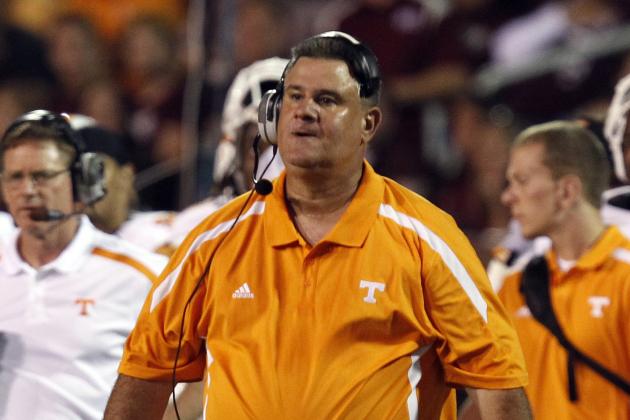 Butch Dill/Getty Images

Saturday marked the fifth time in six games that the Volunteer defense gave up at least 37 points, as well as the fourth in a row. October wasn't kind to Sal Sunseri's defense, and it appears as though much of the blame is being pointed toward him.
I will say, however, that if there were any busted plays, I didn't see them. That's the first time in many games that the defense can say that.
There was one defensive play call that was beyond terrible that I have to highlight: On 3rd-and-goal from the 26-yard line, Tennessee lined up with just one safety. One. Even on NFL Blitz, you'd put two, if not three, safeties deep, but Sunseri went with one.
And South Carolina beat that one player for a touchdown.
The major void now for Sunseri is the pass rush. The linebackers in a 3-4 defense provide most of the sacks, but Jacques Smith and Curt Maggitt haven't consistently been able to do that.
Like the rest of the Week 9 losers, I expect an improvement over the next four games.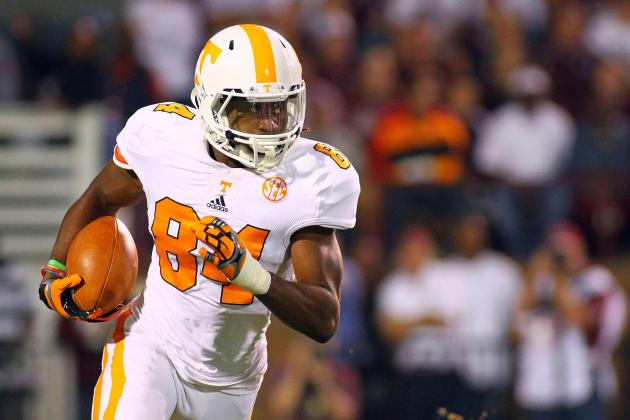 Spruce Derden-US PRESSWIRE

Cordarrelle Patterson is just as electric as ever, but opposing teams are learning to kick and punt the ball away from him. If that continues, he'll have to make his mark as a wide receiver.
Unfortunately for Patterson, he hasn't caught more than three balls or tallied more than 31 yards since September 15th. He's a tremendous talent but needs to perfect the details of the receiver position to maximize his sky-high potential.
Even his rushing in the last two games hasn't been very good—five carries for 15 yards.
It's customary for highly talented players to set the world on fire when they first enter, undergo a period of transition as defenses counter and then react with a more well-rounded approach. I expect to see that reaction soon.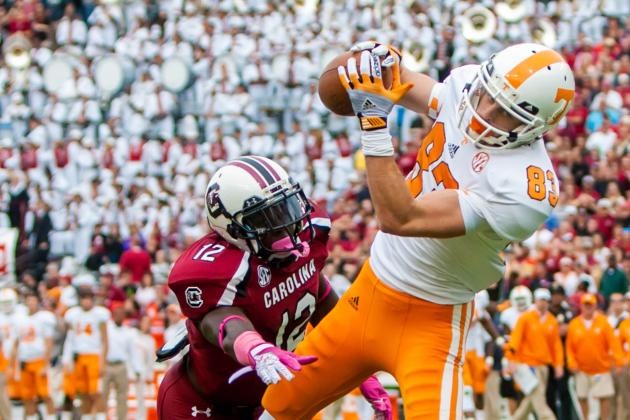 Jeff Blake-US PRESSWIRE

Is it just me, or did Zach Rogers look like Wes Welker on Saturday? He slipped in front, behind and around defenders all day, racking up 107 yards and three touchdowns on six catches.
Even his No. 83 was reminiscent of Welker!
It looks like Tyler Bray and Rogers have a strong bond between them. Bray knows that Rogers will be where he's supposed to be, when he's supposed to be and, if open, will catch the ball cleanly.
With Justin Hunter and Cordarrelle Patterson drawing a lot of attention from opposing secondaries, Rogers has a great chance to continue his strong production heading into a much friendlier November schedule.
Who knows? Maybe he'll line up next to Welker himself next year!