Michigan Football: Winners & Losers from the Week 9 Game vs. Nebraska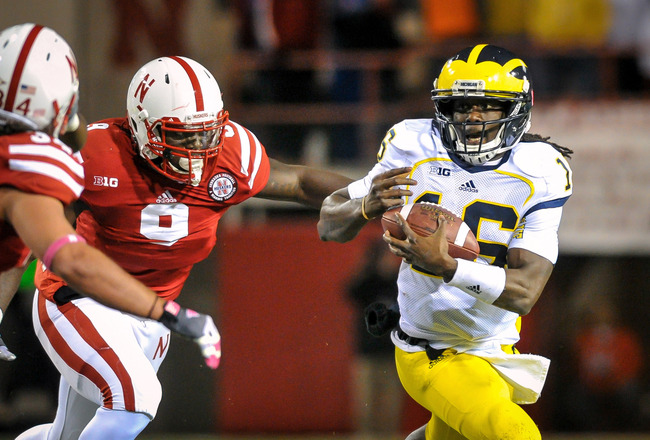 Eric Francis/Getty Images
Even though it was a very ugly game for Michigan on Saturday night, some positives can still be taken out of it.
The negatives obviously outweigh the positives, though.
Michigan looked inept offensively after Robinson got hurt, but imagine the outcome if he would have played the whole game.
There are an endless amount of "winners and losers" per se from this game, but here's a look at a few interesting ones.
Loser: Russell Bellomy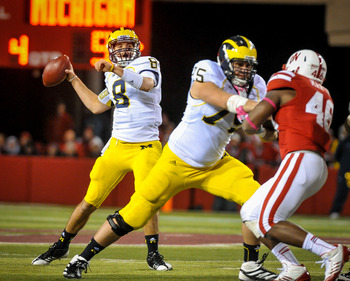 Eric Francis/Getty Images
Let's get this one out of the way first. Bellomy received a lot of heat for his performance (and deservedly so), but let's not overreact.
He was playing at night in one of the toughest stadiums to win a game in against one of the best pass defenses in the country.
What he showed is that he probably would struggle to lead this offense if needed this season, but it doesn't carry over to next season.
We've seen how much any given player can improve in a year's time. Bellomy could certainly still be the starting quarterback next season.
Fans should worry, though, if he is needed to play crucial minutes again this year.
Winner: Michigan's Run Defense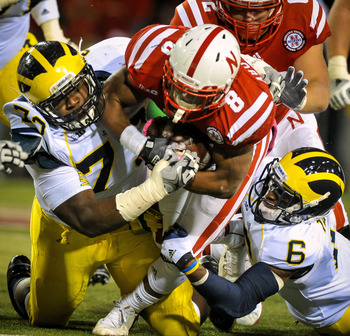 Eric Francis/Getty Images
Nebraska has one of the best rushing attacks in the country, and for the most part, Michigan held it in check.
The 'Huskers did string together a few nice drives, but had a rough time running effectively most of the night. Say what you want about the absence of Rex Burkhead, but Ameer Abdullah is not much of a drop off.
Both Abdullah and Martinez only averaged 4.2 and 4.1 yards per carry, respectively.
This Michigan run defense proved it is for real.
Loser: Al Borges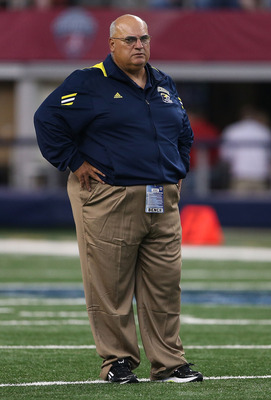 Leon Halip/Getty Images
Yes, having Denard Robinson leave with injury was a major setback, but Al Borges deserves some of the heat as well.
Back-to-back games without scoring a touchdown is absolutely inexcusable for this Michigan offense.
Borges has certainly received heat from fans in the past, and it will only continue if this offense continues to under perform.
Fitz Toussaint has been a major problem, as he can't get anything going. The fact that Thomas Rawls isn't even given a chance either is ridiculous. Borges needs to mix it up on offense immediately, beginning next week against Minnesota.
Winner: Brendan Gibbons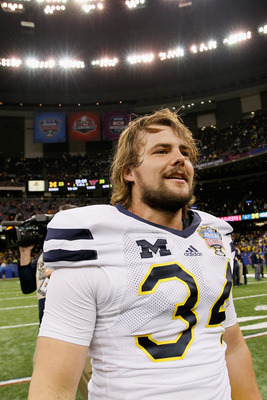 Kevin C. Cox/Getty Images
Brendan Gibbons is turning out to be a very reliable kicker. He went 3-for-3 on field goals, including a 52-yarder. Gibbons is now 13-for-15 on the season in field goals, and a perfect 25-for-25 on extra points.
If he keeps this consistency up the entire season and all of next, he may be looked at as Michigan's most reliable kicker since Garrett Rivas.
This was probably unimaginable to fans after seeing the way he kicked as a freshman.
Loser: Michigan's Chances at the Legends Division Title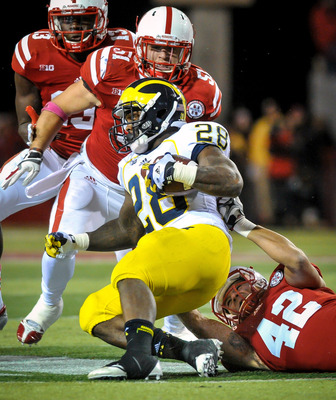 Eric Francis/Getty Images
A win would have all but wrapped up the division for Michigan on Saturday.
Instead, the Wolverines now face an uphill battle. They now must basically win the rest of their games, including the Nov. 24 showdown in Columbus, and Nebraska must lose once more.
Playing at Michigan State, at Iowa and hosting Penn State are all losable games, but it wouldn't be surprising if Nebraska won them all as well.
Assuming they do lose one of those games, the division title could come down to the final day of the regular season. Michigan just may end up traveling to Columbus with the division title at stake.
Boy, have we seen that before?
Keep Reading

Michigan Wolverines Football: Like this team?