Nebraska Football: Grading All 22 Starters from the Michigan Game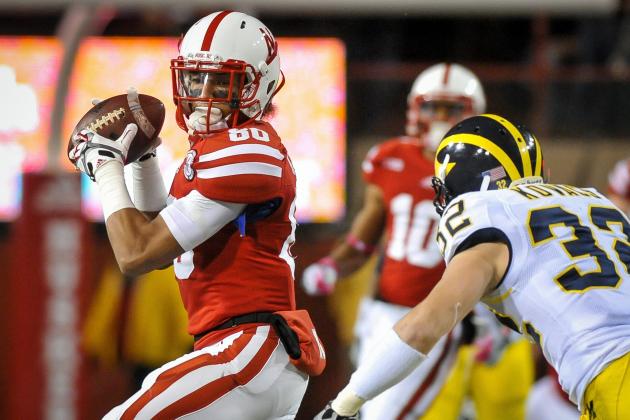 Eric Francis/Getty Images

Nebraska beat Michigan 23-9 on Saturday in Lincoln, avenging an ugly 45-17 loss in Ann Arbor last year and taking control of the B1G Legends Division. Both teams had to play without important offensive weapons, with Nebraska having to go without Rex Burkhead and Michigan losing Denard Robinson to an injury to his throwing arm.
So let's take a look at how Nebraska's starters did against Michigan, done in a soccer-style 1-10 rating.
Begin Slideshow

»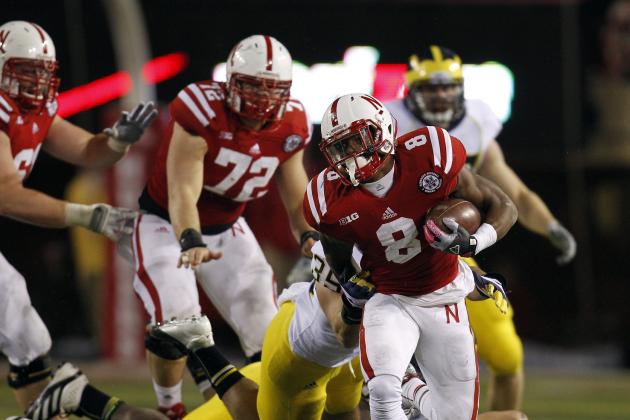 Bruce Thorson-US PRESSWIRE

Brent Qvale (LT) - 6
Nebraska had a 100-yard rusher against Michigan, who came into the game with the 10th-ranked total defense in the country. Taylor Martinez was only sacked by the Wolverines once in 24 passing attempts. Qvale was part of an offensive line that accomplished its goal, allowing Nebraska to get enough offense to win the game.
Seung Hoon Choi (RG) - 6
Choi helped hold up Nebraska's offensive line against a solid Michigan defensive front.
Justin Jackson (C) - 5
Although the line as a whole played well enough, Jackson struggled with high snaps throughout the game and committed a 15-yard penalty that helped put Michigan's offense back on the field.
Spencer Long (RG) - 6
Long was part of Nebraska's offensive line that had a solid performance against Michigan, and he did so without being penalized.
Jeremiah Sirles (RT) - 6
Much like his counterparts on the starting offensive line, Sirles did a good job facilitating Nebraska's offense without committing any penalties.
Eric Francis/Getty Images

Taylor Martinez (QB) - 6
Martinez took a step back from his stellar performance against Northwestern a week earlier, which is not surprising given the caliber of defense he faced. He went 14-for-24 throwing for 166 yards, including a nice touchdown throw to Kenny Bell. He also had an ugly interception and a fumble that, at best, was debatable. Martinez put in a solid performance against a defense that, statistically, was the best he had faced all season.
Ameer Abdullah (IB) - 7
Abdullah went for over 100 yards against Michigan's defense, averaging 4.2 yards per carry and scoring a touchdown. Once Abdullah found his legs in the second half (and the play-calling shifted to Nebraska attacking the edges more), his running was critical to Nebrsaka pulling away and winning.
Mike Marrow (FB) - 5
Marrow did start but rotated in playing time with C.J. Zimmerer and Andy Janovich. While he was adequate in blocking and pass protection, Marrow missed on the one pass thrown to him. It remains unclear how Marrow retains his starting position over Zimmerer and Janovich, both of whom seem to offer more offensively as well as blocking.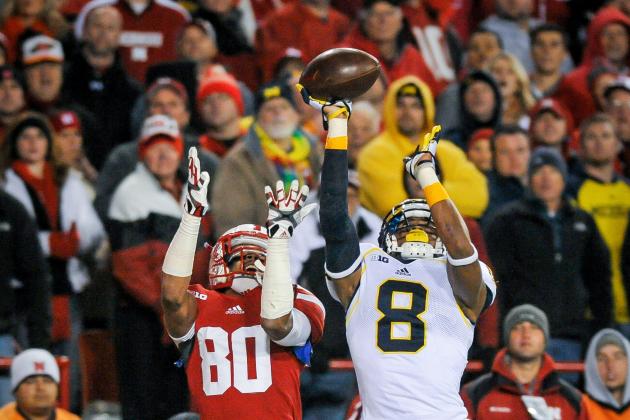 Eric Francis/Getty Images

Kenny Bell (WR) - 7
Bell only had two catches but scored another touchdown on his way to becoming one of the elite wide receivers in the B1G.
Quincy Enunwa (WR) - 6
Enunwa had two catches for 14 yards, but his downfield blocking and route running were keys in helping Nebraska's offense stay on track.
Ben Cotton (TE) - 6
Cotton had two catches for 21 yards in a game where Nebraska's passing attack was not the focal point of the game's strategy.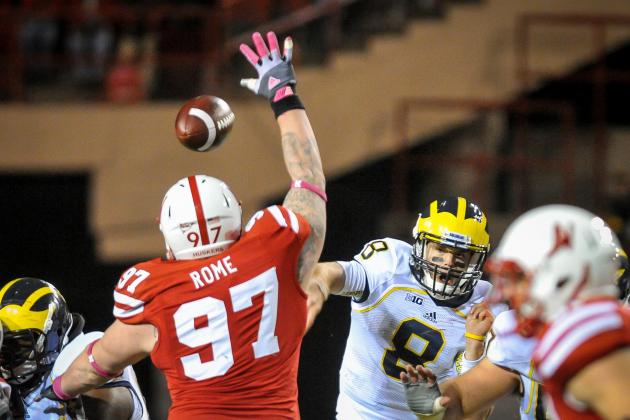 Eric Francis/Getty Images

Eric Martin (DE) - 8
Martin had six total tackles, one sack, two tackles for loss, a pass breakup and a quarterback hurry. He is quickly proving himself as the dominant, penetrating presence Nebraska's defense has needed.
Jason Ankrah (DE) - 6
Ankrah had one total tackle but was part of a defense that did well to maintain its discipline and stay in place to restrict Denard Robinson to 46 yards on 10 carries before his injury.
Cameron Meredith (DE) - 6
Meredith once again was moved inside to help with Nebraska's depth problems at tackle, and he responded with two total tackles.
Baker Steinkuhler (DT) - 7
Steinkuhler had six total tackles, one tackle for loss and one quarterback hurry. He was one of the stronger contributors in a defensive performance that earned back the Blackshirts.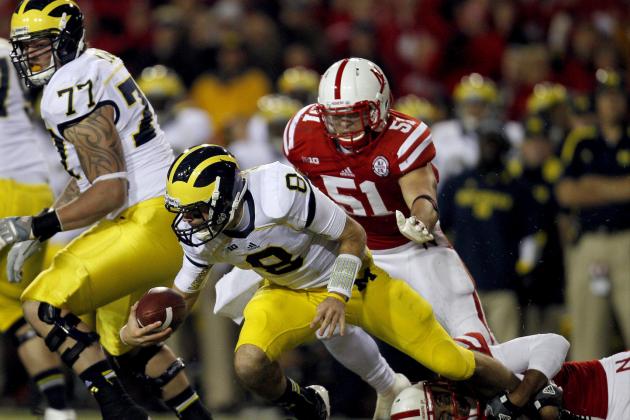 Bruce Thorson-US PRESSWIRE

Will Compton (LB) - 7
Compton had four total tackles and was excellent in maintaining his discipline and helping to shut down the backside counter running plays that had bedeviled Nebraska earlier in the season.
David Santos (LB) - 8
After struggling in limited action against Northwestern, Santos had a breakout performance against Michigan. He had 10 total tackles and one tackle for loss, and he put his speed on display. Lavonte David was at Memorial Stadium to watch the game, and Santos delivered a performance that was the closest thing NU has seen to David's play this season.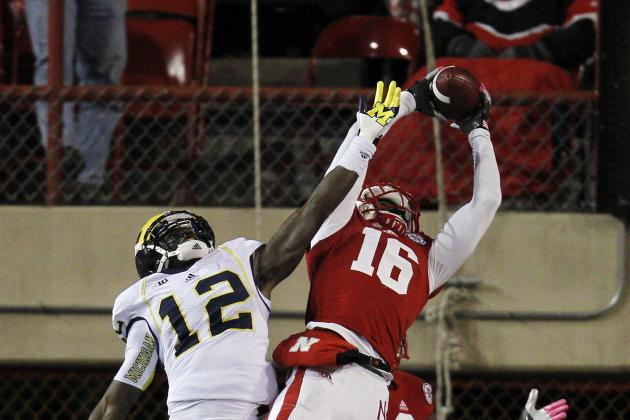 Bruce Thorson-US PRESSWIRE

Andrew Green (CB) - 5
Green has continued to struggle and was beat deep on a pass that was ultimately (and perhaps incorrectly) ruled incomplete. Had the receiver pulled that catch in, Michigan may have gained some momentum and taken the crowd out of the game.
P.J. Smith (S) - 7
In addition to playing well against the run and recording five total tackles, Smith was in the right place at the right time and got an interception that helped turn the tide of the game in Nebraska's favor.
Daimion Stafford (S) - 8
Once again, Stafford was all over the field, recording six total tackles, a tackle for loss, a pass breakup, a quarterback hurry and an interception.
Ciante Evans (DB) - 8
Evans did nothing to diminish his role as Nebraska's most improved defensive player of the season. He recorded six total tackles, a sack, two tackles for loss and a quarterback hurry.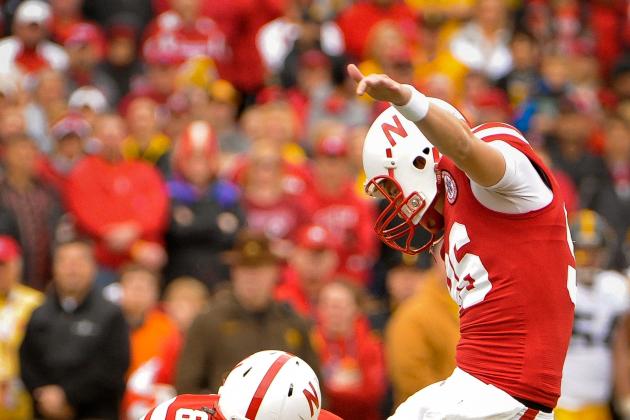 Eric Francis/Getty Images

Brett Maher (PK/P) - 7
Maher's game was mostly good, going three-for-three in field goals, including a 51-yard attempt. He hit four punts for an average of 42.2 yards (including the introduction of a rugby punt), killing two of them inside the 20. He did, however, badly shank one kickoff out of bounds, providing Michigan with good field position.
If you'd like to contact Patrick to schedule an interview, provide feedback or get advice on which type of chocolate goes best with fresh fruit (spoiler alert: dark), then send an e-mail to patrickrunge@gmail.com.
Or, you could always...Follow @patrickrunge