WWE Breaking News: Favourites Announced for Hell in a Cell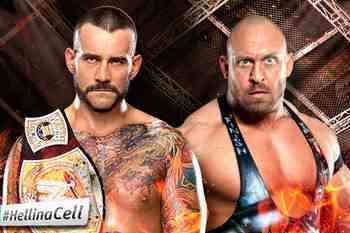 That's right, folks! We're just over an hour away from WWE's Hell in a Cell pay-per-view, and if you're lucky like me and living in the UK, you get to watch October's offering for free on Sky Sports 1 HD.
The lovely people at Sky, though, have gone all out, and do not just offer another WWE premier offering totally free to customers.
Much like WrestleMania, SkyBet.com is offering odds on five of tonight's featured matches, revealing some interesting perceived favorites going into the event.
While I realise that professional wrestling is a scripted form of entertainment with predetermined outcomes, let's have some fun and run down what prices SkyBet is offering customers for Hell in a Cell.
Thanks for Reading!
Begin Slideshow

»
Kofi Kingston 1/6, The Miz 7/2
For those of you unfamiliar with British gambling, the above fractions represent stake and reward. The number on the left of the forward slash is the return value, based on a given stake, or the number to the right of the forward slash. As an example: If you were to place $6 on Kofi Kingston to win and were successful, you would receive $7 in return—your $1 return prize plus your stake returned. A $2 bet on the Miz in this instance would receive $9—$7 prize plus your initial $2 stake. Pretty straightforward, really.
Anyway, enough of the exposition.
As you can probably see, the Intercontinental champion is a huge favourite with SkyBet to retain his title tonight, a revelation few may find surprising.
In an earlier article, I predicted Miz to regain his IC crown at HIAC, but judging by these overwhelming odds, I am now more inclined to suggest a victory for Kofi Kingston tonight.
TIP: If you like the Miz's chances, a $20 bet pays $90 if the former WWE Champion can regain his crown. I'd be more inclined to bank a Kofi win here, despite his ludicrously low odds.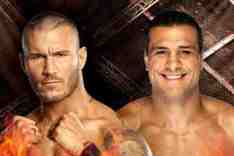 Randy Orton 2/5, Alberto Del Rio 7/4
A much closer matchup here between the Viper and the Mexican Aristocrat in what is sure to be a very aggressive and brutal encounter.
With nothing really to gain for either party, it is tough to call who will come away the victor in this grudge match.
Under more pressured circumstances, I would predict a hard-fought win for Orton, but with only pride at stake tonight, I think ADR may get the nod, continuing the Apex Predator's 2011/12 trend of putting stars over.
TIP: In my personal opinion, there is good value to be had in backing Del Rio this evening. (A $20 bet on these odds would see a return of $55, essentially gifting you the PPV for free...).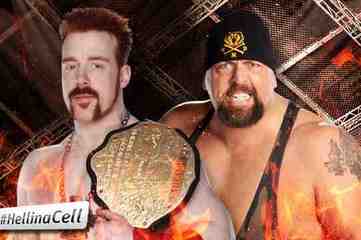 Sheamus 1/3, The Big Show 9/4
It's a good night for a flutter if you fancy the World's Largest Athlete in tonight's WHC match.
Huge favourite Sheamus is also the odds-on favourite with SkyBet to retain his crown at Hell in a Cell (unfortunately, the site does not offer odds on a successful cash-in by Mr. Ziggler).
Despite Show's billing as an unstoppable monster in recent weeks, the numbers here do not lie, and clearly the WMD is not seen as a serious threat to the Celtic Warrior's six-month reign.
TIP: Do not touch this match with a barge pole.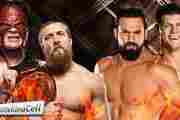 Hell No 2/5, Rhodes Scholars 7/4
According to SkyBet, the Tag Team Championship match will be one of the most difficult to call on the entire card.
Kane and Daniel Bryan go in as slight favourites against their newly formed opposition, but Rhodes Scholars have still yet to suffer a loss since becoming a team.
While I do not think it wise to pull the plug on the run of "Team Friendship" just yet, 7/4 could prove good value on Rhodes and Sandow pulling off a huge upset and further continuing the feud between these two entertaining teams.
TIP: Team Hell No should retain in this one (just), but bearing this in mind, a $20 bet would return just under $30. Better value presents itself in Team Rhodes Scholars, where a win for the challengers could see a return of over $50 on the same stake.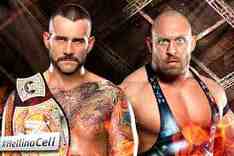 CM Punk 30/100, Ryback 12/5
The biggie. The one we're all tuning in to see. The one everyone's talking about.
The historic reign of CM Punk vs. the undefeated streak of Ryback.
The Best in the World vs. The Big Hungry.
How this match will pan out is anyone's guess, and the odds are there to prove it.
The champion is the clear favourite to retain his title, but as recently as one hour ago, Ryback's odds shortened. To those who know betting, that usually means that something has happened to suggest Ryback has a better chance of winning.
A whisper? A rumour? Inside info? Who knows, but the fact is that Ryback currently has the shortest odds he has been at all day, and that has to mean something.
TIP: Still an outside bet, a $20 wager on Ryback returns just short of $70 if the big man can upset the odds and pull of the biggest win of his career. With Rocky calling in January though, the smart money here is on Punk, where a $3 profit is possible for every $10 staked.
Thanks for reading! Full odds are available at skybet.com/wrestling.