Carolina Panthers: Winners and Losers in Loss to Chicago Bears
Use your ← → (arrow) keys to browse more stories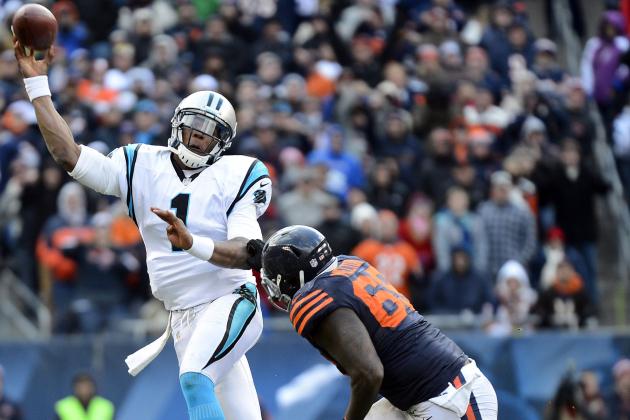 Mike DiNovo-US PRESSWIRE
Cam Newton (1) throws on the run with a Chicago defender on his heels.
The Carolina Panthers (1-6) are so close, yet they are still so far away.
The Panthers held a 19-7 lead heading into the fourth quarter of their Week 8 matchup with the Chicago Bears (6-1) at Soldier Field on Sunday before falling 23-22 on a game-winning 41-yard field goal by Robbie Gould as time expired.
There were several positives for Carolina in this game, including their first-half pass rush, their control of the clock and a clutch performance by kicker Justin Medlock.
However, the only thing that really matters in professional sports is whether or not you win the game.
The Panthers lost their fifth game in a row and sixth overall this season.
Here are the winners and losers from a Panthers' point of view.
Winners
Justin Medlock
Medlock continued his perfect season by making all five of his field-goal attempts against the Chicago Bears, including a go-ahead 45-yarder with 2:27 left in the game.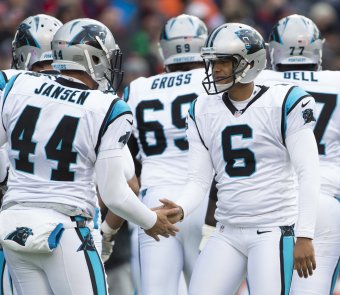 John Gress/Getty Images
The former
Kansas City Chiefs
draft pick and
CFL
standout is now 7-of-7 after attempting—and making—an
NFL
-low two field goals entering the game.
Though Medlock's performance was outstanding, I got the feeling that Ron Rivera and the Panthers coaching staff were not completely confident in their kicker's abilities.
With a 13-7 lead and the opportunity to kick a 51-yard field goal at the end of the first half, Carolina instead split the uprights on an overthrown deep pass into the end zone by Cam Newton.
They also forced Medlock to squib kick on every Panthers kickoff today instead of giving Medlock the opportunity to kick the ball through the end zone.
First-Half Pass Rush
Carolina's defensive line was all over Jay Cutler in the first half to the tune of six sacks and two forced fumbles.
Greg Hardy came up with two of his three sacks from the defensive end position, and he lined up at tackle for the third.
Charles "Big Money" Johnson earned his paycheck in the first half by forcing a pair of Jay Cutler fumbles and recovering one of them to go along with his two first-half sacks.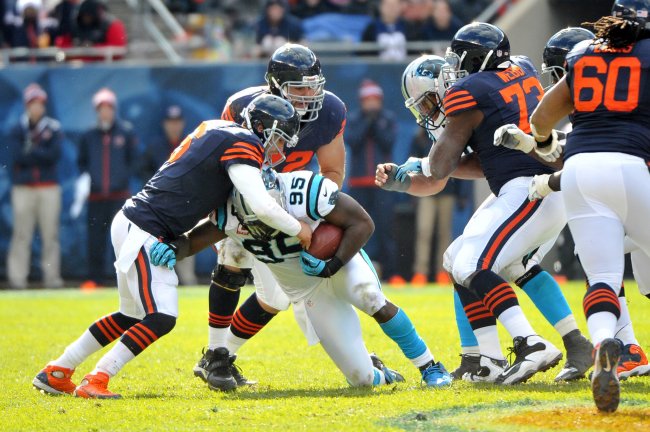 Rob Grabowski-US PRESSWIRE
Defensive tackle
Dwan
Hardy also got in on the action, collecting a Cutler
takedown
of his own.
The Bears adjusted to the Panthers' rush in the second half, though, by improving their pass protection and by getting the ball out of Cutler's hand more quickly on shorter routes and three-step drops.
Carolina did not lay a paw on the Chicago quarterback after halftime.
Wide Receivers
Carolina got a couple of big games out of Steve Smith and Brandon LaFell on Sunday.
Smith caught seven passes for a game-high 118 yards, including a brilliant 47-yard reception down the left sideline against tight man coverage.
However, when he had a chance to score late in the fourth quarter to put the Panthers ahead by at least five points, Smith could only get one hand on Cam Newton's pass that led him into the end zone on Carolina's final drive, which ended on a field goal.
Mike DiNovo-US PRESSWIRE
LaFell
added three grabs for 88 yards, one of which was a 62-yard catch and run that led to Carolina's first three points of the game.
LaFell also had a scary moment after he dropped pass on a red-zone crossing route and took a vicious shot to the head from Bears safety Chris Conte, but he returned to the field later in the game.
Losers
Cam Newton
Cam Newton did not have a terrible game, and his stat line will back that up.
Newton completed 20 of 39 passes for 314 yards—his second 300-yard passing game this season and the seventh of his career—and he rushed for 37 yards on five carries.
However, he tossed a pair of crucial second-half interceptions, including a go-ahead pick-six late in the fourth quarter, and he fumbled the ball into the end zone on the Panthers' only touchdown-scoring drive of the day.
Fortunately, Panthers receiver Louis Murphy recovered the ball in the end zone, but Newton did not so much as join in the celebration following the score.
Is Cam Newton's outward attitude helping or hurting the team?
After the play, FOX Sports analyst Daryl "Moose" Johnston chastised Newton for not thanking his teammate for recovering the fumble, and he pointed out that it was Murphy who actually approached Newton on the bench to congratulate his teammate for leading the scoring drive.
Newton does not have to be a "rah-rah" guy to be a team leader, but he certainly knows how to celebrate and draw attention to himself when he scores or makes a big play.
His image took another hit today for his selfish sideline behavior, and he will continue to get a bum rap from fans and the national media as long as his actions continue to portray a "me-first" attitude.
Special Teams Coaching
Panthers' punter Brad Nortman committed the bonehead play of the game when he flubbed a six-yard punt off the side of his foot in the fourth quarter with Carolina leading 19-7 halfway through the fourth quarter.
Chicago got the ball at its own 38-yard line, and seven plays later, Jay Cutler found tight end Kellen Davis in the end zone for a 12-yard touchdown pass to trim the lead down to five points.
Should the Panthers have kicked off deep to Devin Hester?
The Bears also benefited from outstanding field position for much of the game thanks to Carolina's fear of kick- and punt-returner Devin Hester.
The Panthers were so scared of Hester's return skills that they squib kicked every kickoff, and the Bears routinely started each possession within 10 to 15 yards of midfield.
I do not blame kicker Justin Medlock or the Panthers' kickoff coverage teams for the Bears' outstanding starting field position, but I do blame the coaches, who cut Olindo Mare in favor of Medlock this offseason for not giving their kicker an opportunity to kick the ball out of the end zone.
Mare led the NFL in touchback kicks last season, and if Carolina's coaches feel they do not have the touchback as a weapon this season, the fault is all theirs.
Read-Option Running
The only reason the Panthers' read-option run was a loser in this game is because it was not used.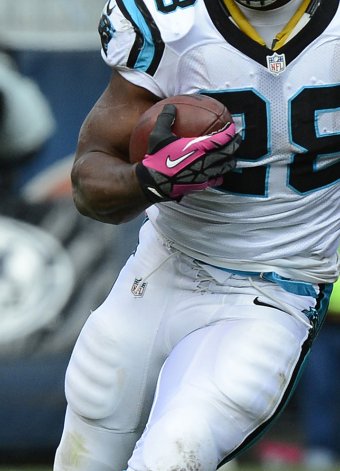 Mike DiNovo-US PRESSWIRE
After struggling in the running game in four of their first six games, the Panthers abandoned the read-option that had become a staple of their offensive attack this season.
Running backs Jonathan Stewart (42 yards) and DeAngelo Williams (33 yards) combined for 75 yards on 28 carries against Chicago's stingy defense, but the single-back and I-formation power running game are here to stay for the rest of the season.
The Panthers would be wise to mix in the read-option run a handful of times per game just to keep defenses on their toes, but they are much better off utilizing a more traditional rushing attack for the rest of the year if they hope to rebound in the second half of the season.
Jimmy Grappone is a Featured Columnist covering the Carolina Panthers and the NFL on B/R.
You can follow me for random updates and pointed commentary on Twitter @JimmyGrappone.
Recent articles by Jimmy Grappone: