5 Questions Left Unanswered After Philadelphia 76ers Preseason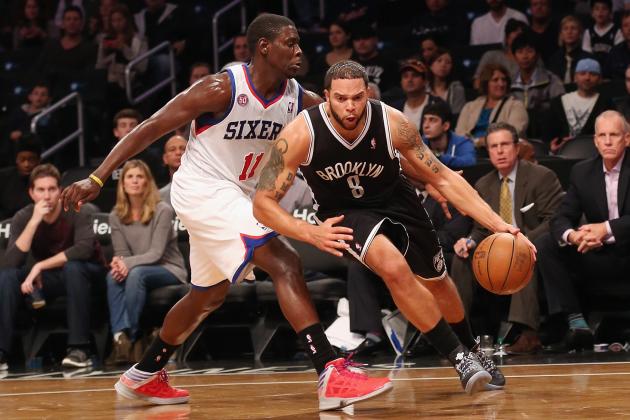 Bruce Bennett/Getty Images

The preseason comes with this anticipation for questions to be answered. Even though the games have little significance, it is just that feeling to see your team on the court playing. Usually these questions are answered, but this year we enter the regular season with more questions left unanswered than usual.
The Philadelphia 76ers finished off their preseason with a solid 6-1 record. The anticipation and expectations continue to build up as we close in on the start of the regular season.
However, with anticipation and expectations unfortunately comes doubt and questioning. Along with the wait for the season comes a wait for answers to these questions...
Begin Slideshow

»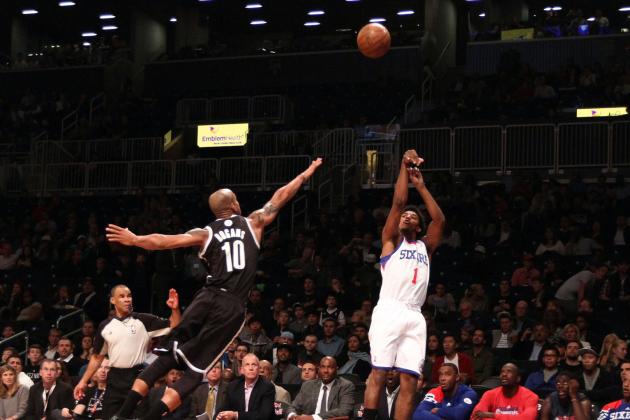 Debby Wong-US PRESSWIRE

It seems like this question will never leave Philadelphia.
Now that the Sixers have a plethora of shooters, the options are open. Nick Young, Jason Richardson and Dorell Wright each put together a solid preseason.
Young and Wright are currently shooting over 40 percent from three-point range, while Richardson is a proven three-point shooter who has displayed the clutch factor numerous times throughout his career (unfortunately against the Sixers too).
Nevertheless, the Sixers still lack the scorer with a superstar status. True, they have Andrew Bynum, but if they need a three ball they cannot go to him.
Thus, we are still left with an inevitable question of who will take the last shot. Will it be whoever has the hot hand like previous years? Does Nick Young embrace the Lou Williams-like role? Will Doug Collins ask Jrue Holiday to step up? We really don't know.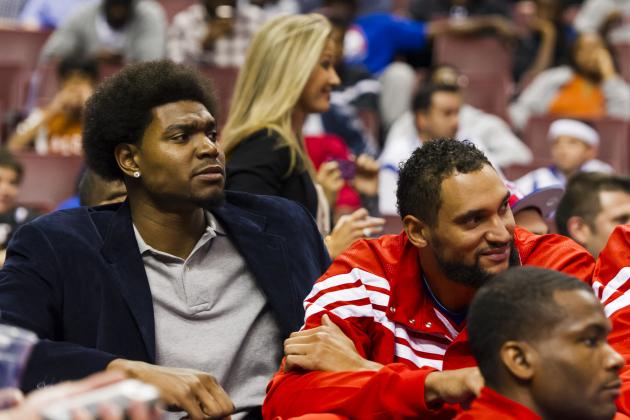 Howard Smith-US PRESSWIRE

Perhaps this question will be left unanswered for a long period of time, but this concern, present from the start, is still here.
Unfortunately, Bynum will not be ready to go by the opener. Per Sporting News:
His debut is on hold and no one knows when Bynum will return. He will continue to be held out of all basketball activity until he is pain-free from a bone bruise he suffered during an offseason workout. The Sixers had pegged Wednesday as their franchise player's potential return date after a three-week layoff that cost him the entire preseason slate. Instead, Bynum was on the sidelines while the rest of the Sixers practiced and scrimmaged.
The timetable is not following through as expected. Now, it's a good thing that the organization is taking things slow because he is such a huge investment.
That said, he has always been an injury liability and truly will not know how healthy he is until he starts to play.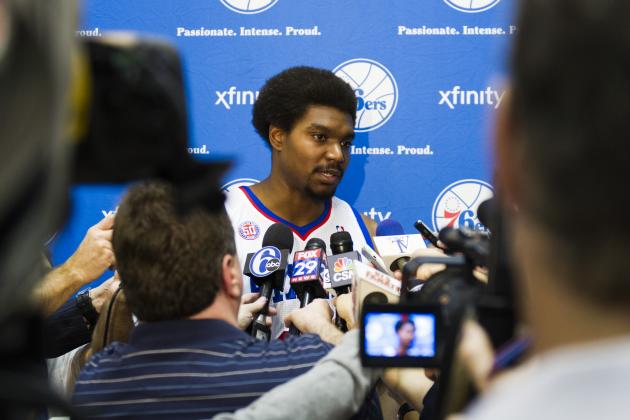 Howard Smith-US PRESSWIRE

Obviously it is great that the Sixers acquired Bynum, but we still have yet to see him play with the team.
Along with his great size and athleticism comes a reputation of bad attitude.
The Sixers have developed great chemistry through the years and have learned to feed off each others strengths. Considering we have yet to see Bynum play with the squad, there is definitely some uncertainty as to how they will come together.
Plus, he has yet to play full throttle in the system. By no means am I trying to be pessimistic here, but it's easy for the fan within us to disconnect from these facts because we are so sold on on his presence.
As much of a good thing as it seems on paper, we have to understand that we truly do not know how it will work out until it actually happens.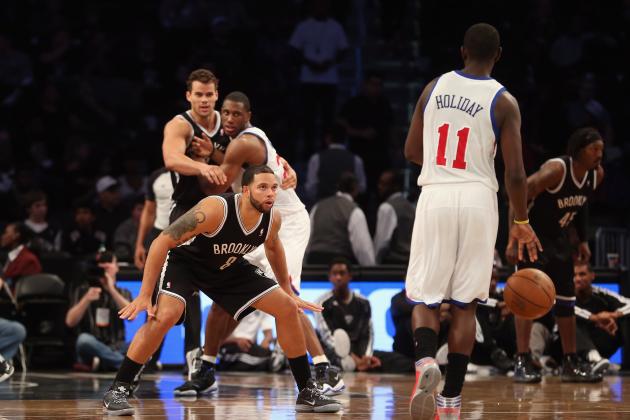 Bruce Bennett/Getty Images

This is something in an ideal world we would like to think the Sixers are. However, judging from just the preseason we cannot make that conclusion.
The Sixers fared well during the preseason, finishing with a 4-1 record against Atlantic division teams. The one loss came against the Brooklyn Nets, while only one of those wins was an easy victory against the Celtics.
It's great to see they won four games, but the Nets, Celtics and Knicks are all strong teams and will be hard to defeat on a consistent basis.
What we do know is that they can compete with the rest of the division. That being said, this idea of only being good enough to "compete" with other teams is not necessarily anything new.
The Sixers evidently have the talent and ability to defeat teams in the division. We know that from the preseason. But because the preseason is just a small sample, we are not given any hint on how they will fare against these teams over the span of a regular-season schedule.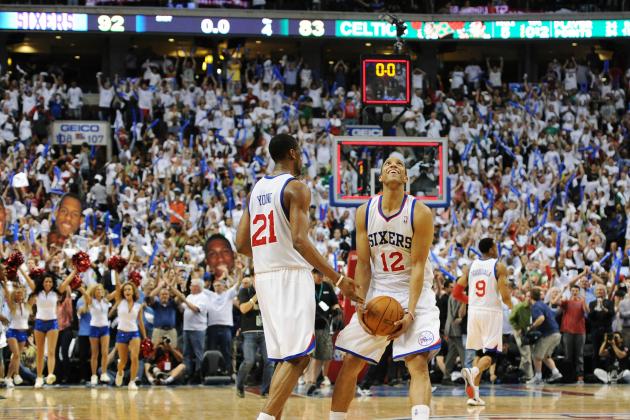 Drew Hallowell/Getty Images

One would have thought the pressure and attention would immediately turn to Evan Turner after an Andre Iguodala trade. Ironically enough though, it did not.
Perhaps this is a good thing for Turner, but now entering his third year in the league I think he knows within himself he is due for a breakout year. He must show his worthiness of that No. 2 pick.
This preseason, Turner averaged 9.2 points and 5.8 rebounds per game along with three assists respectively. He has the ability to do a lot of things on the court; almost a finesse version of Iguodala.
But we have yet to see him fully breakout, and now that Bynum is in the picture along with the plethora of wings, it's hard to see a definitive opportunity come into form.