As the NHL lockout continues to linger, anger and frustration mount.
Since the 82-game schedule is out, and the cancellation of games lasts through at least December 1, players have resorted to securing ice time at local rinks, informally skating with teammates or players from other teams, and generally making the best of a pitiful situation. More than 140 NHL players have escaped to the rinks of Europe, destined to be recalled at a moment's notice.
With the desire to remain in competitive shape, others are playing for minor league teams.
For the Phoenix Coyotes, that means defenseman Oliver Ekman-Larsson, an emerging talent, is skating for the AHL's Portland Pirates, defenseman David Schlemko and forward Kyle Chipchura remain on the roster of the CHL's Arizona Sundogs and Martin Hanzal and Radim Vrbata are playing in their native Czech Republic.
While most European players have chosen to go back home, NHL players who stayed behind, like Schlemko and Chipchura, have reasons. Chipchura wants to remain in a competitive environment and Schlemko, whose wife just had a daughter, desires to remains close to his family in the Phoenix area.
The Arizona Sundogs are located in Prescott Valley, about a two hour drive north of the Phoenix metro area.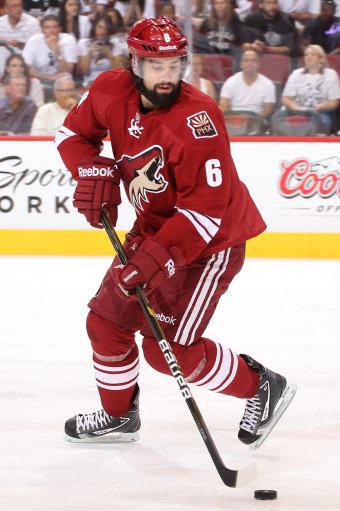 Christian Petersen/Getty Images
Yes, a commonality is evident.
Among the players, there is a feeling of resolve but a sense of disappointment. Having made concessions in the last bargaining session, and having the desire to settle the current lockout on an equitable revenue-sharing platform, players feel roadblocks set down by NHL commissioner Gary Bettman are unfair and unreasonable.
"At this point, I would say it's more frustration than anger," Schlemko said after the Sundogs lost to the Missouri Mavericks 4-3 Saturday in a shootout. "We're willing to give up quite a bit to get back on the ice. Seems as though Bettman shoots us down every time. We know he has the key owners in his back pocket, and because of that, we're not making much progress."
For the Coyotes, the lockout comes at a particularly difficult time.
Last spring, and for the first time in its history, the Winnipeg/Phoenix franchise advanced to the Western Conference finals, and finished its run merely two games from the Stanley Cup.
Off-season moves picking up defenseman Zbynek Michalek and forward Steve Sullivan, plus the energy and vigor sustained from last season's playoff run, has stopped the Coyotes' dynamism in its tracks.
"I think this has more with disrupting the fan base we established," Schlemko said. "Sure, it's tough on the players to be shut down in this manner, but we're trying to get fans in the building. This is not helping."
Now, the NHL in the desert is reserved for tiny agate print, if anything at all. Where the Coyotes would have generated coverage from the Phoenix media, the ink is dry, the home pages vacant of news and the electronic airwaves silent.
"I'm optimistic we're get this done soon," said Chipchura, Montreal's number one pick in the 2004 draft. "I've been optimistic from the start. At his point, both sides are losing."
While Schlemko has a history with the Sundogs as part of the team's league championship in the 2007-08 season, Arizona coach Dave Lohrei indicated he received no direction from the Coyotes' organization on the use of both Schlemko and Chipchura.
"The only communication I've had with (Phoenix general manager) Don Maloney is discussion about his son," Lohrei said. "Other than that, we are very lucky to have two guys like Chipchura and Schlemko playing for us. Great professionals and great guys in the locker room."
Don Maloney, Jr., at 24 years old, is currently on the Sundogs roster. A left-handed shooting forward, he's appeared in two of the Sundogs' first four games with no scoring points.
"Right now, I'm looking to develop Donny into a good Central Hockey League player," Lohrei added. "That's the only exchanged I've had with the senior Don Maloney."
Meantime, the sands slip quietly but steadily through the NHL hourglass. At this point, no one has the mechanism in sight to stop this flow or slow it down.
Mark Brown is a Featured Columnist for Bleacher Report. Unless otherwise noted, all quotes were obtained first-hand.