Iowa Hawkeye Football: 5 Keys to the Game vs Indiana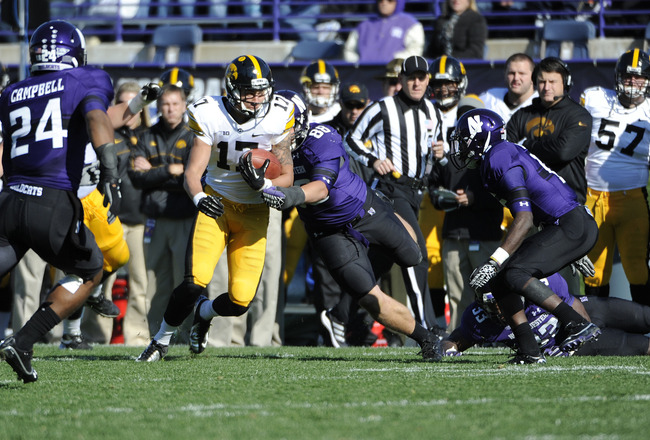 David Banks/Getty Images
Remember the days when Iowa could depend on conference wins over Indiana?
In truth, Kirk Ferentz hasn't done poorly against the crimson and cream, posting a 7-2 record against the Hoosiers since 2001.
However, according to Docsports, Indiana is a two-point favorite heading into this game, and given the way the Hawks have played lately, it seems like the handicappers are being generous.
This is especially true given that IU's fast-paced, high-powered, speedy offense is custom-made to shred the Iowa defense.
The Hawkeyes sit at 4-4. The last time the Hawkeyes saw the underside of .500 during the regular season followed their fifth game in 2007. The team that delivered that third loss was the Indiana Hoosiers.
The Lowdown on the Indiana Hoosiers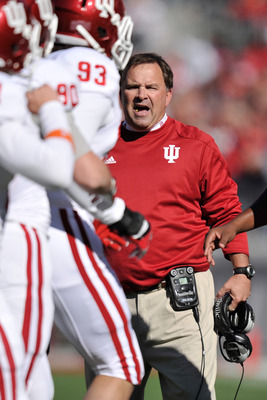 Jamie Sabau/Getty Images
Head Coach: Kevin Wilson (second year as head coach)
Last Game: 31-17 win over Illinois
2012 Record: 3-5 (1-3 in conference)
Previous Opponents: FCS Indiana State (W), at Massachusetts (W), Ball State (L), at Northwestern (L), Michigan State (L), Ohio State (L), at Navy (L), at Illinois (W)

Combined Record of Previous FBS Opponents: 34-25
2012 Season, So Far, in 20 Words or Less: All but one loss is by four points-or-less. This team is close to bringing it all together.

Indiana Record, Last Five Years: 2011, 1-11; 2010, 5-7; 2009, 4-8; 2008, 3-9; 2007, 7-6

2012 Scoring Offense: 34.7 points-per-game (third in the Big Ten)
2012 Scoring Defense: 31.7 points-per-game (12th in the Big Ten)
Returning Starters: Eight on offense, nine on defense and both specialists
Offensive Scheme: Spread, up-tempo, pass-heavy
Defensive Scheme: 4-3
Iowa's All-Time Record vs. Indiana: 42-27-4
Last Five Meetings vs. Iowa: 2011, 24-45; 2010, 13-18; 2009, 24-42; 2008, 9-45; 2007, 38-20
Key Injuries: LB Jacarri Alexander, questionable; OL Bernard Taylor, questionable; LB Chase Hoobler, questionable

Maintain Drives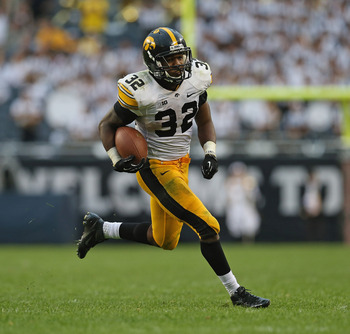 Jonathan Daniel/Getty Images
Kirk Ferentz's rigid adherence to time-of-possession (TOP) is a silly philosophy in modern football—Michigan State, for all its offensive issues, is first in the conference in TOP, while 2-6 Illinois is fifth—but in isolated situations, it is the right strategy.
The Iowa defense will need to stay fresh against IU's up-tempo offense. One of the keys to accomplishing that will be to keep the Hawkeye offense on the field.
The best way to do this will be via methodical drives that focus on rushing and possession passing.
The latter is an issue, but as regards the former, Indiana is one of the three worst rushing defenses Iowa will face this year. The Hoosiers rank 10th in the Big Ten, having surrendered 4.71 yards-per-carry (YPC).
Iowa's top running back, Marc Weisman, will likely be out with a groin injury (per the San Francisco Chronicle), but Damon Bullock looked solid against Northwestern, putting up 107 yards and 4.86 YPC.
The Hawkeyes will have to put together drives, move the ball down the field and score points.
Strong First-Down Offense and No Sloppy Offensive Penalties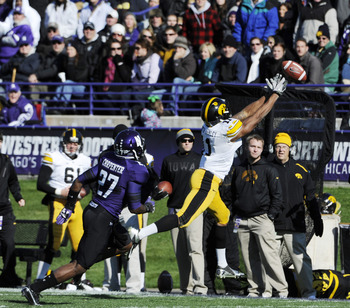 David Banks/Getty Images
The key to maintaining those drives will be converting third downs, and the key to converting third downs will consist in the offense not shooting itself in the foot on first and second down.
Iowa is 10th in the conference, having converted 36 percent of its third downs. In conference play, it is even worse with a conversion rate of 30.23 percent.
The Hawks have to give themselves a chance to move the ball. That starts on the first downs.
2nd-and-5 gives the offense considerably more options than 2nd-and-9.
Whether it is sloppy offensive penalties, poor execution or poor play-calling, Iowa has to stay out of 3rd-and-long situations, in which Hawkeye quarterback James Vandenberg is a sitting duck.
That means positive first-down plays and no mental mistakes that result in costly penalties.
Play Defensive Backs Against the Pass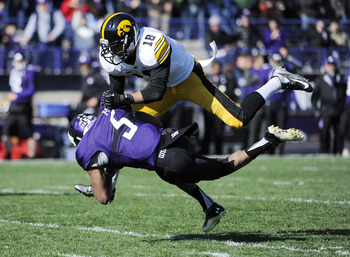 David Banks/Getty Images
IU is not a bad rushing team (4.38 YPC), but the Hoosiers score points and win through a precision air attack.
Under first-year defensive coordinator (DC) Phil Parker, Iowa has played a great deal more nickel and dime looks than under former DC Norm Parker. Still, there have been far too many instances when the Hawks have matched up linebackers on slot receivers which, as often as not, has resulted in said linebacker getting easily beaten.
Against Indiana—which passes on a Big Ten-most 53.8 percent of its plays from scrimmage—Iowa has to put defensive backs into the game and let them cover.
Also, those defensive backs, at least two of which are true freshmen, will have to finish plays as soon as the catch is made.
The Hawkeyes cannot allow yards-after-the-catch.
Score Points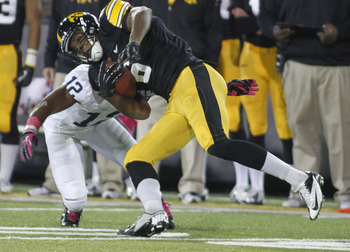 Matthew Holst/Getty Images
There is no way to dress this up and make it look like a strategy.
No Big Ten team has held Indiana to fewer than 27 points, and the team that did hold them to 27—Michigan State—has a better defense than Iowa.
This means that the Hawkeyes will not win a sloppy, low-scoring mess as they did against MSU.
Iowa will have to move the ball down the field, create some big plays and score seven points when they reach the red zone. In short, the most boring offense in the world will have to outscore Indiana.
30 points is probably the baseline the Hawks will have to set. If Iowa can't score at least 30 points—something it has only done twice this year—a Hawkeye win is highly unlikely.
Play Like Their Backs Are Against the Wall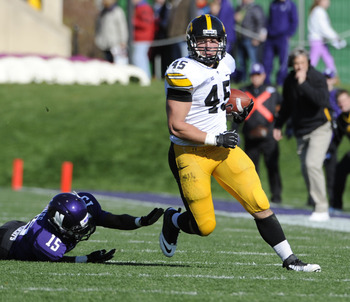 David Banks/Getty Images
Essentially, their backs are against the wall, and that goes for both teams.
Iowa's remaining schedule includes a home game against reeling Purdue followed by a roadie against Michigan and then a home game against likely division-champion Nebraska.
Purdue looks winnable, but the Michigan and Nebraska contests will be shots in the dark.
Indiana is in the same situation. The Hoosiers have one less win than Iowa going into this contest, but their momentum is positive—something Iowa can't say.
IU's remaining schedule includes Wisconsin, at Penn State and an away game against interstate-rival Purdue.
As with Iowa, the Purdue game is winnable, but Indiana will need one big-time upset against either UW or PSU. The Hoosiers are unlikely to upset both, so they will need one upset and a win over Iowa—along with Purdue—to have a shot at bowl eligibility.
Moreover, as Big Ten lead blogger Adam Jacobi recently pointed out, a five-win Indiana could find itself in the Big Ten title game. That unlikely scenario would start with a win over the Hawkeyes.
Both teams essentially have to win this game in order to have a realistic shot at a bowl.
The winner will have a shot (though it is more realistic in Iowa's case), but the loser, while not mathematically out of it, can probably pack it in for the year.
Keep Reading

Iowa Hawkeyes Football: Like this team?