2012 NCAA College Football Polls: Week 10 BCS Rankings for Notre Dame or Oregon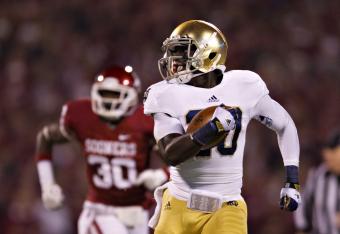 Wesley Hitt/Getty Images
New week 10 BCS standings will show late-October chaos, with seven of the top 15 teams defeated. The USA Today Coaches poll and the Harris Interactive poll are expected to show surprising effects that could launch Notre Dame past Oregon for the third slot should the Ducks lose several second place votes to Kansas St. and Notre Dame.
Notre Dame's rise comes with its big victory at Oklahoma, which could very well bolster the Fighting Irish to gain even more points in the human polls. Next, a Notre Dame victory at USC on Thanksgiving weekend could very well clinch a BCS national title shot.
Kansas St. has peaked with its strength of schedule and BCS points and may have to watch this week's impressive BCS standing slowly evaporate if Oregon and Notre Dame run the table.
Oregon, despite a 70-14 victory beatdown of Colorado, suffered serious blows to its upcoming strength of schedule games. With USC picking up its second loss and Oregon St. losing at Washington, the Ducks will not have the strong lineup of opponents that was previously expected to satisfy the BCS computers. The Pac-12 took a blow.
The following calculations are first-take projections of the polls and BCS rankings. Stay tuned for Sunday's BCS show on ESPN at 8:30 PM ET.
BCS Ranking/Team Coaches Poll Harris Poll Computers
1. Alabama .9759 1.000 .9976 .9300
2. Kansas St. .9367 .9261 .9238 .9600
3. Notre Dame .9114 .8861 .8880 .9600
4. Oregon .9103 .9431 .9478 .8400
5. LSU .8109 .8278 .8250 .7800
6. Georgia .7815 .7851 .7993 .7600
7. Florida .7246 .7200 .7339 .7200
8. S. Carolina .6455 .6597 .6967 .5800
9. Louisville .5393 .5831 .6647 .3700
10. Florida St. .5298 .6766 .6727 .2400
11. Oklahoma .5271 .5356 .5857 .4600
12. Oregon St. .4942 .4922 .5005 .4900
13. Stanford .4909 .4346 .4181 .6200
14. Clemson .4791 .6264 .6010 .2100
15. USC .4288 .4597 .5468 .2800
16. W. Virginia .3964 .3275 .4417 .4200
17. Texas A&M .3763 .3803 .3287 .4200
18. Boise St. .3072 .4000 .3715 .1500
19. Miss. St. .2565 .2739 .1757 .3200
20. Texas .2310 .2258 .2473 .2200
Final Considerations
Alabama has been dominant with a soft schedule but will get its only true test next week at LSU. However, this is a game that suits the Crimson Tide. They face an opponent that has a lackluster offense. Saban's defense will have plenty of time to line up and punish Tigers quarterback Zach Mettenberger.
Alabama may only have Georgia and Notre Dame left to claim a national title. Unfortunately, the more explosive Oregon Ducks and Kansas St. Wildcats may not get a chance to battle the SEC.
The BCS four-team playoff is two years late in getting started. On the other hand, Alabama and Oregon could lose next week, and somehow the BCS madness could change course.
November has never disappointed for massive upset games. Folks out in Eugene and Manhattan can only play their schedules and hope. Tuscaloosa and South Bend just need to win out.
This article is
What is the duplicate article?
Why is this article offensive?
Where is this article plagiarized from?
Why is this article poorly edited?