WWE Hell in a Cell 2012 Results: Match-by-Match Breakdown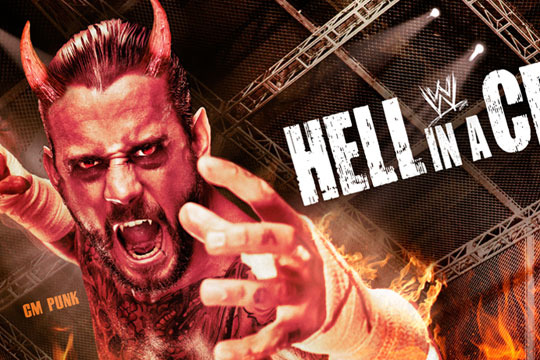 Photo courtesy of WWE.com
The WWE went to hell, but now we're back.
Hell in a Cell is officially a wrap, and though it's technically a B-level show, it actually turned out to be one of the WWE's more newsworthy pay-per-views of 2012.
We have ourselves a new World Heavyweight Champion in The Big Show, and Ryback suffered the first loss of his career, albeit amidst a ton of controversy.
The rest of the PPV card was a lot easier to predict, but there were still some notable happenings in those matches as well. So, let's take a look at exactly what happened tonight and what it could mean for the WWE going forward.
Here is my match-by-match breakdown of the 2012 Hell in a Cell PPV.
Begin Slideshow

»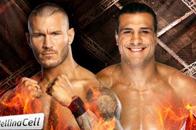 Photo courtesy of WWE.com
I expected The Miz vs. Kofi Kingston to open the pay-per-view, but instead, we got Randy Orton vs. Alberto Del Rio as the curtain jerker.
It actually turned out to be a pretty good choice, though, as ADR and Orton delivered a heck of an opener. The story was a simple one, with ADR spending a lot of time working on Orton's arm, but beyond a weird botch toward the end of the match (when ADR jumped off the turnbuckle for no reason, apparently),these two showed some great chemistry.
The very creative finish came when Del Rio went for the enziguri in the corner and Orton moved out of the way before hitting him with the midair RKO, and to be honest, it wasn't much of a surprise that Orton won.
Starting PPVs with an entertaining match in which the babyface wins is nothing new, and considering that Orton has been losing a lot more often recently, he needed the win here.
I would think that this is the end of this rivalry, but after that ADR/Sheamus rivalry dragged on forever, you never really know. Plus, there's really no must-see rivalries waiting for either of these guys at the moment.
I think we might see this feud drag on to Survivor Series, but with Orton getting the decisive win in their first PPV encounter, there's really no need for that to happen. Orton should rise up the card to the main event, while ADR should stay right here in the upper midcard.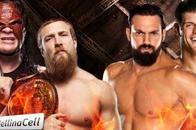 Photo courtesy of WWE.com
I enjoyed the hell (pun intended) out of the No. 1 contenders tag team tournament, but this supposed payoff was pretty weak.
Team Rhodes Scholars fought hard to get this match, and instead of having a decisive finish one way or the other, the bout ended when Kane got team Hell No disqualified for refusing to stop beating down both Cody Rhodes and Damien Sandow.
It leaves a sour taste in my mouth when something that plays out over such a long period of time ends with something that isn't really really an ending at all. But that wasn't even the real story here. The real story was that Kane and Bryan didn't get along during this match, with the WWE teasing a breakup between the two.
Could these two already be headed for Splitsville? I think it's too early for that, but it wouldn't surprise me if it happened sooner rather than later.
I know that the main purpose of Team Hell No is to be a dysfunctional duo, but the way tonight's match was booked made it seem like they're destined to part ways and drop the WWE Tag Team Championship to Rhodes and Sandow sometime soon.
Although it's certainly possible, I'm not sure I see this rivalry extending to Survivor Series. Rather, I think it's likely that Rhodes and Sandow win the straps in a rematch on an episode of Raw, possibly before we even get to the next PPV.
Again, I didn't like the non-finish of the match. But it worked in that it kept Sandow and Rhodes looking strong while teasing the (in my view, premature) breakup of Kane and Bryan.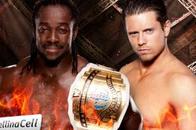 Photo courtesy of WWE.com
For the third time in less than two weeks, The Miz went one-on-one one with Kofi Kingston at Hell in a Cell.
Their Intercontinental Championship match on Main Event was great, but this match got about half as much time as that one did and had a much slower pace, with The Miz attempting to isolate Kingston's leg to slow him down.
He accomplished that, but I think it hurt the quality of the match because things slowed down too much and Kingston never really got into that lightning-quick pace we often see from him.
It was a fine performance from both guys, though, and I think the right man (Kingston) won. Kingston could use the Intercontinental title to help reestablish himself as a singles competitor, while there are rumblings that The Miz is headed back to the main-event picture.
I think that Kingston will move on to a new challenger (pick a midcard heel with nothing to do), and I'd expect The Miz to slowly, but surely, be built back up as a top guy.
The Miz has looked really good in the ring as of late, and even though he's suffered three consecutive big losses to Kingston, I see it as more of a blessing than a punishment He'll be elevated, and he'll be elevated soon.
Just how high he's elevated is the question.
A late, but not surprising, addition to the Hell in a Cell card was Antonio Cesaro defending the United States Championship against Justin Gabriel.
This match was expected to happen after Gabriel beat Cesaro in a non-title match on Raw, and it was really just a way to fill out the show. No one expected Gabriel to win again, and of course, he didn't.
Cesaro was dominant early on, and Gabriel showed some impressive athleticism as he tried to take control of the match. But he fell short after an absolutely sick finishing sequence that saw Gabriel try to launch himself onto Cesaro outside the ring, only to get blasted with a devastating European uppercut and then get hit with The Neutralizer to lose the match.
It was a nice, short showing for both men. Nothing really special (besides that vicious uppercut), but what really hurt it was the dead crowd, which was pretty weak for most of the night.
I think this short-lived rivalry is over, and I'm not sure that Gabriel's supposed push is really going to take him anywhere. He may appear on TV more often than he has in the past, but I don't see him taking the US title from Cesaro or anything like that.
Look for Cesaro to move on to a more believable challenger while Gabriel fights to keep his spot on TV.
A tag team match that doesn't involve the tag team champions? On pay-per-view? Say what?
It's certainly been a while since two legitimate tag teams got a PPV match without the WWE Tag Team Championship, but we got one tonight when, as many of us expected, Rey Mysterio and Sin Cara took on the Prime Time players.
This was pretty much your standard tag team match, with Sin Cara taking an unusually stiff-looking beat down from Darren Young and Titus O'Neil before getting the hot tag to Mysterio. Mysterio then did his classic comeback, and the finish came when Young had Mysterio up on his shoulders for the double-knee gutbuster, Mysterio countered with a hurricanrana and then hit the 619 and the top-rope splash for the win.
It wasn't really surprising that the babyfaces won here or that O'Neil wasn't very good. But I do think that the Prime Time Players have more long-term value as a duo and that a win would have benefited them considerably more here.
Still, Sin Cara and Mysterio picked up the W, and now, you have to think that this rivalry will continue. After all, these two duos are scheduled to face off in the main event of this week's episode of Main Event (weird sentence to type) in a six-man tag team match.
That could be a sign that we're only in the middle of this rivalry, and I wouldn't be shocked if it resulted in these two duos ending up on the opposite teams in a traditional 5-on-5 Survivor Series match at that pay-per-view.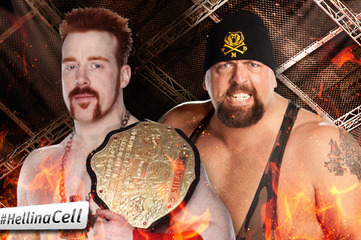 Photo courtesy of WWE.com
How many people actually expected The Big Show to walk out of Hell in a Cell as the World Heavyweight Champion? Not many, that's for sure.
Many thought that Sheamus would retain clean or Big Show would win the belt, only to lose it mere seconds later after Ziggler cashed in on him. But alas, Big Show left Atlanta with the World title around his waist.
The outcome of this match was surprising, and the match itself actually was, too. For the most part, it was about what I expected, with Big Show doing his usual dominant beatdown on Sheamus.
But there were some very entertaining spots that included Big Show tossing Sheamus over the announce table and Sheamus hitting Big Show with the White Noise in a ridiculously impressive show of strength.
Still, the best part of the match was the finish, which was a "finisher fest" of sorts. Sheamus kicked out after a WMD, Big Show kicked out after a Brogue Kick and then Sheamus went for another Brogue Kick, Big Show caught Sheamus and then annihilated him with a second WMD to get the victory.
Great finishing sequence there in a match that, although too slow at times, definitely exceeded my expectations and left me shocked with the way it ended.
Big Show is now the World Heavyweight Champion, and Sheamus' nearly seven-month long title reign is over. I'm sure Big Show is riding high now, but I don't really see him being anything more than a transitional champion.
I thought that Big Show would be used to transition the World title onto Ziggler tonight, but that didn't happen. However, that doesn't mean it won't.
Expect Sheamus to use his rematch against Big Show at Survivor Series, and of course, you can also expect the rumblings of a Ziggler cash-in to be there once again.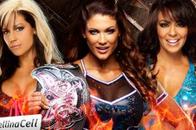 Photo courtesy of WWE.com
I'll give Eve, Layla and Kaitlyn some credit for trying hard, but this match just didn't work.
They had a simple style Triple Threat match (with mostly one-on-one action and one Diva on the outside), but it wasn't overly entertaining and featured a few noticeable botches, including a weird spot where Eve and Layla did splits and Kaitlyn smashed their heads together that seemed a little off.
What's even worse is that the finish didn't quite go as planned, either. Kayla went for a pin on Layla, Eve jumped off the top rope with a swanton bomb/front slip sort of move and missed Kaitlyn by a mile.
Yet, that was the finish. So, Eve pushed Kaitlyn aside and then pinned Layla to get the victory anyway.
It worked well in the sense that it made Eve look sneaky and kept Kaitlyn looking strong, but it was a rather unexciting three-way that only lasted about six or seven minutes, yet didn't do a whole lot to keep the crowd entertained.
I'm glad to see the WWE trying to do something with the Divas. I just think that the right Divas (Natalya, Tamina, etc.) aren't involved.
Eve's solid and Kaitlyn is OK, but Layla's been borderline dreadful as a babyface.
Let's move on.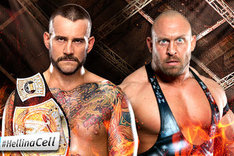 Photo courtesy of WWE.com
I can admit when I'm wrong, and I was wrong about this match.
It wasn't a classic by any stretch of the imagination, but Ryback performed well in the biggest match of his life, and perhaps more importantly, the WWE booked a creative finish to keep the title on CM Punk while also keeping Ryback looking strong.
The majority of the match saw Ryback dominate Punk, with Punk looking scared and/or resorting to distracting measures to try to get the win. But the finish shocked just about everyone.
Ryback had Punk up for his Shell Shocked finisher when, out of nowhere, referee Brad Maddox hit Ryback with a low blow, allowing Punk to roll Ryback up for the victory.
Of course, that means that Ryback is no longer undefeated. But it took a dirty finish for him to lose, and I don't think it really wound up hurting him all that much.
I'd expect it to ultimately be revealed that Heyman paid off Maddox or something along those lines, and based on the finish, I'd say it's a safe bet that Ryback is going to get another shot at Punk and the WWE Championship.
That match will likely take place at Survivor Series with some sort of No DQ stipulation and could possibly even involve John Cena, and after the way things went down tonight at Hell in a Cell, the fans are going to want to see Ryback get his hands on the conniving Punk.
Drake Oz is a WWE Featured Columnist for Bleacher Report. Follow him on Twitter!