Texas Football: 5 Keys to the Game Against Texas Tech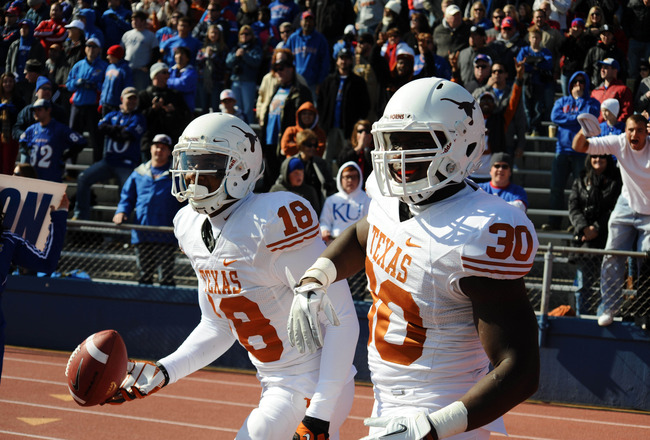 John Rieger-US PRESSWIRE
In a matchup of a couple of 6-2 teams, No. 23 Texas (3-2) and No. 18 Texas Tech (3-2) are prepping for what should be a game of interest for the Big 12.
The Red Raiders are coming off a tough loss to Kansas State, and the Longhorns were mostly unimpressive in a come-from-behind win against Kansas.
Tommy Tuberville's Red Raiders are a much-improved team defensively and still conduct themselves effectively offensively with a solid running game to complement an always-potent passing game.
Rarely is it an easy task to go into Lubbock and come away with a win, but the Red Raiders look the part of a more composed team that has the capability of shredding the thin lines that is Texas' defense.
The Longhorns ran all over the Texas Tech defense last season in Austin, posting an impressive 439 rushing yards and six touchdowns. Joe Bergeron recorded 191 yards and three scores on that night.
Perhaps another strong showing on the ground will have the cards in Texas' favor.
Here are five keys to Saturday's matchup with Tech.
Slow Tempo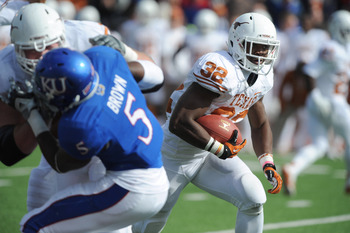 John Rieger-US PRESSWIRE
With the defensive shortcomings that have plagued Texas over its 6-2 record, a high-scoring affair hardly bodes well for the team.
The tenacity to come from behind to steal a game on the road, regardless of the opponent, is a characteristic of a team that is willing to fight. As a result, the low-scoring contest put the Longhorns in position to grab the win.
Similarly against Texas Tech, slowing the tempo of the game to a turtle's pace is something that will favor both Texas' offense and defense.
Controlling the clock and capping the scoreboard will have Texas very threatening in the fourth quarter.
Dominant Run Game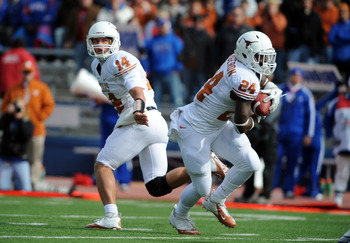 John Rieger-US PRESSWIRE
The Longhorns posted huge numbers against the Red Raiders last season, but those were different circumstances with different players.
If Texas has any shot of winning Saturday, matching that sort of effort on the ground should be the expected game plan.
With Johnathan Gray earning his first career start, perhaps that sets up Joe Bergeron to play a more purposeful role as a true power option up the middle.
How ever Texas accumulates yards on the ground, it serves as the primary objective in attaining a slow tempo.
Create Turnovers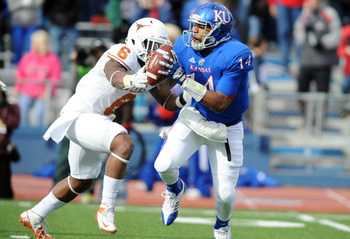 John Rieger-US PRESSWIRE
Kansas State and Oklahoma managed to beat Texas Tech largely because of the turnovers they created on defense, picking up three apiece.
The Longhorns have been able to generate those takeaways, but they will need to take advantage of those scoring opportunities.
Texas ranks 23rd in turnover margin and sits plus-6 in that category, whereas the Red Raiders' is 89th with a minus-4 margin.
Earn a Touchdown on Defense or Special Teams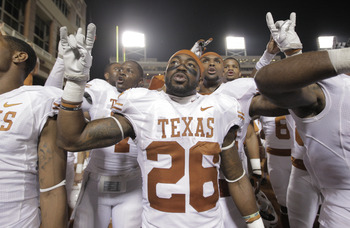 Brett Deering/Getty Images
With the Red Raiders expected to score their fill of points, Texas will need every point it can get to be competitive.
The Longhorns have the talent to create non-offensive touchdowns and have demonstrated it in the past, but the ability to generate those scoring chances in addition to playing good defense is a combination that has frequently escaped them.
After a lulling offensive showing against Kansas, Texas will need manufacture points from a multitude of angles.
Stop the Run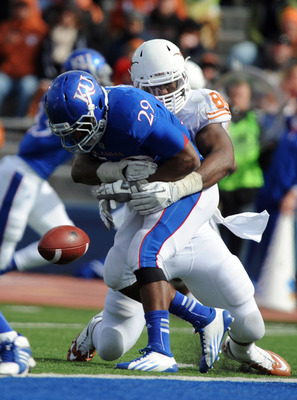 John Rieger-US PRESSWIRE
Texas Tech has always been a program that fields strong spread offenses. The days of Kilff Kingsbury, B.J. Simmons and Graham Harrell are distant memories, but the Red Raiders still offer up a very respected passing attack.
However, Tommy Tuberville has been able to instill a hint of a running game this season, led by sophomore running back Kenny Williams.
Although the Longhorns are vulnerable at various areas on defense, shutting down the run has been something they have not done well.
If the Red Raiders can achieve strong complement to their passing attack with unstoppable runs, Texas will be in big trouble as it has been all season.
Keep Reading

Texas Longhorns Football: Like this team?