Comparing the Philadelphia Phillies' 25-Man Roster to the San Francisco Giants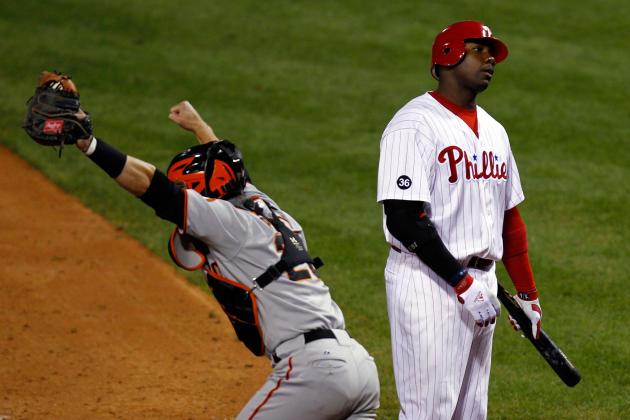 Jeff Zelevansky/Getty Images

Ever since Ryan Howard was rung up to end the National League Championship Series in 2010 and Buster Posey celebrated, the Philadelphia Phillies and San Francisco Giants have been a pair of teams linked by their successes and failures.
It's only natural when you have a pair of teams built on the same philosophy: Pitching. Both teams have great starting rotations and solid bullpens with lineups that take a back seat. They play solid defense and win by playing fundamentally well.
So why are the Giants playing in their second World Series in three years while the Phillies have watched all three from home? What's the difference?
On paper, the Phillies are a better team. Coming into the 2012 season, they had the highest payroll in the National League and an All-Star at what felt like every position, yet, finished in third place.
The Giants went in the other direction, holding off the now-payroll Goliath Los Angeles Dodgers to take the National League West.
But again, it all comes down to the simple question of "what's the difference?"
To try and get to the bottom of this question, we'll compare the teams' 25-man rosters side by side to see who has the advantage. We'll use each club's Baseball-Reference page to build the 25-man rosters by who played the most, unless there is an extenuating circumstance, which will be noted.
Are the Giants really a better team than the Phillies, or did the latter just underachieve?
Begin Slideshow

»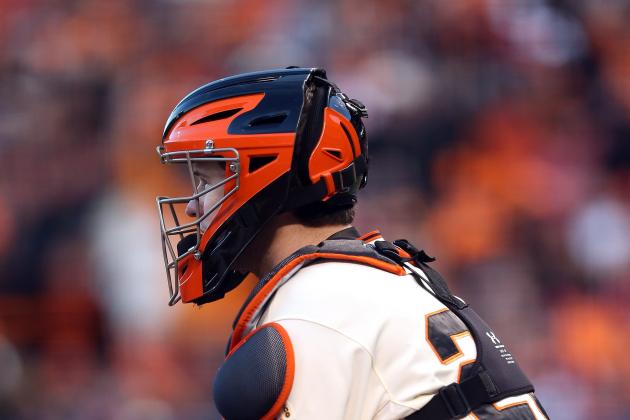 Ezra Shaw/Getty Images

Ruiz's Line: .325 / .394 / .540, 16 HR
*Posey's Line: .336 / .408 / .549, 24 HR
Compared against any other team, Carlos Ruiz would have been an easy selection here.
Throughout the first half of the regular season, with guys like Ryan Howard and Chase Utley on the shelf, Ruiz picked this team up on his back and carried them, especially offensively. He had the greatest season of his career and was one of the game's most valuable players.
But the reason that he does not get the selection is because Buster Posey probably will be at the top of that list. I'd be surprised if he is not named the National League MVP and he has the numbers to back up that claim.
If you're looking for reasons that the Giants are in the World Series, this guy is number one.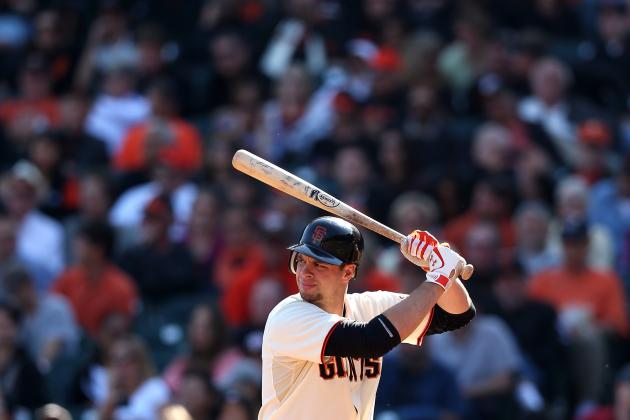 Ezra Shaw/Getty Images

Howard's Line: .219 / .295 / .423, 14 HR
*Belt's Line: .275 / .360 / .421, 7 HR
I'm willing to give Ryan Howard the benefit of the doubt in a lot of ways because he's had a rough year stretching back to last October. But I couldn't bring myself to pick him over Brandon Belt either.
If you're looking for a good power hitter, take Howard, but Belt did just about everything else better this season.
The Giants first baseman is a better contact hitter and defender and should hit for more power as he develops. Can you say the same about Howard? I don't think so. He's heading in the wrong direction.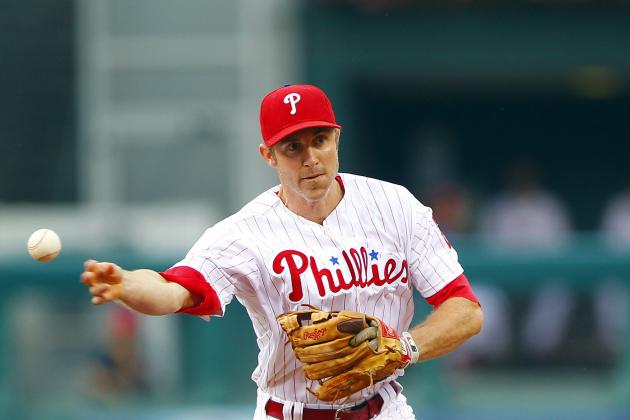 Rich Schultz/Getty Images

*Utley's Line: .256 / .365 / .429, 11 HR
Theriot's Line: .270 / .316 / .321, 0 HR
The Giants went with more of a platoon at second base this season and Ryan Theriot got the most starts, so the pairing here may seem a little strange. It doesn't make a difference in the long run, however, because I would have picked Chase Utley regardless of the comparison.
It took Utley a while to get back into the swing of things upon returning to the diamond this season, but when he got the ball rolling, he was good.
His BABip suggests that he was a bit unlucky in 2012 and that is also a big part of the reason that a lot of people are down on him. When you dig deeper, the production is still there. This is still one of baseball's elite second basemen.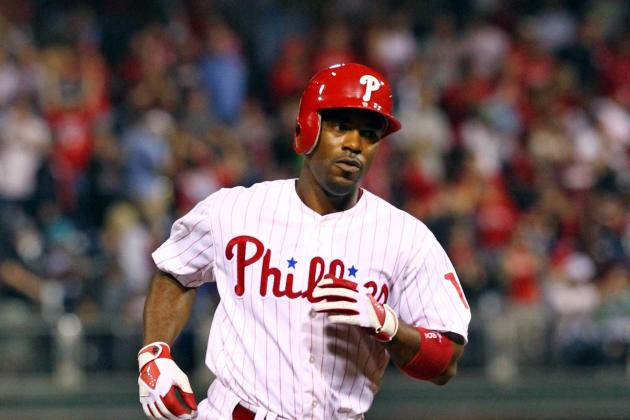 Hunter Martin/Getty Images

*Rollins' Line: .250 / .316 / .427, 23 HR
Crawford's Line: .248 / .304 / .349, 4 HR
Jimmy Rollins is still a very good shortstop—one of the best in the league.
I don't think that anyone will argue that there are areas of his game, offensively, that can be improved. But when you have a shortstop with power like Rollins does, I think that is production you will take in a heartbeat.
He may not be a top of the order bat, but that is no fault of his own. Rollins is still an elite defender and gives you some potential offensively. What more can you ask for?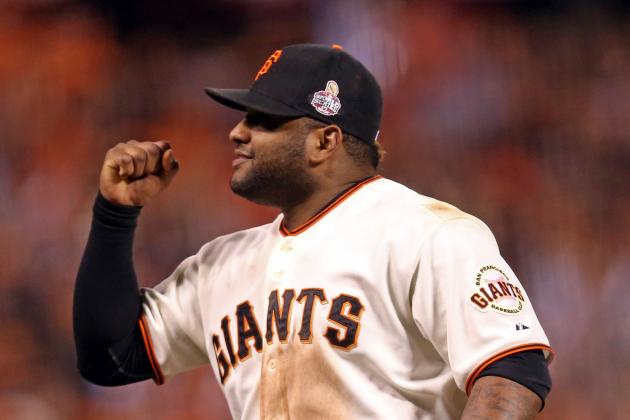 Christian Petersen/Getty Images

Polanco's Line: .257 / .302 / .327, 2 HR
*Sandoval's Line: .283 / .342 / .447, 12 HR
Placido Polanco couldn't even finish the season as the starting third baseman for the Phillies, so that should be enough context to understand why he isn't getting the nod here.
Polanco was injured and inconsistent throughout most of the year and that opened the door for Pablo Sandoval, who dealt with injuries himself and, at least by his standards, probably had a bit of a down year as well, to come in and steal this third base claim.
Sandoval is a free-swinging switch-hitter with power that won't kill you at third base. There are some questions about his commitment, but those were less apparent in 2012.
Polanco's best attribute is his stellar defense, but it is hard to play defense when you can't stay on the field. Sandoval gets an easy vote here.
Hunter Martin/Getty Images

Pierre's Line: .307 / .351 / .371, 1 HR
*Cabrera's Line: .346 / .390 / .516, 11 HR
I'm sure that this slide will be one of the biggest debate topics. It is in my mind and I don't think that the reasons are necessarily so obvious.
Sure, the thing that sticks out the most is Melky Cabrera's positive drug test that effectively ended his season. But you also have the fact that Juan Pierre had an excellent season for the Phillies for what is really pennies on the dollar.
If you look at the numbers, Cabrera had way more of an impact. If you're willing to go outside of the numbers a bit, who do you think had more of a positive impact on his respective clubhouse? Pierre was the perfect veteran and consummate professional for the Phillies this year.
I'll give the nod to Cabrera, but to be perfectly honest with you, I don't even want to. Pierre's impact is very understated.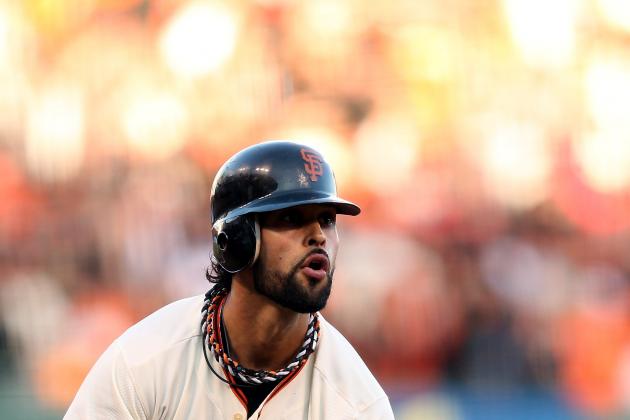 Ezra Shaw/Getty Images

Mayberry's Line: .245 / .301 / .395, 14 HR
*Pagan's Line: .288 / .338 / .440, 8 HR
Angel Pagan had the kind of season that soon-to-be free agents dream about.
He came over to the Giants through a trade with the New York Mets and battled his way through a crowded outfield into a regular gig, and boy, has it paid off. He helped lead his club to a World Series and is making more money with every base hit.
In fact, the Phillies have a hole in center field to fill and more than a few people have expressed their desire to see Pagan in red pinstripes next year.
Whether or not that eventually happens is irrelevant here. When you look at 2012 alone, Pagan easily had the better year. John Mayberry Jr. tried his best to fill the void that Shane Victorino left behind, but he isn't a viable option in center field moving forward.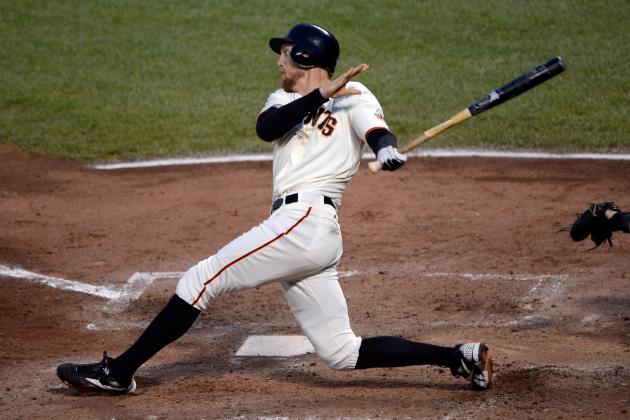 Thearon W. Henderson/Getty Images

Brown's Line: .235 / .316 / .396, 5 HR
*Pence's Line (full 2012 season): .253 / .319 / .425, 24 HR
This comparison amuses me for obvious reasons given the players, so allow me to start this slide with a bold prediction: I believe that Domonic Brown will be a better big league outfielder than Hunter Pence. I just do.
That's not to slight Pence, who I believe is a great player. He has a style that works for him, but one that you would not teach to anyone. He swings at everything, does everything awkwardly and somehow makes it work.
Brown's swing is a lot smoother. He has better discipline at the plate and a ton of power that he only started tapping into at the end of 2012. Can he be, at least, an average defensive outfielder? I think so. That's what Pence was for the Phillies.
In 2012, I'll give the nod to Pence over Brown. In the future? Well, this could possibly be the last time.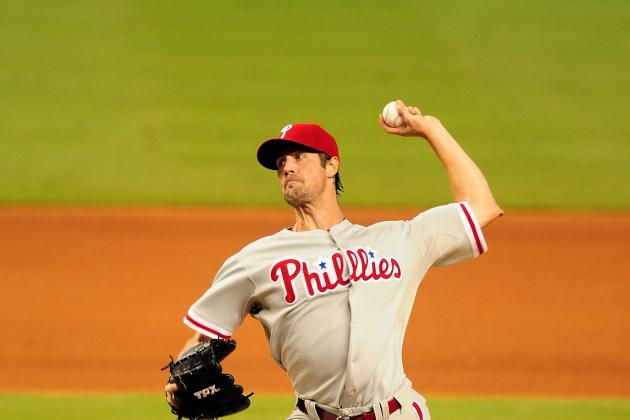 Jason Arnold/Getty Images

*Hamels' Line: 17-6, 3.05 ERA, 1.124 WHIP
Cain's Line: 16-5, 2.79 ERA, 1.040 WHIP
This was probably the closest matchup on the list, and I started pinching pennies to come away with Cole Hamels.
Given the way that each player pitched in 2012, who would you rather have on the mound for Game 7 of the World Series? That was one of the questions that I asked myself, and I answered myself (don't call the loony bin on me) with Hamels.
Why?
Every time Hamels takes the mound he has the chance to be dominant. Sounds kind of funny to say that about a man who is matched up against a guy who tossed a perfect game this season. But Hamels has the better "stuff."
The fastball. The filthy changeup. The good cutter. These are just a few of the things that make Hamels dangerous. He gets more strikeouts and keeps runs off the board with relative ease.
If I were grading each of these guys on a scale of one to 10, Cain gets a 9.5 and Hamels gets a 10.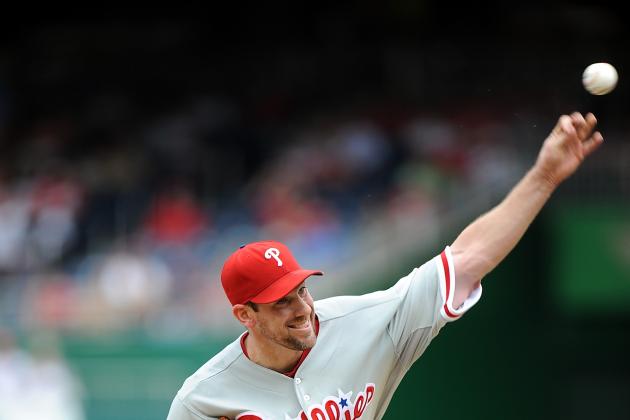 Greg Fiume/Getty Images

*Lee's Line: 6-9, 3.16 ERA, 1.114 WHIP
Bumgarner's Line: 16-11, 3.37 ERA, 1.114 WHIP
This may just be a matchup of the game's two most underrated left-handed pitchers, and that is directed at Madison Bumgarner more than Cliff Lee, who is earning more than $100 million.
But these two guys were both very good in 2012 and it comes down to splitting hairs to figure out who was better. I'm going with Lee.
Once you get past the abnormal record, you see that Lee was one of the best pitchers in baseball, and he did it with pinpoint command. Lee posted the best K/BB ratio in all of baseball by a wide margin and that balanced an inflated H/9 mark.
The fact of the matter is that if Lee was awarded with more decisions this season, he could easily slide into the top three in voting for the Cy Young award.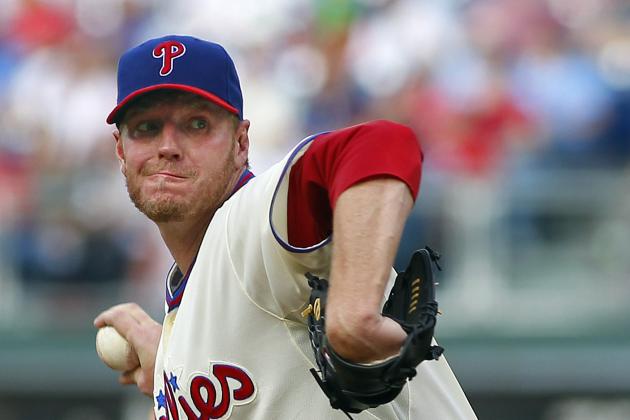 Rich Schultz/Getty Images

*Halladay's Line: 11-8, 4.49 ERA, 1.222 WHIP
Vogelsong's Line: 14-9, 3.37 ERA, 1.228 WHIP
Ryan Vogelsong had a very solid regular season and has been one of the Giants best pitchers in the postseason, but even after everything that he went through in 2012, I'd still rather have Roy Halladay.
It comes down to the fact that Halladay at his worst is still probably better than most pitchers in baseball. That's not to say that a bad Halladay is as good as a good Vogelsong, but that this comparison comes down to deeper numbers than record and ERA.
Even in a down year, a lot of Halladay's advanced stats were better than Vogelsong's—and he made six fewer regular seasons starts following the lat injury.
Halladay is a guy I'm comfortable giving the benefit of the doubt.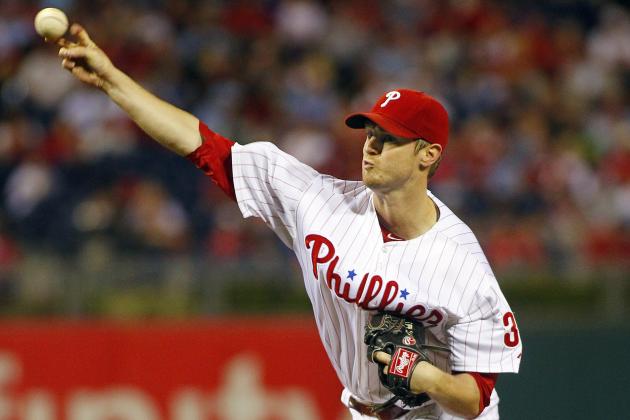 Rich Schultz/Getty Images

*Kendrick's Line: 11-12, 3.90 ERA, 1.274 WHIP
Lincecum's Line: 10-15, 5.18 ERA, 1.468 WHIP
Given all of the venomous things I've said about him in the past, I never thought that I would find myself comparing Kyle Kendrick to Tim Lincecum and have him come out on top, but that's how things fell into place here.
And that wasn't an easy decision. The first draft of this slideshow had Lincecum as the selection here. I didn't think I'd be able to preach about picking Roy Halladay over Ryan Vogelsong with "benefit of the doubt" being a factor and not pick Lincecum over Kendrick, but I did.
It all comes down to the simple fact that Lincecum was just bad this season. Compare that to how good Kendrick was as a starting pitcher (9-11, 3.89 ERA, 1.243 WHIP) and it isn't particularly close.
Outside of strikeouts, Kendrick had Lincecum's number in a lot of statistics, and he made eight fewer starts. If Kendrick had made 33 starts, as Lincecum had, this may not have been as close.
Given the year he had, I just couldn't bring myself to pick Lincecum, and I wanted to, because I think he is the better pitcher.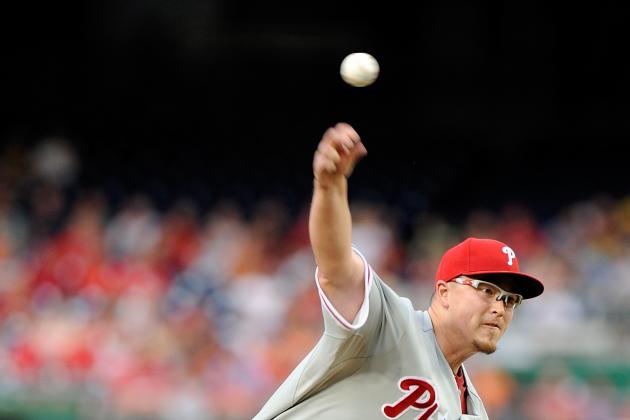 Greg Fiume/Getty Images

*Worley's Line: 6-9, 4.20 ERA, 1.511 WHIP
Zito's Line: 15-8, 4.15 ERA, 1.389 WHIP
The more traditional statistics don't seem to say so, but this matchup wasn't as close as it seems. At this point in their respective careers, I'd take an ailing Vance Worley over a completely healthy Barry Zito, which should say something about that latter name.
Zito received a fair amount of run support from the Giants this season, which really helped some of his overall numbers. His peripheral statistics were not very good. He posted mediocre strikeout and walk rates and was helped out by a low BABip.
Worley was more valuable in fewer starts. Even with the bone chip in his right elbow, his strikeout rate was much better and his more advanced statistics outshine Zito's. If Worley made those 10 extra starts, this wouldn't have been close.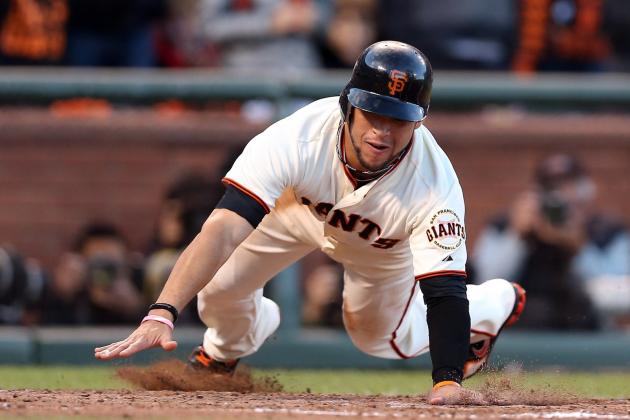 Christian Petersen/Getty Images

Wigginton's Line: .235 / .314 / .375, 11 HR
*Blanco's Line: .244 / .333 / .344, 5 HR
Teams use their benches in different ways, so they were a little difficult to compare. What I eventually wound up doing was comparing players based on playing time, excluding the backup catchers, who were compared for obvious reasons.
So, to compare the bench players, I took each team's four most used players and compared them in their respective orders, which is how we wound up with Ty Wigginton versus Gregor Blanco.
But the fact of the matter is that I would have chosen Blanco over most of the Phillies bench options. I like what he is able to provide off of the bench and in a spot start—quality defense and a solid at-bat. That's what you're looking for out of a bench player.
Wigginton's 11 home runs seem like a solid mark, but he was practically useless as a pinch hitter. I'll take Blanco here.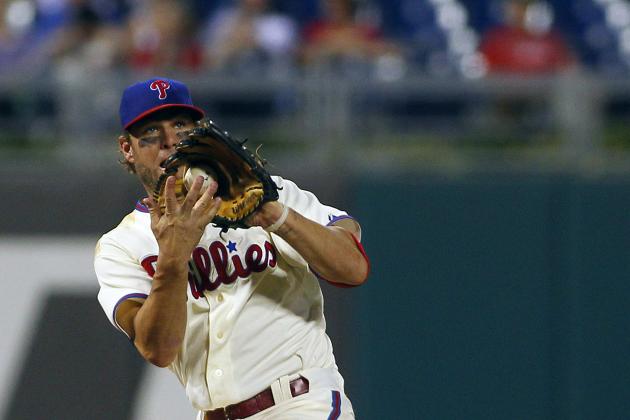 Rich Schultz/Getty Images

*Frandsen's Line: .338 / .383 / .451, 2 HR
Arias' Line: .270 / .304 / .389, 5 HR
Joaquin Arias had a solid season off of the bench for the Giants, but he was nowhere near as productive at the plate as Kevin Frandsen.
After leading Triple-A in hits for quite some time, the Phillies called Frandsen up to replace an ailing Placido Polanco and he eventually took the everyday job.
Frandsen provides a quality at-bat and solid defense at three different spots on the infield, and you can't ask for much more out of a utility man.
He shouldn't be the starting anything for the Phillies next season, but Frandsen is a very good bench player that most teams wouldn't mind having around.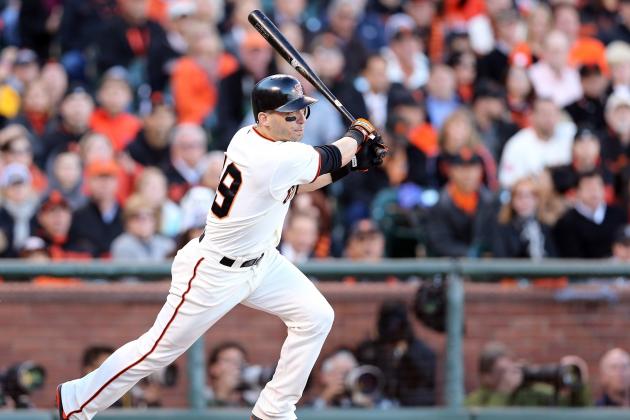 Christian Petersen/Getty Images

Galvis' Line: .226 / .254 / .363, 3 HR
*Scutaro's Line (full season): .306 / .348 / .405, 7 HR
This comes off as a strange pairing, especially given the way the postseason went, because you would think of Marco Scutaro as an everyday player, but he was in more of a platoon role during the regular season and Ryan Theriot got a few more starts at second base.
But in the long run, things kind of level out. Scutaro got off to a slow start as a member of the Colorado Rockies before he was traded to the Giants and following a back injury, Freddy Galvis only played half a season.
As far as the total package is concerned, Scutaro is the better player. He is a solid defender who was much better at the plate in 2012. If Galvis can figure things out offensively, he has the potential to be better than Scutaro, but he'll have to put some work in.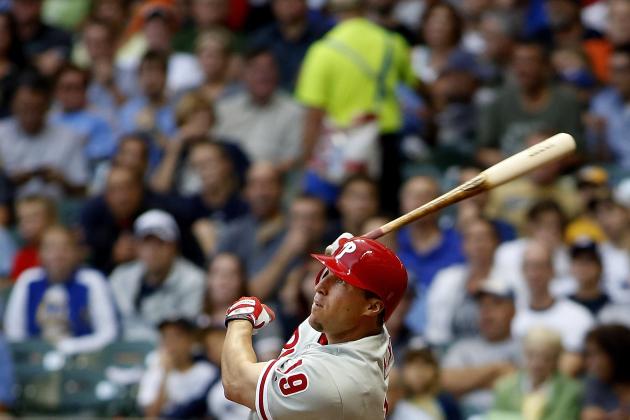 Mark Hirsch/Getty Images

*Nix's Line: .246 / .315 / .412, 3 HR
Burriss' Line: .213 / .270 / .221, 0 HR
However bad things were for Laynce Nix season, at least they were not Emmanuel Burris-level bad.
Nix, who missed more than 50 games with a severe calf strain this season, never really showed why the Phillies felt the urge to give him a two-year deal last winter. Of course, his hot start to the year was cut short by the injury and he never got things rolling after.
There is still a hope that he can be that impact, left-handed power hitter off of the bench next year, and I would say there is a good chance that could happen if he is healthy.
Granted, I'm not sure what this means, but even a sub-par Nix is better offensively than normal year of Burriss, and since Nix won't absolutely destroy your chances of winning defensively, I'll take the Phillies utility guy.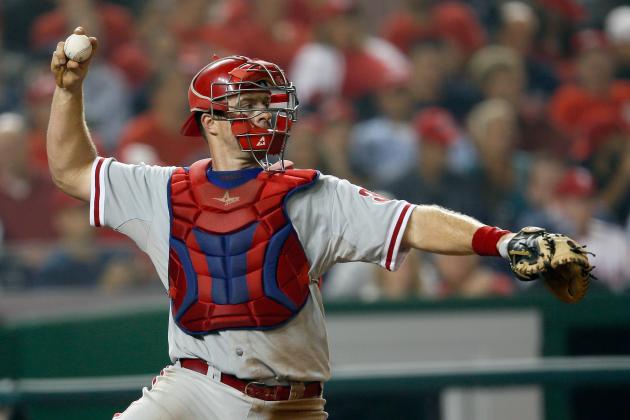 Rob Carr/Getty Images

*Kratz's Line: .248 / .306 / .504, 9 HR
Sanchez's Line: .280 / .295 / .390, 3 HR
This is an interesting matchup that probably comes down to your philosophy on how a backup catcher should approach the game.
Hector Sanchez is a very good defensive catcher that is going to call a solid game when your starting catcher needs a day off, and that's valuable. He also has some offensive upside that he hasn't tapped into just yet.
But I'm going with Erik Kratz because I think he gives you more of a balanced skill-set. Kratz showed that he can be a solid defensive catcher last season, but he also showed some offensive potential that included big power.
Right now, I'll take Kratz, but in the future it will probably be Sanchez.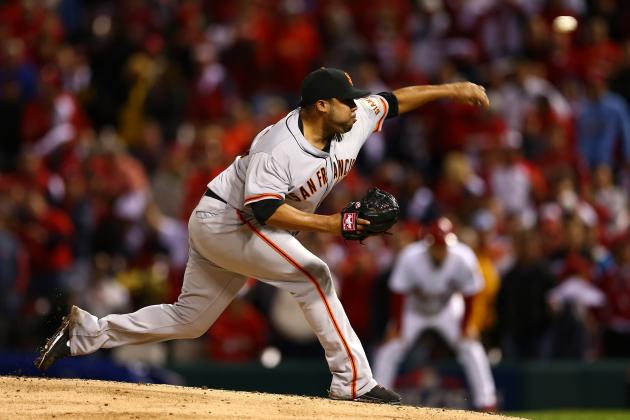 Elsa/Getty Images

Lindblom's Line (full season): 3-5, 3.55 ERA, 1.352 WHIP
*Mijares' Line: 1-0, 2.55 ERA, 1.245 WHIP
Because teams use their bullpens in unique ways, we'll approach relievers the same way that we approached bench players. What I did was, excluding the closers, rank each team's relievers based on games played and compared them.
That's how our first matchup winds up being Josh Lindblom and Jose Mijares.
Given how Lindblom's debut went for the Phillies, this was an easy selection. Mijares was very good for the Giants this season as this team continues to churn out quality relievers.
The Phillies, on the other hand, will be hoping that Lindblom can build off of the progress he made very late in the year.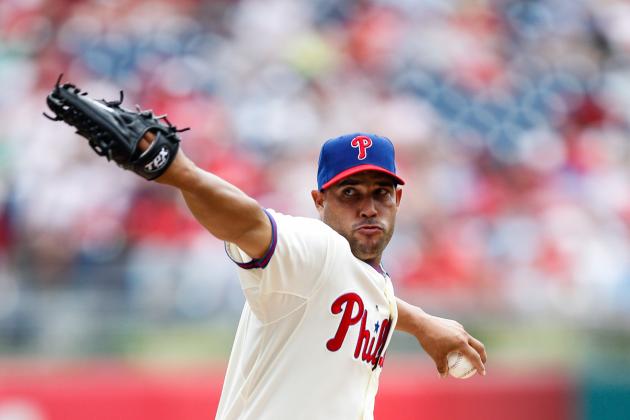 Brian Garfinkel/Getty Images

*Valdes' Line: 3-2, 2.90 ERA, 0.742 WHIP
Kontos' Line: 2-1, 2.47 ERA, 1.053 WHIP
Before a knee procedure ended his season, Raul Valdes had quietly become one of the Phillies most consistent relievers.
The left-handed pitcher was signed to a minor league deal over the offseasons and didn't spend much time in Triple-A before the Phillies gave him a shot in an effort to shake up their bullpen, and outside of a brief demotion, he was excellent.
George Kontos was very good for the Giants in a similar way, but Valdes just had the better season. I will be intrigued to see if either of these guys can prove that their 2012 season was not a fluke next year.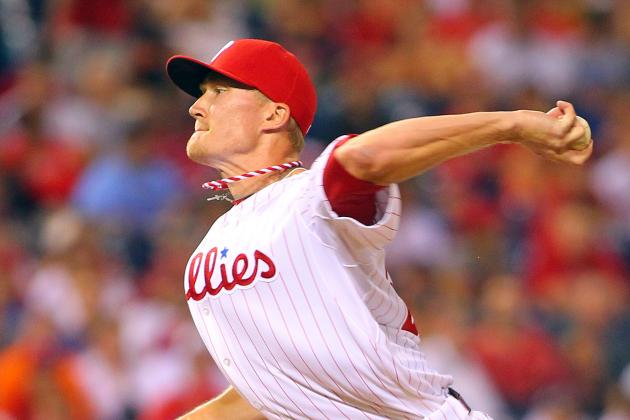 Rich Schultz/Getty Images

*Diekman's Line: 1-1, 3.95 ERA, 1.646 WHIP
Hensley's Line: 4-5, 4.62 ERA, 1.579 WHIP
Neither of these guys had a great season in 2012, but I think that the Phillies found Jake Diekman slightly more effective than the Giants found Clay Hensley.
Personally, I think that the Phillies stumbled onto something special in Diekman. This is a power lefty with an explosive fastball and solid secondary offerings. If he can repeat his mechanics better by shortening his delivery a bit, he could be this club's next left-handed set-up man.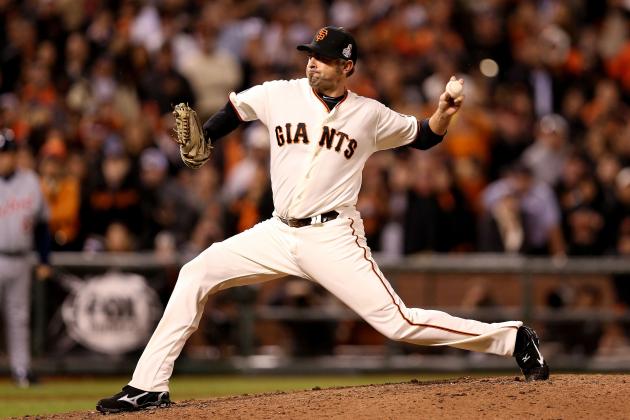 Christian Petersen/Getty Images

Horst's Line: 2-0, 1.15 ERA, 1.117 WHIP
Affeldt's Line: 1-2, 2.70 ERA, 1.263 ERA
As far as middle relievers are concerned, Jeremy Horst was the best the Phillies had to offer in 2012—not a bad claim considering that he was considered something more like a "throw-in" when the Phillies dealt Wilson Valdez to Cincinnati.
But in the long run, the Giants bullpen is just a little bit deeper and Jeremy Affeldt had a much larger sample size, and when it comes to relievers, I personally believe that being consistently good is incredibly important.
Affeldt has served as everything from a situational lefty to the Giants closer at times, and when the Phillies explore the free agent market for relievers this winter, he'll be on their shortlist.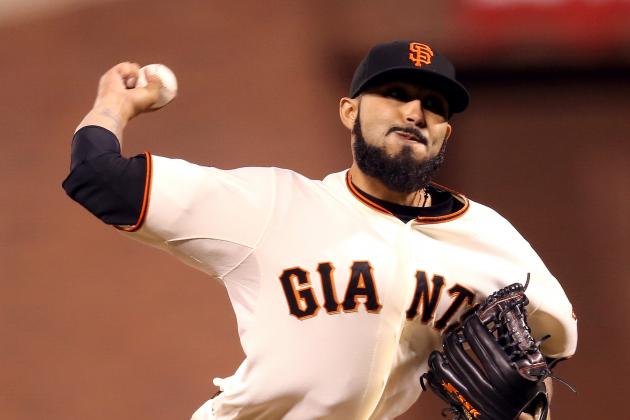 Christian Petersen/Getty Images

Schwimer's Line: 2-1, 4.46 ERA, 1.340 WHIP
*Romo's Line: 4-2, 1.79 ERA, 0.849 WHIP
If you're looking for an illustration of how bad the Phillies bullpen was at times during the season, look no further than this: Michael Schwimer and Chad Qualls were tied for the most appearances by a right-handed reliever not named Jonathan Papelbon.
And while Schwimer was a solid option out of the 'pen at times (and dreadful in others), he didn't come anywhere close to being as valuable as Sergio Romo was to the Giants.
Romo had an excellent season that saw him pitch in (and excel in) several different roles. He'll be a valuable arm for them for years to come.
Rich Schultz/Getty Images

*Bastardo's Line: 2-5, 4.33 ERA, 1.269 WHIP
Lopez's Line: 3-0, 2.50 ERA, 1.417 ERA
Remember when I talked about managers using their bullpen in different ways? Well, here is the perfect example.
Javier Lopez made 70 relief appearances for the Giants this season, but pitched a total of just 36 innings. He was the definition of "left-handed specialist"—a guy who rarely pitches a full inning and normally only comes on to face tough lefties.
Antonio Bastardo, on the other hand, made 65 appearances and pitched 52 innings. Charlie Manuel was more willing to have him face right-handed batters and utilized him as more of a setup man.
That's a big part of the reason that I believe Bastardo is more valuable. For as bad a first half as he had, the lefty rebounded in a big way—especially with strikeouts—to once against become one of the Phillies best relievers.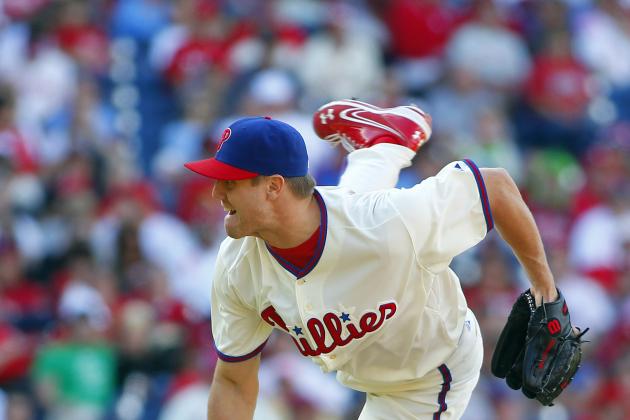 Rich Schultz/Getty Images

*Papelbon's Line: 5-6, 2.44 ERA, 1.057 WHIP, 38 SV
Casilla's Line: 7-6, 2.84 ERA, 1.216 WHIP, 25 SV
When you pay a man $50 million to be your closer, you should just assume that he is going to win matchups like this.
Of course, that isn't always going to be the case, but it is here. Jonathan Papelbon was every bit as good as advertised for the Phillies this season, bringing stability to the ninth inning which probably would haved forced the Phillies to spontaneously combust otherwise.
Santiago Casilla was very good for the Giants as well in place of injured closer Brian Wilson, but Papelbon had the edge by quite a bit.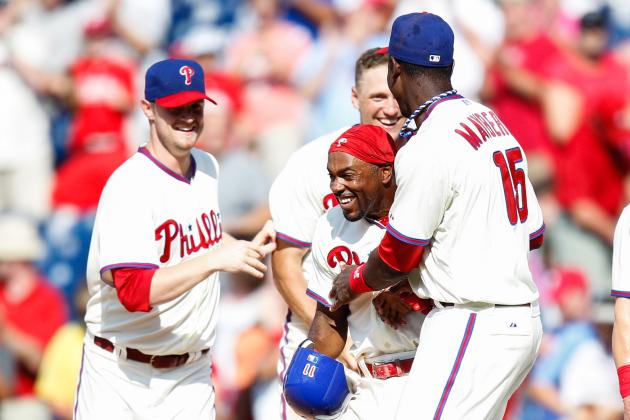 Brian Garfinkel/Getty Images

So, now it's time for the conclusion. Are the Giants a better team than the Phillies? Did the Phillies just under-perform? Are the Phillies overrated?
It's almost hard to say this with the Giants in their second World Series in three seasons, but I do still think that the Phillies are a better team. When you compare their 25-man rosters side by side, I believe that the Phillies come out on top.
For a final score of sorts, I gave the Phillies 14 positions and the Giants 11.
What are the biggest differences? Well, for starters, I think that the Phillies pitching this season was much better than people give it credit for. Cole Hamels and Cliff Lee should both receive votes for the Cy Young award while the Phillies' "bottom third" of Roy Halladay, Kyle Kendrick and Vance Worley was better than the Giants' "bottom third" of Ryan Vogelsong, Tim Lincecum and Barry Zito.
The bullpen is an area that I thought the Giants would have a clear advantage in, but this wasn't necessarily the case. The Phillies' "middle relievers" actually pitched quite well this season and the Phillies had the better closer.
That leaves the positions players, and you can almost immediately see that if Ryan Howard and Chase Utley had been healthy for the entire season, this could be a different story.
If you stretch Howard's numbers over a full season, I would have given him the advantage over Brandon Belt in a heartbeat, and half a season of Chase Utley was more valuable than the Giants' second base situation, in my opinion.
You also have to wonder if healthy seasons from Howard and Utley would have spared Shane Victorino and Hunter Pence from the trade market, and if that were the case, the Phillies likely would have taken right field while the center field position would have been much closer.
The Giants are in the World Series, but in my opinion, the Phillies are the better team on paper.