Cincinnati Football: 10 Things Learned from the Bearcats' Loss to Louisville
Andy Lyons/Getty Images

Cincinnati went into Papa John's Cardinal Stadium to take down the undefeated Louisville Cardinals. They almost did it. However, almost doesn't cut it when a Keg of Nails is on the line.
For the first time in five years, the Keg of Nails will rest somewhere else. The Bearcats now (5-2, 1-1 Big East) gave Louisville all they could handle, and, in the end, the game needed overtime to determine the winner.
It was an interception thrown by Munchie Legaux that hurt the Bearcats and ultimately it was the field goal kicker of the Cardinals that sealed the Bearcats fate. The final score was 34-31 in favor of Louisville.
There were many lessons in the loss to the Cardinals. Let's take a look at what was learned.
Begin Slideshow

»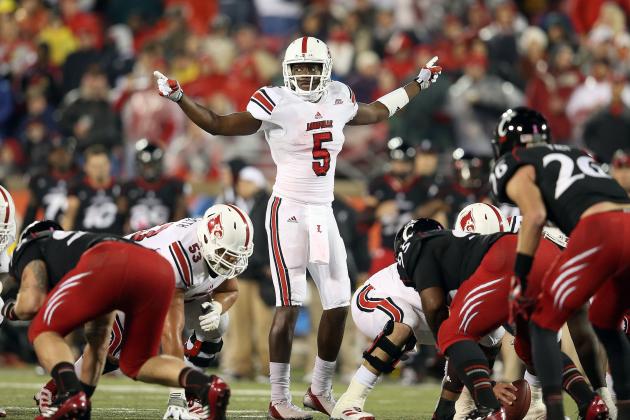 Andy Lyons/Getty Images

If there was a question about which team has a more complete quarterback, that answer seems to have been given.
Legaux was outplayed by Teddy Bridgewater.
On that night, Legaux threw 28 passes and connected on 13 of those for 157 yards, one touchdown and three interceptions.
All of those interceptions that Legaux threw were costly, but none more so than the one in overtime.
Meanwhile, Bridgewater threw 41 times for 24 completions, 416 yards, two touchdowns and one interception.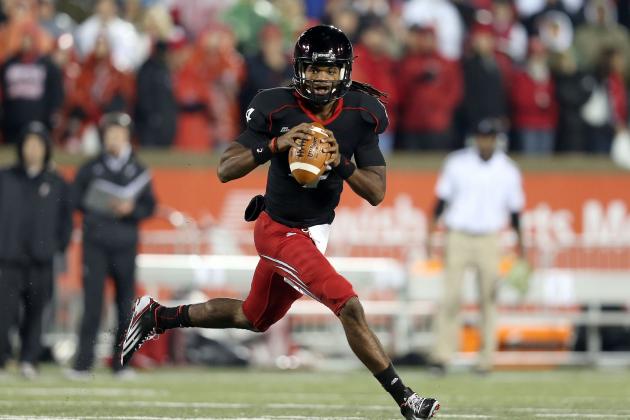 Andy Lyons/Getty Images

Even after falling behind in the fourth quarter, with one minute, 56 seconds to go in the game, Cincinnati didn't quit.
The Bearcats marched down the field and scored with just 1:03 left on the clock when Legaux completed a pass to Damon Julian for 26 yards and a touchdown.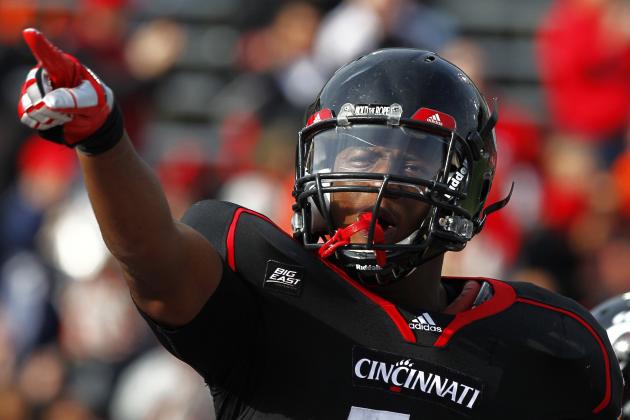 Tyler Barrick/Getty Images

The Bearcats miss Walter Stewart.
He was on the sidelines cheering his team, but they needed him on the field.
He has been, and will continue to be, missed.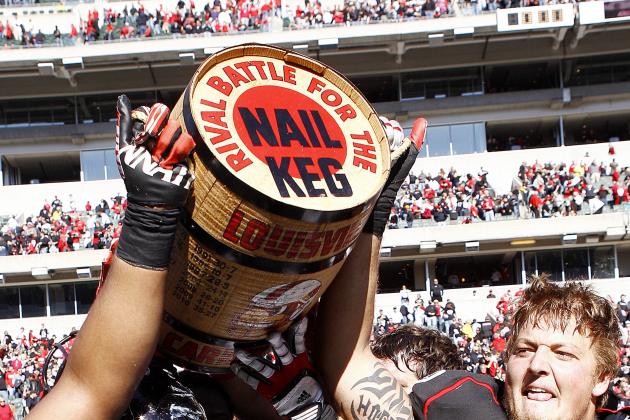 Frank Victores-US PRESSWIRE

For the first time since 2007, the Keg of Nails will stay in Louisville.
However, you can bet Cincinnati doesn't plan on letting that become a habit.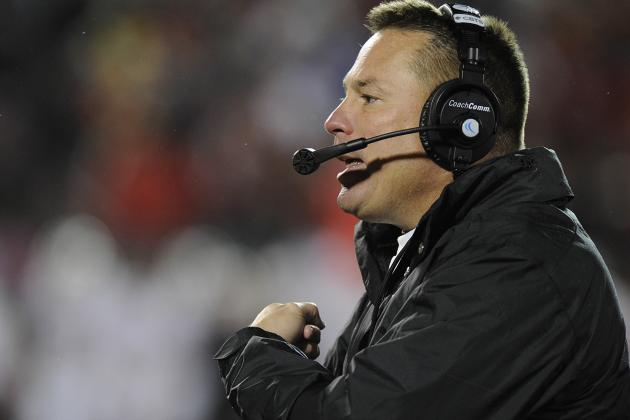 Jamie Rhodes-US PRESSWIRE

It has become the practice of many teams to try to "ice" the opposing kicker.
However, it sometimes backfires, and it did tonight.
In overtime, as Louisville lined up for the winning kick, Cincinnati called a timeout. It was nearly simultaneous with the snap and the ball flew over the Louisville holder's head and would have resulted in a second overtime.
But, as most of you know, it didn't matter because a timeout was called.
Jamie Rhodes-US PRESSWIRE

Friday night was an exciting night for Big East football. The game had rain, a loud crowd, controversy, an iced kicker backfire, an overtime victory and a Keg of Nails.
What more could you ask for?
ESPN may not be excited about the Big East, but fans should be.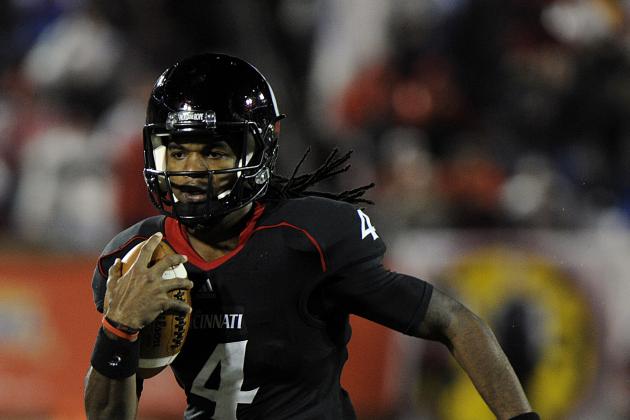 Jamie Rhodes-US PRESSWIRE

Cincinnati can't afford to dwell on this loss to Louisville.
In coming weeks, the Bearcats have Syracuse at home, Temple on the road and Rutgers at home.
If they can get through that three-game schedule, they finish the year against the two last-place teams in the conference, South Florida and Connecticut.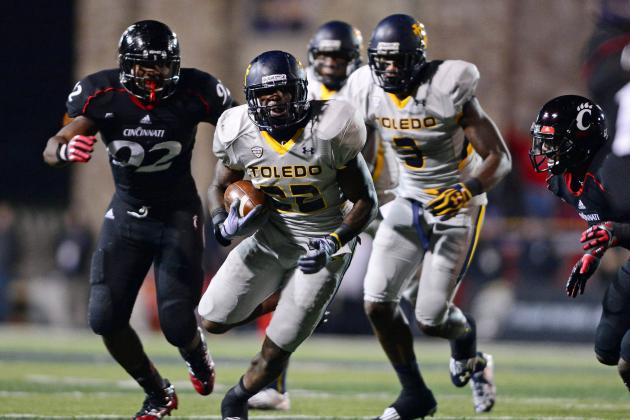 Andrew Weber-US PRESSWIRE

Turnovers are deadly.
Against Toledo, Legaux threw a pick-6 that was costly, but so was the one thrown as the Bearcats were closing in on a game-winning drive.
Against Louisville, the three interceptions were costly, but as mentioned already, the overtime interception was the nail in the coffin.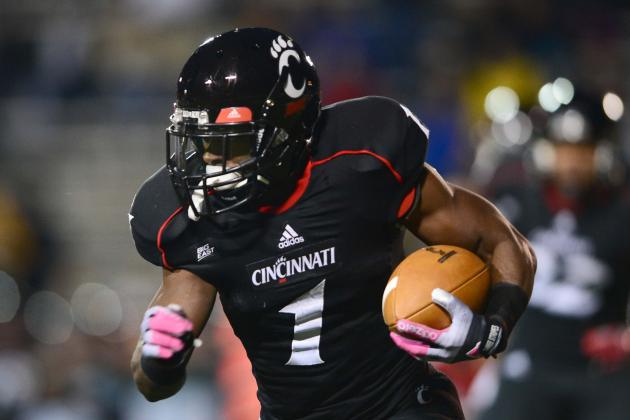 Andrew Weber-US PRESSWIRE

Senior running back George Winn led the way with 26 carries for 125 yards. Ralph Abernathy added 39 yards of his own, and a very nice touchdown run.
All night, the rushing attack seemed to have success. However, it was the passing attack that was anything but.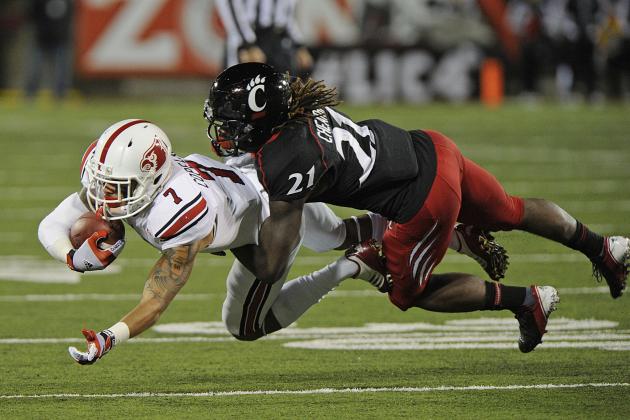 Jamie Rhodes-US PRESSWIRE

Even with the loss, there is much work to be done.
First, the Bearcats need to keep it together so they can at least win a few more games and land a decent bowl game. However, the Big East championship isn't out of reach, yet, either.
Louisville still has to play Rutgers and so does Cincinnati. Louisville still plays Syracuse, Temple and Connecticut, and so does Cincinnati.
As every college football fan knows, anything can happen.