The Top 10 Eponymous F1 Teams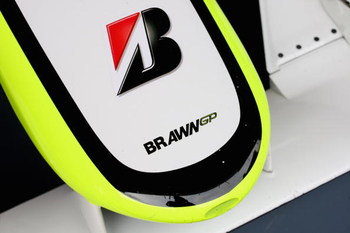 As Brawn GP continue to amaze and confuse all of us by showing unexpected speed at the latest preseason test, let's a take a look back at the dying breed Brawn are just the latest edition to - F1 teams named after their owner/founders.
To be included in the list a team has to be:
1) Named after a single person, so that's no Alfa Romeo, and no March.
2) Not a constructor. We all know that the likes of Renault and Toyota were named after their founders, but we're interested in independent teams that started in racing. After that they can have moved into road cars, but racing has to come first.
3) Good. This list is purely on stats, so despite Minardi's, ahem, supreme record, they're not in the following pages.
Stewart Grand Prix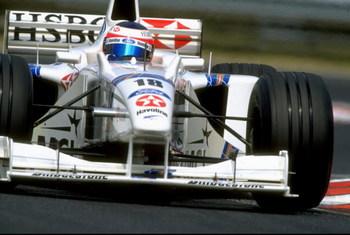 Active years:
1997-1999
Constructors' titles:
0
Drivers' titles:
0
Wins:
1
Pole Positions:
1
Fastest Laps:
0 By far the most successful start up team of recent years, former champion Jackie Stewart's team moved up from the junior ranks with an engine deal from Ford. The team's debut year included 26 retirements, alongside a sole podium from Rubens Barrichello in Monaco. The second year saw a reductions in DNFs, but also in podiums. The third and final year was where it all came together for the team. Barrichello raced his way to three podiums, and gained the team's only pole position in France, while his new team mates Johnny Herbert gave the team it's only win in the European Grand Prix, as the the pair led the team to fourth in the constructors title. After 1999 the team's engine supplier Ford moved in to buy the team outright, as Stewart became Jaguar. The team haven't won since.
Wolf Racing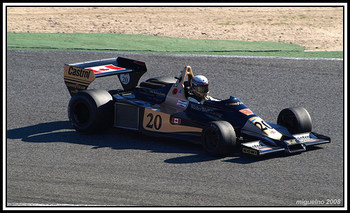 Active years:
1977-1979
Constructors' titles:
0
Drivers' titles:
0
Wins:
3
Pole Positions:
1
Fastest Laps:
2 Quite possibly the only Canadian F1 team, founded by "Slovenian-Austrian-Canadian" Walter Wolf. Where Stewart started low and went high, Wolf started high and went low. With Jody Scheckter their lone driver Wolf won their first ever Grand Prix at their debut race in 1977. The South African went on to claim eight more podiums, including two more win, two fastest laps and a pole position on his way to second in the drivers standings. Wolf's second saw four more podiums, again all for Scheckter, but no repeat of their '77 heroics, and the slide was complete in '79, as two drivers combined for 15 entries and only two finishes for zero points. At the end of the season Walter Wolf decided he'd had enough of F1, selling his team to Emerson Fittipaldi.
Jordan Grand Prix
Active years:
1991-2005
Constructors' titles:
0
Drivers' titles:
0
Wins:
4
Pole Positions:
2
Fastest Laps:
2 For some, including myself, Jordan are THE independent team for the modern time. Irishman Eddie Jordan's team moved up from the junior formula in 1991, sporting a blue and green 7up livery. While this season only garnered 13 points for the team, it was by no means a failure, with that tally good enough to best established names like Lotus and Tyrrell in the constructors championship. The team gathered pace as the decade progressed with podiums from Barrichello, Irvine, Fisichella and Ralf Schumacher. Then came the team's breakthough. In the eventful 1998 Belgian GP (yes the one with the giant crash) the team scored a 1-2 finish, with Damon Hill leading home Schumacher. It was like the floodgates opened. In 1999 Heinz-Harold Frentzen scored two more wins and four other podiums, almost doubling the team's pre-98 podium count. Frentzen was in contention for the driver's title until the final three races of the season, when he was unable to keep pace with eventual champion Mika Hakkinen. Frentzen got to the podium twice more the following season, but Jordan never again reached their 1999 heights. The departure of their Honda engines for the 2003 seemed to be the final nail in the team's coffin, despite Giancarlo Fisichella scoring the team's final win in yet another crash filled race in Brazil. The team was sold before the 2005 campaign to the Midland Group, who kept the Jordan name for the season, before re-naming it and starting the ownership merry-go-round.
Benetton Formula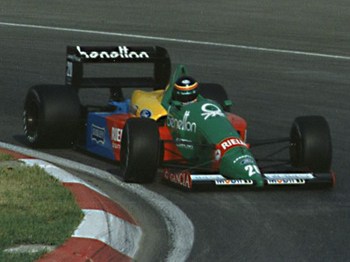 Active years:
1986-2001
Constructors' titles:
1
Drivers' titles:
2
Wins:
27
Pole Positions:
15
Fastest Laps:
36 Formed when the Benetton family of clothing fame moved from sponsorship to ownership, buying out Toleman before the 1986 season. Using a formidable turbocharged BMW engine the new team scored its first win late in the season in Mexico. Benetton were a competent outfit, consistently scoring podiums and wins. However, the history of the team was transformed when a young Michael Schumacher took over from Roberto Moreno in the 1991 season. Through the following two seasons the German showed promise, propelling the team to consecutive third places in the constructors, alongside first Martin Brundle, then Ricardo Patrese. In 1994 Schumacher won the first four races of the season, and then four more during season, although he was disqualified twice and excluded for a further two races. A contraversial finale in Australia gave Schumacher and Benetton their first driver's title. The following season was even better, no disqualifications, no exclusions and nine wins gave Schumacher a second title, an a fine second driver performance, including two wins, from Johnny Herbert gave Benetton it's only constructor's title. 1996 and 1997 the team were kept down by a dominant Williams team, and when their Renault engine suppliers pulled out after 1997, Benetton were forced to go to underpowered customer Playlife engines, before Renault returned for 2001, preluding it's take-over of the team.
Cooper Car Company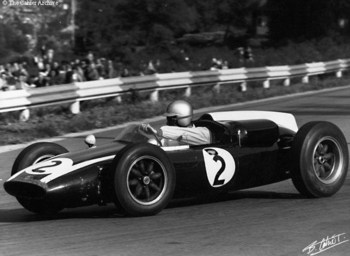 Active years:
1950-1969
Constructors' titles:
2
Drivers' titles:
2
Wins:
16
Pole Positions:
11
Fastest Laps:
14 Probably one of the most famous names in F1 history, Cooper were founded by father and son Charles and John in 1946, and competed in the inaugural F1 season in 1950. However, it took eight years for the team to put a mark in their win column, when Stirling Moss won the Argentinian GP. However, it is Cooper's dominance in 1959 and 1960 that earn them a place on the list. In those two years Cooper's drivers won 11 races, delivering two constructors titles and two driver's titles for Jack Brabham. From there Cooper declined, though not before they had notched up another three wins, with the final win coming in 1967.
Tyrrell Racing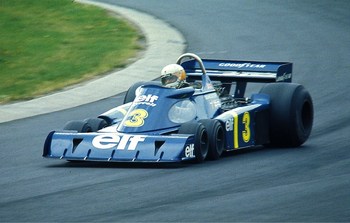 Active years:
1968-1998
Constructors' titles:
1
Drivers' titles:
3
Wins:
33
Pole Positions:
19
Fastest Laps:
27 Ken Tyrrell's team began running Matra cars for their first two seasons before moving to their own chassis. However, the move did not come before their first constructor and driver title with Jackie Stewart in 1969. It was the same result in 1971, only with Tyrrell cars as Stewart and Francois Cevert combined to win 6 races, over half of the total number of rounds that year. The team were probably robbed of another double in 1973 after Cevert's fatal accident at Watkins Glen led to the withdrawal of the team's other two cars, handing the constructor's title to Lotus, though Stewart had done enough to guarantee his third driver's title. The retirement of Stewart and the loss of Cevert left the team to struggle for the remainder of it's life, although the famous six-wheeled car of 1976-7 remains one of the most recognisable F1 cars in history. Tyrrell took their final win in 1983, before the mass and total disqualification of 1984 marked the real beginning of the end, with only three more podiums coming in the remaining Tyrrell years, before the team were sold to what would become BAR, for a sum reportedly over £25million. Ken Tyrrell passed away in 2001.
Brabham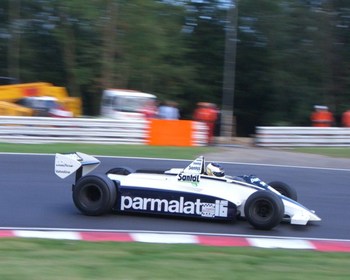 Active years:
1962-1992
Constructors' titles:
2
Drivers' titles:
4
Wins:
35
Pole Positions:
40
Fastest Laps:
43 While technically only ever a chassis designation for Motor Racing Development's F1 entrants, Jack Brabham's position as founder gets the team a position on this list. Brabham's glory years can be found in two distinct patches. The first in 1966 and 67 when first Jack Brabham the Denny Hulme gave the team driver's titles alongside back to back constructor's championships. The famous fan car provided an interlude for its single race in 1978 when it won its one and only race in Sweden, before the FIA closed whatever insane loophole allowed a team to attach a giant fan to the back of their car. Brabham's second title wind came in the early '80's when Nelson Piquet brought home driver's championships in 81 and 83, though the best constructor's performance they could muster was a second in 1981. Piquet would win three more times in a Brabham, including the team's final victory in 1985, before increased retirements and DNQs, as well as a year out in 1988, saw the team off competitively, before financial matters ended their 1992 season early.
Williams F1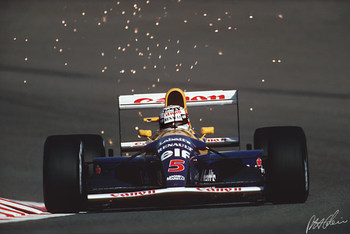 Active years:
1969-date
Constructors' titles:
9
Drivers' titles:
7
Wins:
113
Pole Positions:
123
Fastest Laps:
128 Frank Williams' first eponymous F1 team, 'Frank Williams Racing Cars' achieved next to nothing scoring only a single podium before the team was brough by Walter Wolf and transformed into his own team. Frank then formed what is officially Williams Grand Prix Engineering, and for a season it brought the same results, running a customer March car and gaining zero points. 1978 marked the Williams designing debut of Patrick head and year later the team scored its first victory, closely followed by a first 1-2 finish. 1980 brough the first titles with the constructor's trophy coming with Alan Jones' driver's silverware. Ttiles continued to flow throughout the '80's with Keke Rosberg and Nelson Piquet in 82 and 87 respectively and constructor's win in '86 and '87. However, it was the 1990's that Williams emerged as the dominant force. The team won back-to-back-to-back title from '92 to '94 while Mansell and Prost topped the driver's table. In 1996 and 1997 the team undisputedly had the best car and and a complete sweep of titles over those two years. However, like Benetton the departure of Renault from engine supplying after 1997 left the team underpowered, and just as their engine problem was cured, in a partnership with BMW their years of Ferrari dominance appeared, meaning Williams were one of many team fighting over scraps of victories. The departure of BMW to partner the Sauber team again left the team struggling for a powerplant and recent poor performances and the upcoming loss of major sponsor Royal Bank of Scotland could plunge this team into further struggle.
McLaren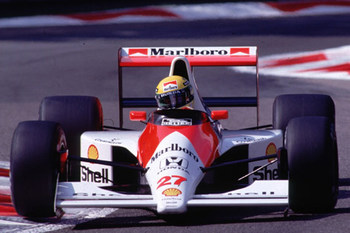 Active years:
1966-date
Constructors' titles:
8
Drivers' titles:
12
Wins:
162
Pole Positions:
141
Fastest Laps:
137 Named after New Zealander Bruce McLaren, the team had to wait until 1974 (sadly four years after their founder's death) for their first titles when both constructor and driver titles came their way with Emerson Fittipaldi. They won the drivers title again two years later, this time with James Hunt, before having to endure a drought, followed by a flood. McLaren were the team to beat in the 80's and very early '90's, with five constructos and seven driver's titles between 1984 and 1991. McLaren's 1988 season shows their dominance, armed with Prost and Senna they won all but one race, only failing to lead 27 laps all season. However, their dominance was replaced by Renault engine supremacy through the '90's but once the French marque departed Mika Hakkinen was on hand to record back-to-driver's titles for the as helping the team grab it's most recent constructor's title in 1998. McLaren again slipped beneath another's dominance in the 2000's, plagued with fast but unreliable cars for the most part. However, now, as other's dominance has wained they are there again, helping Lewis Hamilton to his 2008 driver's title.
Scuderia Ferrari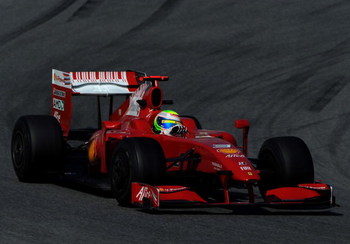 Active years:
1950-date
Constructors' titles:
16
Drivers' titles:
15
Wins:
209
Pole Positions:
203
Fastest Laps:
218 Formula One's longest serving and most successful team are also the most successful eponymous team, being founded by Enzo Ferrari in 1928 to build and sponsor race cars, often running Alfa Romeo's before the first Ferrari street cars appeared nearly 20 years later. Where other teams on this list have had eras of dominance, Ferrari have been consistently competitive with only the '90's when they only scored on constructor's win in 1999, coming as a blip for a team that has one a title of some description in every decade of F1. Of course, the 2000's dominance is headline grabbing, with five consecutive driver's titles for Michael Schumacher coming with six constructor's honours. Even without Schumacher the team has shown it's power, winning both titles in 2007 and the constructor's alone in 2008, and with testing form showing no reason they can't add more to that in 2009.
Keep Reading