10 Players Who Need to Step Up If the Eagles Are Going to Make the Playoffs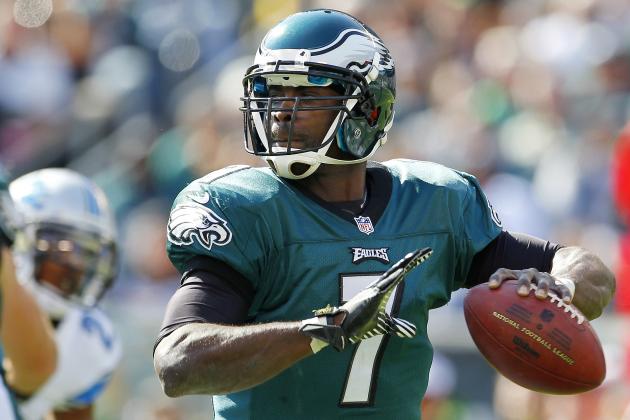 Rich Schultz/Getty Images

It's time we stop talking about how much talent and potential the Eagles have and start talking about what the team actually is based on what it has actually done.
It's fair to say that the Eagles are a few plays away from being 5-1; however, they're also a few plays away from being 1-5.
The Birds have been inconsistent with the game on the line, something Andy Reid has attempted to improve with the recent firing of defensive coordinator Juan Castillo and the promotion of defensive backs coach Todd Bowles to the Castillo's former position.
It hasn't all been bad, though. It's clear the Eagles do have the ability to take over games and win from behind. On the contrary, it's also clear that they are capable of completely collapsing at any point during a game.
The offensive line is more likely than not going to be a problem for the rest of the season. So, even if Michael Vick stops turning the ball over, he's not going to have much time to do anything with it.
It's also clear that the team is thin at a few key positions, and they're an injury or two away from being a .500 team at best.
If the Eagles want to earn themselves a playoff berth—which is totally possible—there are a few players who are going to have to step up to enable the team to do so.
Begin Slideshow

»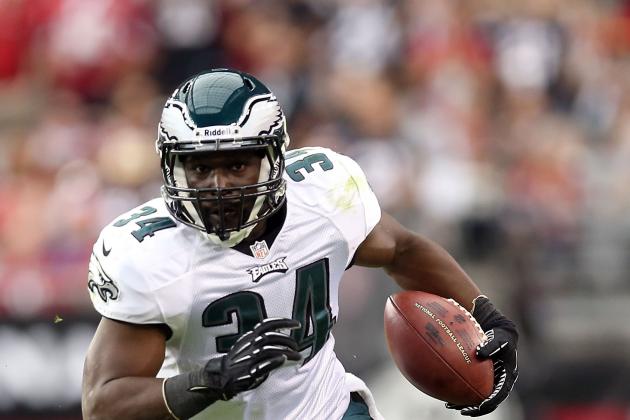 Christian Petersen/Getty Images

It's great that Andy Reid has been running the ball more. In fact, the run/pass ratio since the team's Week 4 loss to Arizona has been remarkably higher.
However, LeSean McCoy still isn't carrying the ball enough. He's lost some of his carries to Bryce Brown, despite the fact that Shady is a durable every-down back.
Why? Who knows why Andy Reid a lot of the things he does?
It's understandable that all backs need breaks, but if you're going to run the ball 25-30 times, LeSean McCoy should be getting at least 20 of those touches. It's worth noting that LeSean McCoy has carried the ball at least 20 times in each of the team's three wins. When they have lost, on the other hand, Shady has gotten less than 20 carries.
Granted, Brown only has 19 attempts, but he's averaging 2.7 yards per carry. Against Detroit, Brown got the ball five times and picked up four yards.
I'm not saying that Brown is bad. What I am saying, however, is that if Reid is going to give him the ball five-to-10 times a game, he's going to have to do better.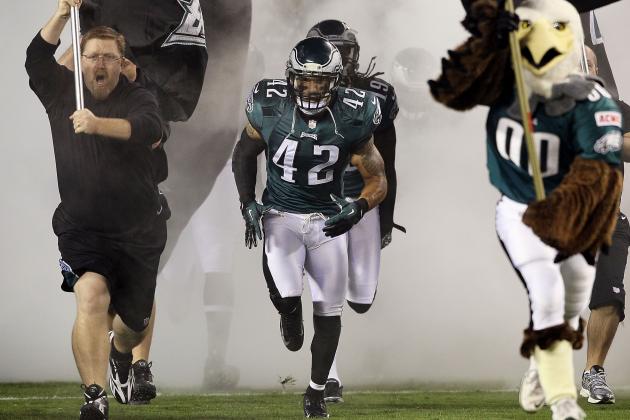 Alex Trautwig/Getty Images

These guys have been better than expected.
Where they need to step up is in regards to creating turnovers, which is something that we haven't seen enough of on the defensive side of the ball.
Perhaps that will change with new defensive coordinator Todd Bowles. Maybe we'll even see these guys blitz on occasion. Who knows?
If the defensive line can generate sacks and enough pressure to force the quarterback into making a bad decision, Coleman and Allen will have to able to capitalize on that and take the ball away.
One of the keys to a Birds playoff berth is the continued progress of Nate Allen and Kurt Coleman, with a bigger emphasis on taking the ball away.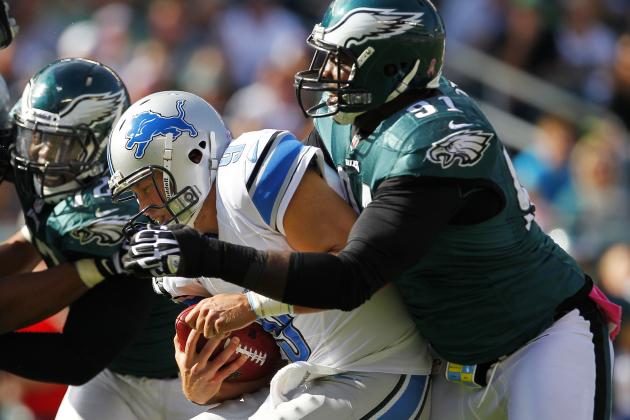 Rich Schultz/Getty Images

Fletcher Cox is not on this list as a reprimand for poor play or any shortcomings on his part at all. He's on this list for the opposite reason.
With Juan Castillo out, Eagles fans may see something eliminated from the defense that has been holding them back this year: too much rotation on the defensive line.
That kind of rotation is great for older players because it keeps them fresh. But what about the younger players?
You could make a case that Fletcher Cox has been the team's best interior defensive lineman this year. But, he hasn't been the best because he hasn't had a chance, despite his excellent play.
Cox has only been on the field for 52 percent of the team's defensive snaps. Why?
Todd Bowles should, and most likely will, put his players in positions that will emphasize their strengths and enable them to succeed.
For Fletcher Cox, that position is on the field.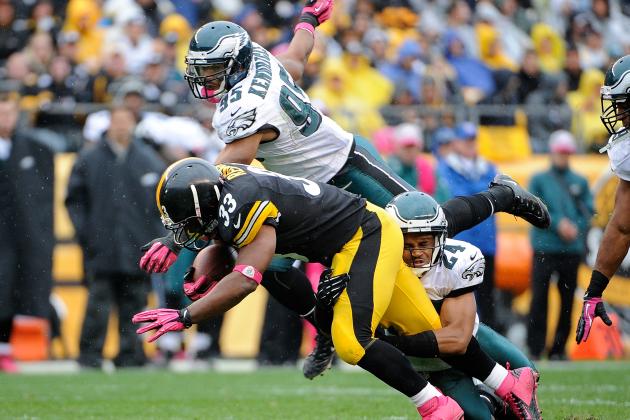 Joe Sargent/Getty Images

By all accounts, Mychal Kendricks has been outstanding this season—especially when you consider that not much was expected of him.
He's been excellent in coverage, shutting down opponents' tight ends. And a few of those opponents haven't exactly been slouches, either.
His problem is missing tackles. He is among the leaders in missed tackles by outside linebackers.
He's already good, but imagine how good he could be if he didn't miss as many runners.
Justin K. Aller/Getty Images

The Eagles do not have a No. 1 wide receiver. That's a fact. However, they have two excellent No. 2 receivers in Jeremy Maclin and DeSean Jackson.
Unless a miracle happens and the Eagles acquire a No 1, either Maclin or Jackson is going to have to step it up and be that guy. Given DeSean Jackson's size, that guy will have to be Jeremy Maclin.
As versatile, explosive, dangerous and whatever other colorful adjective one could use in describing DeSean Jackson's skills, his success comes from his big-play ability.
Jackson isn't a guy who's going to be able to catch a short pass and force his way forward with strength.
But Maclin has two inches and about 25 lbs. on Jackson, which doesn't make him big enough to be Calvin Johnson, but it does make him big enough to be trusted as a No 1.
Jason Avant can't get any yards after he catches the ball, and Riley Cooper is what he is.
If the offense is going to elevate itself to become one of the NFL's best, then Jeremy Maclin is going to have to step up and be the team's No 1 wide receiver. At the very least, he'll have to establish himself as Michael Vick's top target.
Of course, a lot of things Maclin has no control over factor into that equation. Assuming that the other pieces will fall into place, Maclin will need to shine.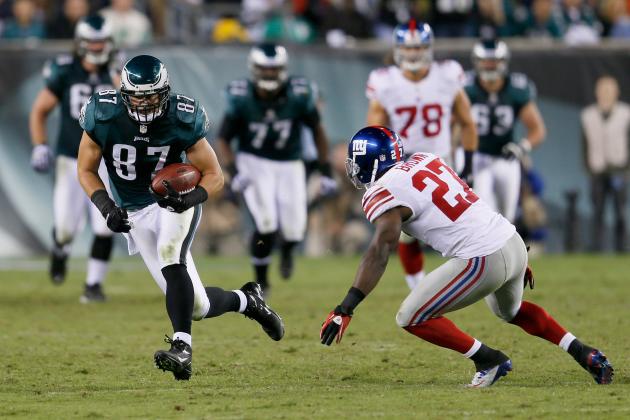 Rob Carr/Getty Images

Brent Celek had a great game against the Ravens, and he's probably the best tight end the Eagles have had since Chad Lewis. However, he's had a bit of a rough time recently.
He's dropped some passes, and one of them was a touchdown. But that's not the extent to which he's fallen short.
He's also accounted for some of the sacks, hurries and hits on Vick. He hasn't been a terrible blocker, but he also hasn't been outstanding, either.
If the Eagles are going to make the playoffs, Brent Celek has to come up with catches when the ball is thrown to him, and he has to be a great—not just good—blocking tight end.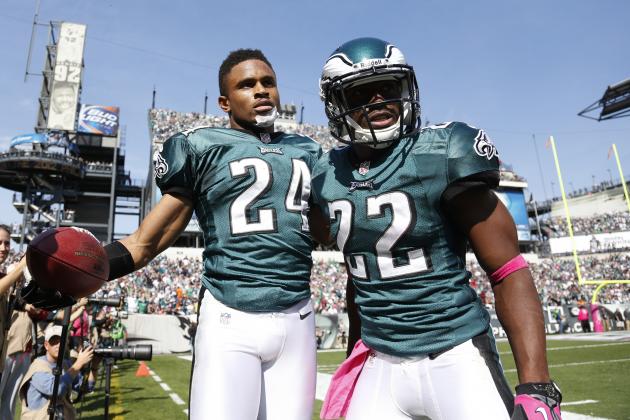 Joe Robbins/Getty Images

Nnamdi Asomugha is coming off of what was probably his best game as an Eagle. He was excellent in stifling the ability of Calvin Johnson, arguably the league's best wideout.
Nnamdi even had an interception.
Is this a return-to-form for Nnamdi Asomugha? Could this be an indication that he's about to finally hit his stride with the Eagles and play like the elite cornerback the team expected him to be? Probably not.
However, he has gotten exponentially better, showing flashes of that premier corner we thought was in him.
But it's interesting to wonder if whether or not Nnamdi will flourish under the guidance and direction of new defensive coordinator Todd Bowles. After all, Bowles was the defensive backs coach. Asomugha has been better this year. Does Nnamdi have something Bowles could build around? Did we see it against Megatron?
Usually, you would say that Asomugha would continue to be better than average for the rest of the way out, no more and no less. But the team's defense isn't going to be what it was the last time we saw it.
They'll be run differently, and the potential for Nnamdi Asomugha to ascend to the elite level of play that has been expected of him is much better because of that. Cornerbacks can shine if the rest of their team's defense is playing to its strengths.
In any case, if the Eagles are going to make the playoffs, Asomugha will need to keep up whatever he did during the game against the Lions.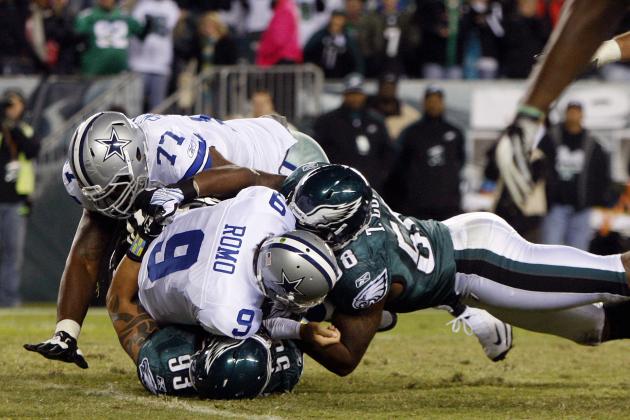 Rich Schultz/Getty Images

The Eagles have two the NFL's best defensive ends, historically at least.
This year, Trent Cole and Jason Babin haven't been irrelevant by any means; but, they haven't been what they will need to be if the Eagles are going to earn themselves a playoff berth.
Under new defensive coordinator Todd Bowles, the Eagles are probably going to blitz a lot more. That's good for Cole and Babin.
They'll also probably be lining up in different positions, not always attacking from the same spot. That kind of stagnancy is recognizable by NFL offenses, maybe Juan Castillo didn't realize that.
Whatever the case, Babin and Cole are going to have to play at the level they played at in 2011 in order for the Birds to be a playoff-caliber team. Their chances are good under Bowles, too.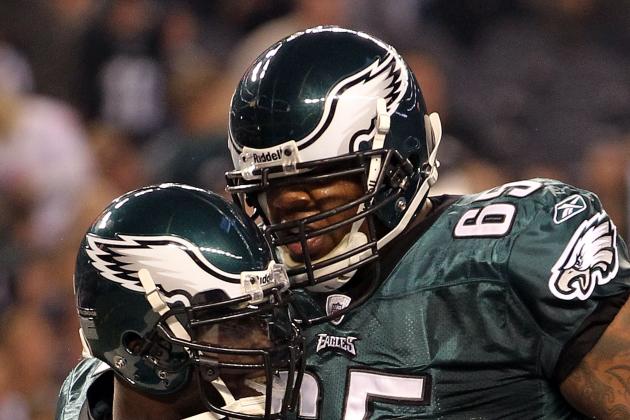 Ronald Martinez/Getty Images

It's clear that there is no replacing Jason Peters. But that doesn't mean King Dunlap can't play better.
If the Eagles are going to succeed, Dunlap is going to have to be a part of that success.
The Birds are handing the ball off a lot more this year. Last year, LeSean McCoy had a lot of success with off-tackle runs because of Jason Peters. Without Peters, McCoy has had to rely a lot more on his reads and movements, and he's been running all over the place as a result. McCoy has to be able to trust the blocking and focus on getting up the field by hitting holes when they're there.
The line, as we all know, has been most detrimental to the Eagles passing attack. Michael Vick has had no time in a lot of instances, and even though Dunlap doesn't play on Vick's blind side, he's still held accountable for the beating No. 7 has taken.
I'm not trashing Dunlap, because I have no idea what it's like to play on an NFL offensive line. However, I am saying that whether he likes it or not, he's going to have to be a big part of the team's success through his role on its offensive line.
Dunlap is going to have to stabilize the line at the least and solidify himself as a starter if the team wants to make the playoffs.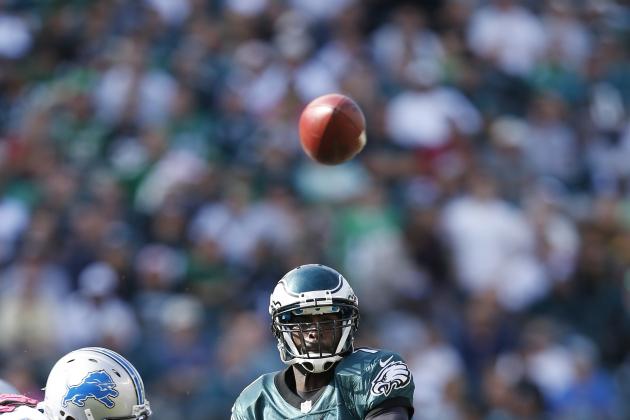 Joe Robbins/Getty Images

Championship-caliber quarterbacks overcome the shortcomings of those around them and make them better as a result. The Eagles' O-line can't be blamed for all of Michael Vick's failures this season, but they are nonetheless accountable for contributing to them.
Ultimately, Vick is the guy who drops the ball or throws it to someone on the other team. The extent to which he's done that this season is inexcusable. Even though he's led his team on comeback drives and the defense has cost the team two of its losses, Michael Vick can't turn the ball over anymore.
Going forward, Michael Vick needs to realize that potential everyone says he has. He has the ability to completely take over games and carry his team, but he limits himself because of the bad decisions he makes sometimes.
He just threw for more than 300 yards and ran for 60. That's outstanding. Clearly, he still has the ability. But the problem is decision-making.
Even if his coaches put him in a bad situation by making him throw too much at times, he could throw it away, run or at worst take a sack. But turnovers are the worst thing a quarterback's name can be associated with.
I don't want to see Nick Foles or Trent Edwards on the field at all this year unless it's because of a blowout.
The reality is that the Birds will live and die with Michael Vick. I don't know if Nick Foles can take them anywhere. But, I don't have any reason to because his record in college wasn't that good and he only had a couple of good games in the preseason against a bunch of backups.
Michael Vick needs to keep the ball in his hands, literally and figuratively, if the Eagles are going to make the playoffs this season.