Alabama Football: 5 Keys to the Game vs. Mississippi State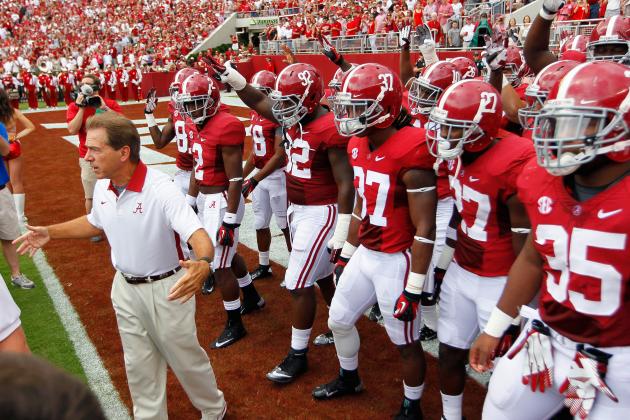 Kevin C. Cox/Getty Images

The undefeated and top-ranked Alabama Crimson Tide will begin a three week stretch against ranked conference opponents this week by hosting the Mississippi State Bulldogs.
This isn't exactly the State team that we are used to seeing, either. The kings of the cowbell are also undefeated and find themselves currently ranked No.11 in the BCS poll.
Sure, their schedule leaves a lot to be desired, but the fact that they have made it to the last weekend of October without a loss is something that deserves the Tide's respect and attention.
A win over the Tide would likely leave the Bulldogs in the Top Five in next week's poll and they know that. pulling off the unthinkable upset would validate them as a legitimate contender.
Here is what Alabama will need to do in order to prevent such a disaster.
Begin Slideshow

»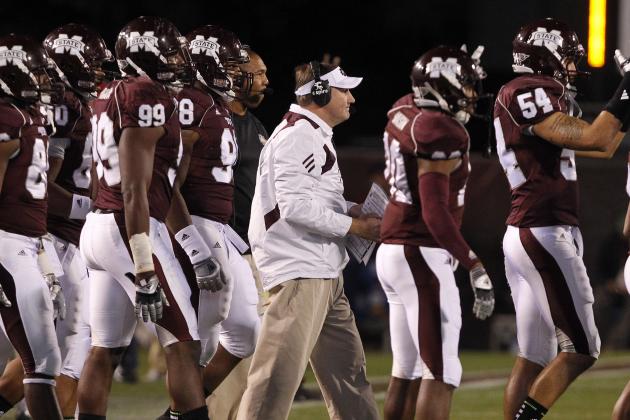 Butch Dill/Getty Images

According to the SEC schedule, Alabama makes its trip to Baton Rouge to face LSU on Nov. 3.
This means, of course, that the Bayou Bengals should be out of sight and out of mind come Saturday.
Since the Tide dismantled the Tigers in January to win the BCS title, all eyes have been on next week's game in Baton Rouge.
Yes, Nick Saban has clearly taken every necessary step to make sure that his players are focused on the task that stands right in front of them and to ensure that they play one game at a time.
Still, these are kids we are talking about. Every time they walk across campus they are reminded of the LSU game.
They know that a trip back to the BCS title game goes through LSU. They also know that they are a huge favorite this week against Mississippi State.
If there ever was such a thing as a trap game, this could be it. For the Tide to make it to next weekend with an unblemished record, it will have to respect the Bulldogs and play accordingly.
If Alabama plays the Bulldogs, and surely it will, then there should be nothing to worry about.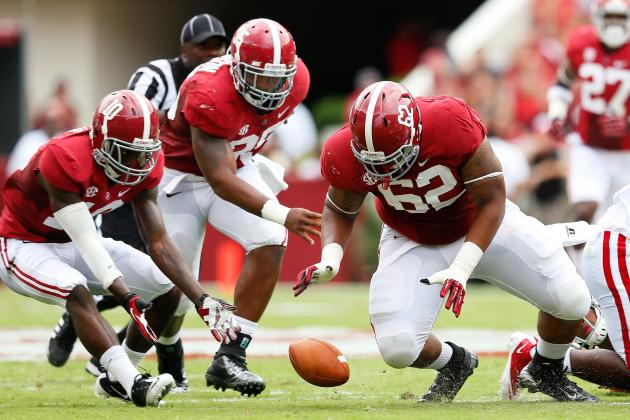 Kevin C. Cox/Getty Images

Alabama is currently third in the nation with a turnover margin of plus 14. This Tide has picked up 20 turnovers while giving the ball away only six times all season.
Mississippi State, however, has been better in this category. With 21 forced turnovers and only five giveaways, State is the best in the nation in turnover margin.
Mississippi State has not made many mistakes on the offensive side, but then again, they really have not played anyone of significant regard. The Bulldog defense, though, is nothing to scoff at.
They are currently ninth nationally in scoring defense as well and are solid enough to slow the Tide offense down a bit. Just a bit. If they can do this, and force a key timely turnover or two, Alabama will find itself in a tight game late. This is something that Saban would rather not have to deal with.
If Alabama protects the football, Mississippi State will find it very hard to keep this game close.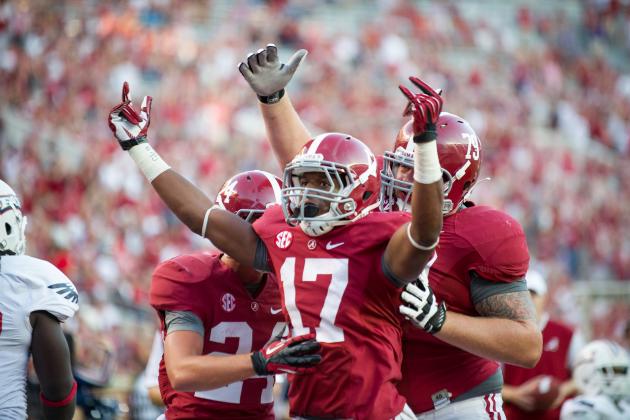 Michael Chang/Getty Images

The Bulldogs are unlikely to allow the same big plays that Alabama has been able to put up in recent games with Missouri and Tennessee. Coach Dan Mullen coaches his team with a "bend but don't break" philosophy.
Points will come for the Tide, but they will be well earned.
If the deep pass is there, it should not be forced. If the points do not come early and Alabama has to settle for a few first half field goals, it should take them.
Saban has forged quite the impressive career by taking what is given to him. This will be the best approach Saturday night as well.
If Alabama gets the opportunity for a quick score, it will most definitely take advantage of it. That said, such a stroke of luck cannot be counted on as it is unlikely to happen often.
If the Tide will be patient, the Tide will reap the reward.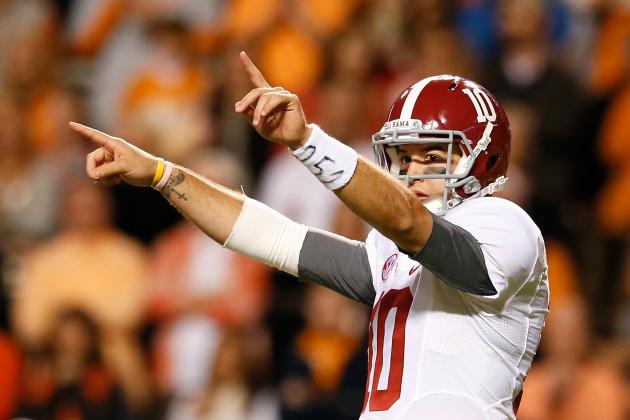 Kevin C. Cox/Getty Images

As known for the running game as Alabama has been during the Saban era, it can also pass the ball believe it or not.
When the Tide faced LSU for the second time last season in the BCS title game, it was expected to once again try to establish the run early and go from there. Instead, Saban came out throwing the ball and A.J. McCarron connected early and often to an array of wide receivers. Very few saw this coming.
The result was that Alabama, by using roll out passes, play-action fakes, and sinking LSU to death with short passes, let the passing game become the running game.
By the time LSU realized that Alabama was committed to this effort, it was too late and the Tide then turned to the ground attack to seal the deal.
Both teams will look to establish the running game in this one as well.
But if Alabama can get a short passing game in motion early, it may be enough to throw off the State defense and help the Tide find an early lead and create some distance on the scoreboard.
It doesn't have to be anything fancy, but mixing it up and going "off the grid" so to speak will help the Tide get to rolling early.
Doing so will also give a resting LSU just a little bit more to think about as well.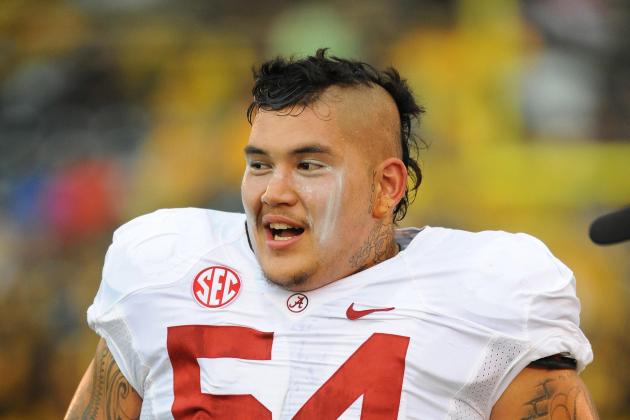 Denny Medley-US PRESSWIRE

Both Alabama and Mississippi State are physical teams.
They play you and hit you with fierce authority.
They make you remember that you just got trucked and make you second guess the thought of going back for more.
The team that lays the wood first will be the team that dictates the tempo of this game.
When Robert Lester, C.J. Mosley, and Jesse Williams hit people, they go down.
They don't tackle, they punish.
The problem is that the Bulldogs have some pretty impressive specimen as well.
Denico Autry, Cameron Lawrence and Preston Smith would love nothing more than to leave mental scar on McCarron early on. Bernardrick McKinney and Nickoe Whitley want to beat them to it, though.
This game is going to involve some old-school smash-mouth football and both teams are more than capable of knocking the opponent senseless.
If Alabama can establish it's physical presence with thunderous abandon early on, the Bulldogs will be much more likely to return to their corner without so much as a whimper.