Nebraska Football: 5 Keys to the Game vs. Michigan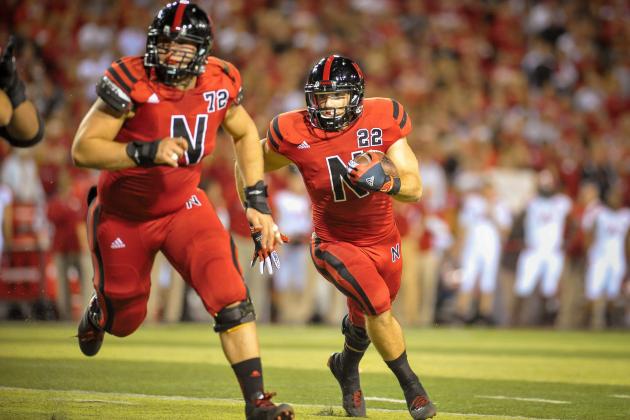 Eric Francis/Getty Images

On Saturday, Nebraska will host Michigan in a game that will likely decide the winner of the B1G Legends Division. Nebraska comes into the game at 5-2 overall and 2-1 in conference, after a thrilling come-from-behind 29-28 win at Northwestern last week. Michigan comes into the game at 5-2 overall and 3-0 in conference, with an even more thrilling come-from-behind, almost-walk-off field goal against in-state rival Michigan State.
A loss to Michigan would put Nebraska two games behind Michigan in the division and give Michigan a tiebreaker, meaning that Michigan would likely have to lose three of its last four games for Nebraska to have a shot at winning the division. Therefore, the game on Saturday is all but an elimination game for Nebraska in the conference race. Here are five keys for Nebraska to win and stay in contention for a trip to Indianapolis in December.
Begin Slideshow

»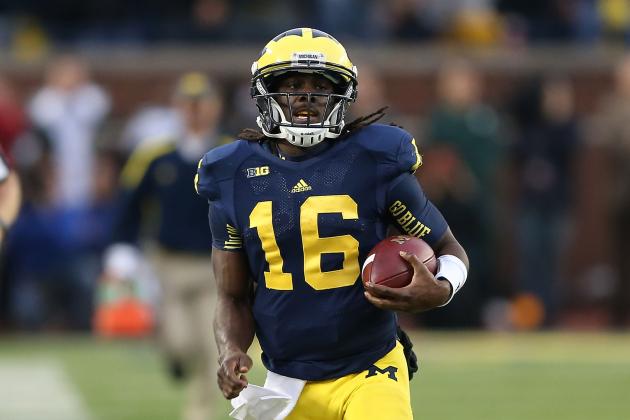 Leon Halip/Getty Images

Yeah, I know, having "stop Shoelace" as a key to playing Michigan is a little like breaking news that water is wet. But the bottom line is that, as Denard Robinson goes, so goes Michigan. The threat Robinson poses with his legs, as well as with his arm, means that Nebraska must limit the damage Robinson does to have any hope of winning the game.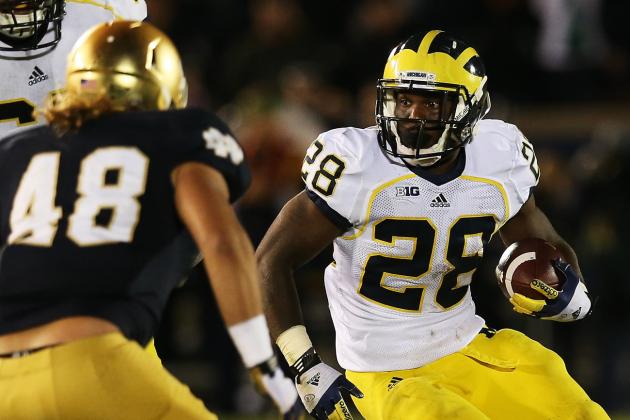 Jonathan Daniel/Getty Images

It sounds eerily similar to last week, but Michigan poses many of the same issues as Northwestern defensively for Nebraska. Yes, Denard Robinson is the primary threat to contain for the Blackshirts. But the Wolverines have dangerous running backs in Fitzgerald Toussaint and Thomas Rawls. Toussaint has not had the kind of season Michigan expected, averaging only 3.49 yards per carry. But, much like Venric Mark did against Nebraska last week, it only takes one defensive mistake to shift a game in an opponent's favor.
So stopping Shoelace must be key, but not at the expense of ignoring the rest of Michigan's backfield.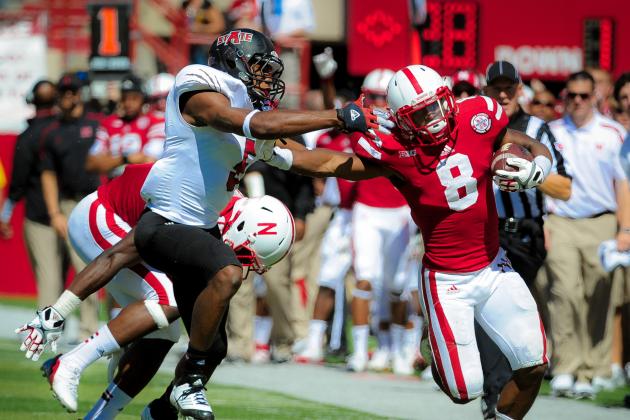 Eric Francis/Getty Images

When you think of Michigan, you think of Denard Robinson and his highlight-reel talents. What you don't think of is a defense that is 10th in the nation in total defense, allowing an average of only 285.3 yards per game. You don't think of a defense that is third in the nation in passing defense, allowing an average of only 142.3 (!) yards per game. You don't think of a defense that is 38th in the country in opponent third-down conversion, with opposing offenses converting third downs at a 35.35 percent rate.
So yes, Nebraska will have its hands full stopping Michigan's offense. But it will be Nebraska's ability to move the ball against Michigan's defense—statistically, the best defense it has faced all year—that may well decide the outcome.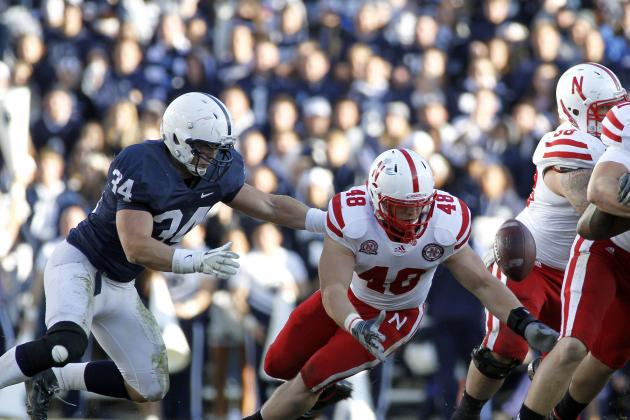 Justin K. Aller/Getty Images

Michigan hasn't been great protecting the ball this year. The Wolverines are ranked 82nd nationally in turnover margin, getting 11 turnovers and losing 14 in seven games.
But Nebraska has been atrocious at protecting the ball. In seven games, the Cornhuskers have gotten 13 turnovers (better than Michigan!) and lost 19 (worse than Michigan!) turnovers. That means Nebraska is averaging 1.29 more turnovers per game than its opposition. Nebraska is ranked 114th—out of 124 teams in the FBS—in turnover margin.
If Nebraska continues its trend of losing the turnover battle to its opponent, then it is very difficult to see how Nebraska will win.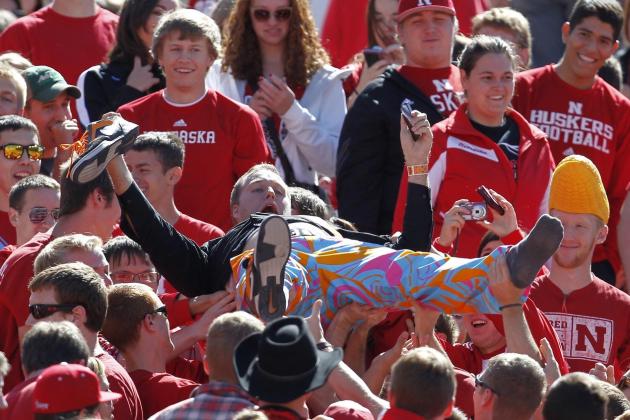 Bruce Thorson-US PRESSWIRE

Last week, the Children of the Corn took over Ryan Field in Evanston, forcing Northwestern to use a silent count in the fourth quarter due to the Nebraska crowd noise.
Let that sink in for a minute. The home team had to use a silent count—which quarterback Kain Colter admitted hurt the Wildcats' ability to move the ball—because of the noise the visiting crowd made.
Having been at that game, I can tell you that the energy the visiting crowd gave to Nebraska was clearly a factor in sparking the comeback victory. This week, against Michigan with the division title on the line, Nebraska comes home to nearly 90,000 fans fresh off an exciting victory and with a conference title game in sight.
The Children of the Corn will be primed to be the twelfth man (sorry, Texas A&M fans, other teams are going to use that term) against Michigan on Saturday. It is critical, then, that Nebraska keeps the crowd in the game by scoring early or at least by not letting Michigan get out in front to silence the masses.
If you'd like to contact Patrick to schedule an interview, provide feedback or get advice on which type of chocolate goes best with fresh fruit (spoiler alert: dark), then send an e-mail to patrickrunge@gmail.com.
Or, you could always...Follow @patrickrunge