CM Punk: 5 Ways the WWE Champion Is Similar to Bret Hart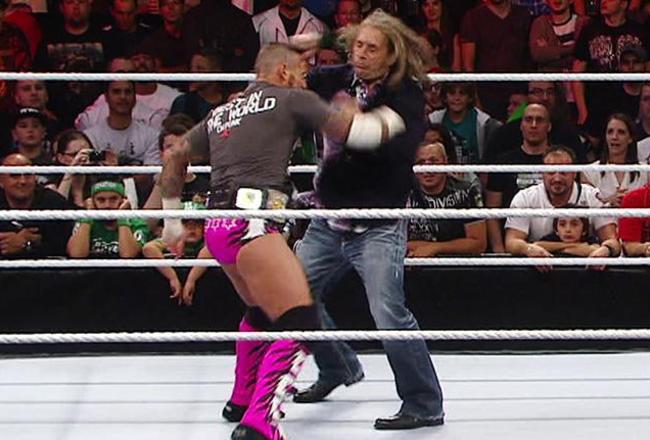 Photo courtesy of WWE.com

In professional wrestling, fans often like to compare the stars of today to those of years past.
Current WWE Champion CM Punk has been mentioned in the same breath as many WWE legends, but one name that seems to come up quite often is Bret "Hitman" Hart.
Hart is unquestionably one of the greatest wrestlers of all time, and while Punk has a long way to go before he reaches that status, there are obvious parallels that can be drawn between them. Because of that, many fans considered it a dream encounter when Punk and Hart had words on RAW a couple months ago.
While a heel Punk and face Hart were combative toward each other on that night, both have expressed great admiration for each other outside the world of kayfabe. I'm sure that Punk and Hart like to think of themselves as unique superstars—and they are—but they're certainly in good company with one another.
Here are the top five ways in which Punk is similar to "The Excellence of Execution" Bret Hart.
Supreme Technical Skills
To say that Bret Hart is revered for his technical wrestling ability would be a gross understatement. Even fringe fans of the Hitman find it hard to deny that he is one of the greatest pure grapplers of all time. Oftentimes wrestlers are given nicknames that are sensationalized and don't necessarily fit their character, but Hart was most definitely "The Excellence of Execution."
Hart was surgical in his approach to every match and each move was pulled off with the utmost crispness. Because of that, his Sharpshooter finisher is one of the most iconic submission holds in wrestling history.
While Punk will never achieve the stature of Hart in that regard, he is one of the best in today's landscape when it comes to in-ring ability.
Punk can be counted upon to put on a great match with essentially anyone, anywhere and at any time, and that was a hallmark of Hart as well. Punk is more of an all-around performer, so his mat wrestling doesn't measure up to Hart's, but a lot of that has to do with the watered-down wrestling approach that superstars have to take in the current WWE.
Punk had a much larger moveset in Ring of Honor and there are plenty of moves in his back pocket that he could pull out at any time. His Anaconda Vice and Koji Clutch are both crowd pleasers and evidence that he can adapt to any wrestling style.
Hart may be the best in-ring technician of all time, but Punk is near the top right now.
Equally Good as a Face or Heel
A wrestler is often considered to be great when they are able to master the art of being either a face or heel, but when they are capable of playing both roles consistently and effectively, that is when they reach a completely different stratosphere.
The company is pretty elite when you're talking about someone who can make fans hate them or love them with the flip of a switch, but both CM Punk and Bret Hart qualify.
Hart was a face for the most successful years of his career, but he transitioned back and forth a few times. He started as a heel tag-team wrestler along with Jim "The Anvil" Neidhart in the Hart Foundation, and they eventually turned face before Hart began his singles career. He won the WWE Championship on a couple occasions as a face, but he ended his initial WWE run as a heel who was booed in the United States but cheered in his native Canada.
Punk has been all over the map as well, debuting as a face, and then becoming the heel leader of the Straight Edge Society. His famous "pipe bomb" promo last year led to a fruitful face run and marked the start of his lengthy WWE Championship reign. Punk then reverted back to heel status when he attacked The Rock on the 1,000th episode of RAW.
The point is that both Punk and Hart have changed their personas drastically over the course of their respective careers, but they always managed to get a reaction from the crowd whether it was positive or negative.
Getting a reaction is half the battle in professional wrestling, and few ever did it better than Hart while few do it better than Punk today.
Overshadowed by Other Stars
There have only been a few eras over the course of WWE history, and with each era has come one defining star.
Bruno Sammartino was the man in the 1970s, Hulk Hogan ushered in the professional wrestling boom, Shawn Michaels led the way during the short-lived New Generation, "Stone Cold" Steve Austin spearheaded the Attitude Era and John Cena is clearly the face of the so-called PG Era. With that in mind, countless superstars have never quite gotten the recognition they deserve.
It can be argued that both Bret Hart and CM Punk have been victims of circumstance over the course of their respective careers. Hart always had someone to contend with and he never quite reached the top of the mountain in my estimation.
During his first WWE Championship reign, Hulk Hogan and Ultimate Warrior were both in and out of the picture, but they had such giant personalities and egos that they overshadowed him. Hart did have a brief run as the main guy, but he couldn't sustain it over a long period of time as Michaels eventually surpassed him in popularity as well.
Punk just entered the "face of the company" conversation within the last year, but he has no chance of usurping Cena for that distinction. The WWE did all it could to build Punk up as an elite face, and he certainly acquired a huge fan following, but Cena is simply one of those generational guys who is always going to be on top as long as he's around.
That fact was probably a big reason why Punk is now the company's top heel instead, but it shouldn't be looked at as an indictment of Punk. Both he and Hart have reached levels of popularity that few can even dream of, but there have always been guys blocking their avenues to the pinnacle.
Consider Themselves the Best in the Business
While most wrestlers probably like to think that they're the best at what they do, only a few have ever dared to be vocal about it.
Two guys who haven't been shy about making their feelings known are Bret Hart and CM Punk. In fact, Hart was somewhat of a pioneer in that regard. Self-promotion has always been a big part of the wrestling business, but Hart went so far as to make it part of his character.
Hart's signature catchphrase was that he was "the best there is, the best there was and the best there ever will be." It was boisterous to say the least, but he backed it up and the fans were supportive of his assertion because of that. Bragging was almost always exclusive to heels, however, Hart proved that even fan favorites can do it.
No wrestler in the WWE today is more confident in their own abilities than Punk. His "best in the world" catchphrase was created when he was transitioning from heel to face ahead of Money in the Bank last year, and it remains a staple in his promos today. Punk used it as a big-time face, but it works even better now that he's a heel.
Determining which wrestler is truly the best now or at any point in history is subjective, but both Hart and Punk have written checks that they can cash.
In terms of pure wrestling ability, it is tough to argue against them being among the best in their respective eras. The fact they recognize this makes them even better.
Beat the Odds to Reach the Top
There are some wrestlers who just seem destined to reach the top from day one, but most of them have to put all the blood, sweat, toil and tears they can muster into it.
Both Bret Hart and CM Punk are prime examples. Neither of them was given everything from day one such as Ryback or even Alberto Del Rio. They both had to turn in years of great performances and slowly build up their fanbases before finally breaking through.
Hart's talent was always obvious, but he was simply a tag-team wrestler for many years before getting his big break. Hart won the Intercontinental Championship, but that was often given to workhorses and didn't necessarily mean a WWE Championship run was on the horizon. Hart was able to break through, however, even though musclebound guys like Hulk Hogan, Ultimate Warrior and Lex Luger ruled the day.
Punk competes in an age that is much friendlier to smaller wrestlers, but he has paid his dues as well. Punk put in a lot of time on the independent scene and gained a cult following, but not even that was enough for him to experience instant success in WWE. He did have a couple runs with the World Heavyweight Championship fairly early in his tenure, but it wasn't until the "pipe bomb" promo when he finally started receiving proper respect.
Both Hart and Punk entered into situations in the WWE that looked nearly impossible to conquer, but they both managed to get noticed and excel. There are many things that distinguish Hart and Punk as individuals, but there is no question that they followed similar paths to prominence.
Follow @MikeChiari on Twitter and listen to him on Ring Rust Radio.
Keep Reading