LSU Football: 5 Ways Tigers Can Overcome QB Issues to Beat Alabama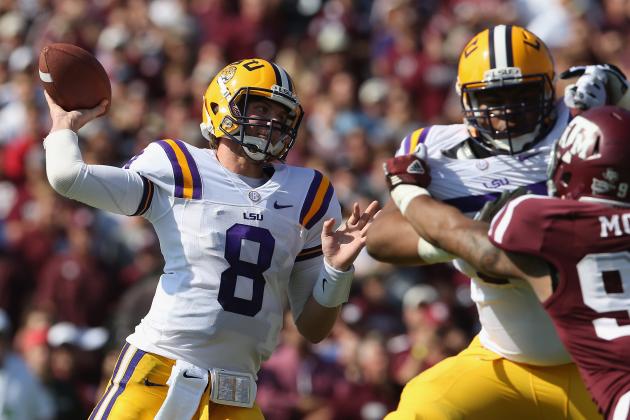 Ronald Martinez/Getty Images

"Zach Mettenberger has a cannon for an arm."
"Zach Mettenberger finally gives this LSU team an explosive aerial attack."
"Zach Mettenberger can make any throw and will help LSU's offense flourish with a true pro-style quarterback under center."
LSU fans heard all of that heading into this year's 2012 college football season. But through seven games, Mettenberger has been anything but perfect for this LSU football team.
Make no mistake about it, he has been solid but far from great. He has yet to have that one "perfect game" that LSU fans have been waiting for.
Now, with a 6-1 record under their belts, the Tigers will have a much-needed bye week to use as preparation for that anticipated Nov. 3 matchup against Alabama.
Mettenberger is going to have that "perfect game" if the Tigers are going to take down the nation's No.1-ranked team in Baton Rouge. But is that possible?
Let's go ahead and break down five ways the Tigers can overcome their QB issues to beat Alabama.
Bleacher Report Style!
Begin Slideshow

»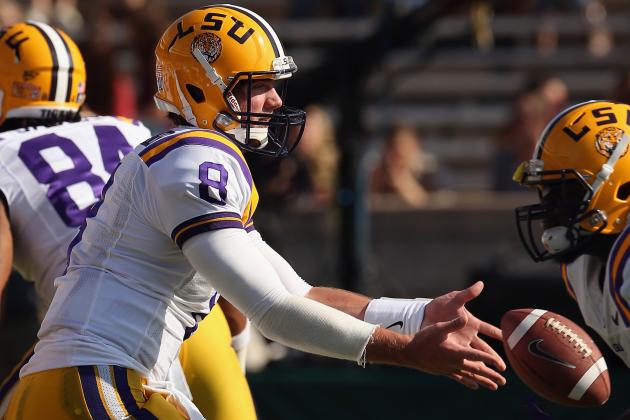 Ronald Martinez/Getty Images

This is the obvious issue that needs to be overcome, but the No. 6-ranked team in college football should have no business averaging two-turnovers per game. Especially when three of the team's first eight games were against the likes of North Texas, Idaho and Towson.
Through eight games this season, Mettenberger has thrown four interceptions, and the fumbles are just as bad if not worse.
He is averaging just over 177 yards per game, but that number could be so much higher if he learned to cut down on the mistakes and make better, more efficient passes.
Alabama is the type of football team that will instantly turn those turnovers into points. That is part of what makes Nick Saban's team so good, is that they capitalize on other's mistakes.
If LSU is going to win this football game, the Tigers must take care of the football.
That all starts with the quarterback, Zach Mettenberger.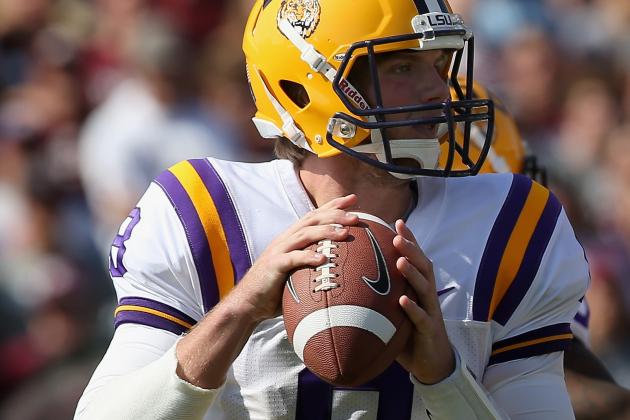 Ronald Martinez/Getty Images

Many LSU fans will disagree with this one because they want to see their quarterback take more deep shots down field.
But the issue with that, and something that could appear to be a glaring weakness with this LSU team, is that the Tigers simply don't have any true downfield threats.
Rueben Randle, who was the team's top deep threat last season, is off to the NFL and now playing with the New York Giants.
Russell Shepard, who has the speed to be a downfield threat, is quite possibly the most over-hyped and overrated player ever to step foot in Baton Rouge.
Guys like Odell Beckham Jr, James Wright and Jarvis Landry are good players, but none are over 6'2" and none are true deep-threat playmakers.
If Mettenberger can focus on getting these guys the ball in space with short, intermediate passes, and let their speed take over from there, then LSU should have a better chance at moving the ball against this suffocating Alabama defense.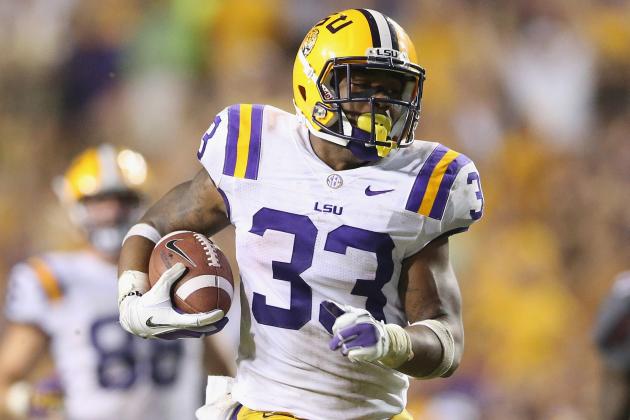 Ronald Martinez/Getty Images

When LSU runs the ball effectively, the Tigers win football games.
It really is that simple. Don't believe me, check out the stats for yourself.
LSU has rushed for 150-plus yards in seven games this season, all of which have resulted in victories. The one game in which they rushed for only 42 yards against Florida back on Oct. 6 resulted in an ugly 14-6 loss for the Tigers.
But the deal with LSU is that this team has to be effectively running the ball early on, specifically on first and second down. If the Tigers can do that, then it sets up the pass and causes the defense to pay more attention to the run, opening up the middle of the field for short crossing routes, allowing receivers to get the ball in space.
These LSU wide receivers have speed, not height. The best way to utilize that is to get them the ball in space. The best way to do that is to get the linebackers to back off by paying attention to the run.
Establishing the run sets up the pass, which in returns, takes pressure off the quarterback.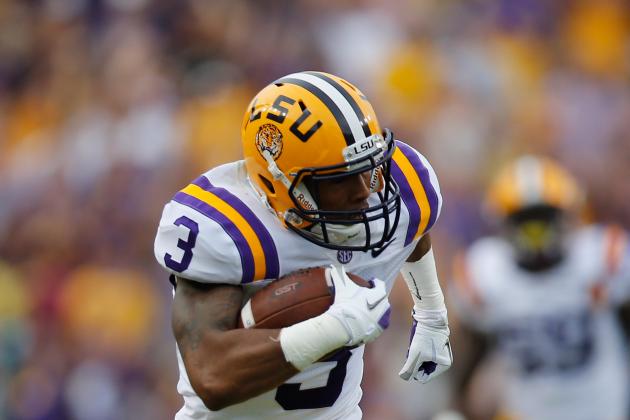 Chris Graythen/Getty Images

The Mad Hatter needs to hide his cards better because every move that this LSU team has made on offense this season has been nothing short of predictable.
This is the same problem that LSU ran into in last year's National Championship Game, and it cost them against a great Alabama squad.
If LSU is going to win this year's matchup, they are going to take some risks and hope that those risks can bring big rewards.
What exactly am I talking about?
Put it this way—run, run, pass, punt isn't going to work for this team in this type of game.
Les Miles and his coaching staff are going to need to add some jazz to this offense. Maybe a couple reverses, a halfback pass, a fake punt, something along those lines to spark this offense and get the crowd into the game.
Alabama is too good and is not going to be moved by a simple, run, run, pass offense.
This is a time for guys like Odell Beckham Jr. and Russell Shepard to utilize their speed and finally put it to get use in this game.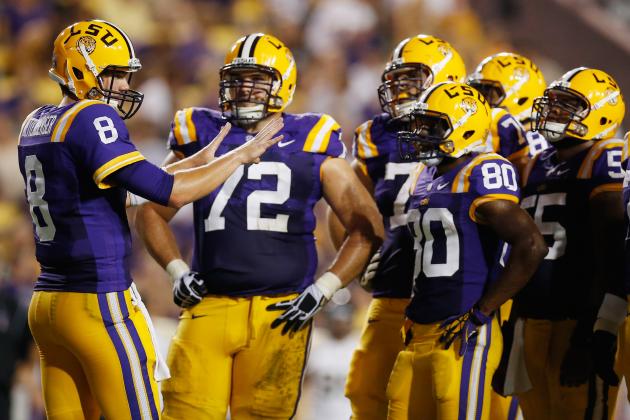 Chris Graythen/Getty Images

How can the Tigers overcome QB Issues to beat Alabama?
How about providing some protection for your first-year starting quarterback.
This offensive line has been banged up all year. But this bye week should give the big guys up front some much-needed rest and time to get healthy for this much-anticipated matchup against Alabama.
If LSU is going to beat Alabama, the offensive line is going to have to step up and give Mettenberger time to throw the football.Many of his interceptions have come because of rushed passes,and that is because of pressure from the opposing defense.
Let's see how well this line is able to protect their first-year signal-caller. That should be a huge factor in determining the outcome of this football game.