6 MMA Fighters Who Should Make the UFC Hall of Fame Next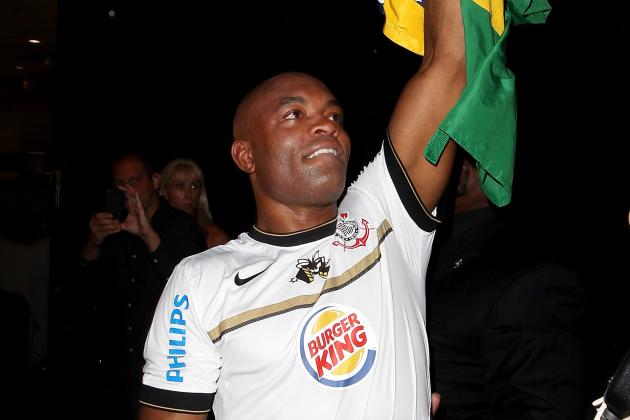 Jeff Bottari/Getty Images

The UFC Hall of Fame is the most prestigious honor in MMA and only hosts nine fighters in its ranks.
Currently, Royce Gracie, Ken Shamrock, Dan Severn, Randy Couture, Mark Coleman, Chuck Liddell, Matt Hughes and Tito Ortiz are the fighters in the Hall of Fame. The only non-fighter in the ranks is Charles "Mask" Lewis, who prematurely passed away while Tapout was still on the rise.
Here are six fighters who should make it into the Hall of Fame next.
Begin Slideshow

»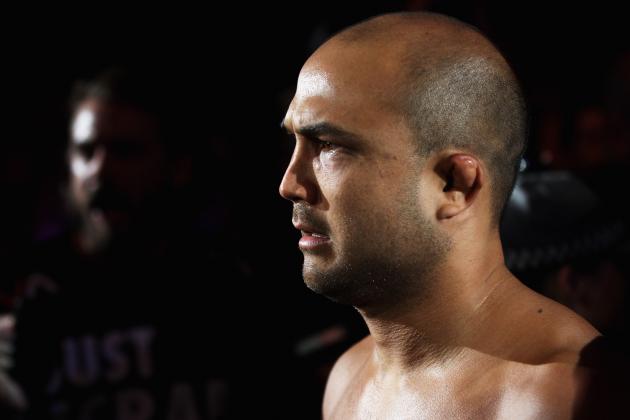 Mark Kolbe/Getty Images

Accolades: UFC lightweight and welterweight champion, Rumble Rock lightweight champion
Top Five Victories: Matt Hughes (twice), Sean Sherk, Renzo Gracie, Takanori Gomi and Joe Stevenson
There is no doubt that multi-division champion BJ Penn is going to be a Hall of Famer. The fact that his career is winding down certainly suggests that he should be one of the next guys inducted.
Penn never defended the welterweight title before leaving the UFC early in his career, but he successfully defended the lightweight strap three times after choking out Joe Stevenson to win the vacant title.
Those three men he defended against were Sean Sherk, Kenny Florian and Diego Sanchez.
He has "retired" twice now, but he will return to action in December when he fights up-and-comer Rory MacDonald at 170 pounds.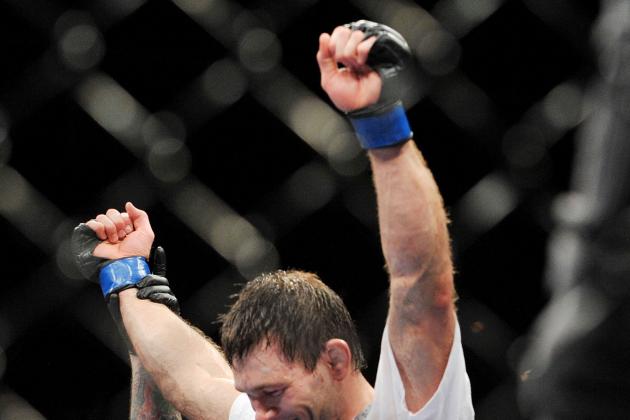 Jon Kopaloff/Getty Images

Accolades: UFC light heavyweight champion (Griffin), "Greatest Fight in UFC History"
Top Five Victories (Griffin): Tito Ortiz (twice), Quinton Jackson, Mauricio Rua, Stephan Bonnar and Chael Sonnen
Top Five Victories (Bonnar): Keith Jardine, James Irvin, Brian Ebersole, Krzysztof Soszynski and Igor Pokrajac
Without one another, I don't think either man would be considered Hall of Fame material, with the exception of maybe Forrest Griffin.
These men helped put the UFC on the map with one fight. It was the finale of The Ultimate Fighter that literally had people changing the channel to get a glimpse at what these two men were doing.
Had this fight not happened, many say MMA would not have exploded like it did.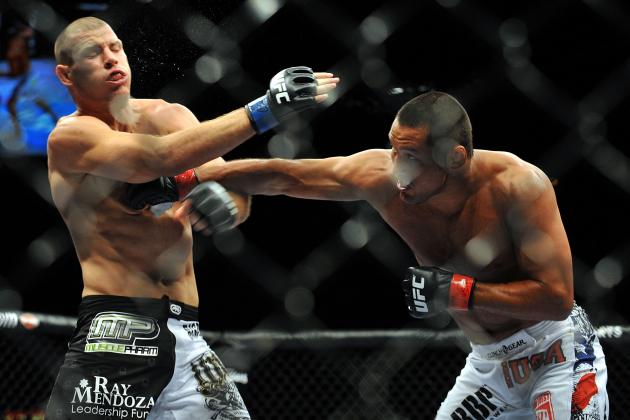 Jon Kopaloff/Getty Images

Accolades: UFC 17 tournament winner, Pride welterweight and middleweight champion, Strikeforce light heavyweight champion
Top Five Victories: Mauricio Rua, Fedor Emelianenko, Michael Bisping, Wanderlei Silva, Antonio Rodrigo Nogueira
The only thing Dan Henderson hasn't done is win a UFC championship belt in his long, decorated career. That should not keep him out of the Hall of Fame, though.
Henderson has beat more notables in his career than most fighters that come to mind. His career in Pride is legendary, as are his knockouts and toughness.
He and Mauricio Rua put on arguably the best fight in MMA last year. He famously stepped up to heavyweight and knocked out the legendary Fedor Emelianenko in an amazing fight, too.
Oh yeah, and he won himself a title or two in his day.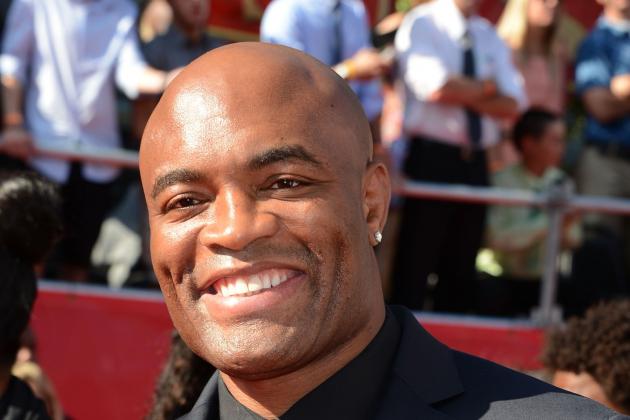 Frazer Harrison/Getty Images

Accolades: UFC middleweight champion, Shooto middleweight champion, Cage Rage middleweight champion, undefeated in the UFC
Top Five Victories: Chael Sonnen (twice), Vitor Belfort, Dan Henderson, Rich Franklin (twice) and Nate Marquardt
Good lord—what can be said about Anderson Silva that hasn't already been said about the United States in both World Wars?
Silva has been dominant in his MMA career, but the fact he has never lost in the UFC is an unbelievable feat. He has taken all comers and disposed of most challengers with extreme prejudice.
He has defeated his biggest rival twice decisively in Chael Sonnen. Other than that, he has never really been in trouble in the UFC.
Silva is easily a shoo-in to be enshrined.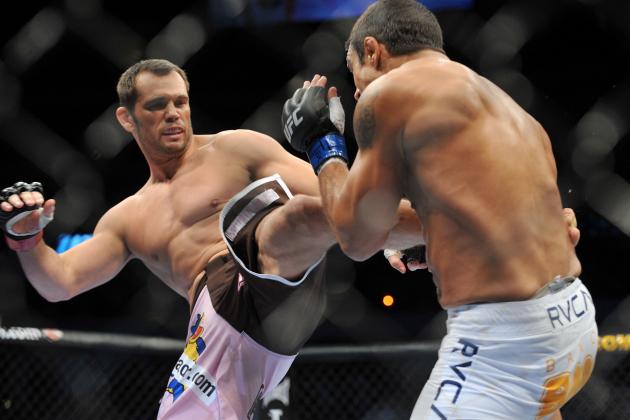 Jon Kopaloff/Getty Images

Accolades: UFC middleweight champion
Top Five Victories: Chuck Liddell, Wanderlei Silva (twice), Ken Shamrock, Evan Tanner (twice) and David Loiseau
The math teacher-turned-mixed martial artist known as Rich Franklin is a company guy that always stepped up to fight when the UFC needed him to.
Franklin is a former champion that became a self-trained fighter before entering the cage. He never looked like a fighter, but boy could he throw leather with the best of them.
Based off his company-man status alone, Franklin should get a UFC nod to the Hall of Fame. It definitely helps that he has had a legendary career as well.