NHL Lockout: President Obama Comments on Stalemate Between League and NHLPA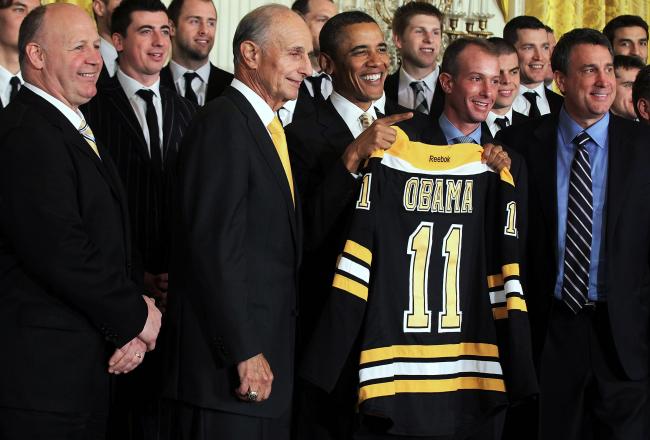 Alex Wong/Getty Images
President Barack Obama appeared on NBC's The Tonight Show with Jay Leno on Wednesday night and among the many questions that he was asked, one of them was on the NHL lockout (video below).
Question: Can you pull some strings and end the NHL lockout?

Obama's response: "Every time these things happen, I just want to remind the owners and the players, you guys make money because you've got a whole bunch of fans out there who are working really hard, they buy tickets, they're watching on TV.

"Y'all should be able to figure this out. Get this done."
The President is a big sports fan, and since his hometown is Chicago, I'm sure he's hoping that the lockout ends quickly so the Blackhawks can make another run at a Stanley Cup championship.
I think many hockey fans, whether they support the President or not, can agree with his comments. The fan's have been instrumental in the sport's growth since the previous lockout, and without their support, the NHL doesn't have $3.3 billion in hockey-related revenue to fight over right now.
The lockout is expected to extend past another deadline on Thursday, as the lack of a new deal will likely result in the cancellation of a few weeks, or even a month's worth of regular-season games.
NHLPA executive director Donald Fehr spoke about the lack of CBA meetings on Wednesday (as tweeted by Kevin McGran of The Toronto Star):
The players made multiple core-economic proposals on Thursday that were a significant move in owners direction. We are and continue to be ready to meet to discuss how to resolve our remaining differences, with no preconditions. For whatever reason, the owners are not. At the same time they are refusing to meet, they are winding the clock down to yet another artificial deadline they created.
With no CBA talks scheduled at the moment, a shortened season is the likely scenario that the league is facing.
Even if a deal was completed soon, there's no reason to cancel the All-Star Game and play an extra game every four or five weeks just to squeeze in 82 games.
Which side do you blame for the lack of CBA talks?
The ideal schedule at the moment is for both sides to reach an agreement, teams have a short training camp and a 70-game season is played.
With so many players changing teams over the summer through trades and free agency—plus the fact that some players haven't played competitive hockey since last season—having a training camp to allow teams to get some real practices in before the season must happen.
As the lockout heads into the weekend, the best hockey fans can hope for is that the NHL and its players get back to the bargaining table and make some meaningful progress in getting a CBA done.
Nicholas Goss is an NHL Lead Writer at Bleacher Report. He was also the organization's on-site reporter for the 2011 Stanley Cup Final in Boston. Follow him on Twitter.
This article is
What is the duplicate article?
Why is this article offensive?
Where is this article plagiarized from?
Why is this article poorly edited?