David Freese and the 10 Most Incredible World Series MVP Performances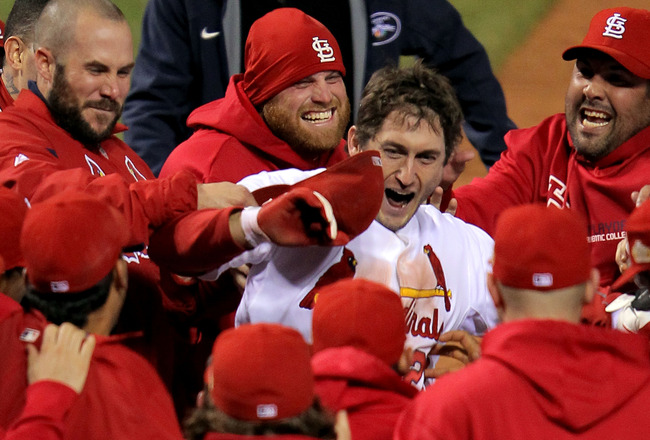 Doug Pensinger/Getty Images
Pablo Sandoval certainly got things off on the right foot during the 2012 World Series as he hit three home runs in his first three at-bats. Sandoval has to be the early favorite to join the ranks of World Series MVPs.
Starting in 1955, the MLB began to give out an award for the Most Valuable Player in the World Series. Since then, there has been a long list of players that have had outstanding World Series performances, and even amongst all of the MVPs, some have numbers that truly standout.
The following players all had performances to remember. Some hitters seemingly could not get out, while others were RBI machines. There were also pitchers that put together outstanding starts during the World Series.
10. Don Larsen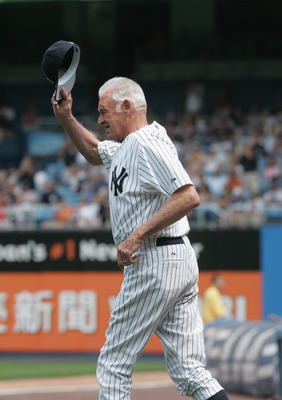 Jim McIsaac/Getty Images
One of the most memorable moments in World Series history came courtesy of Don Larsen. In 1956, Larsen became the first and only pitcher in MLB history to throw a perfect game in the World Series.
Larsen led the Yankees to a big 2-0 win in Game 5 of the 1956 World Series. Even though Larsen struggled in his other World Series start—going just 1.2 innings and giving up four unearned runs on one hit—his perfect game was more than enough to earn him the World Series MVP award.
9. Lew Burdette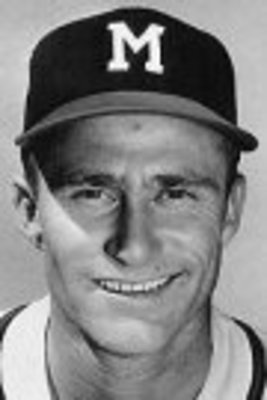 Photo Credit: Baseball-Reference
On a Milwaukee Braves pitching staff that featured Hall of Famer Warren Spahn, it was Lew Burdette that really stood out and make a massive impact during the 1957 World Series against the New York Yankees.
Burdette made three starts in that series, and the Yankees couldn't seem to figure him out. He threw three complete games and only gave up two runs.
With the series tied at three games apiece, the Braves turned to Burdette for Game 7. He was able to out-duel the reigning World Series MVP, Don Larsen, and lead the Braves to the title.
After his outstanding series, Burdette was crowned World Series MVP.
8. Bobby Richardson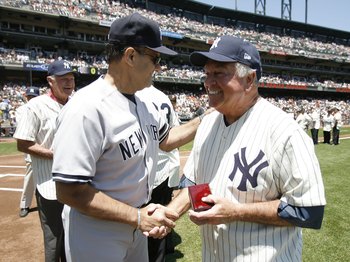 Greg Trott/Getty Images
Few—if any—players can top the World Series performance that Bobby Richardson had in 1960. The New York Yankees star second baseman was outstanding.
Richardson had some stiff competition for the World Series MVP award in 1960. Mickey Mantle drove in 11 runs that year in the World Series. However, Richardson was able to outdo him and set a World Series record with 12 RBI. He also collected 11 hits during the seven-game series.
Even though the Yankees lost the series to the Pittsburgh Pirates on Bill Mazeroski's Game 7 walk-off home run, Richardson's performance was still good enough to win the MVP award.
7. Sandy Koufax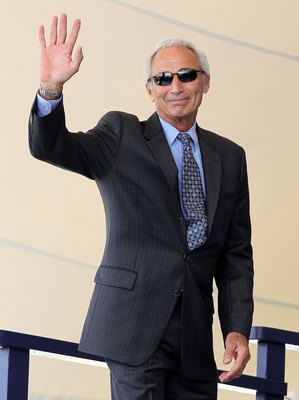 Jim McIsaac/Getty Images
There have only been three players to win the World Series MVP award twice during his career, and Sandy Koufax is one of them. He picked up his first award in 1963 when he went 2-0 with a 1.50 ERA and 23 strikeouts in two World Series start.
Koufax's second World Series MVP award was arguably more impressive. Facing off against the Minnesota Twins in 1965, Koufax went 2-1 in three starts with a 0.38 ERA and 29 strikeouts.
The 1965 World Series went to seven games, and the Los Angeles Dodgers turned to their ace for the deciding game. Koufax threw a gem and limited the Twins to just three hits while striking out 10.
6. Bob Gibson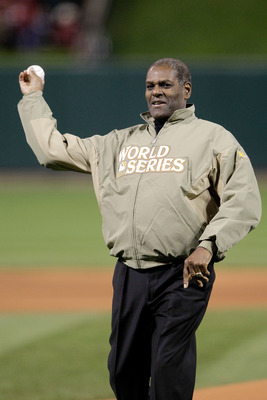 Pool/Getty Images
The other starting pitcher to win two World Series MVP awards is Bob Gibson, and like Koufax, he won both of them in the 1960s. Gibson won his first in 1964 when he led the St. Louis Cardinals to a World Series victory over the New York Yankees by going 2-1 with 31 strikeouts in three starts, including nine in the decisive Game 7.
Three years later, Gibson and the Cardinals were in the World Series once again, this time facing off against the Boston Red Sox.
Gibson was lights-out during the series and went 3-0 with a 1.00 ERA and 26 strikeouts in three complete games. Just like the previous series, the Cardinals turned to Gibson in Game 7, and he put together a great performance. He struck out 10 and allowed two runs on just three hits.
5. Johnny Bench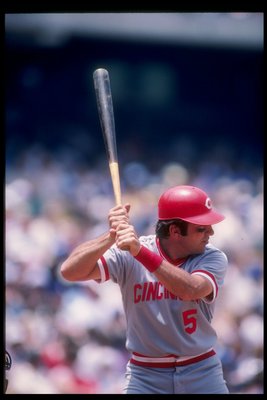 Getty Images/Getty Images
One of the best catchers of all time put up one of the best World Series performances of all time in 1976. Johnny Bench was virtually unstoppable as the Cincinnati Reds won the World Series in four games over the New York Yankees.
During the short series, Bench had a .533 batting average and a 1.133 slugging percentage. Add in his two home runs and six RBI in four games, and it is clear why he was the World Series MVP that season.
4. Reggie Jackson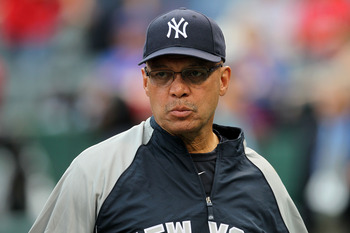 Stephen Dunn/Getty Images
Reggie Jackson earned the nickname "Mr. October" because of his great postseason performances. Jackson is one of the only players in MLB history to hit three home runs in a World Series game.
During the 1977 World Series, Jackson was on fire. In addition to his three home runs in Game 7, he also hit two more long balls during the series. With five home runs, eight RBI and a .450 batting average, Jackson was the clear-cut choice for World Series MVP in 1977 as the New York Yankees beat the Los Angeles Dodgers.
Jackson's five home runs are tied with Chase Utley for the most home runs in a World Series.
3. Paul Molitor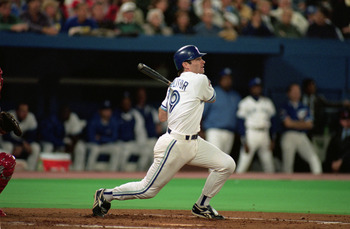 Rick Stewart/Getty Images
Hall of Fame third baseman Paul Molitor only appeared in two World Series during his career, but he made the most of his opportunities. Even though Molitor's Milwaukee Brewers lost in 1982, he hit .355 in the seven games of the World Series.
Molitor would eventually beat those numbers during his next World Series performance. As a member of the Toronto Blue Jays, Molitor hit .500 with two home runs and eight RBI in 1993. He helped lead the Blue Jays to a title as they beat the Philadelphia Phillies in six games.
2. Hideki Matsui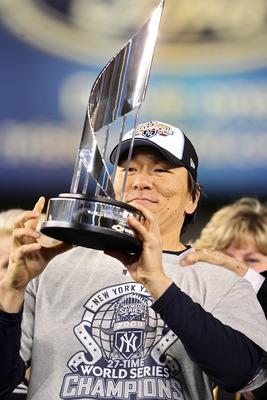 Jed Jacobsohn/Getty Images
During the six games of the 2009 World Series, it seemed as if Hideki Matsui could do nothing wrong. Philadelphia Phillies pitchers struggled to find a way to get Matsui out all series long.
Matsui batted an impressive .615 while also slugging three home runs and driving in eight. His OPS for the series was an incredible 2.027.
In the decisive Game 6, Matsui tied a World Series record with six RBI in the game. This performance earned him the World Series MVP award, and he is the first and only Japanese-born player to win it.
1. David Freese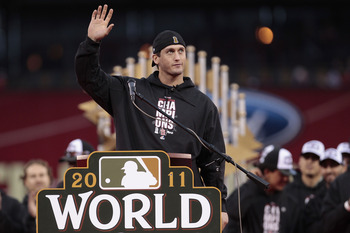 Whitney Curtis/Getty Images
After showing signs of breaking out during the regular season, David Freese turned things up a notch during the playoffs. Freese was dominant in the NLCS, hitting .545 with three home runs and nine RBI as he led the St. Louis Cardinals to the World Series against the Texas Rangers.
With two outs in the bottom of the ninth in Game 6—with the World Series on the line—David Freese came to the plate. Rangers closer Neftali Feliz put Freese behind in the count and had him down to his final strike.
Freese came up huge and tied the game with a triple. After both teams scored two in the tenth, it was Freese's time to shine once again in the bottom of the 11th. He launched a home run on a three-two count to send the World Series to Game 7.
After the Cardinals took care of the final game of the series, it was clear that Freese deserved the MVP award.
Keep Reading