5 San Diego Padres Players to Build Around for the Next Decade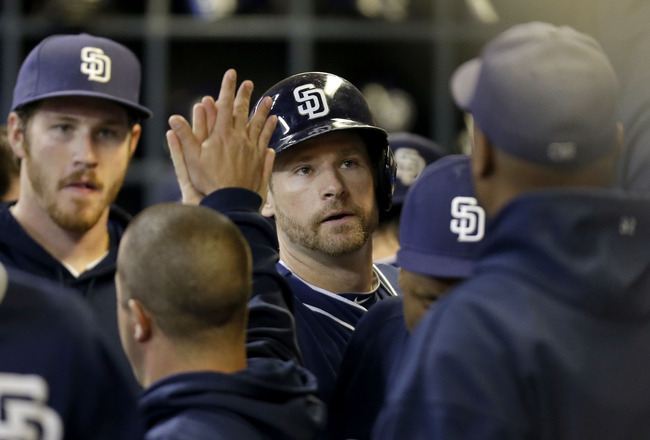 Mike McGinnis/Getty Images
It's time for the San Diego Padres to stop being a rebuilding team, and be a true contender once again.
My colleagues have ranked the Padres' farm system as the 4th-best in MLB. With various prospects landing near the top of several lists, along with the pieces currently on the roster, the Padres have a lot to build upon for the next decade.
As we've seen with the recent success of the San Francisco Giants, you can have a dominant competitive team by developing prospects and building around significant pieces. Though admittedly, they have a larger payroll than the Padres, many of their key players became superstars through good drafting and development. Athletes such as Matt Cain, Buster Posey, Tim Lincecum, Brandon Belt and Madison Bumgarner were all home-grown through the Giants system.
The Padres can replicate this success with the tools they have, smart contract decisions and intelligent scouting and drafting.
1. Yasmani Grandal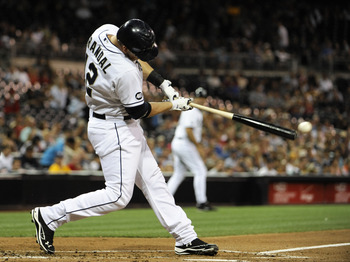 Denis Poroy/Getty Images
As we briefly saw in 2012, Yasmani Grandal is a special talent.
In only 60 games, Grandal carried a .297 batting average and .394 on-base percentage. His numbers, if averaged out to a 162-game season, would be 22 home runs and 97 RBI. Adding a serious bat next to Chase Headley, combined with the speed at the top of the order, will greatly increase the runs scored over the next decade.
Still just 23, Grandal can be an elite player in a few years. We also take for granted that he's a catcher, a position the Padres have been weak at in the past few years.
2. Jedd Gyorko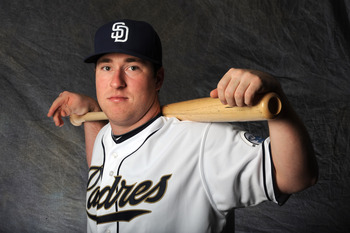 Rich Pilling/Getty Images
Jedd Gyorko is the Padres' top prospect that isn't in the MLB, yet.
Drafted 59th overall in 2010, he's likely to be on the Padres' Opening Day roster after experimenting with playing shortstop and second base. And since then, he's been dominating pitching throughout the Triple-A Pacific Coast League.
At only 23 years old, the Padres hope Gyorko can live up to the hype and his potential. He figures to be a lasting fixture near the top of the lineup. Through Triple-A, his numbers are reflective of someone capable of batting in the three-hole on most teams.
3. Casey Kelly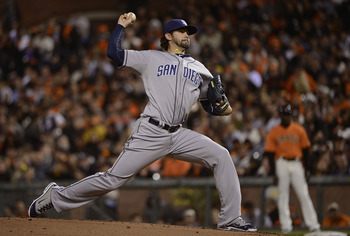 Thearon W. Henderson/Getty Images
Casey Kelly made his Padre debut in 2012, to an unimpressed crowd.
However, his potential puts him in the same conversation of many of the pitching greats. The Padres acquired Kelly as part of the trade that sent Adrian Gonzalez to the Red Sox.
As I mentioned in a previous article, Kelly was featured in the 2009 futures game, a game which has boasted names such as Giancarlo Stanton, Madison Bumgarner, Neftali Feliz and Jason Heyward.
Kelly has had ace-caliber stuff throughout his career and scouts project he will see continued success in the majors. He should have a permanent position in the rotation for the 2013 season.
4. Robbie Erlin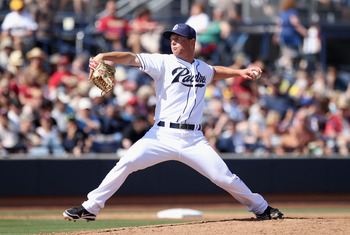 Christian Petersen/Getty Images
After Casey Kelly, Robbie Erlin is the Padres' top starting pitching prospect.
Through Double-A, Erlin has been extremely dominant, highlighting a 2.82 ERA, 1.25 WHIP and powerful 11.9 K/9. In my opinion, Erlin should be on the Padres roster for 2013, whether he starts in the bullpen or the rotation.
Along with Kelly, Erlin should provide stable top-of-the-rotation presence for the Padres for years to come.
5. Chase Headley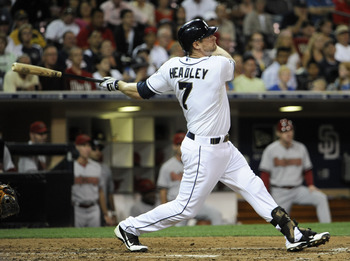 Denis Poroy/Getty Images
This is my official plea to the Padres: PLEASE DON'T LET HEADLEY GO!
A man with true Petco power, solid defense and consistent hitting is hard to find. In the 2012 season, Headley hit 31 home runs and drove in a career-high 115 runs. Many speculated Headley would be traded before the 2012 deadline, yet the new ownership gave GM Josh Byrnes the confidence to hold on to him.
Headley is under team control until 2015, but I suspect they'll work out an extension sometime this year. Having a veteran presence, along with the slew of young prospects, the Padres have the ability to be a competitive home-grown team once again.
The new O'Malley ownership should show the San Diego fans they are dedicated to becoming a serious contender and sign Headley to a long-term deal.
Keep Reading

San Diego Padres: Like this team?