Arsenal vs. Schalke: Rating the Arsenal Players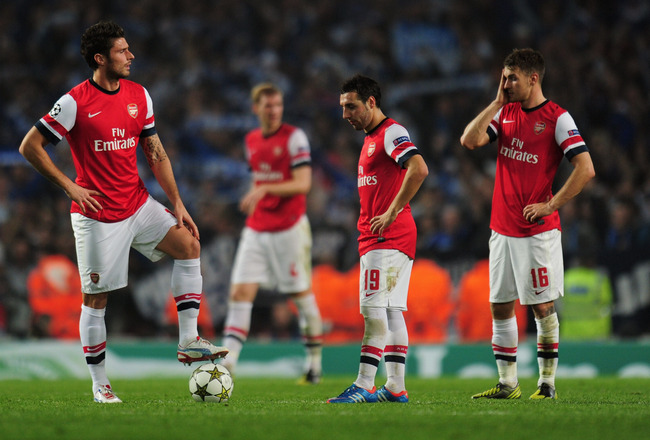 "And that sums it all up"
Shaun Botterill/Getty Images
Arsenal have slumped to their second consecutive defeat, and first to continental competition at home since 2003. The thoroughly uninspired display deserves some closer attention.
While a couple of players had horrific games, most were simply average. Against a top German side, though, average is enough to suffer defeat.
Vito Mannone – 5.5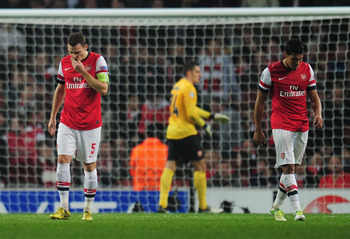 Shaun Botterill/Getty Images
While Klaas-Jan Huntelaar's goal was potentially savable, as it passed within inches of the Italian's left boot, Mannone can hardly be blamed for conceding to the Dutchman from inside of 10 yards.
So, too, with Schalke's second, as the Arsenal back line failed to deal with Jefferson Farfan's initial cross, and on-loan winger Ibrahim Afellay's tap-in finish. With little to do for the rest of the match, the scoreline is a harsh reflection on what was a decent performance.
His almost-penalty to Afellay early on was a cause for concern, however...
Carl Jenkinson – 6.5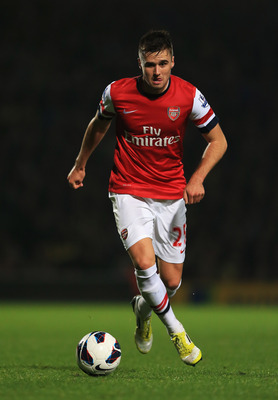 Richard Heathcote/Getty Images
The 20-year-old had a reasonable match, and was unlucky to be substituted in the closing stages. His movement forward offered welcome support to Aaron Ramsey, who was playing on the right flank.
Stout defensively—Afellay's early chance aside—the No. 25 looked solid on his 25th appearance for the club, and should find himself in contention for a spot on the England team if his form continues.
Per Mertesacker – 6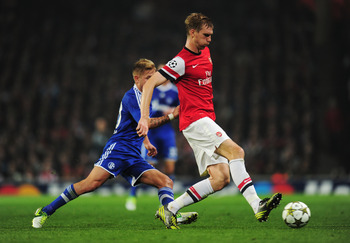 Shaun Botterill/Getty Images
The defender did not have a bad game, since for most of it he combined well with Thomas Vermaelen and tried to continually change his passing targets. Like Vermaelen, though, he was potentially culpable for the first goal. Upon closer inspection, however, he's probably undeserving of blame.
While I am not the biggest fan of the German, he has earned his spot in the back.
Thomas Vermaelen – 6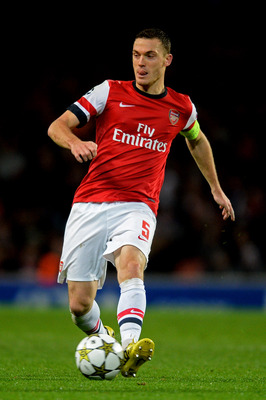 Mike Hewitt/Getty Images
The Belgian international hardly looked like the aggressive and dynamic center back that Arsenal fans have come to expect. While his partnership with Per Mertesacker has been largely effective so far this season, Vermaelen did not look lively against Schalke.
His movement forward with the German could be to blame for the second goal, but in reality, it was Andre Santos' failure to get forward that kept Huntelaar onside. The captain could have been a bit more vocal in motivating his team. The team's loss, however, was most certainly a collaborative effort
Andre Santos – 3.5
Shaun Botterill/Getty Images
Whatever attacking prowess the Brazilian shows going forward, it was offset in spades by a woeful defensive performance.
His positional sense is atrocious, and he is, at best, a mediocre tackler. Combined with a work ethic that does not match that of his teammates, and ultimately causing the decisive first goal by virtue of keeping Huntelaar onside, the left-back is a bona fide liability on the field.
Kieran Gibbs' return from injury cannot come soon enough.
Mikel Arteta – 6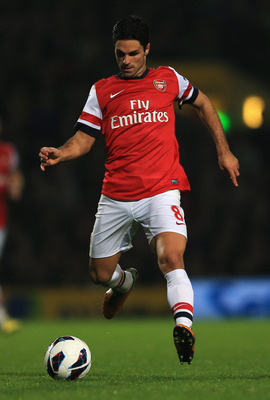 Richard Heathcote/Getty Images
The Spaniard had a decent game, but not one up to his own high standards. His work rate was first-class, as his defensive efforts were matched by his ambition going forward.
Often tidy and direct with the ball, in the past two games (both losses, coincidentally) he has been riskier in his passing and long services, which has led to more giveaways. This has come about only because of Arsenal's lack of creativity in front of net.
If the offense can find its rhythm, Arteta will almost assuredly return to his metronomic best.
Francis Coquelin – 6.5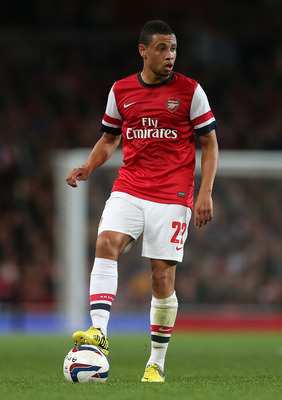 Julian Finney/Getty Images
While somewhat hit-or-miss this season from the midfield, the 21-year-old had a quiet, but relatively accomplished display in midfield. He showed good industry, working hard both when in and out of possession. Perhaps more impressive in the first half, he seemed to fade as the game wore on.
Additional game time would do the young man a great deal of good, as his talent and fitness are self-evident.
Santi Cazorla – 6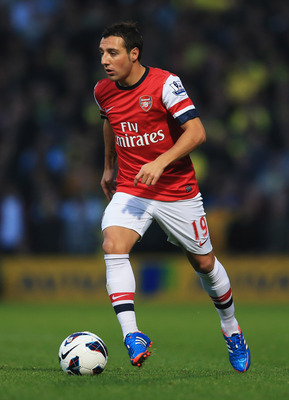 Richard Heathcote/Getty Images
The diminutive attacking midfielder had a middling display.
Always willing to run, the No.19 felt compelled to try to put the game on his narrow shoulders when his offense-minded teammates were unable to produce any pressure going forward. As a result, he gave up the ball more than he would probably like, and his synergy with the front line was borderline nonexistent.
The Arsenal midfielder has a wealth of talents, but he can't be expected to put in a monumental display every game.
Lukas Podolski – 4.5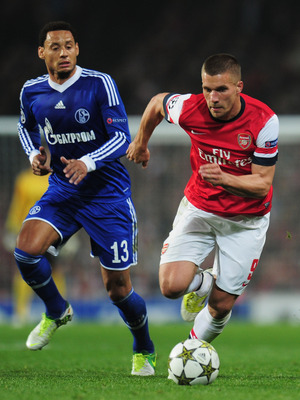 Shaun Botterill/Getty Images
The recent acquisition looks a bit short of creativity as of late.
His willingness to track back in defense is a welcome quality, especially in this squad. But his work going forward falls short of his abilities as a centurion for the German national side. He excels at driving at defenders with speed and power, and, unlike Gervinho, often has the footwork to match.
But he is a player who thrives when surrounded by quality, and tonight was largely anonymous in a side where no one distinguished themselves. His early season spark seems to have vanished as he settled into Arsene Wenger's pass-it-in-the-goal system.
Gervinho – 4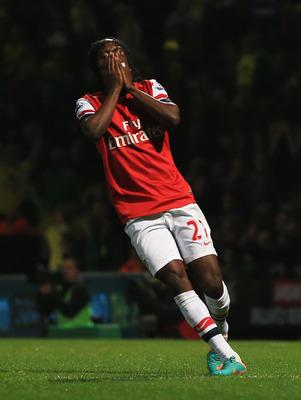 Richard Heathcote/Getty Images
Without question, the wiry winger is one of the most frustrating players Arsene Wenger has fielded in the past two years, and to see him getting as much game time as he has is incomprehensible.
For all of his pace and trickery when one-on-one with opposing defenders, his second, third and final ball is the stuff of comedy. Whether he is attempting a slaloming run through multiple defenders that, inexorably, leaves him ball-less and in a heap on the ground crying out for a foul, or he is trying to pick out one of his teammates inside the 18-yard box, the result is always a turnover.
Theo Walcott, for all of his raging inconsistency, would be a welcome improvement in Wenger's starting lineup.
Aaron Ramsey – 4.5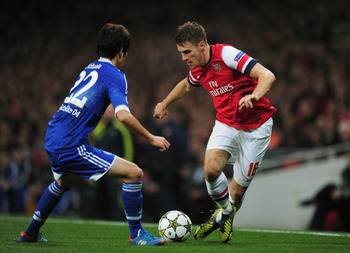 Shaun Botterill/Getty Images
One has to feel badly for the now ex-captain of Wales. Still recovering from a horrific leg break and played out of position, it is no surprise that he looks out of his element.
His passing was as errant as his movement off the ball. Ramsey never looked comfortable on or off the ball, and displayed the over-eagerness that much of the Arsenal did. With nary a shred of intrinsic creativity anywhere in the side, he felt compelled to play risky balls that only sometimes found their intended mark.
Out of sorts when played out wide, naive when played deep in the middle and not adept enough to warrant a run-out in Cazorla's attacking midfield position, there is too much pressure on the 21-year-old's shoulders, and his performance was a perfect demonstration of that.
Substitutes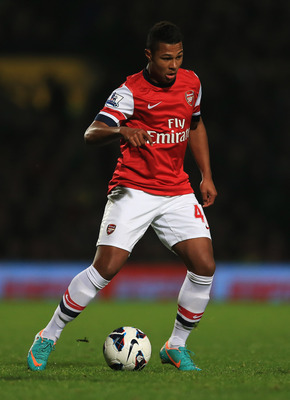 Richard Heathcote/Getty Images
Olivier Giroud and Andrei Arshavin did not produce anything worthy of mention in their limited time on the field.
Serge Gnabry's brief stint demonstrated not only his promise, but also his youth. He produced Arsenal's only shot on target in the entire match and showed great footwork on the outside of Schalke's 18-yard box to beat his man. He also gave the ball away multiple times, including the occasion that sprung Schalke's counter-attack for their second goal.
In all, though, a far more interesting quantity on the field than Russia's captain for Euro 2012, or France's recent savior against Spain.
What do you think of the players' performances? Have your say below.
Keep Reading

Arsenal: Like this team?