Chicago Bears Midseason Report Cards for Every Positional Unit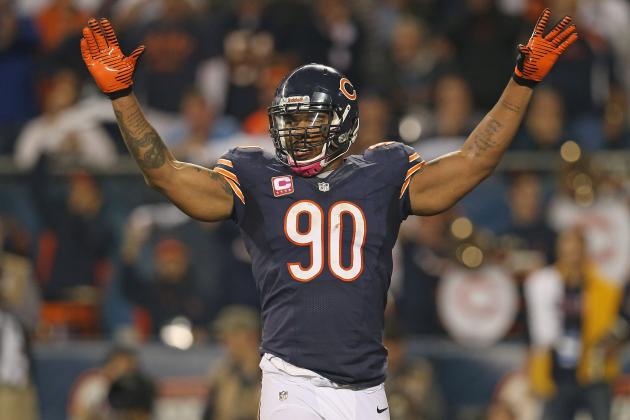 Jonathan Daniel/Getty Images

The Chicago Bears are having one heck of a season so far, with a 5-1 overall record and sole possession of first place in the NFL. It seems like all cogs of the Bears are working finally after giving fans a good scare with a 1-1 start, suffering a devastating loss to the Green Bay Packers.
We are approaching the midseason area for the NFL, and just like those dreadful days back in school, middle of the year means midterms and report cards, showing how you have done so far and what you need to improve on.
This is a report card for the Chicago Bears, grading every positional unit and how it has done up to this point in the season, as well as what it needs to do to get better and keep things going in the right direction for the Chicago Bears.
Begin Slideshow

»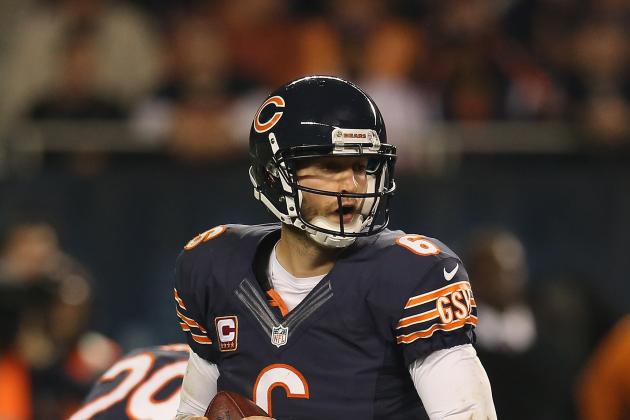 Jonathan Daniel/Getty Images

Jay Cutler has been solid for the Chicago Bears this season so far, and it seems like he is only getting better each week as he goes along. Aside from that loss in Green Bay, Cutler has only thrown three interceptions in five games, while throwing seven touchdown passes. With that ugly loss, he still has more touchdowns than he does interceptions.
As for yards, Cutler has thrown for 1,359 yards this season, and he is on pace to get over 3,500 for the season. So why is he not at an A for the season?
The Bears are still 25th in the league with 206.3 pass yards per game, a stat that is not very good looking for the Bears.
Look, we all get it. The Bears love to run the football, and they should with two quality starting running backs. But 25th in the league? When teams like San Francisco learn how to stop Chicago's running game, it's going to be up to Cutler to step up and have big yardage games.
Cutler has been outstanding so far, including five touchdowns and just one interception in his last three games. As of right now, he stands at a B for the season thus far.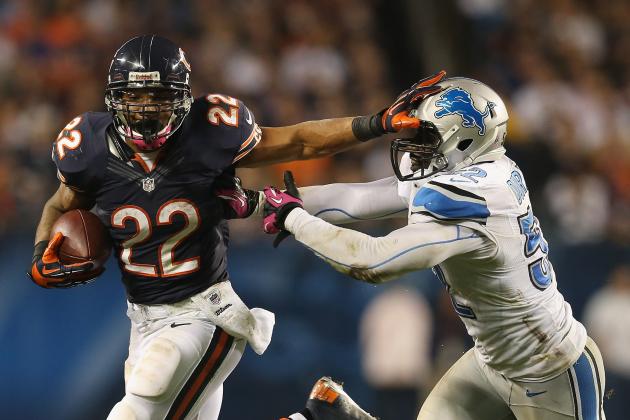 Jonathan Daniel/Getty Images

The two-headed running back system that Chicago loves to use has really worked out for them so far in the 2012 NFL season.
Through six games, the Bears are averaging 4.3 yards per carry, and they have 789 yards and five touchdowns rushing on the season. They also stand at ninth in the league in rush yards per game, averaging 131 yards per game. Those numbers are good, but not A-worthy. So why are the running backs ranked higher than the quarterbacks?
The answer is simple; turnovers. The running backs have not had a single fumble lost all season, a refreshing stat from the Marion Barber days of last season for the Bears. Not turning the ball over has been key to the Bears' success this season, and the running backs have done an excellent job of putting up satisfactory numbers while protecting the football.
If the running game keeps managing the game the way it does and breaking down defenses for Cutler and Marshall to connect through the air, the Bears will have an easy time on offense going down the stretch of this season.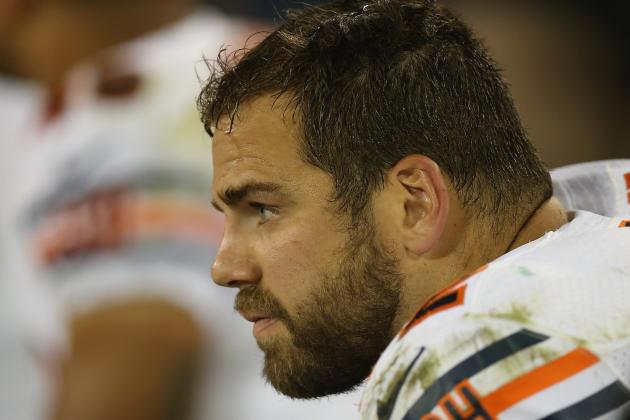 Jonathan Daniel/Getty Images

The offensive line of the Chicago Bears was a major concern coming into the season, and with good reason. The line played subpar in the regular season, sometimes playing into the fourth quarter while other players left the game at the half.
After six games played, the line still hasn't given us much reason to love, or hate, it.
Yes, it has given up 19 sacks this season, including five on Monday against the Detroit Lions. However, it has also been blocking for its running backs, who stand at ninth in the league with 131.5 yards per game.
The line has definitely seen its share of struggles and successes this season. Ever since the shouting incident, Webb has been fairly good on the left side. Ever since getting back-to-back false-start penalties and giving up a sack against Jacksonville, Game Carimi has been fairly solid.
The line will need to improve at pass-blocking for when tougher defenses come to town, but for now, the line has been satisfactory, nothing more and nothing less.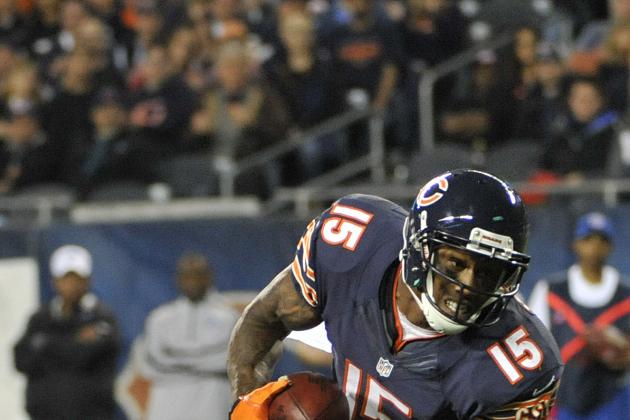 David Banks/Getty Images

Going into the 2012 season the Chicago Bears finally had something they never had before: depth at the wide receiving corps. With the addition of Brandon Marshall and Alshon Jeffery to the likes of Earl Bennett and Devin Hester, not to mention how the Bears use their running backs as receivers, the Bears looked to be in pretty good position to do well at catching the football.
After playing six games this season, the Bears have shown that their receivers are no joke.
Brandon Marshall has caught for over 557 yards and four touchdowns, while rookie addition Alshon Jeffery has caught two touchdowns on 184 yards. Now with Jeffery out, the Bears don't even have to worry, because they got Earl Bennett back from injury, a man who caught three passes for 27 yards his first game back against the Lions on Monday.
So what do the receivers need to do better? It seems like the receivers and Cutler are getting closer to being perfectly in sync, but they're not quite there yet. Once It gets to the point where no matter when Cutler throws the ball or who it's to and the fans know it will be caught, that's when they will be at an A level. Until then, the Bears keep making strides in the right direction towards becoming one of the most reliable units in the NFL.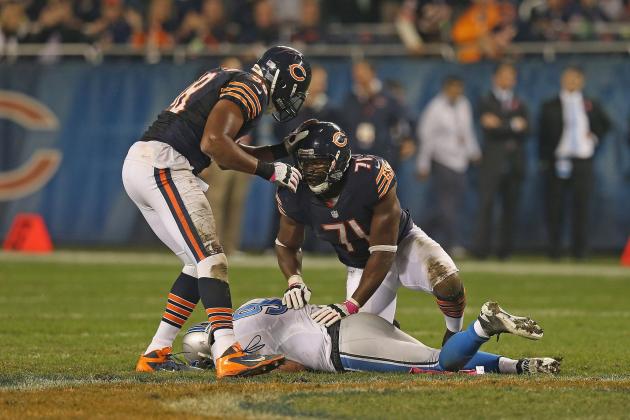 Jonathan Daniel/Getty Images

The picture for this slide perfectly describes what the defensive line has been like for Chicago so far this season: dominant.
The play of the defensive line is the reason that the Chicago Bears have had so many opportunities to create turnovers, a category that they currently lead the league in. They also lead the league in rush yards allowed per game, holding opponents to just 71 rush yards per game.
This is a defensive line that pressured Tony Romo into five interceptions on a primetime game on Monday Night Football, and it has also helped Tim Jennings get named the Defensive Player of the Month for September and Charles Tillman get named Defensive Player of the Week twice in the month of October.
This unit is something special, and everyone is taking notice. Ron Rivera, former defensive coordinator of the Bears and current head coach of the Carolina Panthers said: "Compared to the 2006 one that we went to the Super Bowl with, I think this group can be better. I really do. Because the front four is probably better (than 2006), and it really begins with those guys up front." (h/t SunTimes.com)
Not bad for the head coach of the team the Bears are playing this week.
If the Bears keep this up on the defensive line, who knows when the next time they will lose a game will be?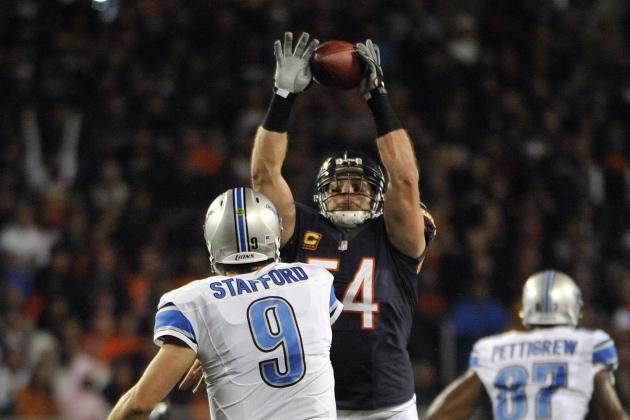 David Banks/Getty Images

It's no secret that the Bears have one of the absolute best defenses in the NFL, and a key part to that is the linebackers.
Lance Briggs has been playing out of his mind season, with 37 tackles, two sacks, two interceptions (that were both returned for touchdowns) and two forced fumbles. Briggs hasn't seen numbers that good in a long time, and it doesn't just stop with him.
Brian Urlacher, a player that many people worried about this past offseason with two knee surgeries and never even playing a single down of preseason football, currently has 27 tackles (four of which were for a loss), four pass deflections and a recovered fumble. Urlacher is showing the world what kind of a player he really is and what he is capable of.
If this keeps up, Urlacher will definitely get a new deal at the end of this season, remain a Chicago Bear for life and the Bears will continue winning thanks to a dominant defense.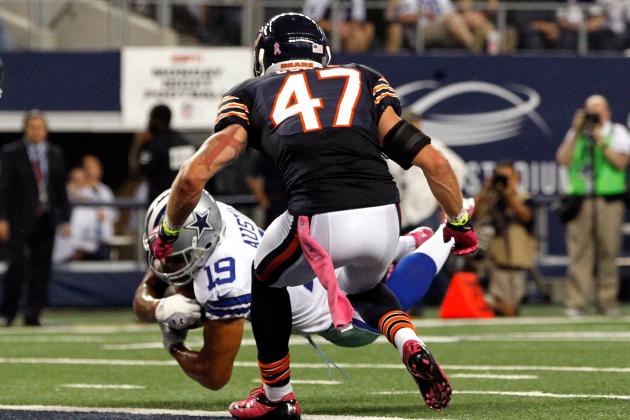 Tom Pennington/Getty Images

There just isn't enough to be said about how well this Bears defense is playing, at every position.
Major Wright has 25 tackles, four pass deflections, three interceptions and one touchdown in the 2012 season so far.
Chris Conte has 32 tackles, three pass deflections and one interception on the season.
The safeties have been forcing turnovers and making tackles, so why do they not have an A? Well, despite how well the team has been playing on defense, the Bears still have the 16th pass defense, giving up 228 yards per game.
Yes, the Bears do play a bend-but-don't-break style of defense and that's what the Tampa 2 system is all about, but it would still be nice to see the defense not allow so many pass yards per game when it's first in the league in rush yards given up.
The play of the safeties has been phenomenal so far this year, and if they can just give up less yards per game, then they will move up to an A.
David Banks/Getty Images

At the start of the season, there was some concern with how the corners would play for the Bears. We kept hearing that Charles Tillman was getting too old and that Tim Jennings wouldn't be able to make it in the NFL.
Well, it's safe to finally put those words to bed.
Jennings, a player who was awarded Defensive Player of the Month for September, currently has 31 tackles, 10 pass deflections and four interceptions.
Tillman, a player who has earned back to back Defensive Player of the Week awards in the month of October, currently has 27 tackles, four pass deflections, two interceptions (both of which were returned for touchdowns) and three forced fumbles. How's that for being too old?
The Bears are looking a lot like they did in 2006 when they made the Super Bowl, at least on defense. They are forcing turnovers, swatting the ball down and doing everything they can to stop the opposing team from scoring. That's what it takes to win in this league, and winning is something the Bears have done a lot of so far in 2012.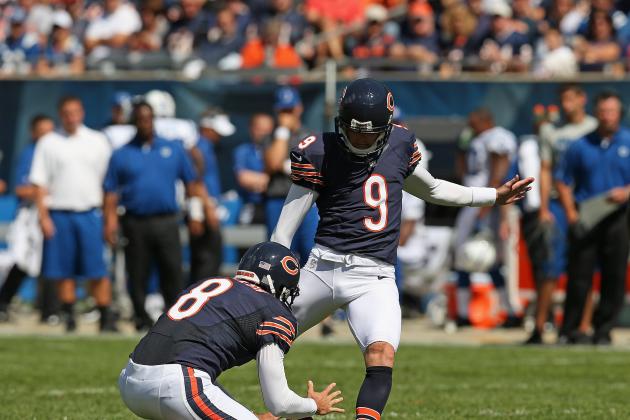 Jonathan Daniel/Getty Images

Gould has been good as gold this season, something the Bears fans have come to expect out of their beloved kicker.
Gould is 12-of-13 on field goals, including going 1-1 on a 50-plus-yarder this season. Gould has become a player that the Bears can trust, and it takes a tremendous amount of pressure off of the offense. Yes, a touchdown in the red zone would be great. But if they don't get that, it's nice to know that Gould will come in and get the team some points even when the offense stalls in the red zone.
Gould has been amazing so far this season for the Bears, and his leg is going to come in handy when tough defenses come to town in the upcoming weeks.