7 Reasons NY Knicks' J.R. Smith Will Be a Sixth Man of the Year Candidate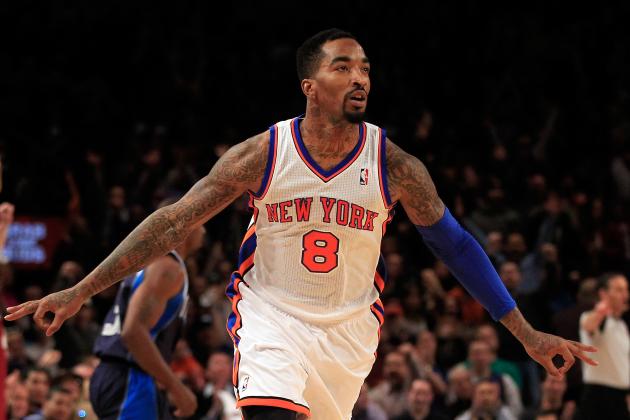 Chris Trotman/Getty Images

While New York Knicks shooting guard J.R. Smith wanted to be a starter this upcoming season, coach Mike Woodson believes Smith's services will be better utilized as the sixth man.
Although the sharpshooter did not embrace the role, he's come to accept it and take one for the team.
If the bench does not have Smith, there really is no offensive spark on the pine capable of maintaining a lead or edging closer towards opponents.
Could J.R. Smith join the company of James Harden, Lamar Odom and Jamal Crawford?
The potential is there, and here's what Smith brings to the table that the voters will notice.
Begin Slideshow

»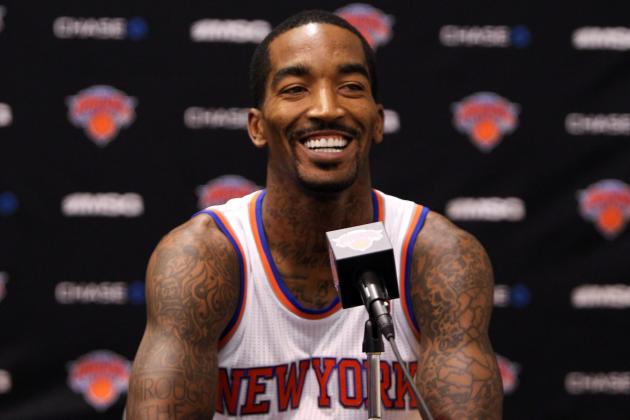 Debby Wong-US PRESSWIRE

The key to a successful career, not just in basketball but any career, is to be happy with yourself and enjoy what you do.
J.R. has been all smiles since his arrival in New York last season, and that should propel him to an even better season.
Smith never found his niche while in Denver. However, his bench play was critical to New York's seasonal success, and he will surely have an impact on the Knickerbockers in his first full season with team.
In the 2009-10 season, his fourth with the Nuggets, Smith had a career year with 15.4 points per game.
It was toward the end of this season that the frustration began to set in for the shooter, which explained his drop in numbers the following season.
Long story short: if J.R. is happy, it will reflect in his play.
If he returns to 2009-10 form, he'll gain consideration for candidacy with ease.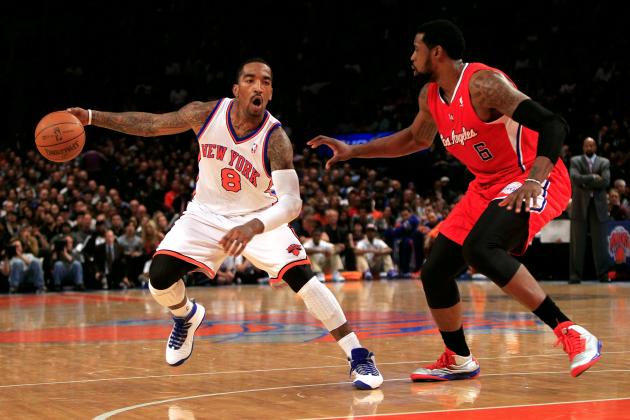 Chris Trotman/Getty Images

Playing in New York is no easy task, but it's certainly beneficial if you can withstand the pressure of those bright lights in Madison Square Garden.
The Knicks are always in the spotlight, for better or worse, and that could be to J.R.'s advantage.
All eyes will be on the Knicks this year as they look to conquer the Atlantic division on their way to a Finals appearance. If Smith can be a contributor to that, his skills will be showcased, and it'll be hard to ignore getting him a nod for sixth man.
We know that the shooting guard is talented on offense, and at times last season, he showed glimpses of brilliance on the other side of the ball as well.
For J.R. to be considered, he's got to be an all-around player, not just a scoring threat.
If he does that, he'll get a few voter's attention.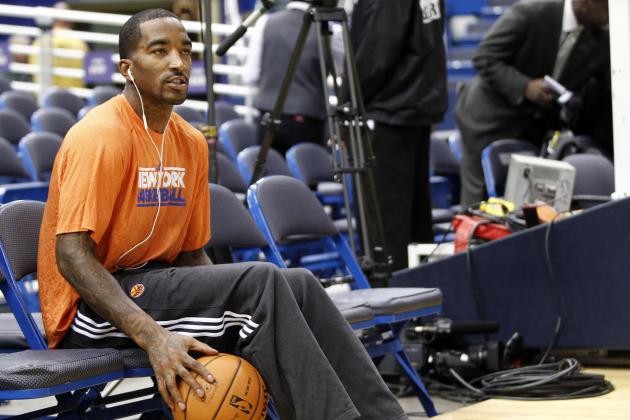 Mark L. Baer-US PRESSWIRE

Although J.R. was a bit hostile at first when told he'd remain the Knicks' sixth man, Smith has reluctantly accepted the role.
Nonetheless, the Knicks shooting guard has come to terms with being the New York's sixth man.
That's not necessarily a bad thing.
Throughout his career, the bench is where we've seen J.R. excel and look most comfortable. Out of the 538 games he's played, a whopping 408 have been from the bench. Since the 2007-08 season, Smith has only started 25 games.
At this point in his career, he'll just have to embrace the opportunity he's presented with, and that's what will get him noticed quickly.
J.R. Smith is the catalyst to his second unit, and everyone knows that.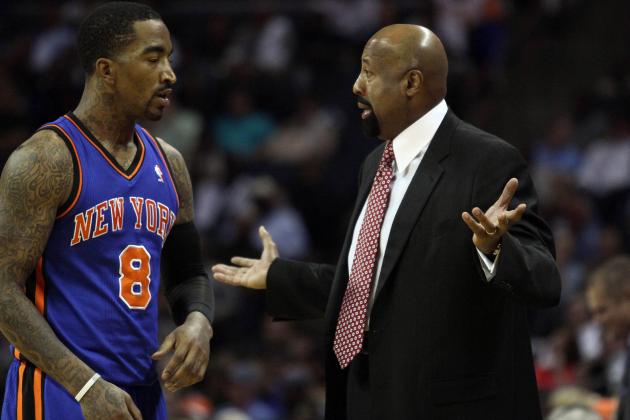 Jeremy Brevard-US PRESSWIRE

Coach Mike Woodson has shown tremendous faith in the eighth-year veteran throughout the course of the shooter's short career in New York.
Not once have we heard Woody speak ill of J.R.
As Frank Isola of the NY Daily News mentions in his article, Coach Woodson depends on J.R. to be the spark to the second unit.
Like I told J.R., if he comes off (the bench), 'Hey, there's nothing wrong with that. Heck, he can be the best player coming off the bench in the league and perhaps win the Sixth Man Award. Hopefully, that parlays into a lot of wins and getting us to a championship round because at the end of the day that's what we're in it for.
The coach and player have developed a solid relationship over the last year. There have been times where Woodson has trusted J.R. to remain in the game when the scores tight in the fourth quarter.
With a supportive head coach, Smith has to be motivated to win the award—if not for himself, then for Woody.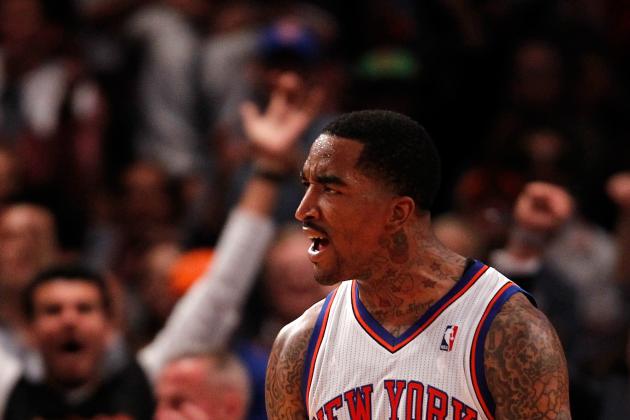 Jeff Zelevansky/Getty Images

J.R. has been in the NBA for eight years now, and throughout his career he's primarily been used as a bench player.
That didn't stop him from getting into shape this summer and developing his game more so than ever before to compete for a starting job.
NY Daily News' Frank Isola caught up with J.R., and this is what he had to say:
It was great to be able to have put all that work in and understand what I can do and my body can withhold without starting. I think it just makes our bench even stronger.
While Smith wanted a starting role, his training will be just as beneficial to him coming off the pine.
In fact, he'll be the go-to guy off the bench if there are moments when New York's offense looks a bit anemic—and the best go-to guy usually wins the Sixth Man of the Year award.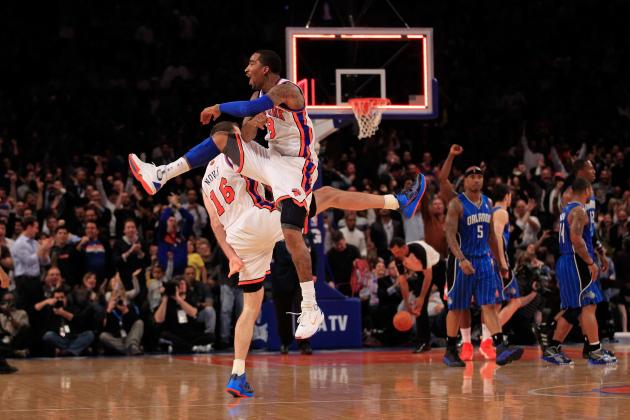 Chris Trotman/Getty Images

In his 35 games with New York last season, Smith was averaging 12.5 points per game—and that's coming off the bench!
Although J.R. can be described as a streaky shooter, he's lethal from downtown when he's on point.
No. 8 shot 35 percent from beyond the arc last season, which is close to his career average of 37 percent.
With the second unit consisting of Jason Kidd, J.R. Smith, Steve Novak, Rasheed Wallace and Marcus Camby, it's obvious this cast makes Smith that much better.
Kidd will look to get Smith the ball to score, and Sheed and Marcus will look to grab some offensive boards to give J.R. and New York second-chance opportunities, but that's not all.
Smith is excellent at spacing out the floor and forcing the defense to spread out, which should create a shot for Steve Novak.
Basketball is a team sport and Smith will become a team player.
Voters will be impressed by No. 8's newly developed game and toss him a point or two on the ballots.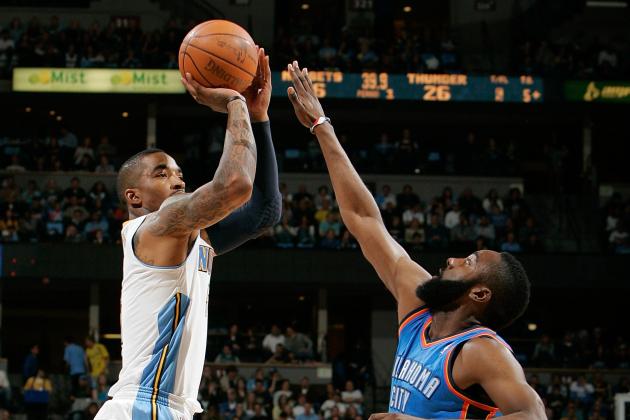 Justin Edmonds/Getty Images

Let's face it—J.R.'s biggest competition for the award is Oklahoma City's James Harden.
Last season, Harden averaged 16.8 points, 3.7 assists and 4.1 rebounds per game.
Smith's averages weren't that far behind—12.5 points, 2.4 assists and 3.9 rebounds per game.
It's worth mentioning that Harden played 62 games and Smith only appeared in 35. One would have to believe that if Smith had a full season, his numbers would be even more up to par with Harden's.
While the OKC bench player is the most threatening for the award, no player has won the award in consecutive years since Detlef Schrempf in the 1990-91 and 1991-92 seasons.
Even more reason for J.R. Smith to push to be the best he can...and claim the title of Sixth Man of the Year.