Liverpool vs. Anzhi: Key Battles to Watch at Anfield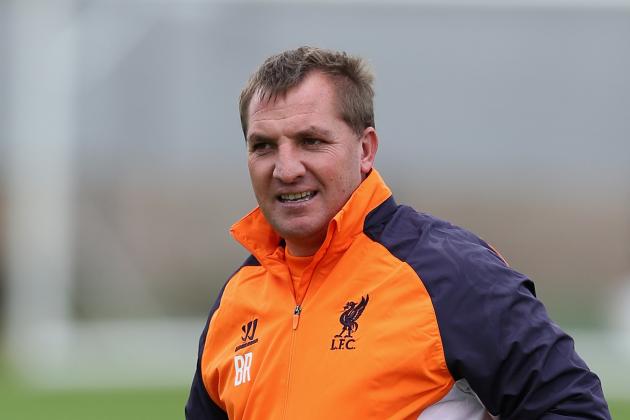 Clive Brunskill/Getty Images

In Week 3 of the Europa League group stage, Liverpool will welcome Anzhi Makhachkala to Anfield in what should be one of the best ties of the week.
The Reds have had a mixed start to the season both in League and European competition as they transition into life under the management of Brendan Rodgers.
Anzhi, on the other hand, are flying high in domestic football—sitting top of the Russian league—and in European football, where they have scored goals for fun and sit top of group A.
It's a meeting of a fallen European giant working within a strict and limited budget, and a team who are European novices but have the backing of one of the world's richest men.
Here are six key battles that could decide this contest.
Begin Slideshow

»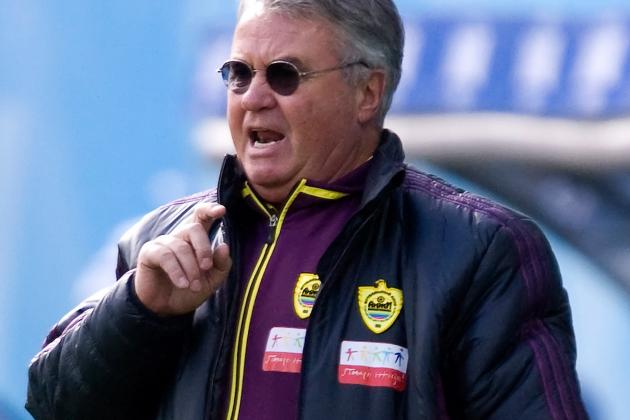 Dmitry Korotayev/Getty Images

Fail to prepare and be prepared to fail.
Soccer matches are won on the field, but they can be lost on the touchline and indeed in the days leading up to the match.
Managers play a huge role in deciding the fate of matches in modern football, where tactics are becoming more important that ever due to the enormous finances in the game. On paper, a team like Manchester City should steamroll a team like Ajax. The entire Ajax starting 11 costs roughly half of Gael Clichy.
In years gone by, the more expensively assembled and better team would beat their opponents based on pure ability.
Now, we have seen that it's no longer that simple as Ajax comprehensively beat City 3-1 on Wednesday night. They did it using the perfect tactical game plan and style of play. They did it through preparation and tactics. And when Liverpool face Anzhi, preparation and tactics will be key.
The Liverpool-Anzhi match will see Brendan Rodgers, himself a European novice like Anzhi, face off against one of Europe's most respected coaches, Guus Hiddink.
Hiddink has been around the world, achieved great success and earned his place amongst football's elite. However, like Liverpool, he has hit a barren spell in his career and his last two jobs did not go to plan.
Both men are known for their in-depth preparation before every match, as well as their tactical nous during the match.
It would be a fantastic scalp for Rodgers if he could get one over on his more seasoned opponent and lead Liverpool to victory in this match; likewise, Hiddink will want to show the young pretender that the wise old master still has a trick or two up his sleeve.
It should be fascinating to watch this match unfold on and off the pitch.
One thing we do know is that Rodgers certainly has the better sideline dress-sense!
Samuel Eto'o. The name alone strikes fear into the hearts of defenders across Europe.
For over a decade, the Cameroonian striker has plundered goals in the top leagues of European football and over his career he has racked up and impressive 333 senior goals in 624 appearances for club and country.
Eto'o is the world's highest-paid footballer but arguably remains one of the most underrated players of his time. Ask soccer fans to name the best players of the last 10 years and his name will rarely come up.
This is despite a goal-scoring record to match anyone, starring roles for Barcelona and Inter Milan, four league titles, three domestic cups and three Champions Leagues. That's not even taking into consideration the two African Cup of Nations and the Olympic Gold Medal he won with Cameroon.
Eto'o comes into this match as Anzhi's best player and their biggest threat. If Liverpool want to emerge victorious they will have to stop Eto'o. But do they have the players to do it?
It all depends on who Brendan Rodgers picks in defense. If he goes with Daniel Agger paired with Martin Skrtel and Sebastian Coates, then yes, Liverpool could stop Eto'o from influencing the game in the only way he knows how, by scoring goals.
If, however, Rodgers opts to stick with Jamie Carragher for Europa League matches then Eto'o could run rampant. What little pace Carragher had has deserted him and he simply wouldn't be able to cope with Eto'o's pace, movement and guile.
If Eto'o is allowed to impact the game, then he could well score the goals to give Anzhi the win. If Liverpool can stop him, they'll be giving themselves a great chance of taking all three points.
Anzhi's other striker is the giant Ivorian Lacina Traore. Standing at an enormous 6'8" Traore has been in good form of late. He has a good touch for a big man and certainly knows how to score goals. He's not the type of player who can win matches on his own, however.
He will require Eto'o to cause havoc and drag defenders out of position so that he can plant himself next to a full-back and win aerial duels against a smaller player.
Again, the message to Liverpool's defense is simple. Stop Eto'o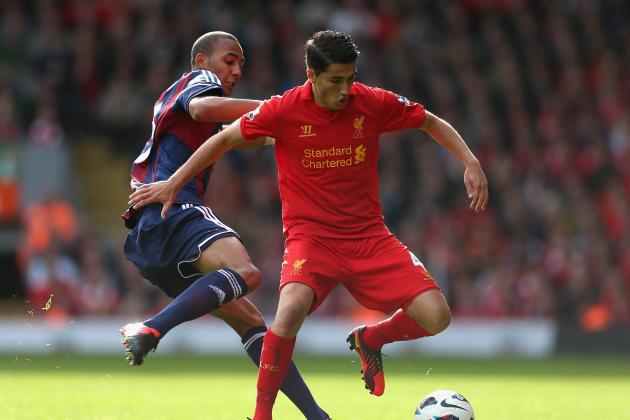 Clive Brunskill/Getty Images

The winning of the midfield battle can play a huge role in deciding the outcome of a soccer match. If a team can dominate the midfield, they can dominate possession. And statistics show that if a team dominates possession more often than not they'll win the match.
Anzhi normally have a very strong midfield with Lassana Diarra, Odil Ahmedov and Jucilei all excellent players capable of playing at a high tempo in a physical style while also being very capable with the ball at their feet.
When the draw for the groups was made, many people questioned if Liverpool's midfield containing Joe Allen and Nuri Sahin paired with Steven Gerrard could handle the physical battle against Anzhi's three destroyers.
Thankfully for Liverpool fans, that's not a concern tomorrow night. Both Diarra and Ahmedov are ruled out through injury, and Jucilei will not be involved as he is on compassionate leave following a death in his family.
With those three players missing, Liverpool should be able to dominate possession and play their style of football, while Anzhi may rely on trying to hit the Reds on the counter-attack.
If the Reds can keep possession and not make silly mistakes through lapses in concentration, they have a great chance of winning this match.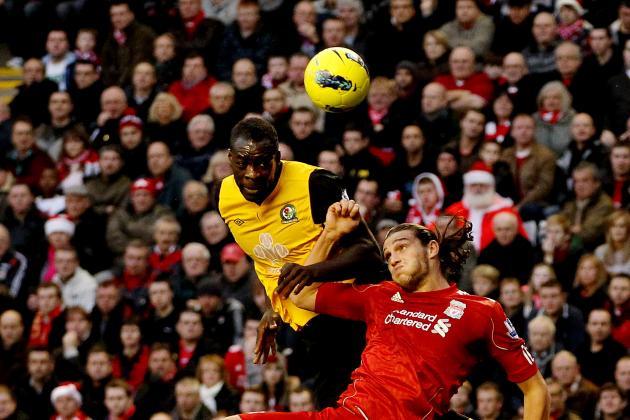 Scott Heavey/Getty Images

While Liverpool's defenders will be trying to find ways to keep Samuel Eto'o quiet at one end, down the other end their strikers will be trying to cause as many problems for Anzhi's defenders as possible.
Luis Suarez seems likely to start for the Reds and he will likely find himself up against former Blackburn defender, and once the most overrated defender in the Premier League, Chris Samba.
Samba is a dominant aerial defender but has little ability with the ball at his feet. His hulking size was well suited to the Premier League, where big, slow defenders often get far more credit than they're worth.
Playing in a terrible Blackburn team, Samba gained a reputation for his aerial prowess, which somehow manifested into talk of him being a top-class defender and deserving of a move to Manchester United or Arsenal. Baffling to say the least.
Liverpool play a style of football that has always caused Samba problems in the past. Quick, incisive passing with intelligent movement tends to leave the big man disorientated and he can be very clumsy when it comes to tackling players with pace.
If Liverpool can isolate Suarez against him, the Uruguayan could have a field day.
Joao Carlos tends to partner Samba centrally and is a much more mobile player. He tends to act as a sweeper type when Anzhi face a lone centre forward, covering for Samba and the full-backs while still holding the defensive line. Liverpool will need their wingers to beat the Anzhi full-backs and pull Carlos out of position so that they can get Suarez one on one with Samba.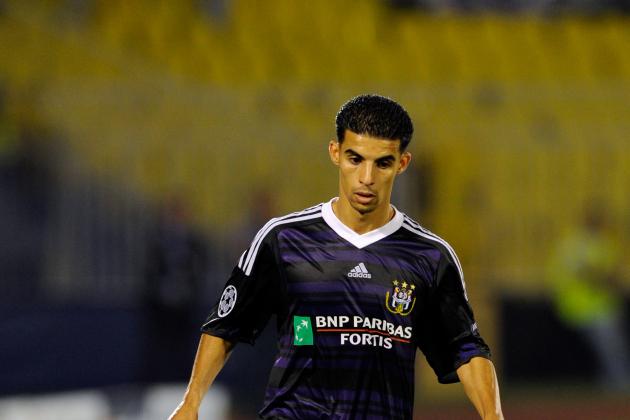 Claudio Villa/Getty Images

Speaking of wingers, there's an interesting little personal battle building ahead of tomorrow night's match.
The Moroccan national team currently has a wealth of creative attacking talent in it's ranks, and two of those players, Liverpool's Oussama Assaidi and Anzhi's Mbark Boussoufa, will likely feature prominently in this match.
Boussoufa is Anzhi's main playmaker and their most creative player. If he plays in his usual position, Liverpool fans can expect to see him starting on the left flank but looking to cut inside onto his stronger right foot. I should point out that he is both-footed and is comfortable going on the outside as well.
He's a player who looked like he was destined for great things at one point, but his career stalled for various reasons and he hasn't quite reached the heights he was expected to. He's only 28, though, and he has found a new lease of life with Anzhi.
For those who are unaware of him and curious as to his playing style, the closest player to his style in the Premier League right now is Santi Cazorla. He's not as good as Cazorla but he is a bit flashier.
Boussoufa has struggled to establish himself as a regular with Morocco for varying reasons but the current reason for his absence from the team is Oussama Assaidi.
Liverpool's summer signing has cemented his place as a regular for his country and will be looking to do the same at Liverpool in the coming months.
Equally as talented as Boussoufa, he's more of a traditional winger than a playmaker like his compatriot. He loves to run at defenders and beats them for fun. If Suarez starts central, it should be fun to watch the Eredivisie alumni linking up as they haven't really had much time on the pitch together this season.
Boussoufa and Assaidi won't be facing off directly but they are two players who could have a massive impact on the game. The won who stands out the most will definitely be able to send a message to their national team manager.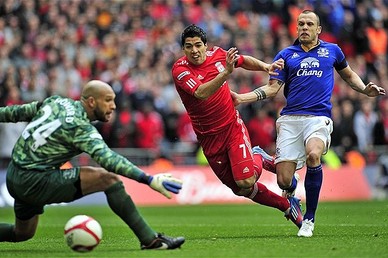 Courtesy of www.theliverpoolword.com
This coming Sunday, Liverpool will head across Stanley Park to play Everton in the derby. It's a huge game for both teams and it's a game that could define the next stage of the season for both teams.
A Liverpool win would put them only three points behind Everton and, more importantly, back in the top half of the table.
A defeat would put the Reds nine points behind and Everton could start planning their parade and DVD launch to celebrate being above Liverpool at Christmas.
Brendan Rodgers has a decision to make with regards to his squad for this match and that selection process is a battle in itself.
Does he pick the first team for Anzhi in a bid to get three points and risk tiredness or injury ahead of the derby?
Does he pick the cup team for Anzhi, keeping the first team fresh for Everton and risk losing the Europa League match?
Or does he pick a mixture of the cup team and the first team?
Personally, I think he'll take option three. But whatever team he picks for this match will have actually have a huge bearing on the outcome of the two matches.
The team Rodgers picks will also give a clear indication of whether or not the Europa League really is a priority for the Reds.