Chicago Bears: 5 Players to Watch in Week 8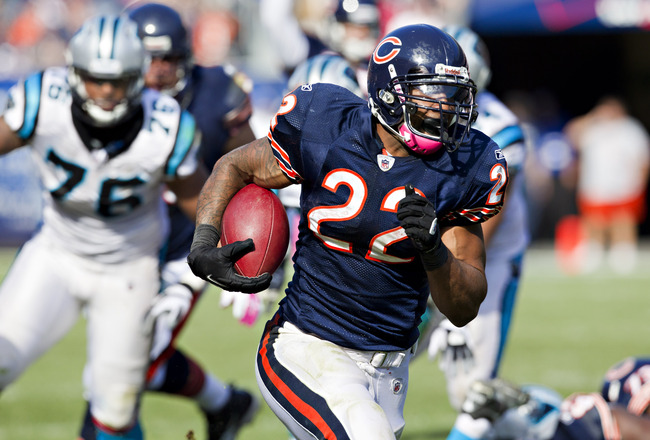 Wesley Hitt/Getty Images
Monday night, the Bears improved their record to 5-1 with a 13-7 victory over the Detroit Lions. Once again their defense put on a performance and slowed down the Lions' explosive offense.
This Sunday at Soldier Field, the Bears will take on the struggling Carolina Panthers who sit with a record of 1-5, losers of four straight.
The Bears defeated the Panthers last October, 34-29 and hope to keep the Panthers' losing streak intact.
Here is my list of five players to watch this Sunday:
Gabe Carimi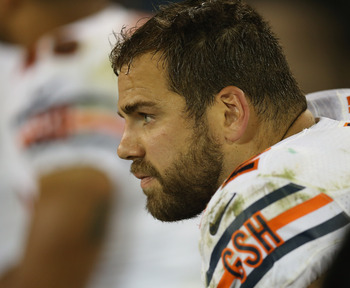 Jonathan Daniel/Getty Images
After being selected in the first round of the 2011 draft, right tackle Gabe Carimi was expected to start immediately at the position and stay there for years to come. An injury ended his season in the second game last year and he reported to camp this summer slimmer and in better shape.
Carimi's abilities as a run blocker have never been questioned, and so far this season, he has graded out very well in the run game.
In pass protection, Carimi has struggled, giving up 3 1/2 sacks in six games as well as three false start penalties.
His combination of size and athleticism led some to believe he was a good fit at left tackle, but offensive coordinator Mike Tice was steadfast in his belief that Carimi's best fit was on the right side.
Sunday against the Panthers, he will be matched up against defensive end Greg Hardy. In six games this season he has amassed 20 tackles along with two sacks. Hardy's strength is in the running game but he does have solid speed off the edge.
If Carimi is able to put together a solid performance both run-blocking and pass-blocking, he can build off of good games against lesser talent with dreadful matchups with the Houston Texans and San Francisco 49ers looming in the coming weeks.
Earl Bennett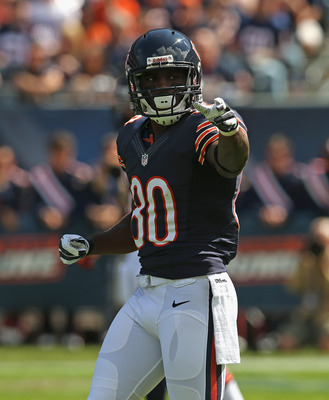 Jonathan Daniel/Getty Images
On Monday night, the Bears went up against a Lions' secondary that was decimated by injury. But, other than Brandon Marshall's performance (six catches, 81 yards, one touchdown), the passing game never got going.
Jay Cutler's injury in the second quarter effected the team's gameplan as the Bears relied more heavily on their running game in the second half.
On Sunday, the Carolina Panthers will be without their top cornerback Chris Gamble who was placed on injured reserve on Monday after missing their previous two games.
Veteran Captain Munnerlyn will likely have the task of matching up against Brandon Marshall, and with Alshon Jeffery still out with an injury, Earl Bennett should be given a shot at more opportunities.
In five games this season, Bennett only has nine catches for 109 yards and no touchdowns. After a hand injury forced him to miss their matchup against the Jaguars, he took the field Monday night and had three catches for just 27 yards.
Because of the injury to Gamble, the Panthers have been using rookie Josh Norman opposite of Munnerlyn, and he has struggled at times, particularly last week when he gave up a touchdown to Miles Austin.
The Panthers use of zone coverage will be an advantage for a guy like Bennett who has done a nice job in his career at finding the weak spots in the zone.
Jay Cutler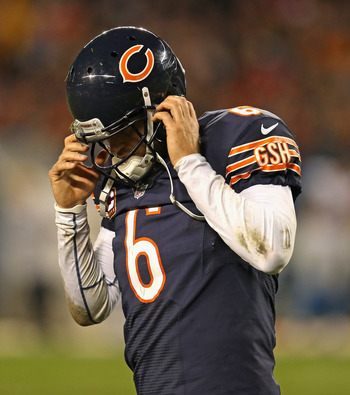 Jonathan Daniel/Getty Images
When Jay Cutler was slammed to the ground in the second quarter of Monday night's game against the Lions', Bears' fans had flashbacks to the end of last season when they finished this season with Caleb Hanie at the helm, mustering only one win in Cutler's absence.
Cutler only missed one play after the hit and left the field just before the end of the first half, but returned in the second half, clearly feeling the effects of his bruised ribs.
The toughness question about Cutler has been asked time and time again, and Monday night went a long way in proving the doubters wrong.
Sunday afternoon the Bears will have the benefit of facing a defense that has struggled at times this year, but they have still gotten to the quarterback 14 times.
Expect the Bears to dial down the passing game at first with short to intermediate throws to get him acclimated to the game's speed before trying to open it up downfield.
With an ailing secondary and Brandon Marshall's hot streak, do not be surprised to see Cutler once again connecting with his top target.
Charles Tillman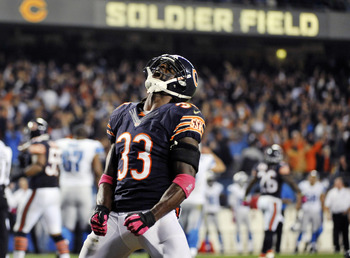 David Banks/Getty Images
Fresh off a dominating performance on Monday night against Calvin Johnson, arguably the league's best receiver, which earned him NFC Defensive Player of the week honors, Charles Tillman will once again be faced with a difficult challenge this week going up against Steve Smith.
Smith is much different than the bigger, stronger, more physical receiver Johnson as he relies on his speed to beat his defender.
Tillman knows Smith all too well and in four career games, including the playoffs in 2005, against the Bears, he has averaged nearly 10 catches and 166 yards per game.
Tillman has proved he has what it takes when matched up against bigger receivers, but will Smith once again get the best of him?
Look for the Bears to keep safety help over top to prevent the deep pass, something they did not do much of Monday night, leaving Tillman alone on an island against Johnson.
As long as he is able to keep Smith in front of him and wrap him up when he catches the ball, Tillman should be able to have yet another solid performance against one of the NFL's best.
Matt Forte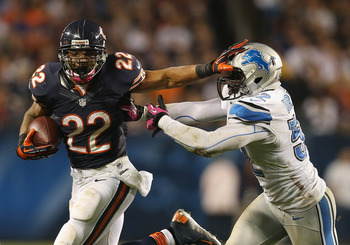 Jonathan Daniel/Getty Images
The last time Matt Forte suited up against the Panthers, he ran for a career high 205 yards and one touchdown in a Week 4 victory last October.
In that matchup, the Bears dominated the Panthers' front seven with Forte seemingly running anywhere he wanted. With Jay Cutler's bruised ribs and an offensive line that is still struggling to protect its quarterback, Forte should get plenty of opportunities on Sunday.
The Panthers' run-defense has struggled this season, allowing 120 yards rushing per game, and the Bears have done a good job as of late of trying to emphasis the running game more.
If Forte can get off to a hot start like he did last year against the Panthers, he has the opportunity to once again put up solid numbers.
Keep Reading

Chicago Bears: Like this team?