Penn State Football: The Importance of the Ohio State Game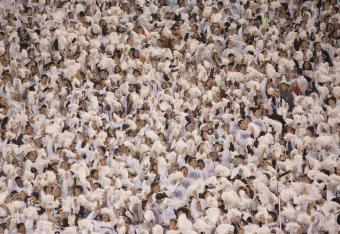 Hunter Martin/Getty Images
A few days before the beginning of Penn State's 2011 football season, I remember looking ahead a bit to the 2012 schedule to see what kind of home games were on the slate and saw Ohio State.
Of course, this was just a few months before the Jerry Sandusky sex scandal broke, the NCAA came down with the "unprecedented" sanctions, etc.
At the time, people thought this matchup could possibly decide who goes to the Big Ten championship and be huge for the Nittany Lions' bowl game prospects.
And while this is no longer a possibility, this matchup doesn't seem to have lost any of its luster.
A full-blown Whiteout night game in Beaver Stadium against a top-10 opponent (in the AP Poll)?
That's big, regardless of the sanctions on both schools.
Considering the magnitude of the game, let's break down some of the key storylines and complications of Saturday's game between the Nittany Lions (5-2, 3-0 Big Ten) and the Buckeyes (8-0, 4-0 Big Ten).
National Coach of the Year Implications
This game alone will not determine who wins the National Coach of the Year award, but it will certainly create separation between two highly considered candidates.
There's more than a handful of coaches across the country who will rightfully deserve consideration for this end-of-the-year honor.
Who should win National Coach of the Year?
Coaches like Bill Snyder (Kansas State) and Mike Riley (Oregon State) have done a phenomenal job taking teams to an unexpected spot in the BCS Top 10. Also, a guy like Duke's David Cutcliffe has completely turned around the Blue Devils football program, leading them to their first bowl-eligible season since 1995.
However, in my mind, Bill O'Brien and Urban Meyer are the top two candidates if the season ended today.
O'Brien's nomination is for obvious reasons, as he has motivated a team that has no postseason to play for and turned an anemic offense into an utter powerhouse.
Not only has he handled the media and off-the-field situations perfectly, but O'Brien has also transformed formerly mediocre quarterback Matt McGloin into one of the Big Ten's best passers.
While O'Brien is probably the front-runner for the award, an undefeated season for the Buckeyes would be hard to argue against in Urban Meyer's case.
When you look at the Buckeyes dating back to the days of Woody Hayes, they've always been a methodical, slow-tempo offense, even when they had dual-threat quarterbacks like Troy Smith and Terrelle Pryor.
However, the insertion of Meyer has ignited the Buckeyes' offense with a new mentality, allowing scrambling connoisseur Braxton Miller some room to operate.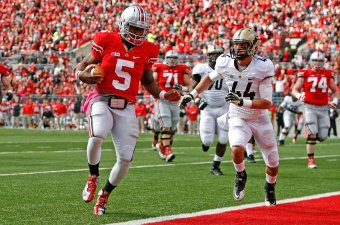 Kirk Irwin/Getty Images
The result?
Miller is probably the best dual-threat signal-caller in the country and is fifth in the ESPN Expert's Poll for the Heisman Trophy.
And while both have coached their players to surprising and impressive starts, only one team will come out on top, giving one coach an edge in the COY discussions.
Determining the Big Ten's Best Team
We all know that both these teams aren't allowed to go to the Big Ten Championship game, the Rose Bowl or any postseason game for that matter.
However, the B1G Championship game may not decide the conference's best team this year.
Michigan is having a successful year.
Early season losses to current top-five teams (Alabama and Notre Dame) don't look as bad, and the Wolverines are looking like the best team in the Legends Division.
Also, after starting off the season with a frail and disconnected offense, Wisconsin has found a groove with Montee Ball and the running game getting back on track. The Badgers are sitting pretty at 3-1 in conference play and with the rest of the eligible Leaders Division teams winless in the Big Ten.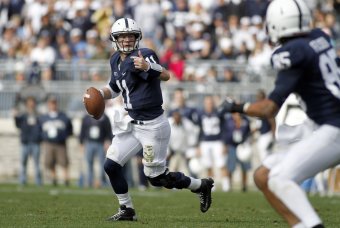 Justin K. Aller/Getty Images
While it has been a rollercoaster thus far in Big Ten play, the Buckeyes remain the only undefeated team in the conference—something Ohio State should hang their hats on.
In Penn State's case, the Lions have reeled off five-straight wins and is the conference's hottest team after the 38-14 beatdown of the Iowa Hawkeyes in Kinnick Stadium last weekend.
Right now, how can anyone say these two teams aren't the best in the B1G?
Considering the Lions and Buckeyes are the lone conference undefeated teams in the Leaders Division, this game will most likely decide who wins the divisional trophy at the end of the season.
Whoever wins this game will be filled with even more confidence than what they already have—possibly enough to ride them to an undefeated finish and the unofficial title of Big Ten's best team.
Pride
Not only do players care a great bit about this game, but the fans of both sides will incite a phenomenal atmosphere on Saturday.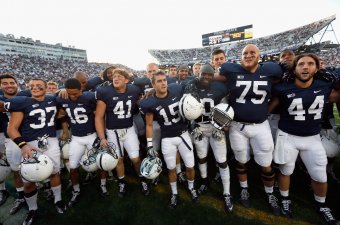 Rob Carr/Getty Images
If you ask any Penn State or Ohio State fan, they'll tell you this matchup is a mammoth clash.
While "The Game" against Michigan may be more important to Buckeye fans because of its history, this matchup is a major roadblock to an undefeated season for Ohio State.
Because Penn State considers Ohio State as its primary rival, it's obvious that Lions fans are going to get hyped up for this matchup.
As previously mentioned, it doesn't get much bigger than a Whiteout night game in Beaver Stadium.
For example, Nittanyville (formerly Paternoville) is an area outside Beaver Stadium where students camp out in tents all week in order to get the best seats.
In all the seasons this has been established for, this week's final count (144 groups and 1,200 campers) was a Nittanyville record.
What this tells you is that people still care about this game.
Regardless of all the sanctions and penalties, this game doesn't lack any luster. If anything, the 'Ineligi-Bowl' brings a different kind of intrigue that no other game this year will bring.
Because in the end, it's still Penn State-Ohio State, and it's still one of the country's premier games.
This article is
What is the duplicate article?
Why is this article offensive?
Where is this article plagiarized from?
Why is this article poorly edited?

Penn State Football: Like this team?