Matt Striker and 7 WWE Employees Who Should Be Used More as Wrestlers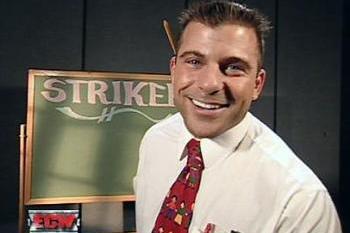 Photo courtesy of WWE.com
The WWE has a rather sizable roster of active superstars, and even with five hours of programming per week between RAW and SmackDown, it's tough to get everyone involved. With that said, the WWE employs several others who have been capable wrestlers in the past, and it would behoove the company to use some of them in that capacity.
It obviously isn't an easy task since there are so many others who are itching for television time as well, but the WWE has a ton of talent at its disposal and it should be used to its full potential. Aside from a few occasional appearances, though, most of the former wrestlers involved with WWE don't compete.
One such example is Matt Striker, who has acted as an announcer and backstage interviewer since retiring from in-ring competition. He wrestles once in a great while, including on a recent episode of RAW against Kane, but those instances are quite infrequent.
Including Striker, here are seven WWE employees who should be utilized as wrestlers more often. This list won't include The Undertaker or The Rock since their situations are special, nor will it involve superstars under legends contracts like Shawn Michaels or "Stone Cold" Steve Austin. It will be limited only to current employees acting as announcers, managers, trainers, producers and other roles of that nature.
Matt Striker
Since transitioning to the announcers' table in 2008, Matt Striker has wrestled a few matches, but he has mostly acted as a commentator or interviewer. Striker's wrestling knowledge is undeniable, but I honestly can't stand him. He is so annoying, in fact, that I can't help but think that he would be much better as a heel wrestler and manager.
Striker has gotten into it with Kane and Daniel Bryan over the past few weeks, and it has resulted in him getting attacked on a couple of occasions. Rhodes Scholars will be facing Team Hell No for the Tag Team Championships at Hell in a Cell, and I fully expect Striker to get involved and help the team of Cody Rhodes and Damien Sandow win the Tag Team Championship.
He could then reprise his heel teacher character and act mainly as Rhodes Scholars' manager, but he could also compete in six-man tag matches alongside them and in the occasional singles match. Striker has a personality that can really get under the fans' skin, and that shouldn't be wasted in an announcing capacity.
Booker T
Most consider Booker T to be a wrestling legend as he is a five-time WCW Champion, but he has transitioned into a different role in WWE as an announcer and now as general manager of SmackDown. Booker T was unorthodox on commentary to say the least, and while he was responsible for some funny and entertaining moments, I believe he was removed from that spot because he simply wasn't very good at it.
Booker hasn't been much better as a GM either. He constantly flubs his lines on the mic and he has been made to look incredibly incompetent by believing everything Eve says. Booker T can still be a very valuable commodity, but his true worth is as an in-ring competitor. Booker is 47 years of age, but he proved during a brief feud with Cody Rhodes that he can still wrestle at a high level.
There are a ton of upper mid-card heels on the roster such as Dolph Ziggler, Wade Barrett and The Miz, and all of them would really benefit from going over Booker. I'm not suggesting that he should go back to being a full-time competitor, but doing a wrestling angle every couple months would be a great way to get the most out of Booker.
Ricardo Rodriguez
To most WWE fans Ricardo Rodriguez is nothing more than Alberto Del Rio's bumbling ring announcer, but the fact is that he is actually a very capable wrestler. He became very popular on the independent scene in California and that led to him earning a developmental contract with WWE. The company was so impressed with his personality that he debuted alongside Del Rio in 2010.
Ricardo has wrestled in a few matches since joining WWE, including being a surprise participant in the 2012 Royal Rumble, but the vast majority of his in-ring competition has been used to make him look like an incompetent guy who can't actually wrestle. Perhaps that will soon be coming to an end, though, as Rodriguez competed as masked wrestler El Lo Cal against Sin Cara in a match taped for Saturday Morning Slam a few weeks back.
Rodriguez and Del Rio obviously aren't going to remain together forever, so maybe a breakup is on the horizon with Ricardo being tested out as an actual wrestler. Ricardo actually gets more of a reaction than Del Rio does, and I would definitely be in favor of having Rodriguez turn face and feud with Del Rio, much like Virgil and "Million Dollar Man" Ted DiBiase did in 1991.
William Regal
There have been a lot of fantastic in-ring workers over the course of wrestling history, but it wouldn't be a stretch to compare William Regal favorably to any of them. Regal was never quite able to become a world champion in WWE, as his personal demons prevented him from doing so, but he accomplished everything else imaginable in the business. Because of that, it's understandable why he's probably happy in his current role.
Regal wears many hats for the WWE, as he announces on NXT and occasionally Saturday Morning Slam and also acts as a talent scout for the company. Regal is seen wrestling once in a great while, but it usually isn't anything more than him being in a battle royal or participating as a lumberjack. Regal would still be a huge help to the WWE as a full-time competitor, though.
Not only can he be a heel or face. but Regal excels both in the ring and on the mic. He truly is the total package, and that is still apparent, even at the age of 44. As I mentioned with regards to Booker T, the mid-card is littered with guys who could use wins over credible opponents and Regal is precisely that. He'll never be in the title picture again, but the younger superstars can learn a lot from Regal in the ring.
Sara Del Rey
Sara Del Rey is unquestionably the greatest female wrestler in the world, which is quite interesting when you consider the fact that she isn't even an active wrestler currently. Del Rey has been all over the world and has competed in almost every company imaginable, including SHIMMER, Chikara, Ring of Honor, TNA and countless others. She has never been given the opportunity to perform on the biggest stage of them all, though.
Del Rey is currently employed by WWE, however, as she is a new NXT Wrestling trainer charged with preparing the up-and-coming divas for life on the main roster. When Del Rey was initially signed many fans were excited as they thought it would lead to the improvement of the divas division. That very well may be the case, but the division will be improved based on the knowledge she imparts into others rather than what she does in the ring herself.
With that said, Del Rey is only 31 years old and still in peak physical condition, so I have little doubt that she will wrestle for the WWE one day. I'm not sure when it will happen, but she is too great of an asset to the WWE to remain on the sidelines. The divas division is losing wrestlers left and right, but Del Rey would be just the person to kick start it.
Road Dogg
Nobody is ever going to confuse Road Dogg Jesse James with Shawn Michaels in terms of in-ring work, but there is little doubt that Road Dogg was one of the biggest superstars during the Attitude Era. His mic work was absolutely impeccable, and he managed to get the crowd to eat out of the palm of his hand as soon as he uttered the words "Oh you didn't know?" Road Dogg is a producer for the company currently, but he could be so much more.
Road Dogg was a surprise entrant in the 2012 Royal Rumble and was part of the D-Generation X reunion on the 1,000th episode of RAW, but most of his work has taken place behind the scenes as of late. Road Dogg has remained visible, though, by co-hosting a WWE YouTube show with Josh Matthews called Are You Serious? That show has enabled Road Dogg to continue utilizing the gift of gab, but many fans would love to see it on WWE programming.
As a singles competitor, Road Dogg was never anything to write home about, although he is a former Intercontinental and Hardcore Champion. Where he truly shined was in the tag-team ranks as one half of the New Age Outlaws along with Billy Gunn. They won the Tag Team Championships on five occasions and with the WWE's tag division suddenly on the upswing, they would be an incredible temporary addition to the scene.
Steve Lombardi
You may not be familiar with the name Steve Lombardi, but I'm sure most wrestling fans have heard of the many gimmicks he has portrayed over the years. Not only did Lombardi compete under his own name, but he also appeared in the WWE as Abe "Knuckleball" Schwartz, Kamala's handler Kim Chee and even Doink The Clown following Matt Borne's departure from WWE. Lombardi's most famous character, though, was The Brooklyn Brawler.
The amount of matches Lombardi won in the WWE over the course of his career can certainly be counted on two hands and perhaps even one hand, but that doesn't define him. Lombardi was a heel jobber throughout his career, but he showed up every night and did his job so well that many fans actually wax poetic about what he accomplished in the business.
Not everyone can be a top draw, but everyone can do something for the betterment of the company. Lombardi has put over all the biggest stars in wrestling history and he is still capable of that. Instead of having Ryback squash local jobbers he could have beaten The Brooklyn Brawler. It would have been a name-brand victory and it would have been fun for the fans to see him.
Lombardi is now a 51-year-old producer for the WWE and he obviously shouldn't be a full-time wrestler, but I believe the fans would really respond if he were used on occasion.
Follow @MikeChiari on Twitter and listen to him on Ring Rust Radio.
Keep Reading