25 Reasons the Philadelphia Phillies Will Win Another World Series by 2015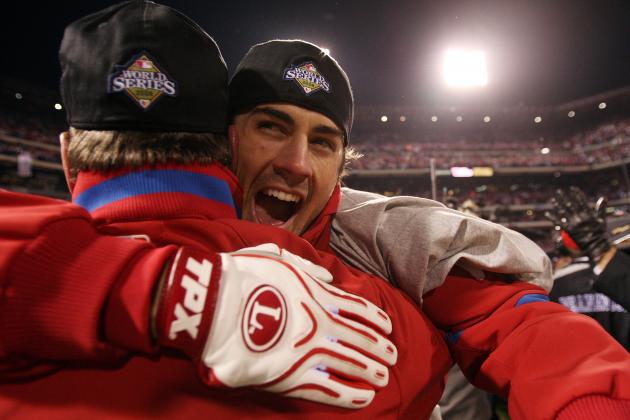 Jed Jacobsohn/Getty Images

The end of the 2012 regular season was the culmination of an eerie, disappointing trend for the Philadelphia Phillies.
They won the World Series in 2008 and it has been all down hill from there. In 2009, they blew their chance at a repeat title run against the New York Yankees. A year later, they were dispatched by the red-hot San Francisco Giants in the NLCS. The Phillies were booted from the postseason early in 2011 by the St. Louis Cardinals and in 2012, they missed it all together.
Sure, it's just a coincidence, but it makes you raise an eyebrow nonetheless. It wouldn't be inaccurate to say that the Phillies are going in the wrong direction. They're an older team paying aging veterans a ton of money.
But I believe that this team can win another World Series title before the 2015 season—and beyond. It almost sounds crazy because of the way this team has been heading, but it wouldn't be the first time.
So as baseball takes a breather in the month of October in the city of Philadelphia for the first time since 2006, allow me to explain why it should be back in full force over the next three seasons and into the foreseeable future.
Begin Slideshow

»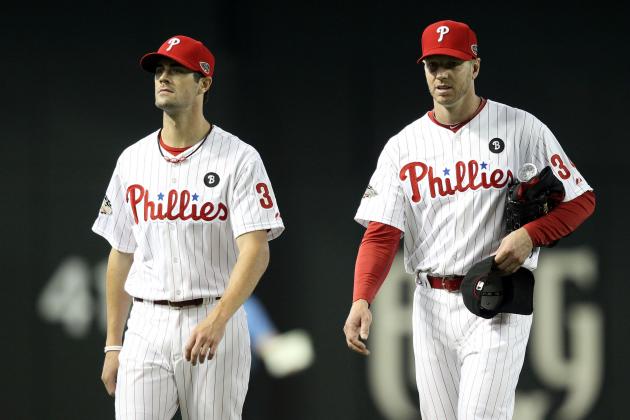 Christian Petersen/Getty Images

This Phillies club is built on starting pitching and will go as far as that pitching takes them.
On paper, that should be quite a distance. Roy Halladay, Cliff Lee and Cole Hamels form one of the most fearsome trios in the game today and there is no reason that Vance Worley and Kyle Kendrick cannot support this team at the back end of the rotation.
But that's in the short term. We're looking at 2013.
Moving into the future, there are some big question marks. Halladay and Lee aren't getting any younger. Worley has shown signs of regression and Kendrick has looked like anything but a starting pitcher at times.
There are answers as well, starting with Hamels and his new, mammoth contract. The Phillies will have to rely on their own farm system over the next couple of years and we'll touch on that in a bit.
The fact of the matter is that if the pitching falters, especially in the starting rotation, the Phillies are in trouble. They don't have the offense to counter. But I don't think that will be the case.
I like this club's starting pitcher. It's hard not to. Let's get into this a little deeper.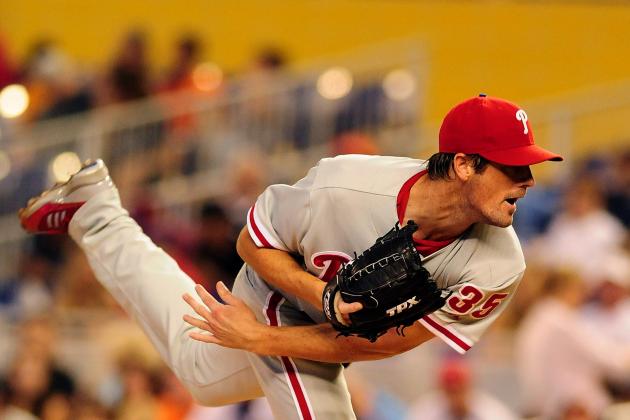 Jason Arnold/Getty Images

The Phillies' most important starting pitcher over the next three seasons (and beyond) is not either of the guys with a Cy Young award in their cabinet. It's their young, homegrown ace, Cole Hamels.
It would be a drastic understatement to say that the Phillies invested heavily in Hamels and the future when they signed him to that new, six-year deal over the winter. They were making a statement as well.
This is the guy we want in our rotation. This is the guy we want to lead us to our next championship.
Now it's up to Hamels to figure out how to accomplish that. The window is short for guys like Roy Halladay and Cliff Lee, but Hamels has a few seasons to figure things out. The most obvious path involves those two aforementioned pitchers.
As long as they're healthy, guys like Halladay and Lee give the Phillies a strong chance, but their best chance rests in the left arm of Hamels—their ace of the future.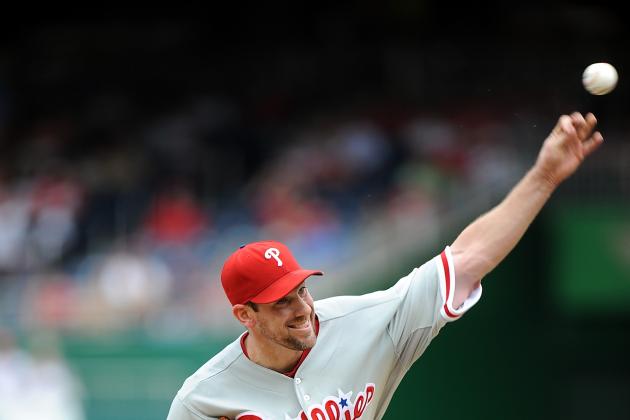 Greg Fiume/Getty Images

Is it possible for a man who is earning more than $100 million on his contract to be considered "underrated?" I don't know the answer, but if it is yes, that man is Cliff Lee.
Phillies fans spent the 2012 season debating Lee's value. What is more important? His win total? His advanced statistics? It's an endless argument that doesn't have much of a revolution. He couldn't avoid the trade rumors and pitched through adversity all season long.
That's why the Phillies are going to need him if they have any aspirations at another World Series title. Few men on this roster want that elusive ring more than Lee, who has been to the Fall Classic twice and lost both times.
He knows the pressure of pitching on baseball's biggest stage, and if they want to get the job done, the Phillies will need Lee.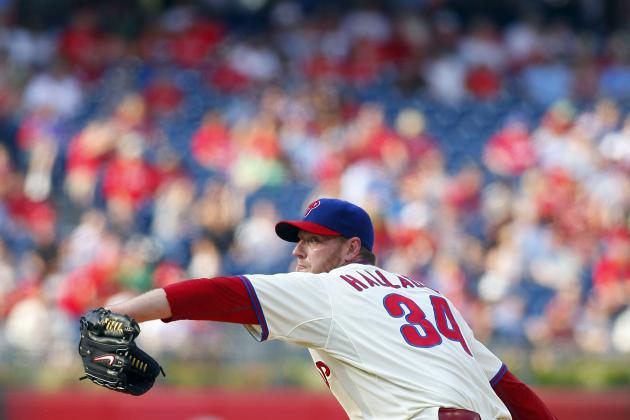 Rich Schultz/Getty Images

Roy Halladay is a conversation of both the short term and the long term.
In the short term, you have to figure out what Halladay can contribute. Personally, I believe that he'll rebound in 2013. It was clear that something wasn't right, health-wise, last season and it caused him to have a strange lack of command.
The velocity may be gone for good. He's not getting any younger. But it is the location and command that should return and Halladay gets enough movement on his pitches to be baffling regardless of how hard he is throwing.
I also think he is important in the long term. Even if Halladay isn't at the top of his game, he is a consummate professional who can teach the young pitchers coming through this system a thing or two.
If Halladay is a fourth starter by 2015, so be it. It's what is in his brain that's valuable to this club's future and I'd keep him around because of that alone.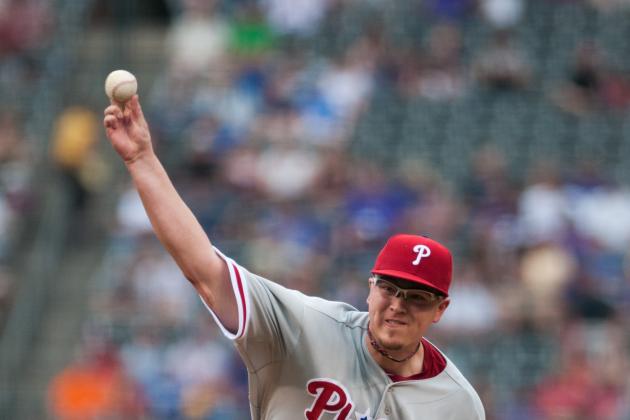 Dustin Bradford/Getty Images

Vance Worley's future with and for the Phillies could also be condensed into a twofold situation.
Firstly, what is his value to the Phillies? Are you willing to chalk up his poor 2012 season to the fact that there was a bone chip floating around in his right elbow and bank on a bounce-back in 2013?
Most people are, and with good reason. Worley had strong moments early in his career that suggest a front of the rotation starter.
To answer the question in the headline of this slide, I do not think that Worley is ever going to be an "ace," but on the same note, you also have to wonder if his value is ever going to be higher than it is now, even with the injury.
And that brings us to the other side of the Worley conversation: Should the Phillies trade him for starting pitching?
That may be a realistic options. Worley could net the Phillies a solid bat from a pitching depleted team that can't afford a similar pitcher as a free agent.
In either of those ways, Worley would be important to a potential World Series win for the Phillies.
Rob Carr/Getty Images

Looking for a drastic turnaround over the next couple of seasons? Look no further than the Phillies bullpen.
This was a group of guys with their fair share of "struggles" during the 2012 season, but I'm not so willing to call them "struggles." These were more like "learning curves."
The Phillies brought a relatively inexperienced bullpen into the regular season and had to dip even further into the pool of rookies when the injuries piled up. It wound up being both a blessing and a curse. The bullpen struggled because of it, but the rookies out there got some necessary experience.
We'll touch on a few of the guys that are going to matter the most in just a moment, but know this: If the Phillies win the World Series before 2015, their bullpen will have no small say in the matter.
Recent championship teams have shown us that a strong bullpen is a necessity in October. The Phillies have all the makings of one.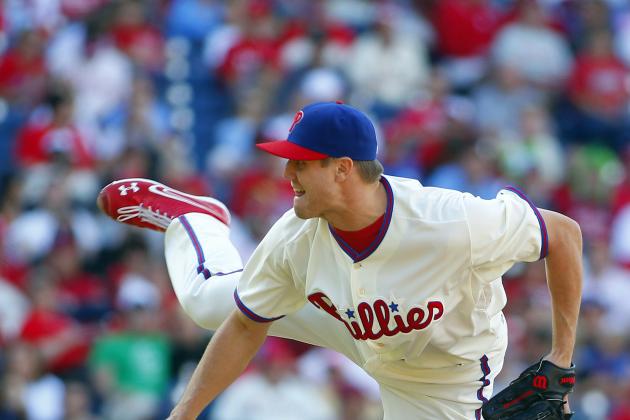 Rich Schultz/Getty Images

When the Phillies made a $50 million commitment to Jonathan Papelbon prior to the 2011 season, it raised a few eyebrows. They'll probably never get their money's worth.
Of course, winning a World Series erases a lot of those feelings, and if the Phillies are going to win a World Series over the next three seasons, Papelbon will have a lot to do with it.
And that's not because he is a "dominant closer" or "knows how to pitch in the ninth inning" or something arbitrary like that. The fact of the matter is that Papelbon is one of the best relievers in the National League. Period.
The Phillies may have overpaid him by quite a bit, but they're going to need him to win a World Series now. If they do, it's a great move. If they don't, it was a horrible one.
That's the way the cookie crumbles.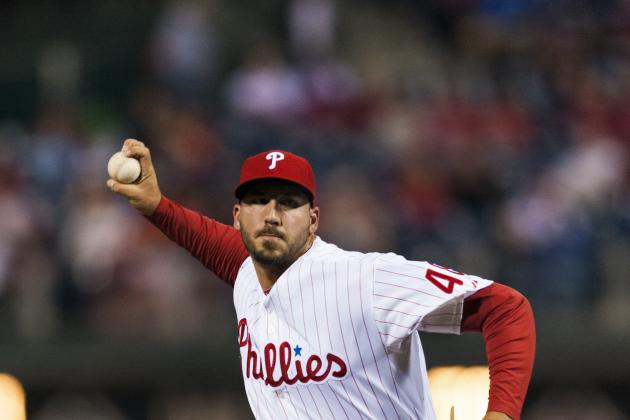 Howard Smith-US PRESSWIRE

When is the last time a pitcher came through the Phillies system with pure "stuff" as ridiculously as good as Phillippe Aumont's? I'm struggling to think of one.
Of course, whether or not Aumont can control that stuff is the biggest question mark for him moving forward. He has the great fastball velocity (and the movement to boot). He has the sharp breaking ball and the filthy splitter that will catch hitters off guard.
But can he throw strikes?
If Aumont is throwing strikes, he is good enough to be the Phillies setup man, with ease. Aumont in the eighth and Jonathan Papelbon in the ninth can be lethal, and I believe that it will be.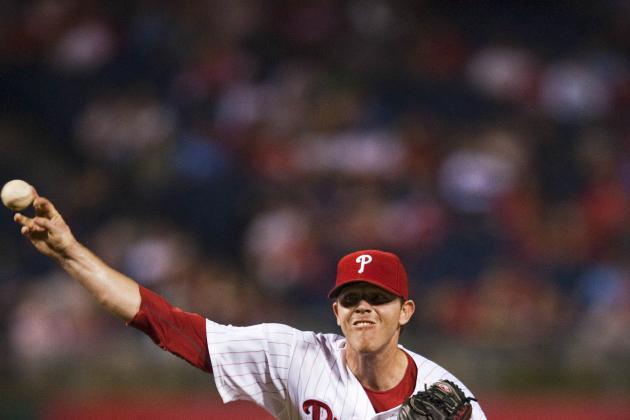 Howard Smith-US PRESSWIRE

Had Justin De Fratus come into the 2011 season healthy, he would have been one of the few mainstays in the Phillies bullpen last season.
But he didn't. De Fratus was dealing with an elbow injury that forced him to miss a majority of the regular season, and for the second straight year, his only taste of the MLB came during the month of September.
Moving forward, he'll be one of the main guys out there. He has the ceiling of a setup man in a Phillies 'pen that will be very deep.
De Fratus is the third power-pitcher in a row on this list and you can start to see why—if a strong bullpen is truly a necessity for a World Series title—the Phillies have a legitimate shot.
The simple, crude baseball math is this: If the Phillies can get their starter through six innings, they can hand the ball of to a chain that includes De Fratus, Phillippe Aumont and Jonathan Papelbon. That has big potential.
And that's not even the extent of the Phillies bullpen.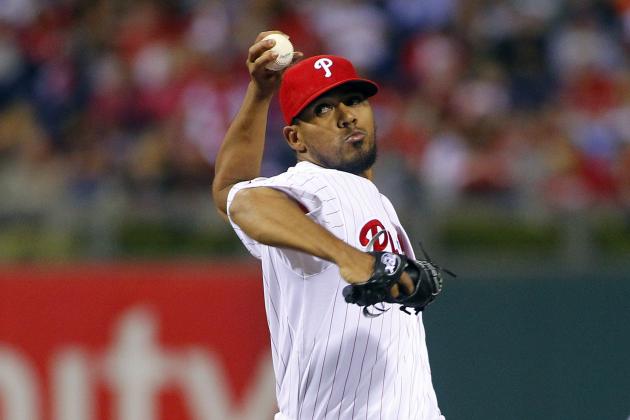 Rich Schultz/Getty Images

One of the names that gets lost in the excitement in all of these young, powerful, right-handed arms is Antonio Bastardo, the lefty.
Bastardo stepped up in a huge way during the 2010 season and came into last season penciled in as the Phillies eighth inning setup man, but that backfired.
The left-handed strikeout artist struggled early in the season and the Phillies never had a viable Plan B. By the end of the season, Bastardo was almost flying under the radar, however. He had rebounded in a big way.
If he is healthy and throwing well, Bastardo is just another layer in an already deep bullpen. You can take that right-handed "bridge" to the closer and throw Bastardo's hat into the mix when a good lefty comes to the plate.
The Phillies will have a strong bullpen. The key will be resisting the temptation to bring in more than one "experienced" reliever in 2012 offseason.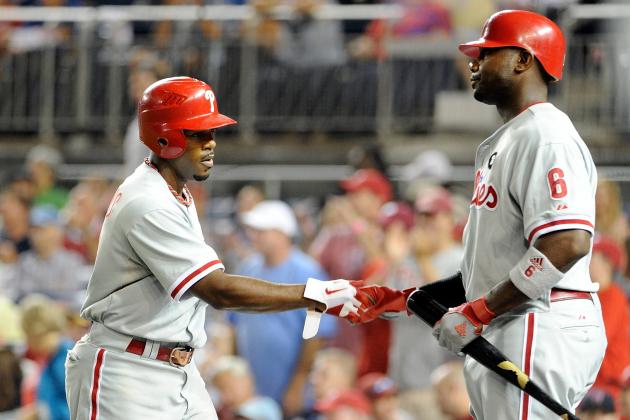 Greg Fiume/Getty Images

This team is going to be built on pitching over the next several seasons and there is nothing that anyone can do about it.
Okay, so that may be a little bit of a stretch, but it would be a real challenge. The Phillies have spent the last couple of years amassing pitching and it shows. They have a strong rotation and a (potentially) excellent bullpen.
Now they need to score runs, but what is going to be left of the offense?
The remnants of the "core" are going to start fading away. Pat Burrell is long gone. The contracts of Chase Utley and Carlos Ruiz expire following the 2013 season. In fact, the only two players still left under contract through the 2015 season are Ryan Howard and Jimmy Rollins.
The Phillies are going to need to blend a couple of the following slides together to formulate a plan of attack offensively. They can do it, but it won't be easy.
Can the win a World Series with this offense before 2015? I think the answer is "yes." But they're going to need help, and this is how they're going to get it.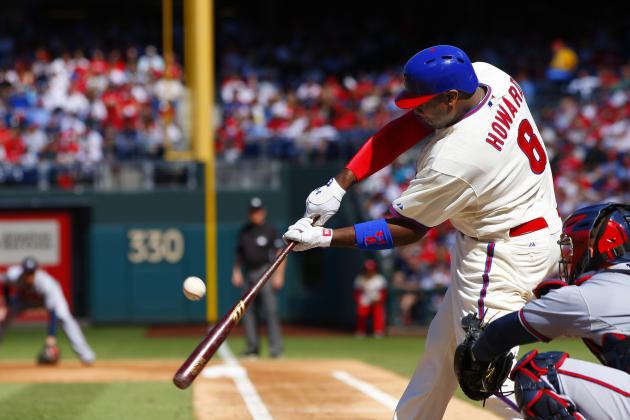 Rich Schultz/Getty Images

Ryan Howard is going to be immensely important if the Phillies are going to win a World Series by 2015 in one of two ways.
The first and most far-fetched option is moving his contract off the books—a scenario that causes mad giggling when you consider the unlikelihood of that happening. It would probably require the swap of another massive contract—like New York's Alex Rodriguez.
That's probably not going to happen, which brings us to another simple fact—if the Phillies are going to win a World Series, they need Howard to be healthy and producing.
I would venture to argue that no player in the lineup is more important at this point. What the Phillies truly lack is power and that's really Howard's only tool. His presence in the lineup makes it more balanced.
At that point, you can't help but to ask yourself—can Howard actually be healthy and produce?
I think the answer is "yes." Is he going to hit 50 home runs a season and play 162 games? Probably not. It's not what the Phillies are paying for, but I think they'd like to have at least 35 home runs out of him and have him play a majority of the season.
That would go a long way in securing another title.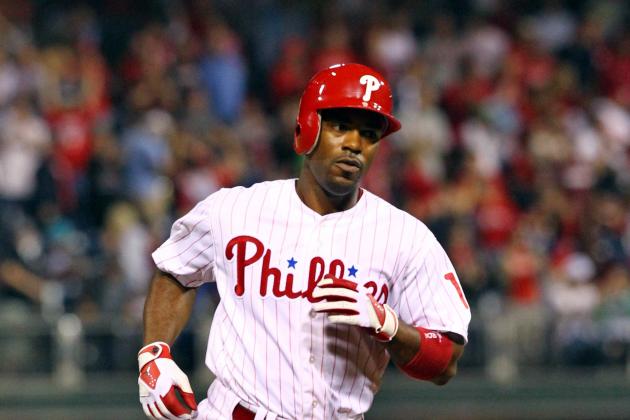 Hunter Martin/Getty Images

The Phillies had the realistic option of replacing Jimmy Rollins before the 2012 season. It would have been a risk, but they could have done it.
With defensive wizard Freddy Galvis waiting in the wings, the Phillies could have realized that they wouldn't be losing a thing defensively. In fact, they may have been gaining something. They may have taken a hit offensively, but they would have managed.
So why didn't the Phillies replace Rollins with Galvis?
I think that the biggest factor is the leadership aspect. Rollins is the longest tenured member of the club on the roster and no player has seen the highs (a World Series title in 2008) and lows (the early 2000s) quite like the longtime Phillies shortstop.
That's also why Rollins is going to be very valuable moving forward. Do they need him to be a dynamic offensive player? Probably not. Do they need stellar defense? It would certainly help.
But what the Phillies can't live without is Rollins' leadership. They need him to step up and be a role model as they phase younger and newer players into the clubhouse culture. No hot-dogging. No lack of hustle. Just 100 percent effort.
If the Phillies can get that out of Rollins, they'll be in good shape.
Drew Hallowell/Getty Images

What does the future hold for Chase Utley?
If I had the answer to that question, I wouldn't be here right now. The truth of the matter is that no one really knows and I can't see the future. You can't take Utley at his word at this point and the next phase of treatment is borderline experimental.
So is this Chase Utley's last hoorah? One final shot at a World Series title?
It's almost funny to think about. Personally, I believe that Utley still has quite a bit left in the tank. He's an elite second baseman that will be crucial to the Phillies lineup in 2013.
Even still, you have to wonder if they'll move on without him. I'm sure the man himself has wondered the same thing, having watched rookie sensation Freddy Galvis fill in for him during the first half of the 2012 regular season.
His contract is expiring and Utley may approach the next season with a mindset of this being his last shot at another World Series title in Philadelphia, and while I struggle to envision him playing elsewhere, this could be a good thing for the Phillies.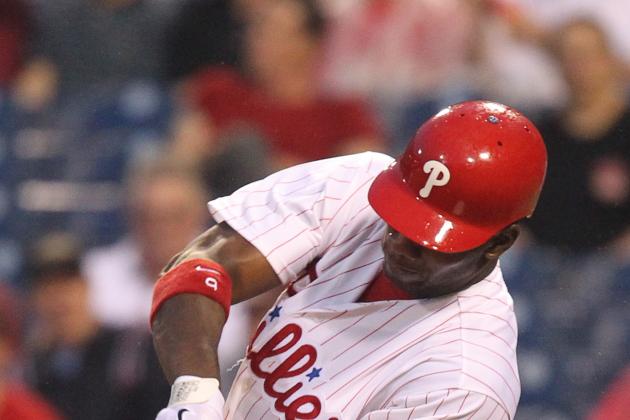 Hunter Martin/Getty Images

One player that isn't guaranteed a contract in 2015, but will be on the roster barring some unforeseen circumstance, is Domonic Brown—the man who may just be the future of the Phillies offense.
And that's quite a pressure, but a necessary one. After all, it is Brown who was once named the best prospect in all of baseball and now, is a man the Phillies are counting on to really blossom in 2013.
With the amount of money they already have tied up in aging veterans, the role of Brown—who will be paid relatively cheaply for quite a while—is even more important.
If he is able to live up to his potential over the next couple of seasons—and I still believe that he can—the Phillies will be a step closer to a World Series.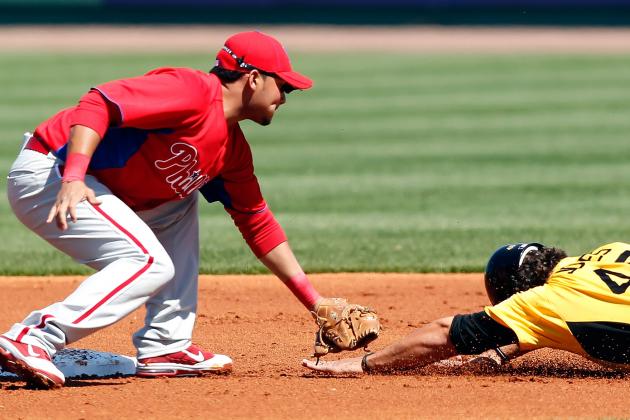 J. Meric/Getty Images

It shouldn't come as a surprise now because we've been talking about it for several seasons, but if the Phillies are going to win a World Series over the next couple of seasons, they are going to have to rely on a youth movement to get there.
The fact of the matter is that this is a team that is not getting any younger. We saw this in the bullpen in 2012 when guys like Jake Diekman, Mike Schwimer and other aforementioned relievers made their stand.
The Phillies may have to do this in other areas over the next few years as well. Not every need can be filled through a trade or free agent signing.
With more arms, especially relievers, ready to come through the system, position players are going to be at a premium. Will Tyson Gillies see the outfield? Will Cody Asche see third base?
These are questions that the Phillies are going to have to answer. Here are a few guys that they will definitely need if they are going to win a World Series by 2015.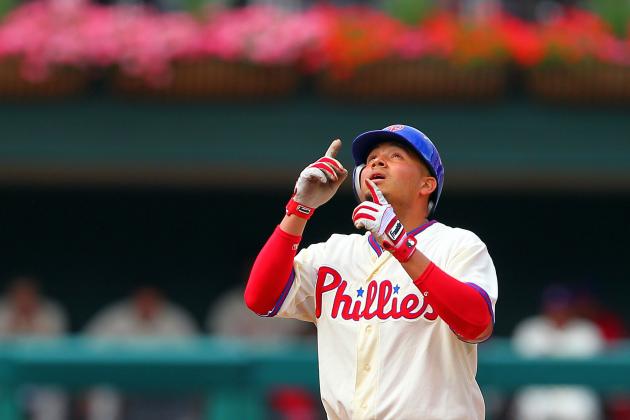 Rich Schultz/Getty Images

We saw Freddy Galvis in 2012, but that was just the teaser trailer for the full length movie.
He is not going to set the world on fire offensively, but Galvis is one of the best defensive players that I have ever seen, and most of that judgement comes following a season when he played second base for the first time in his professional career.
Galvis gives the Phillies what every team desires: Options.
Chase Utley can't play second base for a full season? Galvis will. Jimmy Rollins needs a day off? I hear Galvis is a pretty decent shortstop.
But where he could really make his money is serving as a stopgap at third base. If the Phillies can't fill that role with a solid bat over the winter, the least they can do is improve defensively—something that isn't simple given Placido Polanco's play there—with Galvis.
He is going to be one of the more important position players moving forward.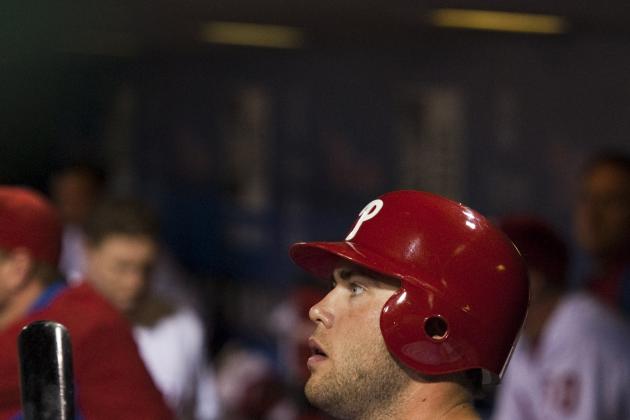 Howard Smith-US PRESSWIRE

At some point, the Phillies are going to have to sit down and figure out how Darin Ruf fits into their future, which I see as being in one of two ways at this point.
The most obvious thing to do is stick the man in left field and hope he can hit MLB secondary offerings (because he can certainly handle a fastball). Sure, he is a step back defensively, this is a team who's only championships come with Greg Luzinski and Pat Burrell in left field.
If you can only get three plate appearances and a late-inning defensive replacement out of him, so be it.
Of course, there is a second option. You could trade him. I'm not talking about some borderline ridiculous deal like a swap for New York's Curtis Granderson, but as part of a larger deal where you can capitalize his value.
At the end of the day, I think he stays and plays quite a bit of left field for the Phillies. With all do respect to scouts that say otherwise, Ruf can hit, and when you can hit, managers find a spot for you to play.
The Phillies need offense and Ruf swings a big stick.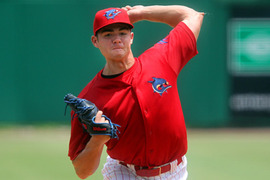 (Cliff Welch/MiLB.com)
By the time the 2013 season begins, almost every publication will likely have come to this consensus: Jesse Biddle is the Phillies top prospect.
He's also flying through the system right now.
After cruising through High-A Clearwater in 2012, Biddle is expected to open the '13 campaign in Double-A Reading, and while I don't expect him to be ready until 2014 at the earliest, if the Phillies are going win a World Series by 2015, I expect he could play some role in the latter years.
Biddle is a left-handed workhorse with a good repertoire and a solid, clean delivery. Those kind of pitchers tend to be hard to come by.
Assuming that the Phillies want to bring Roy Halladay back when his current contract expires, a future rotation could look something along the lines of Cole Hamels, Halladay, Cliff Lee, Vance Worley and Jesse Biddle.
That's a solid group.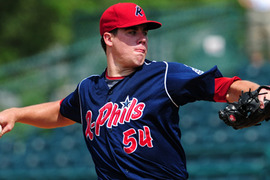 http://longenhagen.blogspot.com/2012/09/mlb-prospect-scouting-report-trevor-may.html
I don't want to get too far ahead of myself, but I think that you'll see Trevor May have a strong bounce-back season in 2013 that places him prominently in the Phillies' plans for the 2014 season.
He struggled at Double-A Reading last season, but a lot of those issues were mechanical. He was throwing pitches he wasn't comfortable with and never adjust to FirstEnergy Stadium—a notorious hitter-friendly park.
What the Phillies should do is push him aggressively through the system and challenge him with a promotion to Triple-A Lehigh Valley this year.
What is the worst that can happen? He struggles again against more advanced hitter?
At best, May rights the ship. He sticks with a comfortable repertoire that includes a great fastball and starts a conversation about joining the big league club at the end of the year.
Not that their situations are very much alike, but remember what happened with the St. Louis Cardinals and Adam Wainwright in 2006?
Trevor May isn't a bad arm to have in the bullpen in October.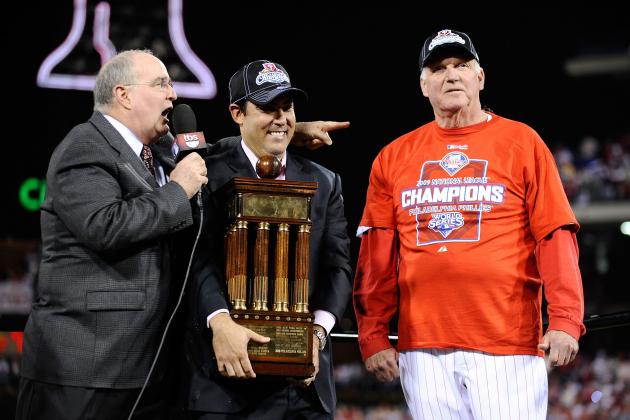 Jeff Zelevansky/Getty Images

As much as I believe that the Phillies can still win a World Series before the 2016 season, I will concede that there are some things that need to change before that can happen, and it has nothing to do with that eerie trend I discussed on the opening slide.
If the Phillies struggle in 2013, I think you'll see wholesale changes, and that could be a good thing.
Obviously, that starts with the manager. It's a small sample size and not of the MLB caliber, but it certainly looks as though Ryne Sandberg is better suited to manage this roster than Charlie Manuel. Baseball is a game of numbers, nowadays.
After Manuel, general manager Ruben Amaro Jr. would be the next to go. A potential replacement would be nothing other than completely hypothetical at this point, so we won't go there.
The fact of the matter is that the Phillies, on the field, are changing. If you want to keep up in a large market, you have to change off of the field as well.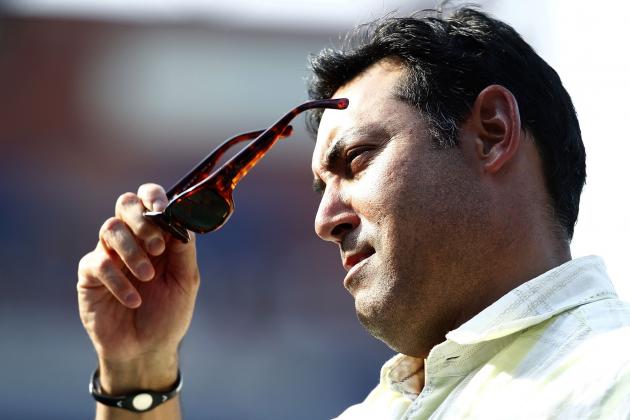 Jeff Zelevansky/Getty Images

The 2013 offseason may make or break Ruben Amaro Jr. as the Phillies general manager.
I don't think that it is unfair to say that his current run has been a failure. He took the core that was built by GMs like Ed Wade and Pat Gillick and drove it to the ground, trading away future talents for several All-Star caliber players.
He has made good trades. I don't think anyone will argue with his decision to bring Cliff Lee and Roy Halladay to Philadelphia.
The problem is that those good deals are outweighed by the bad ones: The trade of Lee to the Seattle Mariners, the Roy Oswalt trade, the Hunter Pence trade, the Raul Ibanez signing, the Placido Polanco signing, the Ryan Howard contract extension, etc. And those are just a few off the top of my head.
As we sit heading into the offseason, Amaro's plan of attack over the past few seasons has become clear: Win now. The problem is that he didn't win.
It may be time for a new general manager to grab the reigns moving forward—one who understands the importance of the balance between the MLB roster and developing players to take over in the future.
Can the Phillies win a World Series with Amaro as the GM? Sure they can. They have the talent. But he'll need to prove it in 2013.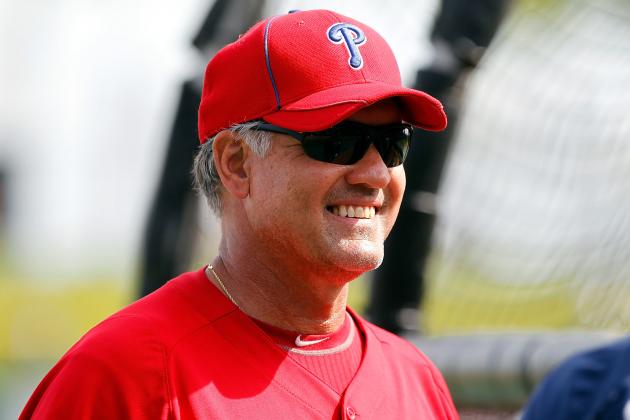 J. Meric/Getty Images

Can the Phillies win another World Series under Charlie Manuel?
I'm not so sure, and that's not a knock against Manuel. The Phillies current manager is an excellent handler of personalities, something that was extremely important when the Phillies were bringing in a slew of different veterans.
It's often overlooked because it's not a technical aspect of the game, but being able to relate to the players is an important trait that not all managers have. The problem is that the technical aspect of the game is slipping away from Manuel.
With new, younger faces ready to approach the MLB level, it may be time to phase in a new manager, and his name is Ryne Sandberg.
His brief tenure with the Triple-A Lehigh Valley IronPigs was an eye opening one. He took a roster thin on talent and turned it into a competitor.
I believe the reason for this is that Sandberg relates well to both the old-school and new-school styles of managing. He is a Hall of Fame player that understands what it takes to manage personalities and situations, and that's what the Phillies truly need.
This is just my opinion, but I believe the Phillies are more likely to win a World Series by 2015 under Sandberg than they are under Manuel.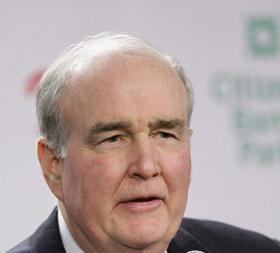 http://phollowingthephillies.blogspot.com/2012/07/david-montgomery-on-cole-hamels-future.html
There are no two ways about it. Given the way the Phillies roster and payroll currently stands, they are going to have to open the purse and spend money to win another World Series by 2015.
They have the funds to do it.
The real problem is that they already have such an exorbitant amount of money tied up in just a few players, namely Cole Hamels, Cliff Lee, Ryan Howard, Jonathan Papelbon and Jimmy Rollins.
With a new television deal on the horizon by the end of this window, the Phillies are going to have to break the luxury tax now. That problem decreases a bit by 2015, but over the next two seasons, they need to spend money.
There are certain roles that they just can't fill with a cheap player. They need a center fielder. They need a third baseman. They need a quality setup man.
Those are three roles that the Phillies need to fill for 2013 and they won't come cheap. If they can't fill those roles, they won't win a World Series in '13. Period. That's because two of those roles, third base and center field, are also big holes in the lineup.
And we haven't even addressed what that means for the corner outfield positions.
This is what the Phillies need to do to win a World Series by the end of 2015: Spend money. Will they actually do it? Who knows. They have the funds to accomplish it.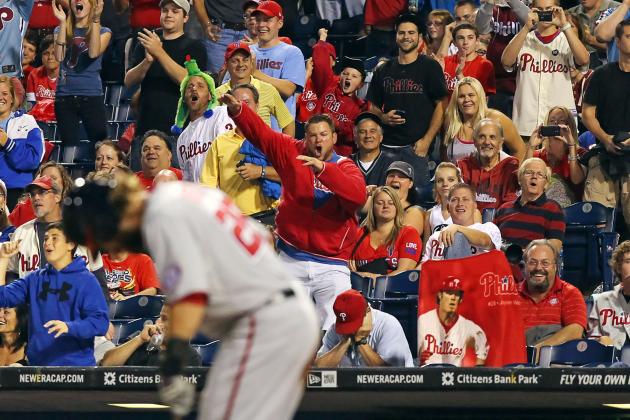 Hunter Martin/Getty Images

But the main reason that I believe the Phillies could still win a World Series, in spite of all of the obstacles, by 2015 is because they have one of the most supportive fan bases in all of baseball, and that is incredibly important.
Here's why. Let me do the crude math: Supportive fans equal money. Period.
The Phillies, who already have one of the highest payrolls in the game, are going to need to spend more money than ever before if they want to remain competitive in the National League given the current state of their roster.
And that's not to bring down the other side of having a supportive fan base, which is, of course, just being supportive. Playing in front of a lively crowd (and the Phillies certainly have a lively home crowd) is also important.
So in closing, let me say this: Winning a World Series by 2015 is a challenge for the Phillies. Can it be done? Yes. But this slide show should serve as a guideline of how to get it done and that's a long shot.
For the Phillies, winning a World Series would mean the perfect blend of money, prospects, free agents and in-house talent, and that's not easy.
But it can be done.