The Funniest Sports Reporter Fails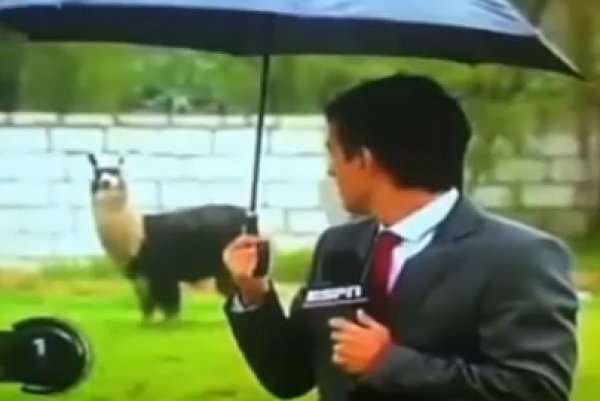 Image via popscreen.com
Sideline journalism is a tricky art. Attempting to control boiling head coaches and avoid wild passes is a process many have tried and few have survived.
Only in sports are those who have failed embraced. Their mistakes provide absolute comedy on an otherwise stale field of play.
Like a walrus dancing to "Smooth Criminal," sports reporting fails don't come around often. But when they do, they're always special.
Here are the classiest instances.
Begin Slideshow

»
If there's one thing that Sky Sports has taught us, it's that comedy over quality is the road worth traveling.
Chris Kamara, a former English footballer himself, is no reporter. He's simply a legend.
Calling Sir Charles a "reporter" might be a stretch, but the Round Mound of Rebound has certainly become a mainstay on the NBA analysis scene.
His initiation continues...
I'm Charles Barkley?
You'd think the Lakers' new star center had never been hit on by a male reporter before. Things only spiraled from there.
Personally, we'd prefer kelly green to the nectarine orange.
Is that a bulging disc, or are you just happy to see me?
The reporter was apparently flattered, though terribly wrong.
James Bates might have been too "ready to rock."
He played it off like a champ. Rough and tough.
This reporter's failure to realize that she is being properly courted behind the scenes makes this raw footage record breaking.
Soccer once again offers us quality television.
Whether that was a trumpet or flapping cheeks doesn't matter. Only bodily noises can improve any interview.
With one fearless push, this routine athlete-reporter exchange instantly became pure greatness.
The life of a professional football journalist is no precious package of sweets and crumpets.
NFL Network reporter Ian Rapoport showed fans the true treachery behind sports reporting when he was the victim of a possibly wild and possibly planned throw during the Texans-Packers pregame.
He handled it with class, like chestnuts roasting on an open fire.
Beware of flying soccer balls.
As well as disturbing slow-motion recaps.
Riveting theater at its finest.
Sky Sports once again presents a gift of obscurity to its inspired viewers. Compelling, and rich.
Where'd you get your rulebook, the...toilet...store?
Nerd 1, Rampage 0
You saw it here first. This talented reporter completed the mythical 360 flip to nose manual nollie face plant.
For centuries, riders have attempted the impossible. And until now, they've failed.
Now that we got that cleared up...
At least the real Tim got a dose of a similar brand of medicine. His reaction, like Mark's, was legendary.
WFAN radio host Mike Francesa, routinely perky and overly opinionated, faded faster than the Mets in September when listening to Sweeny Murti's upbeat Yankee report.
This is one nap he's sure to never live down.
She looks as uncomfortable as a wedgie at prom, but this sports reporter still finishes the job.
Way to hang in there.
Reporter Charles Clinton is having a tough time reporting this Michigan hockey game, as if he were a bear reporting on a hockey game, but that doesn't keep him from playing by the rules.
Guys, guys, guys.
Let's be real, the Good Neighbor crew never fails, like beavers gnawing on wood.
Necessary addition to ESPN job application: Must have experience in taming any domesticated species of South American camelid.
The mighty alpaca never fails to protect his territory.
Following a smooth start, capped by a thigh-slapping "might as well call them the Rally Cats" punchline, Damany Lewis crumbles.
Whoa, Tacoma.
Brian Collins definitely loves lamp, and not just because he's looking at things and saying he loves them.
Legendary lines, historic presentation.
Follow me for more fiery fails. Follow @z_pumerantz