San Francisco Giants vs. Detroit Tigers: Team Grades from World Series Game 1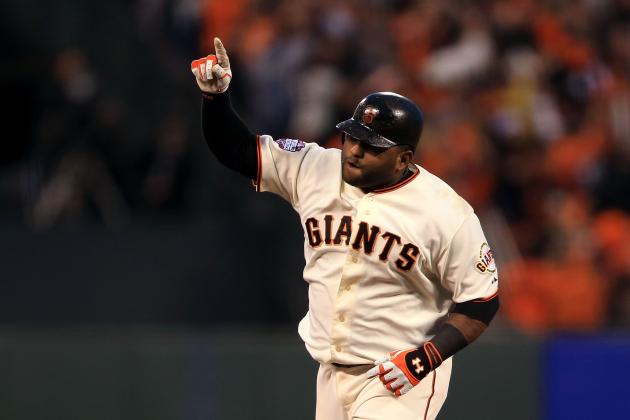 Doug Pensinger/Getty Images

Game 1 of the 2012 World Series played out as a redemption story of sorts for three San Francisco Giants players.
Barry Zito, left off the postseason roster in 2010, pitches Game 1 of the World Series and outduels reigning AL MVP and Cy Young winner Justin Verlander.
Pablo Sandoval, forced into a bench role in 2010 due to lack of production and being out of shape, hits three homers to become only the fourth player in league history to accomplish such a feat in the World Series. The other three: Babe Ruth, Reggie Jackson and Albert Pujols.
Not bad company for the Panda.
And Tim Lincecum, the former two-time Cy Young winner who struggled all throughout the 2012 campaign, came in and pitched 2.1 innings of perfect baseball in relief of Zito. Lincecum struck out five of the seven batters he faced and looked every bit of his former dominant self.
The Tigers got some production from their first five batters in the lineup, and a blast from their No.6 hitter, but were not able to get the performances they expected out of their pitching staff. As a result, we will head into Game 2 with the Giants leading the series 1-0 after an 8-3 series-opening victory over Detroit.
And now, on to our final grades for Game 1.
Begin Slideshow

»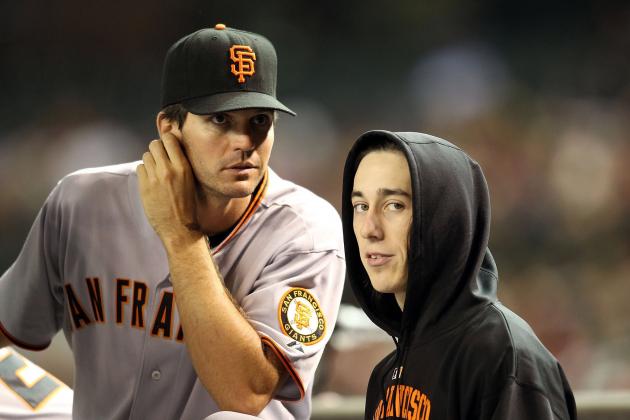 Christian Petersen/Getty Images

If you'd told me prior to the start of Game 1, that with Barry Zito starting for the San Francisco Giants and Justin Verlander starting for the Detroit Tigers that the score would be 8-3, I probably wouldn't have been surprised.
When you look at which team scored the eight and which team scored the three, though, there is admittedly a bit of surprise. The showdown of former Cy Young Award winners—Zito in 2002 and Verlander in 2011—wound up being a one-sided story.
Verlander gave way to his bullpen in the fourth after allowing five earned runs on six hits, two of them homers, while walking one and striking out just four. Zito, meanwhile, kept cruising. He pitched his way out of a jam in the first inning when he allowed an Omar Infante single then walked Miguel Cabrera, and he never looked back.
Through 5.2 innings, Zito allowed six hits but just one run. He walked a batter and struck out three before handing the ball off to the 'pen.
Who better than to follow up a Cy Young winner? Perhaps a two-time Cy Young winner. Tim Lincecum came on in relief and was perfect through his 2.1 innings, striking out five of the seven batters he faced heading into the ninth inning.
George Kontos gave up the two-run blast to Johnny Peralta, but Jeremy Affeldt was able to come in and record the last out to send the Giants home winners.
For Detroit, Al Alburquerque allowed a run in his two innings, and Jose Valverde allowed two runs in his 0.1 innings of work.
Final grade for Detroit Tigers' pitching: D-
Final grade for San Francisco Giants' pitching: A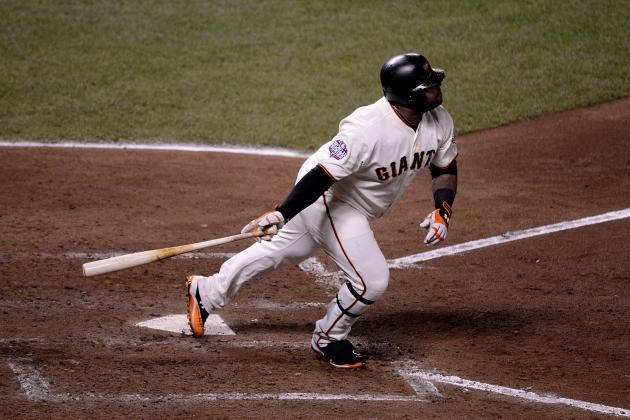 Thearon W. Henderson/Getty Images

Austin Jackson turned in a two-hit night for Detroit and Omar Infante, Miguel Cabrera, Prince Fielder and Delmon Young all added in a hit apiece in Game 1.
Johnny Peralta added a two-run homer in the ninth inning to push the score to 8-3, but it was not enough.
Meanwhile, Pablo Sandoval got the Giants on the board quick with their first run on a solo homer off Justin Verlander in the first. He would wind up with a 4-for-4 night with three homers and four RBI.
San Francisco also got a 2-for-4 performance and two RBI from NLCS MVP Marco Scutaro, and two hits from Angel Pagan and Buster Posey in the 11-hit attack on Tigers pitching. Posey added an RBI and starting pitcher Barry Zito also got into the action with an RBI single in the fourth inning.
By the time it was all settled, the Giants wound up with eight runs on the board, to the Tigers' three.
Final grade for the Detroit Tigers offense: C-
Final grade for the San Francisco Giants offense: A+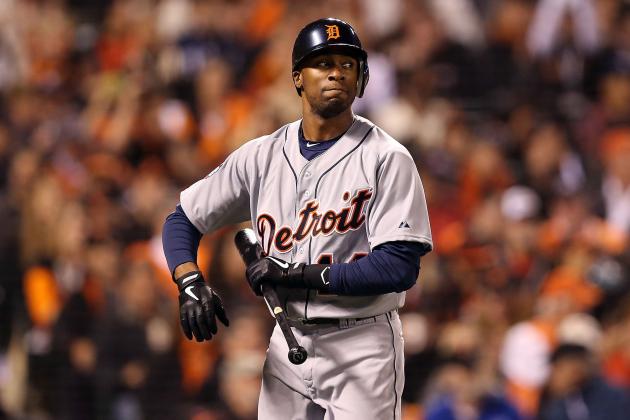 Christian Petersen/Getty Images

A lot is made of a team clinching early and having to sit around and wait to find out their World Series opponent. The Tigers had to wait five days after sweeping the New York Yankees in the ALCS.
From the looks of Game 1, there is something to be said for the team with the longer wait being at a disadvantage.
The Tigers came out and managed three runs on eight hits, but their starting pitching was not up to the task–and that was with their ace on the mound.
Still, the Tigers' first five batters combined to go 7-for-19 (.368) in the game. If they keep it up for the rest of the series, Detroit should be able to put runs on the board.
Final grade for the Tigers' play after the layoff: C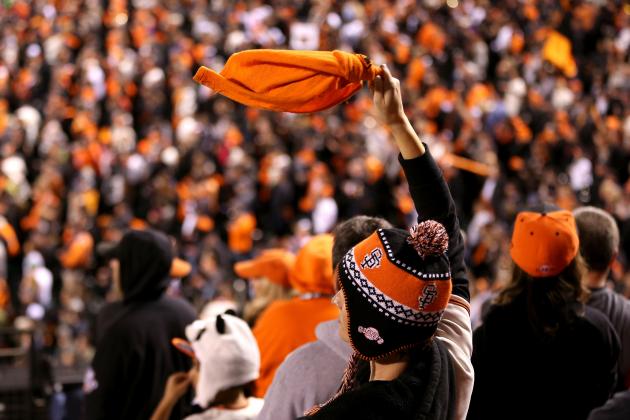 Ezra Shaw/Getty Images

The Giants lost their previous two Game 1s at home, and facing Justin Verlander, it did not look like home-field advantage was going to mean much in their third Game 1 of this postseason.
San Francisco continued to ride their hot streak and the momentum of winning their past six elimination games and gave a packed AT&T Park plenty of reason to celebrate.
The soldout crowd of nearly 43,000 was loud and active throughout the game. They waved their orange rally towels and shook their strikeout cards. Yes, Panda hats were on display for the national audience, and Pablo Sandoval put on a show in his first World Series appearance.
After losing their first three games at home this postseason, the Giants have now won four straight at home.
Final grade for the Giants taking advantage of home field: A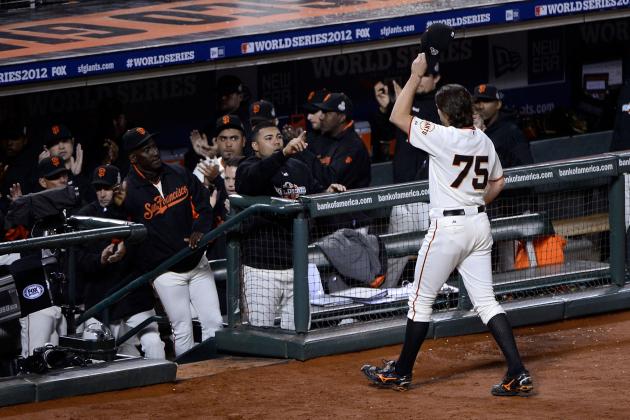 Thearon W. Henderson/Getty Images

The top of the Tigers lineup combined to hit .368, but their pitching did not show up.
For San Francisco, it was a story of two players that did not play a role in their 2010 World Series championship.
Barry Zito was left off the postseason roster in 2010 but started and won Game 1 this series. Pablo Sandoval was relegated to a bench role in 2010 because of a huge lack of production in his sophomore season. Tonight he hit three home runs.
The Giants head into Game 2 tomorrow night with a 1-0 series lead.
Final team grade for the Detroit Tigers in Game 1: C-
Final team grade for the San Francisco Giants in Game 1: A