What Are the Green Bay Packers' Biggest Obstacles in the Path to a Championship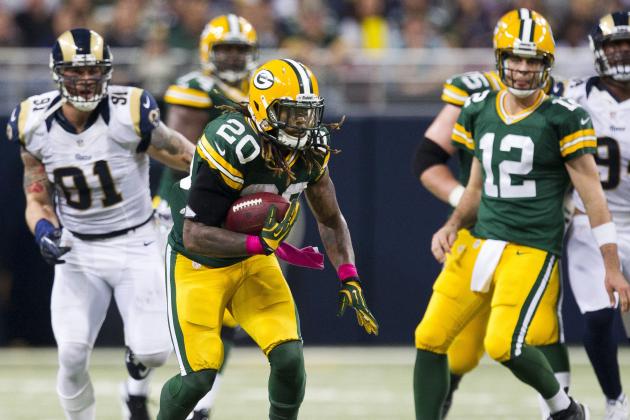 David Welker/Getty Images

Everything is back on track.
After a disappointing 2-3 start that included heartbreaking losses to the Seattle Seahawks and Indianapolis Colts, the Green Bay Packers appear to have righted the ship.
They killed the AFC's best team and convincingly beat a St. Louis Rams team that is now quite solid and played very well Sunday.
Aaron Rodgers is returning to his 2011 MVP form, James Jones and Randall Cobb have performed brilliantly in Greg Jennings' absence, and the defense is now ranked 14th in yards allowed per game, a huge improvement over last year's dead-last ranking.
But Green Bay is not without fault. Like any other team, weaknesses are evident and need to be fixed if a run to the Super Bowl is expected.
Here are the five biggest obstacles that could hold Green Bay back.
Begin Slideshow

»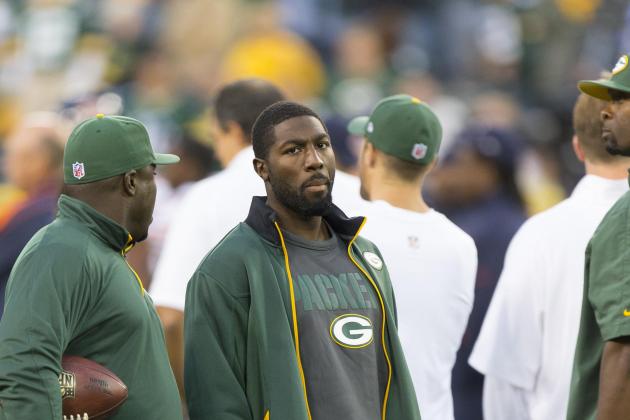 Jeff Hanisch-US PRESSWIRE

Like 2010, the injuries are piling up early and often.
One of the biggest blows was when starting inside linebacker Desmond Bishop went on IR after suffering a hamstring injury in the very first preseason game.
Since then, Greg Jennings has battled concussion and groin injuries and played in only three games, Cedric Benson was placed on IR with the designation to return, B.J. Raji missed the last two games with an ankle issue, Bishop's backup, D.J. Smith, was placed on IR and most recently, Charles Woodson suffered a broken collarbone that will keep him out for about six weeks.
The Packers were able to overcome their rash of injuries in 2010, but that doesn't guarantee they'll be able to this year. The reserves have played very well for the most part thus far, but you can only lose so many starters before it really starts to hurt you.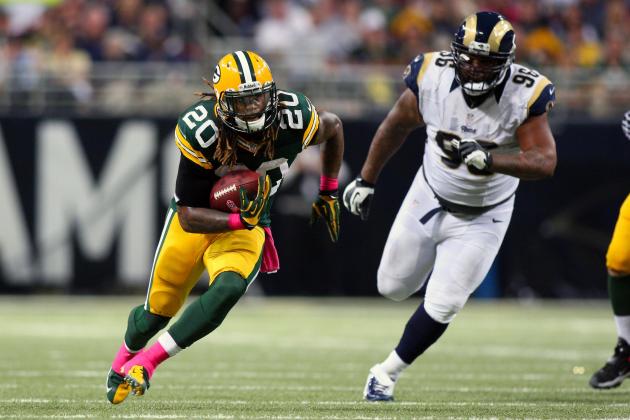 Scott Kane-US PRESSWIRE

After a discouraging performance in the season opener against the 49ers, Cedric Benson was slowly getting comfortable in the Green Bay offense, culminating with a 106 all purpose yards performance against New Orleans.
Then he went down with a foot injury the following week.
His replacement, Alex Green has had his ups and downs.
One moment, he'll burst for a game-changing run. Then, he'll go ten straight rushes where he hits the line and goes straight down.
He's been solid catching passes out of the backfield, but he needs to develop consistency running the ball.
Green is only a year removed from an ACL tear, and he never ran the ball more than 19 times in any game when he played for Hawaii in college, so it will take some time before he really gets going in the offense.
Unfortunately for him, the Green Bay offense doesn't have time to wait around.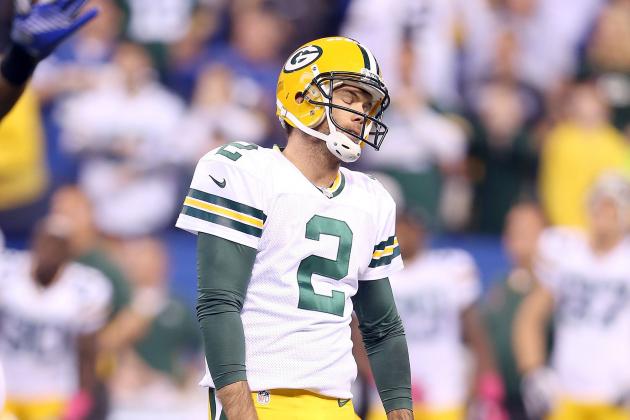 Andy Lyons/Getty Images

Mason Crosby had a career year in 2011, breaking the franchise record for consecutive field goals made (23) and longest field goal (58) en route to a very impressive 85.7 percent success rate.
So far this year, Crosby has hit only eight of his 11 attempts. If he keeps on the same pace, his 72.7 percentage would be the worst of his career.
His only struggles come from long range. All three of his misses have come from 50 yards or more, where he is only one-for-four.
Two of those came in a close match against the Colts that could've changed the outcome. Worst yet, his misses on the final play of that game and at the end of the first half in St. Louis were some of the ugliest kicks I've ever seen. Both immediately trailed off to the side and never had a chance.
Crosby is normally one of the better long-range kickers in the league, something Green Bay has relied upon in the past. Something weird is going on with his form when he lines up beyond 50 yards, and it must be fixed.
You never know when a division or playoff game will come down to a 54-yarder to decide the outcome.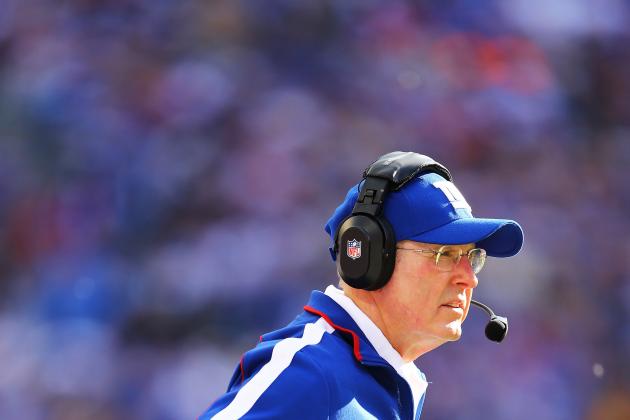 Al Bello/Getty Images

The Packers better beat the Jacksonville Jaguars and Arizona Cardinals to go into the bye week at 6-3. Their last seven games have a make-or-break feel to them.
In those games, Green Bay faces the Detroit Lions and Minnesota Vikings twice each and has to travel to New York to face the Giants and Chicago for a showdown with the Bears that could decide the NFC North champion.
The worst of those teams is the Lions, but they're more than capable of stealing a win from Green Bay in a shootout.
This stretch of games will tell us for sure whether or not the Pack is really back.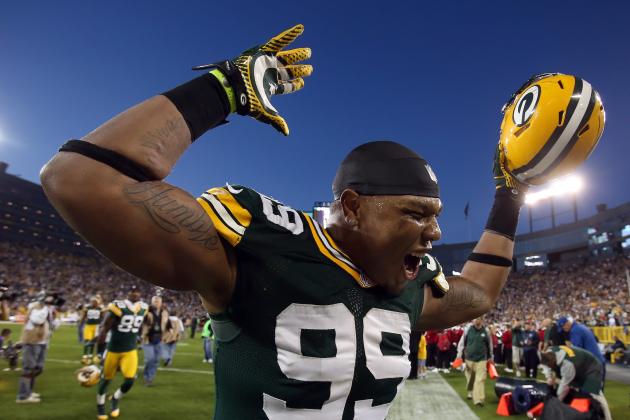 Jeff Gross/Getty Images

Ted Thompson went defense-heavy in the 2012 NFL Draft, picking six defensive players and trading up multiple times to grab better prospects.
That doesn't include undrafted free agents Dezman Moses or Sean Richardson.
All the rookies have played, and six contribute regularly.
In fact, there have been times where five rookies have been on the field at the same time for the Green Bay defense.
Overall, this group appears to be a strong rookie class. All will anchor a tough defense for years to come.
But right now, can a corps this young be trusted? Experience is such an important factor in both the postseason and the race leading up to it.
Rookies are almost guaranteed to make boneheaded decisions every now and then, which is part of the maturing process.
Veterans like Woodson and A.J. Hawk will surely provide excellent leadership their young counterparts, but will it be enough with so much youth?