Ole Miss vs. Arkansas: Complete Game Preview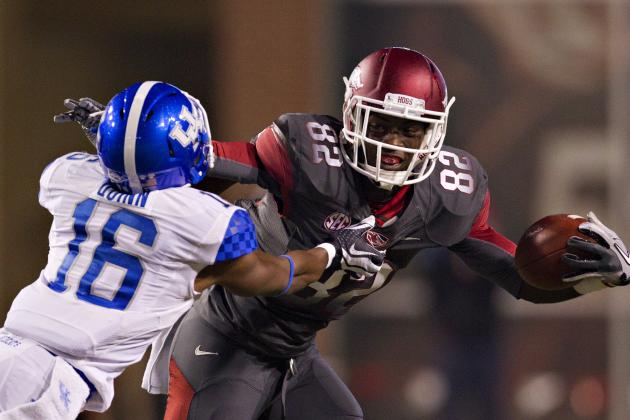 Wesley Hitt/Getty Images

The Arkansas Razorbacks and Ole Miss Rebels return to action this week in Little Rock, Arkansas.
Both teams are coming off a bye week and big wins against SEC opponents.
The Rebels and Razorbacks have struggled against Alabama and Texas A&M, and both teams have a difficult season left ahead with at least three games each against ranked opponents.
Both teams need a win this week against a comparable opponent to generate some momentum and help the appearance of their win columns before the home stretch.
Here is the complete preview of this weekend's game.
Begin Slideshow

»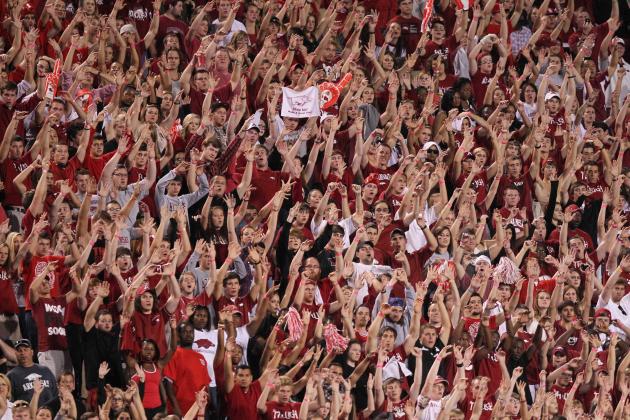 Nelson Chenault-US PRESSWIRE

Who: Ole Miss Rebels vs. Arkansas Razorbacks
When: Saturday, October, 27, 12:21 p.m. EST
Where: Little Rock, Arkansas
Stadium: War Memorial Stadium (Capacity: 54, 120)
TV: SEC Network
Radio: KEZA FM 107.9 (Fayetteville, AR)
KABZ FM 103.7 (Little Rock, AR)
WQLJ FM 93.7 (Oxford, MS)
WTNM FM 105.5 (Oxford/Water Valley, MS)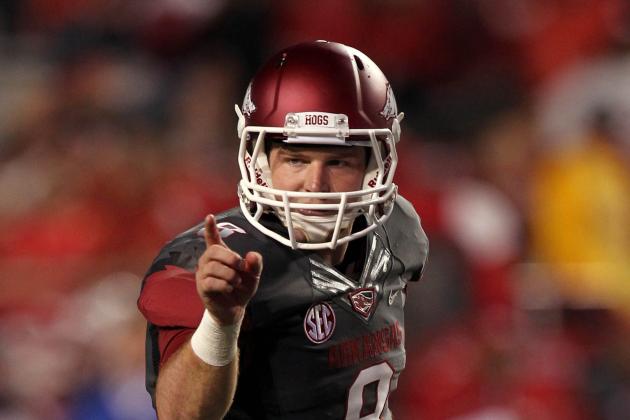 Nelson Chenault-US PRESSWIRE

QB: Tyler Wilson, Brandon Allen
RB: Knile Davis, Dennis Johnson
WR: Cobi Hamilton, Javontee Herndon
WR: Brandon Mitchell, Julian Horton
WR: Mekale McKay, Demetrius Wilson
TE: Chris Gragg, Austin Tate
OT: David Hurd, Chris Stringer
OG: Tyler Deacon, Luke Charpentier,
C: Travis Swanson, Mitch Smothers
OG: Alvin Bailey, Luke Charpentier
OT: Brey Cook, Jason Peacock
FB: Morgan Linton, Jonathan Williams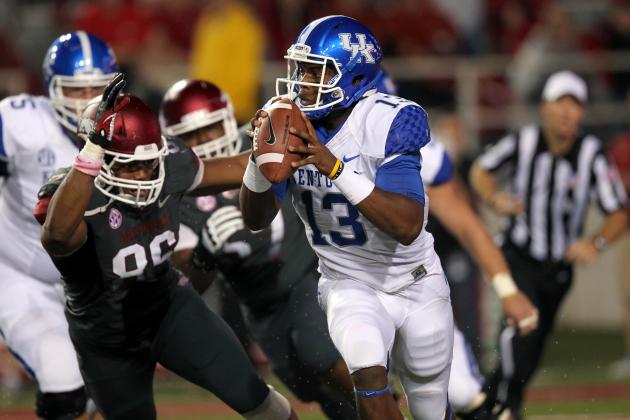 Nelson Chenault-US PRESSWIRE

DE: Trey Flowers, Austin Flynn
DT: Alfred Davis, Jared Green
DT: Byran Jones, Robert Thomas
DE: Chris Smith, Colton Miles-Nash
OLB: A.J. Turner, Jarrett Lake
MLB: Terrell Williams, Otha Peters
STAR: Ross Rasner, Kaelon Kelleybrew
CB: Tevin Mitchel, Davyon McKinney
S: Eric Bennett, Jerry Mitchell
S: Rohan Gaines, Alan Turner
CB: Will Hines, Darius Winston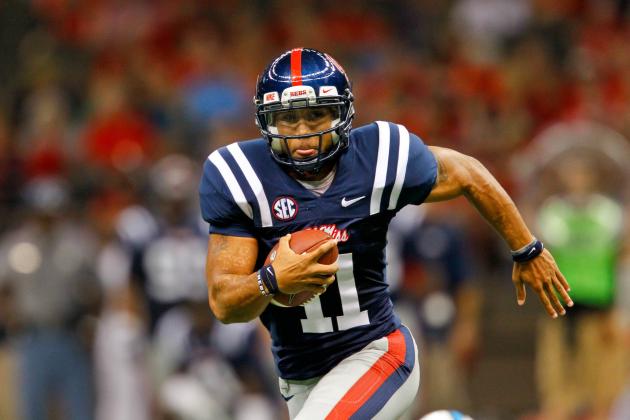 Derick E. Hingle-US PRESSWIRE

WR: Donte Moncrief ,Terrell Grant
LT: Emmanuel McCray, Derrick Wilson
LG: Aaron Morris, Justin Bell
C: Evan Swindall, Ben Still
RG: A.J. Hawkins, Jared Duke
RT: Pierce Burton, Patrick Junen
TE: Ferbia Allen, Jamal Mosley
WR: Vince Sanders, Ja-Mes Logan
WR: Ja-Mes Logan, Philander Moore
QB: Bo Wallace, Barry Brunetti
RB: Randall Mackey, Jeff Scott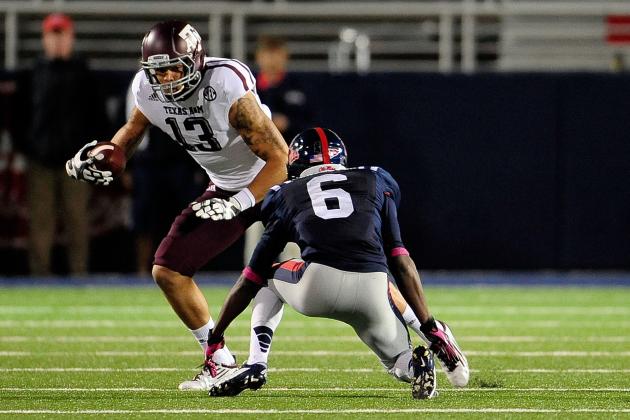 Stacy Revere/Getty Images

DE: C.J. Johnson, Jason Jones
DT: Bryon Bennett, Carlton Martin
NT: Issac Gross, Gilbert Pena
DE: Cameron Whigham, E.J. Epperson
Mike: Mike Marry, Joel Kight
Stinger: Denzel Nkemdiche, Aaron Garbutt
Huskie: Dehendret Collins, Mike Hilton
FCB: Senquez Golson, Anthony Standifer
Rover: Trae Elston, Frank Crawford
FS: Cody Prewitt, Chief Brown
BCB: Charles Sawyer, Wesley Pendleton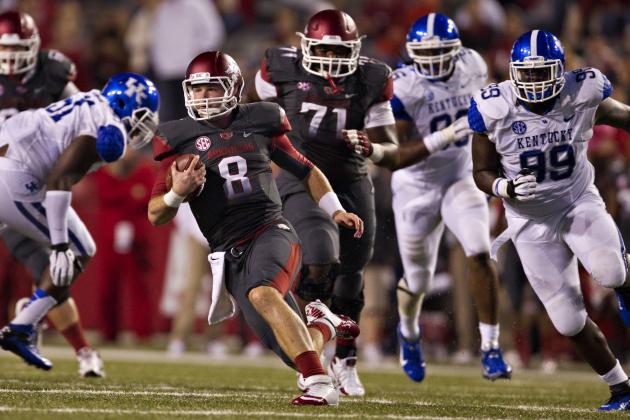 Wesley Hitt/Getty Images

The Razorbacks' last game against Kentucky saw the Hogs firing on all cylinders. The offensive line provided protection for Tyler Wilson, who threw for 372 yards with five touchdowns and no interceptions.
Dennis Johnson was the most effective weapon in establishing the run. He ran for 82 yards over 12 carries with two touchdowns.
The defense, even without Alonzo Highsmith, held Kentucky to one passing touchdown and only 66 rushing yards.
The Hogs' victory over Kentucky went a long way towards healing the wounds of their abysmal performance during the month of September. They will be looking to continue their recent success over an Ole Miss team that should pose more of a challenge than Kentucky or Auburn.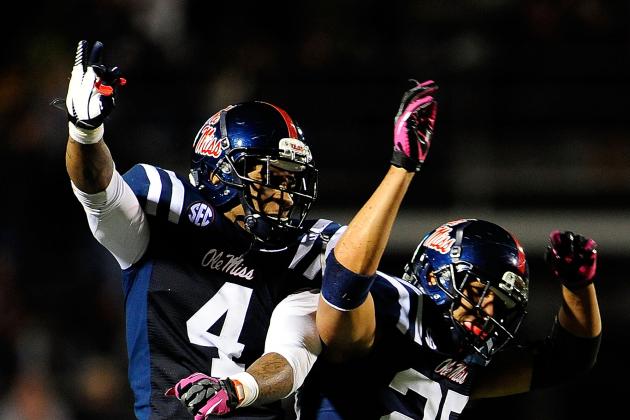 Stacy Revere/Getty Images

Ole Miss soundly defeated Auburn 41-20. Ole Miss had lost by just three points in a heartbreaker against Texas A&M in Week 6. The victory against the Tigers helped ease some of the pain from that loss.
Running back Jeff Scott rushed for 137 yards against the Tigers. Quarterback Bo Wallace rounded out the Rebels' run game with 39 yards and two touchdowns of his own.
The Rebels defense held the Tigers to two touchdowns and two field goals. It also effectively stopped Auburn's repeated attempts to establish the run. The Tigers only averaged 2.5 yards over 41 attempts.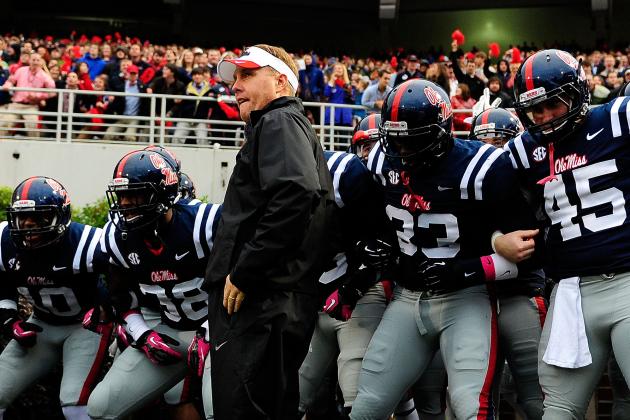 Stacy Revere/Getty Images

Arkansas is looking to salvage what is left of the season. The Hogs will face Mississippi State, South Carolina and LSU in the upcoming weeks. The Razorbacks will need a win against Ole Miss to help shore up their win column and provide them with enough momentum to upset their ranked opponents in the coming weeks.
Ole Miss's three losses this season have come at the hands of Texas, Alabama and Texas A&M. It has a difficult schedule remaining, with games against Georgia, LSU and Mississippi State.
The Rebels will be looking to take advantage of a Razorback team that has yet to perform well against comparable opponents and build momentum heading into their game the following week against No. 10-ranked Georgia.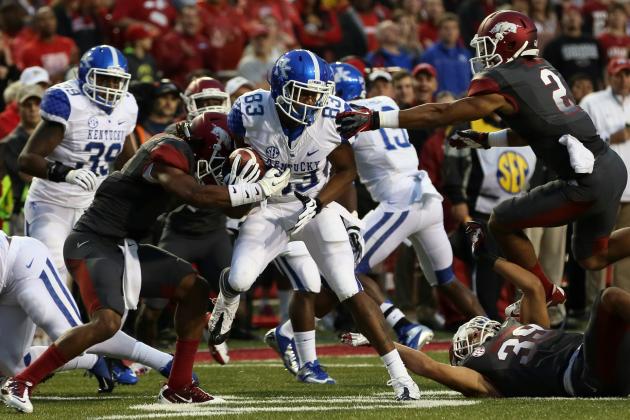 Nelson Chenault-US PRESSWIRE

A.J. Turner, a freshman, has stepped up to fill the void left by the injury of Alonzo Highsmith. Turner led the Arkansas defense with five tackles against Kentucky, his first start for the Hogs.
Ole Miss likes to rush and has a quarterback in Bo Wallace that likes to run the football. Arkansas has failed to contain rushing quarterbacks. Johnny Manziel of Texas A&M and Kolton Browning of Louisiana-Monroe each had big games against the Razorbacks.
Turner will be the key player in containing Bo Wallace and disrupting Ole Miss' run game. He will also be an essential factor in whether or not the Hogs defense can stop the short passes that have been devastating to the Razorbacks all season.
Turner has a big role to play, and it might be too much to ask of a freshman, but if he puts in a solid performance against Ole Miss, the Hogs will have a chance to come out of Little Rock with a victory.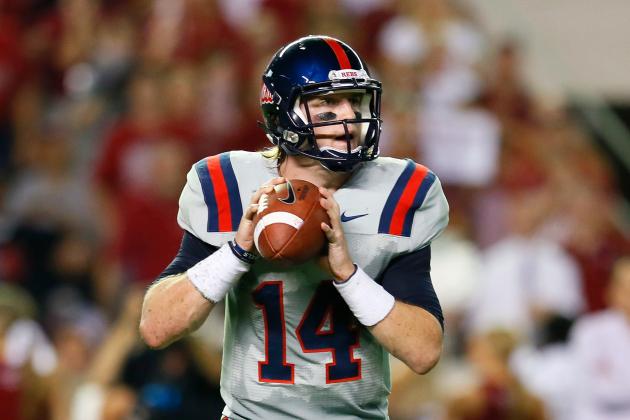 Kevin C. Cox/Getty Images

Bo Wallace will be the key factor for Ole Miss. Arkansas has not been able to stop a rushing quarterback all season. Kolton Browning rushed for 69 yards against the Razorbacks in Week 2, and Johnny Manziel rushed for 104 yards in Week 5.
Wallace rushed for two touchdowns against Auburn and one against the Aggies the week before.
If Wallace is able to take advantage of the Razorbacks' inability to stop a rushing quarterback, he'll have a big game on Saturday.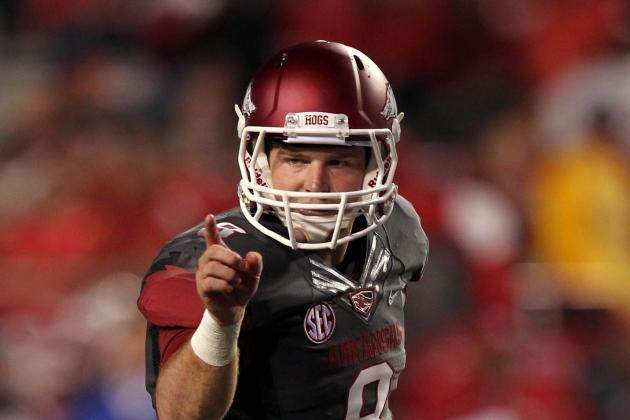 Nelson Chenault-US PRESSWIRE

It contains Bo Wallace and shuts down Ole Miss' run game. The Razorbacks have been performing well on the offensive side of the ball. Tyler Wilson has had good protection from his offensive line, Dennis Johnson has been able to establish a run game and Arkansas' receivers have provided more targets in the Hogs' passing attack, which should only improve this week with the return of Chris Gragg.
The question mark for Arkansas, as has been the case this season, is whether or not the defense will be able to keep opponents from scoring and Tyler Wilson and company on the field making plays.
The Razorbacks have performed well the last two weeks against Auburn and Kentucky, but Ole Miss' offense is a little stronger and will provide more of a test.
If Arkansas' defense performs, it will win this game.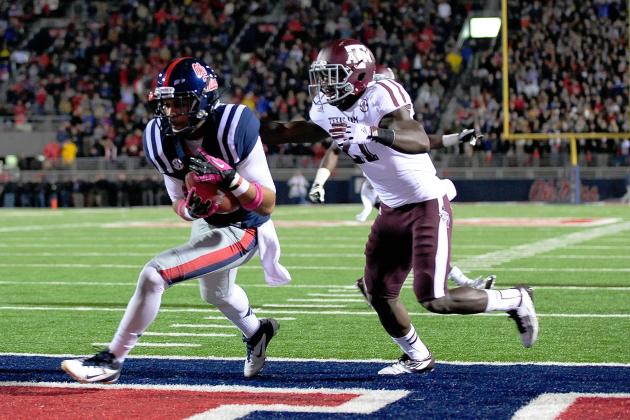 Stacy Revere/Getty Images

It exploits Arkansas' defensive weaknesses. Ole Miss likes to run the ball, but Arkansas is particularly weak in its passing defense.
Bo Wallace needs to be able to rush all over the field and have short passing options. That plan of attack is what has kept the Hogs from preventing third-down conversions and kept their defense on the field all season.
The Hogs are an offensive team. Ole Miss needs to keep possession and keep Tyler Wilson off the field.
If the Rebels establish the run and short passing game, they will come out of War Memorial Stadium with a win.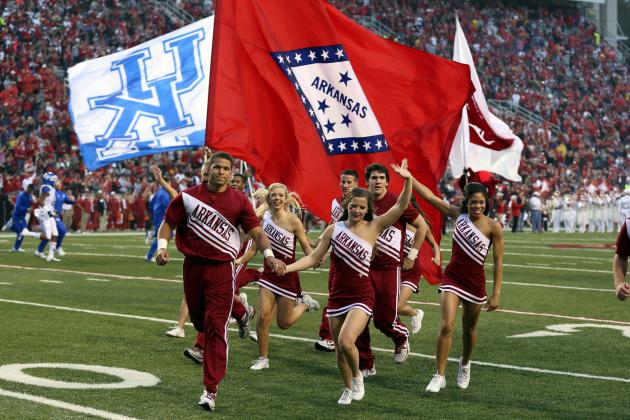 Nelson Chenault-US PRESSWIRE

Arkansas comes into the game as a close six-point favorite (via Vegas Insider), but if its defense falls back into old patterns and struggles with an Ole Miss team that is stronger on offense than Auburn or Kentucky, the Hogs can lose this game.
Ole Miss has not been given enough credit for its performance during its close game to Texas A&M, a team that blew Arkansas out 58-10. If the Rebels perform in this game as well as they did against the Aggies, they could leave Little Rock with a win.
It will be close, but if the Razorbacks defense continues to show improvement, the Hogs will extend their win streak to three games.
Arkansas wins 24-21