Who Wears the Crown: Ranking the Oakland Raider's Midseason Best Player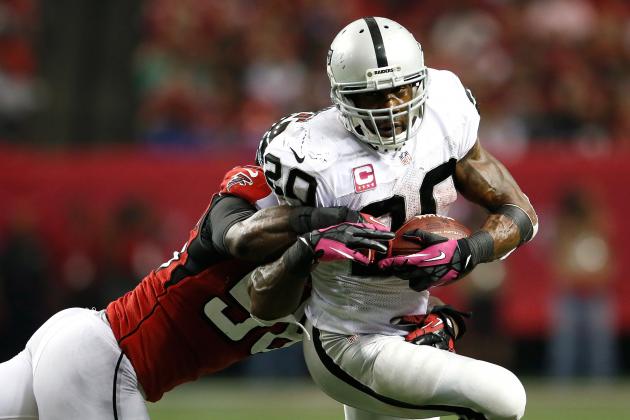 Kevin C. Cox/Getty Images

Surprise! We're already 8 weeks into the 2012 season! That means it's time to break out the stats and the game tape!
Where does Darren McFadden rank?
Who didn't make the cut?
And who surprised us so far this season?
Sit back, relax and join me as we count down to the best Oakland Raider player at the midseason mark of this 2012 season!
Begin Slideshow

»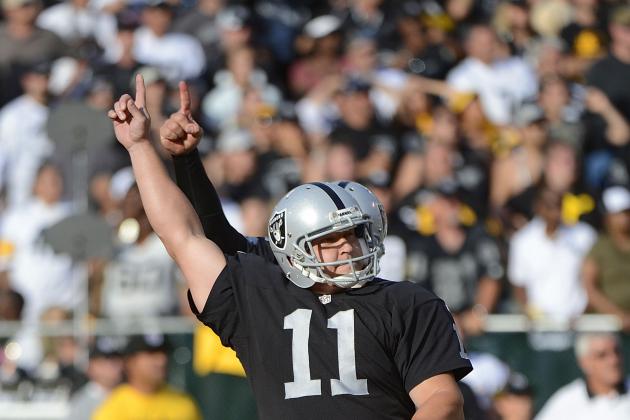 Thearon W. Henderson/Getty Images

Sebastian Janikowski has proven once again that he is one of the most reliable kickers in the NFL.
He's connected on 14 out of 15 attempts with an accuracy rating of 93.3%. He also nailed a mid-season long 52 yard field goal versus the Atlanta Falcons in week 6.
Seabass helped secure 2 Raider victories so far this season with a 43 yard field goal for versus the Pittsburgh Steelers and also connecting on a 40 yard overtime field goal to beat the Jacksonville Jaguars in week 8. Against the Jags he was 4 out of 5 and just missed on a 64 yard NFL record breaking attempt in the waning moments of the 4th quarter.
And the power is still there! Seabass has been booming kickoffs which have resulted in 17 touchbacks so far this season.
When the Raiders are in need of a game winning field goal, Sebastian Janikowski gets it done.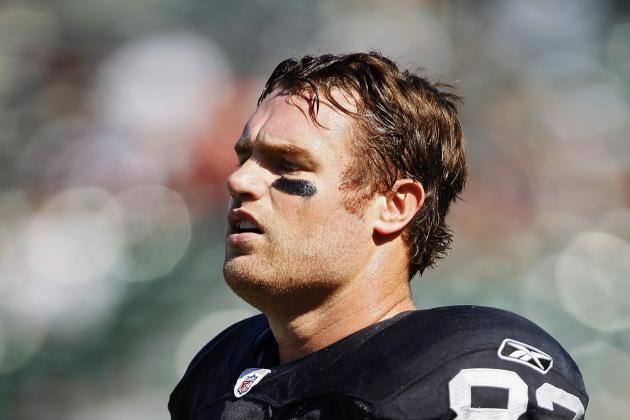 Brian Bahr/Getty Images

Tight end Brandon Myers leads the team at the mid-season mark in receiving yards with 28 catches for 334 yards.
Even better he has 119 yards after the catch. He continues to fight for more yards over the middle.
A fine example of how Myers and Raiders quarterback Carson Palmer have formed a tight end/quarterback bond, Myers had 7 catches for 44 yards in Oakland's recent victory over the Jacksonville Jaguars.
He'll need to continue to work on becoming a better blocking TE to crack the top 3. But once he does, he can be an all-around weapon for the Oakland Raiders.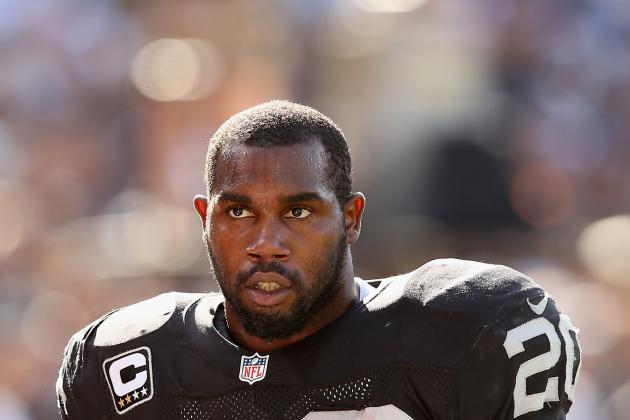 Ezra Shaw/Getty Images

Suffering from a questionable zone-blocking scheme, and an offensive line that has yet to master the zone-blocking scheme, running back Darren McFadden has managed to accumulate only 324 rushing yards (ranked 25th in the league).
McFadden is clearly a victim of Oakland Raiders offensive coordinator Gregg Knapp's attempt at his take on the west-coast offense.
That being said, he is still a valuable weapon out of the backfield for the Oakland Raiders not only as a rusher but as a receiver as well where he is 2nd on the team in receptions with 25 catches for 167 yards.
If used correctly in a power running scheme, Darren McFadden could be leading the lead in rushing yards.
When that happens he will take over the number one spot in this discussion. But for now, he sits at number 3.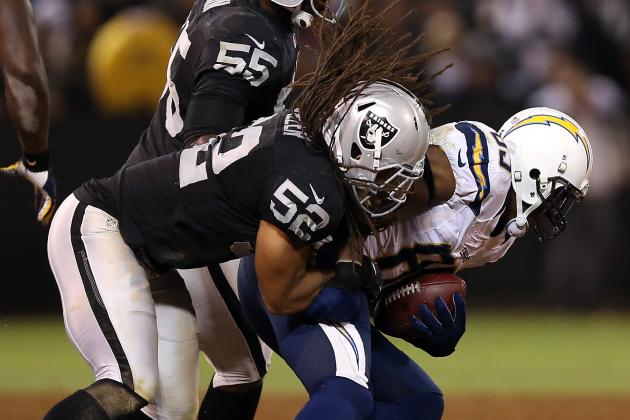 Ezra Shaw/Getty Images

In a season where Rolando McClain has faltered (32 tackles, 21 solo 11 assisted), 5 year pro Philip Wheeler has seized the opportunity and become an aggressive leader for the Oakland Raiders defense.
He currently leads the team with 48 total tackles (34 solo, 14 assist, 2 forced fumbles) and has highlights of 8 solo tackles (10 total) versus the Atlanta Falcons in week 7 and 7 solo tackles (11 total) in week 5 in a win against the Pittsburgh Steelers.
The 2nd half of the season will dictate just how much Wheeler can grow in this defense. But because of his performance in the first half of the season, he lands #2 on my list!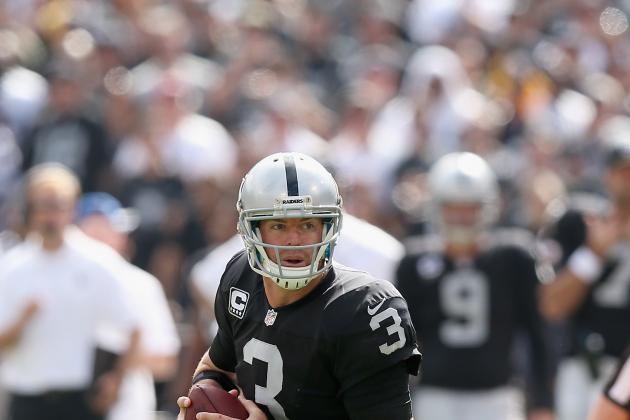 Ezra Shaw/Getty Images

There were many questions about Oakland Raiders quarterback Carson Palmer taking on the offensive coordinator Greg Knapp's version of the west-coast style offense:
Will he be mobile enough?
Could he make quicker reads and throw outside the pocket?
Can he cut down on interceptions and turnovers?
Palmer has proven that he can! The Oakland Raiders quarterback currently leads the 9th ranked passing team in the NFL with 273.2 yards per game and is ranked 17th in the NFL with a QB percentage of 86% , ahead of QBs such as San Diego's Philip Rivers (85.3%), Baltimore's Joe Flacco (84%) and Cam Newton (79.3%).
Palmer has shown that he can take care of the football by completed 148 passes out of 241 attempts for 1732 yards, 7 touchdowns and only 4 interceptions so far this season.
A good example of Palmer's work was in week 3 where he led a 34-31 win in Oakland versus the Pittsburgh Steelers. Palmer completed 24 our 34 passes for 209 yards and 3 TDs (103.7% passer rating) and led an efficient offense to a victory against a very aggressive Pittsburgh Steelers defense.
For the first half of the 2012 season, Carson Palmer wears the crown as the best player for the first half of the season!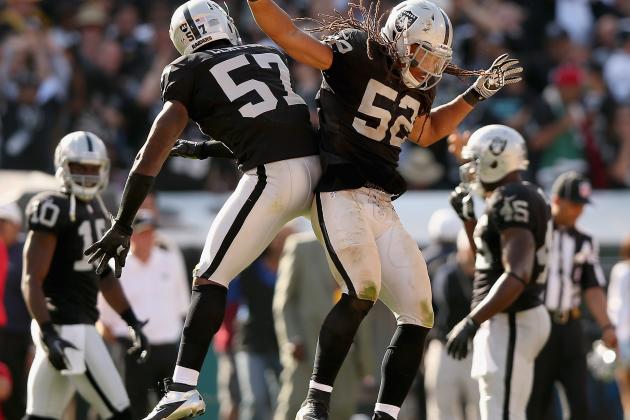 Ezra Shaw/Getty Images

To review, my top 5 players of the first half of the 2012 season:
#5: K Sebastian Janikowski - The boot is as strong as ever!
#4: TE Brandon Myers - Finally a threat in the middle of the field!
#3: RB Darren McFadden - Surprised he's not #1? Yeah, me too!
#2: LB Philip Wheeler - Finally a linebacker that is flying to the ball!
#1: QB Carson Palmer - He can command the west-coast offense!
Agree or disagree? Post YOUR Top 5 players of the first half of the season in the comment section!