Washington Capitals: The Pros and Cons of Braden Holtby as Starting Goaltender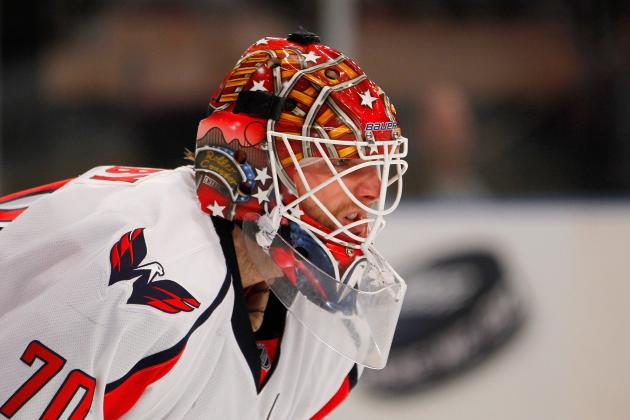 Paul Bereswill/Getty Images

One of the many annoying things about this seemingly never-ending lockout, particularly for fans of the Washington Capitals, is that we are being denied the opportunity to witness the next chapter in the gripping story that is Braden Holtby.
As most will recall, Holtby came from practically out-of-nowhere last spring to lead the Caps to a stunning first-round upset of the defending Stanley Cup champion Boston Bruins and Tim Thomas.
Holtby, proving his stellar performance against Boston was no fluke, then very nearly upended the top seeded New York Rangers and Vezina trophy winner Henrik Lundqvist before falling in a great seven-game Eastern Conference semifinal series.
Along the way, Holtby posted a 1.95 goals against average.
Only Jonathan Quick, who won the Conn Smythe trophy as the MVP of the 2012 NHL playoffs, and Lundqvist had a better goals against average than Holtby, among goalies who played more than 10 playoff games last year.
Holtby also had a .935 save percentage.
Only Quick and Phoenix's Mike Smith had a better save percentage among goalies playing in more than 10 playoff games.
Suffice it to say, Braden Holtby had a tremendous postseason, no matter how you try and measure it.
It was so solid that it was pretty much a given that Holtby would enter training camp as the Caps' starting goaltender.
Then the lockout came, and now all we can do is wait and wonder what might have been.
As great as Holtby was during the playoffs though, it is not all peaches and cream as far as the notion of Holtby being starting goaltender is concerned. There is plenty to be excited and optimistic about.
But there are some reasons to remain cautious.
Let's take a closer look at the pros and cons of Braden Holtby being the Caps starting goaltender.
Begin Slideshow

»
After what Braden Holtby just went through and accomplished in the Stanley Cup playoffs, some regular season action should be a piece of cake.
True, that might be simplifying things a bit.
But one thing that seems certain is that it does not matter what you throw at the young man, he is simply going to be unfazed by it.
The fact that Holtby has ice water in his veins—something he demonstrated time and again during the playoffs—is one of his biggest pros.
An NHL regular season is a long, grueling affair, filled with ups and downs, twists and turns and many moments that will test the mettle of the strongest of men.
In the life of a goalie, a regular season can be equal parts of the highest of highs and the lowest of lows. Perhaps more so than any other position, the toll of a regular season can wear on a goalie the most.
Braden Holtby won't be bothered by any of it.
Time and again in the playoffs, Holtby demonstrated his amazing ability to bounce back from difficult defeats, or to quickly forget about a goal he had just allowed.
He never got rattled, never got shaken and never lost his composure. If one recaps his playoff performance, his unflappable manner of play is readily apparent.
In the series against the Bruins, Holtby lost a heartbreaking Game 1 in overtime, only to come back and out-duel Tim Thomas in double overtime in Game 2.
In Game 3, Holtby had one of his weaker outings of the playoffs as the Bruins won 4-3. In Game 4, Holtby stopped 44 of 45 Boston shots as the Caps evened the series.
In Game 6, Holtby could not help the Caps close the deal on home ice. All he did was come back in Game 7, in Boston, stop 31 of 32 shots and led the Caps to a Game 7 victory that will never be forgotten by Caps fans.
Ice water in his veins?
And then some.
Against the Rangers, Holtby again showed how he suffered from a chronic, but very helpful case, of short-term memory loss.
In Game 1, Holtby gave up a couple of goals that could be considered somewhat soft. In Game 2, he and the Caps let a 2-0 lead slip away, but Holtby kept it together enough to help the Caps gain a 3-2 win.
Game 3 was the classic triple overtime battle that saw the Caps come out on the losing end. In Game 4, Holtby and the Caps showed the heart that they had with a 3-2 win to tie the series.
Game 5 is one of the low water marks for any Caps fan as Holtby and the Caps gave up the tying goal with just 6.6 seconds left and then lost in overtime.
In Game 6, Holtby may have played his best game of the playoffs.
He stopped 30 of 31 shots and had the Rangers shut out until just 51 seconds remained. When the Caps needed him the most, Holtby stepped up and delivered—again.
Yes, Holtby lost Game 7.
But one would have to figure that Holtby is just waiting for the regular season to begin to bounce back from that defeat as well.
Having excelled at navigating the emotional roller coaster that is the NHL playoffs, and having demonstrated how he could recover from the most difficult of circumstances, Braden Holtby should have no problems dealing with the grind of the NHL regular season.
If anything, he might just excel at it.
While there is little question that Braden Holtby can handle the pressure of an NHL regular season, the fact remains that he has never played in a full regular season before.
While the odds of him playing in a full regular season this year seem very long due to the lockout, it cannot be ignored that Holtby has only played in 21 regular season games in his entire career.
His record in those 21 games is a solid 14-4-3.
His numbers though, as compared to his playoff stats, are not quite as impressive.
He has given up 37 goals on 524 shots faced, for a .929 save percentage and a 2.02 goals against average.
Those numbers are a bit off from his .935 save percentage and his 1.95 goals against average in the playoffs. No, it is nothing to really lose sleep over, but it is something worth noting as we enter whatever length of season we will get with Holtby as the Caps starting goalie.
The issue here with Holtby is not whether he can handle the pressure of the regular season, because we already know he can. The real issue is whether he can maintain the level of performance he showed in the playoffs over an entire regular season.
How will Holtby react when he has an off game against a bad team?
It is bound to happen.
It is easy to look at Holtby's playoff performance and assume he will just shrug it off and come back even stronger.
But the playoffs are different. If you can't get up for a playoff game, then you really have no business in the NHL.
Can Holtby keep his burning desire to succeed going even in a regular season game that might not have the appeal of a playoff game? It is hard to say because Holtby has not played in many regular season games so far.
One also has to wonder how Holtby will respond when he is given a game or two off.
Without question, Holtby will not play every regular season game, no matter the length of the regular season.
Michal Neuvirth will get some playing time.
Will this inevitability throw Holtby off his rhythm? How exactly will he respond to taking a game or two off here and there? Will he be able to come back from his off games just as strong as he was before?
And what happens if Holtby actually ends up in a losing streak? How exactly will Holtby go about digging himself out of that hole?
There are lots of questions here, and they are questions that have not been answered for the simple reason that Braden Holtby has not yet been tested over the long haul.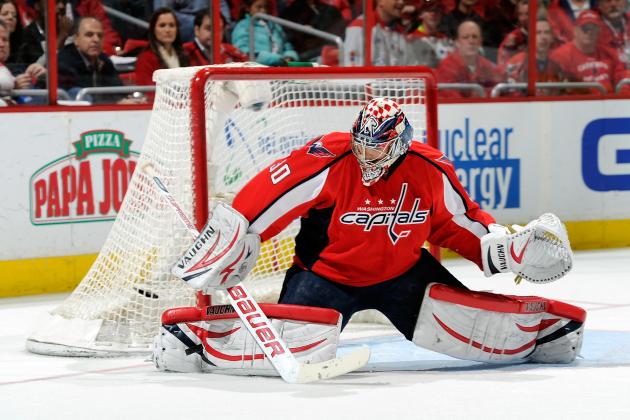 Greg Fiume/Getty Images
Will a challenge from Michal Neuvirth motivate Braden Holtby to be even better
Braden Holtby will be well aware of the concerns raised in the previous slide. There is little question he will want to prove all the doubters wrong and show the entire NHL that he truly is an elite goaltender.
He will also want to show everyone that his playoff performance was not a fluke.
His motivation in this regard may be one of his biggest assets.
Ironically, one of the people to whom Holtby might most want to prove himself is his teammate and prime competition for the starting goaltender job, Michal Neuvirth.
It was over the summer when Czech website iSport.cz conducted an interview with Neuvirth.
The interview was translated by several sites and one in particular, Russianmachineneverbreaks.com, posted the interview.
Some of what Neuvirth had to say raised more than a few eyebrows:
It's true that until now, I have never been an official number one. But I have played just over a hundred games in NHL. That's nothing. I'm starting the season sure that I want to play forty/fifty games and I am really sure that I have the weakest competition (Braden Holtby) I've ever had. I will try to be number one goalie this season. Finally!
Wow! If that is not calling someone out, I am not sure what is—or at least that is what it sounded like at first.
Issues were soon raised that the actual meaning of what Neuvirth was saying got lost in translation.
Perhaps.
But as if Neuvirth had not perhaps inserted his foot in his mouth enough, he kind of made matters worse by trying to explain himself in the same interview:
He sure is a great goalie. But I can't compare him to Voky or Varlamov, that's what I meant. In comparison to those two, he played nothing in the NHL and that's why I take him as the weakest of them three. I'm definitely not saying that he is bad, not at all. I actually like the way he plays. But he is the worst of them three, that's all.
I don't know about you, but if I was Braden Holtby and I read that, I would be saying to myself, "Oh, it's on like Donkey Kong."
Holtby is going to want to put Neuvirth in his place and show him that he is far from the weakest competition he has ever faced to try and secure a starting goaltender position.
Proving oneself to the competition can be very motivating.
Proving oneself to one's own peers is on a different level entirely.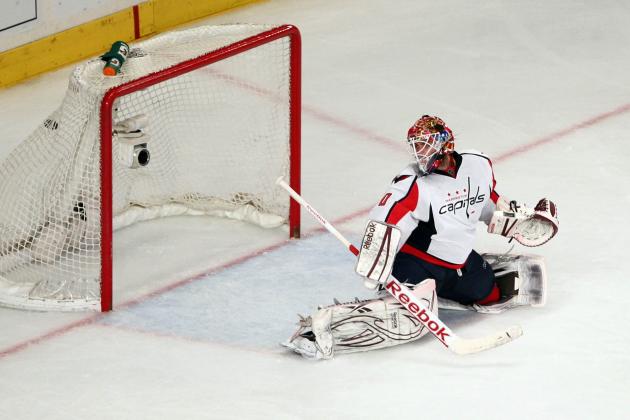 Anthony Gruppuso-US PRESSWIRE
Will Braden Holtby's youth get the better of him this season?
In a previous article I wrote about Braden Holtby, I questioned whether Holtby's age and his changing personal life might have some impact upon his performance, and whether this should impact exactly how much the Caps should trust him as their starting goaltender.
Quite a few people took exception with this, and while I understand and respect those opinions, I still believe it is something to keep an eye on and could be a con as for his immediate prospects as the Caps' starting goalie.
Holtby just recently turned 23 years old.
He is just 23 and he has been anointed as the Caps savior between the pipes. That is an awful lot to lay at the feet of a 23-year-old who has never played a full regular season before.
Holtby has shown all the mental toughness in the world thus far. But will his youth, at some point during the season, have some sort of impact on his performance?
It is hard to say—but it has to be taken into consideration.
Holtby is also a relatively new father. His son, Benjamin, is now five and one-half months old. Holtby played extremely well in Game 7 against the Rangers, just after his son was born.
And, of course, there are many players in the NHL who are relatively new fathers, and it does not effect their play at all.
But being a father takes a lot of time and effort.
It occupies much of your thoughts and utilizes a lot of one's energy. This is particularly true when a baby is no longer considered an infant and really starts to develop a personality and begins to expand its hold onto the world and a father's heart.
Take all of this and thrust it upon a 23-year-old, who will have expectations placed on him similar to Robert Griffin III, Stephen Strasburg or John Wall—never mind the fact that Holtby will face a stiff challenge from Michal Neuvirth to hold onto the starting goaltender's job—and is it really so absurd to wonder if any of that might have some impact upon Holtby's performance?
To the contrary, might it be somewhat naive to assume Holtby can handle all of that without any hiccup at all?
Instead, I believe there will be growing pains for the young man here, and how he responds to this will go a long way towards determining whether Holtby can be the long-term solution in net for the Caps or whether he is just another band-aid for Washington between the pipes.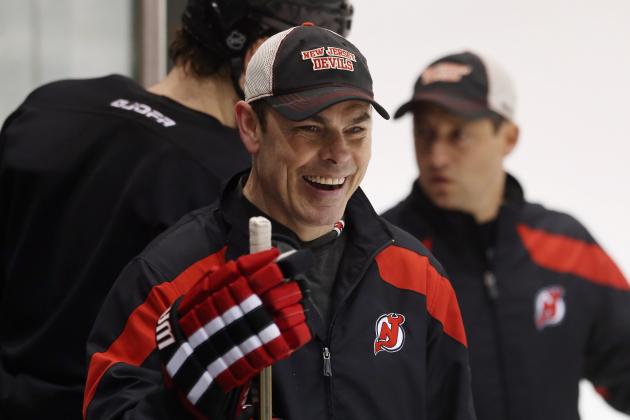 Bruce Bennett/Getty Images
Braden Holtby, unlike most of his teammates, will get to work with Adam Oates during the lockout
One by-product of the lockout that will benefit Braden Holtby, perhaps more than any other member of the Capitals, will be his ability to work with new coach Adam Oates even though the lockout is in full effect.
Just prior to the lockout going into effect, the Caps assigned 21 players to their AHL affiliate, the Hershey Bears (Washington Post). Among those 21 players, two are current members of the Caps, defenseman Dmitry Orlov and goaltender Braden Holtby.
At first glance, it might not be real clear how being assigned to an AHL team can be classified as a pro for Braden Holtby.
But when Adam Oates, and most of his coaching staff, were also, in essence, assigned to the coaching staff of the Bears (Washington Post), the opportunity for Holtby to gain some quality time with the new coaches became apparent.
Oates and Holtby have a lot in common in that there is going to be a lot of pressure placed upon them, and much of the blame for any failings, or praise for any success, will be directed in the direction of Oates and Holtby.
Where this is a huge advantage for Holtby is that he is going to get to see, first-hand, what sort of system Oates is planning on installing in Washington. He is going to get to see the new offensive philosophy as well as seeing how Oates plans on setting up his defense.
This should give Braden Holtby a great opportunity to gain some understanding of what sort of pressure he might face from game to game, what sort of forechecking system Oates plans on using, what sorts of formations might be utilized, what sort of emphasis Oates is going to place on shot blocking, whether Oates will demand a more punishing and physical style of play and so forth.
With the exception of Orlov, Holtby is the only current member of the Caps who will get to see this first hand and also get to experience it in live action games.
This also gives Holtby a chance to show Oates, and the rest of the staff, exactly what he can do and what his skill set will enable the Caps to do when—or if—the lockout ever ends. Almost as importantly, the current situation will give Holtby an opportunity to develop a bond with the new coach.
It is a huge advantage for Holtby over Michal Neuvirth.
Holtby understands and, at least to some extent, appreciates the opportunity he is being given. When asked about Oates and the rest of the coaching staff co-coaching the Bears, Holtby said to the Washington Post's Katie Carrera:
I think we're looking forward to it. With "new systems" in play, Adam's obviously the one that knows them the best. It's good. I think everyone can learn from having more voices and more opinions and more experience.
If this lockout ever ends, Braden Holtby will come in not just as the Caps' starting goaltender, but as the goaltender with the most experience with the current coaching staff.
Count that as a big mark in the pro column.
I know it's not really a con to say that a goalie has room for improvement.
After all, most goalies need to improve their game somewhat.
There is no such thing as a perfect goaltender (although Jonathan Quick came pretty close this past spring).
Braden Holtby is no exception.
Don't get me wrong, Holtby is incredibly skilled and has some of the fastest reflexes of any goaltender in the NHL. Holtby is also absolutely fearless and defends his crease with the tenacity of a guard dog defending his yard.
Still, if one examines Braden Holtby's game closely, there are some definite areas where he can improve and where he will have to improve if he is really going to excel as the Caps' starting goaltender.
Controlling his rebounds is one of those areas.
Against the Bruins, five of the goals that Holtby gave up in that series were off of rebounds, two of them in Game 3 alone.
In Game 6, with a chance to clinch the series on home ice, Holtby gave up a fat rebound to Andrew Ference, who put the puck home and gave Boston the lead in a game it would eventually win in overtime, sending the series to a Game 7.
In Game 7, his failure to control a rebound, combined with his failure to get the puck out of his crease, led to Tyler Seguin's game-tying goal.
Against the Rangers, Holtby addressed these issues and he played much better.
But the pivotal moment in the series might have been an example of how Holtby needs to get better at controlling rebounds.
In the closing moments of Game 5, Holtby could not control a loose puck in front of his net. It was not a fat rebound. It could barely be classified as a rebound to be honest.
But because Holtby could not corral the loose puck, Brad Richards was able to get the puck under Holtby's glove, bang it in off the post, tie the game with 6.6 seconds remaining and turn the series around entirely.
To become what I think he can become—namely, an elite NHL goaltender—Holtby will have to improve, minimize costly rebounds and control what is happening in front of him.
Another area where Holtby needs to improve is with his glove side, particularly glove side low. Go back and watch video of the playoffs and you will see what I mean.
Chris Kelly's overtime goal to win Game 1 of the Bruins series is a prime example of this.
Chris Kreider's game winner in Game 1 of the Rangers series is almost identical.
Brad Richards' goal in Game 7 that got the Blue Shirts going was similar, although Holtby was pretty well screened on that one.
On all three goals, Holtby was beaten glove side, low.
Against the Bruins, six of the goals Holtby allowed went in off of his glove side. A couple of them he actually got his glove on, but the puck went in anyways.
Against the Rangers, Holtby got better with this issue.
He whittled that number down to just three. And some of the saves he made with his glove, particularly against the Rangers, were simply spectacular.
There are plenty of reasons to feel very optimistic about Braden Holtby as the starting goaltender for the Washington Capitals.
With a bit of improvement in just a couple of areas, Braden Holtby can be one of the best goalies in all of the NHL.