Who Wears the Crown: Identifying the Steelers' Best Player at the Midseason Mark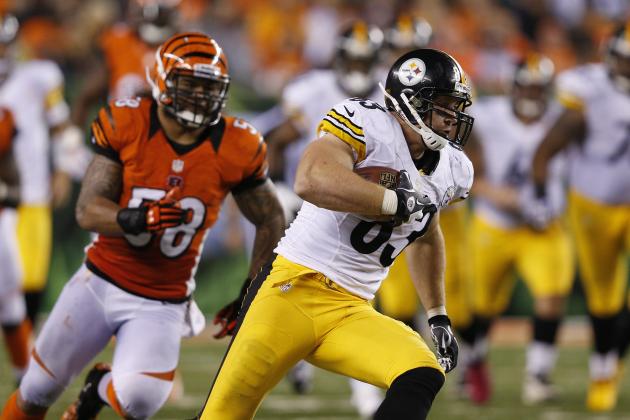 Joe Robbins/Getty Images

The talent-laden Pittsburgh Steelers haven't looked the part as they have stumbled to a 3-3 start this season.
Injuries to key starters have hampered the Steelers' early this season as several of their best players—including Troy Polamalu, James Harrison, LaMarr Woodley and Maurkice Pouncey—have missed games.
Despite the struggles, the Steelers can never be counted out because of the elite talent on the team and there have been several unusual suspects that have stepped up their game to keep the team in contention.
Here is a look at the five best players on the Steelers' at the midseason mark.
Begin Slideshow

»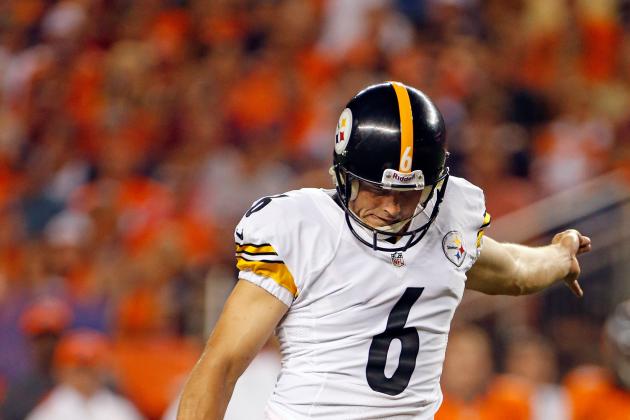 Doug Pensinger/Getty Images

A kicker is not typically a player that you would want to see as one of your favorite team's best players, but in the case of Shaun Suisham, there is no arguing his success this year.
The much-maligned Steelers' kicker has had an excellent start to the year after making 14 of his first 15 field goal attempts with his only miss being one from 54 yards.
While this miss cost the Steelers' a potential win against the Tennessee Titans, Suisham matched his career high with a 52-yard field goal in the same game.
Until the offense starts to score more touchdowns, the Steelers will need Suisham to make field goals at the rate he has been. Even though it is not the idea, they will at least be putting points on the board.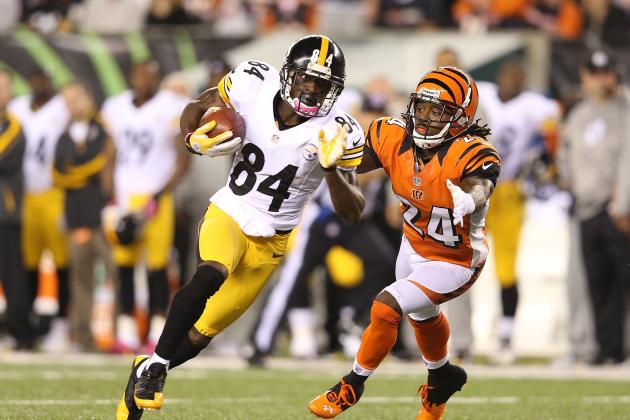 Andy Lyons/Getty Images

Antonio Brown is not an elite receiver, but he has developed as a go-to guy for Roethlisberger and has been the best receiver on the Steelers' so far.
Brown's 36 receptions and 442 yards both lead the team as well as his 225 yards after catch.
Just about the only thing missing from Brown's receiving game is his touchdown production. Through six games he only has one touchdown reception.
Beyond this, Brown has been very good for the Steelers. He has had 25 receptions that have gone for first downs and 10 of his 11 receptions on third down have gone for firsts.
Brown has made an impact on special teams as well returning punts.
While he has only averaged 6.8 yards per return, Brown has flashed a dangerous ability to break out a long return. However, he has had to deal with a multitude of special teams penalties that have called back several of his long returns.
Overall, Brown has been the best playmaker at receiver and just needs to improve his scoring production moving forward. If he does, he will move up the list of best Steelers.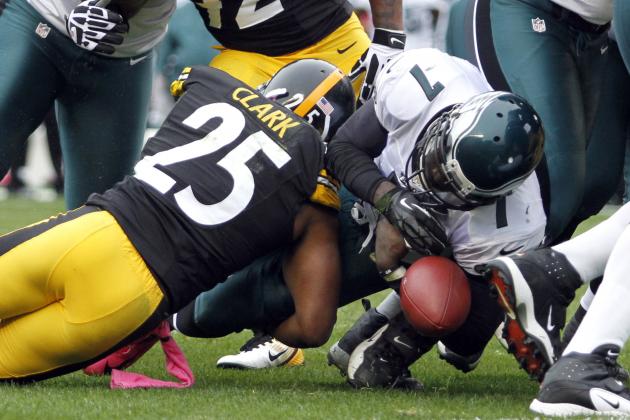 Justin K. Aller/Getty Images

With Polamalu out, Ryan Clark has had to do more than ever and he has been up to the task. He is excellent when defending the run near the line and has made many nice plays in the secondary.
Clark played one of his best games of the year last week against the Bengals when he helped shut down A.J. Green.
While lined up deep, Clark played mind games with Andy Dalton and would shift his coverage to Green's side before moving right before the snap. Dalton never knew where Clark would be.
Clark is only behind Larry Foote and Lawrence Timmons with 37 tackles and he has one interception, one forced fumble and four passes defended already this season.
More importantly, Clark is a stable presence in the secondary that has missed its best player in Polamalu and has seen its best cornerback—Ike Taylor—struggle for most of the season.
Clark still brings a physical presence that intimidates receivers going over the middle and he has laid the lumber several times already this year.
With an injury-riddled defense devoid of playmakers, Clark has been the best defender on a weekly basis.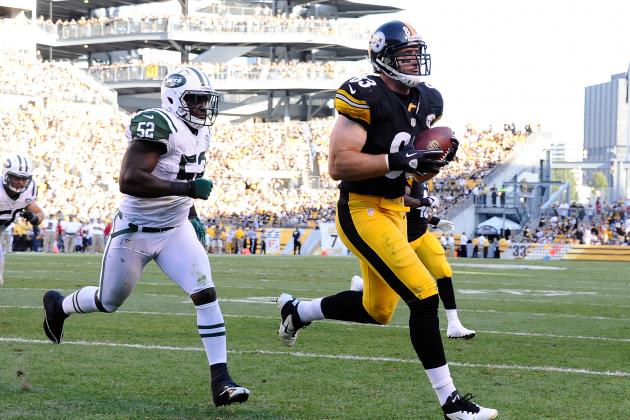 Joe Sargent/Getty Images

After eight seasons, Heath Miller has finally become a focal point of the Steelers' offense.
Miller ranks second on the team with 31 receptions and has 290 yards. He ranks fifth among NFL tight ends in receptions and is tied for fourth in the league with five touchdown receptions.
If not for Miller's presence in the red zone, the Steelers may not be scoring nearly as much this year. He caught a touchdown pass against the Bengals and made a huge reception on the two point conversion attempt.
Given his production, it is not a surprise that Miller is one of the most targeted players in the league inside the red zone.
Miller's numbers on third down have been particularly impressive. He has 11 receptions on third down with nine of them going for first downs and two touchdowns.
Throughout the entire season, Miller has been a dependable option and has had at least four receptions in five of six games.
With his current pace, Miller will have the best season of his career and cement his spot in with the upper echelon tight ends in the league.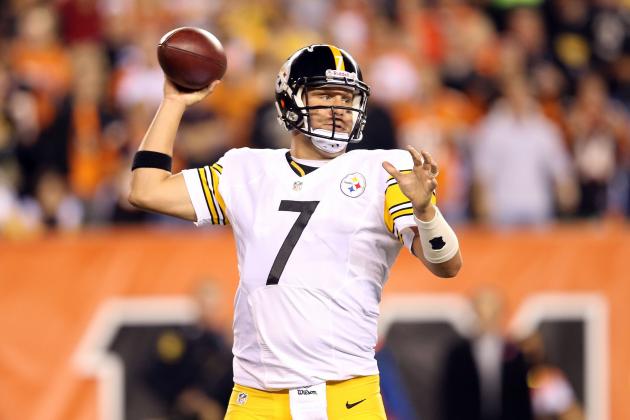 Andy Lyons/Getty Images

There have been few players as good as Ben Roethlisberger this year for the Steelers. He is off to one of the best starts of his career and appears to be getting better as the team continues to adjust to Todd Haley's offense.
Quite simply, until someone proves otherwise, he is the best player on the Steelers roster.
Roethlisberger is the fifth rated quarterback in the league as he completed 66 percent of his passes for 1,765 yards and 11 touchdowns with only three interceptions.
Though he had two turnovers against the Bengals, Roethlisberger once again helped carry the Steelers to a victory as he completed 27-of-37 passes—including at least four dropped passes—for 278 yards.
Through six games, Roethlisberger continues to be sensational on third downs where he has a quarterback rating of 116 as he has completed 46-of-71 passes for 621 yards and five touchdowns.
Beyond the stats, Roethlisberger continues to display the ability to elude pass rushers that separates him from most other quarterbacks.
Roethlisberger has only been sacked 13 times this season and is taking fewer unnecessary risks, thus the low interception numbers.
The best may be yet to come as well.
Pittsburgh's offense has been more productive than last season, but has still struggled to put the ball in the end zone. If Roethlisberger picks up his touchdown numbers he will take the Steelers' offense from the level of very good to one that is elite.
But regardless of the overall success of the offense, Roethlisberger wears the crown as the Steelers' best player.
Follow Chris G. on Twitter