Who Wears the Crown: Identifying the Bears' Best Player at the Midseason Mark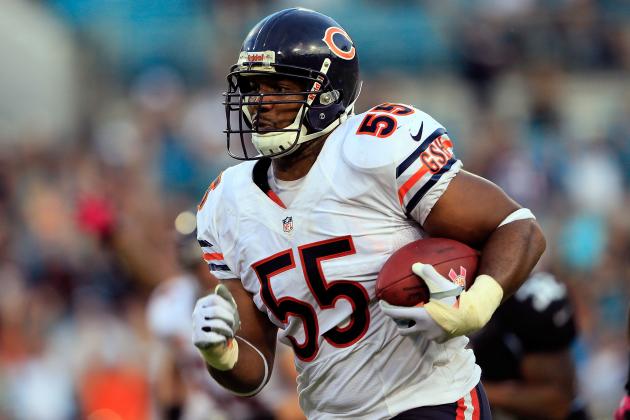 Sam Greenwood/Getty Images
Lance Briggs
The Chicago Bears currently sit on top the NFC North with a 5-1 record. Their dominant defense has been the catalyst to the team's quick start but their offense has had some standout players as well.
When you have a team playing well like the Bears there are usually a number of players who will standout. Each great performance should be recognized but only one guy can wear the crown as the team's best player.
Continue on as we countdown the five best players so far and reward the best performance with the crown.
Begin Slideshow

»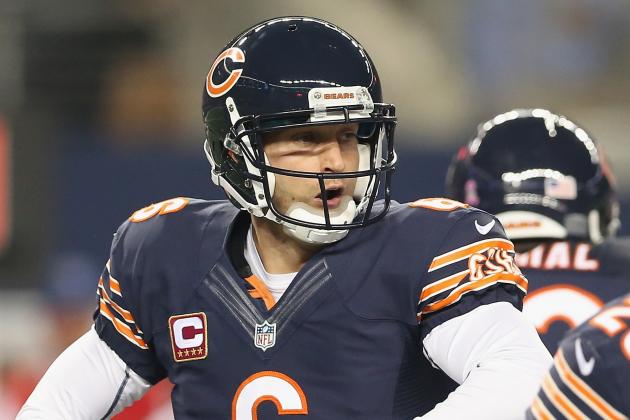 Ronald Martinez/Getty Images
Jay Cutler
The statistics are not off the chart for Jay Cutler but he is having a good season and most importantly he is trending up right now.
Cutler has eight touchdowns to seven interceptions. He's sporting a 56.7 completion percentage and has a quarterback rating of 78.3. None of those stats are going to wow you but look at what he's done outside of the debacle in Green Bay.
He's had one poor game but played well against the Colts, Cowboys and Jaguars. His game against the Rams was not that great but then again he wasn't really needed to throw the football and put points on the board. His performance on Monday night against the Lions goes way beyond stats. He showed true guts and leadership to stay on the field despite being in obvious pain due to a rib injury.
The offensive line has been a up and down, Matt Forte has missed time, Alshon Jeffery is out and the offensive coordinator has not put the team in the best position to succeed. Even still Cutler has played hard and deserves to be considered as one of the team's best players so far.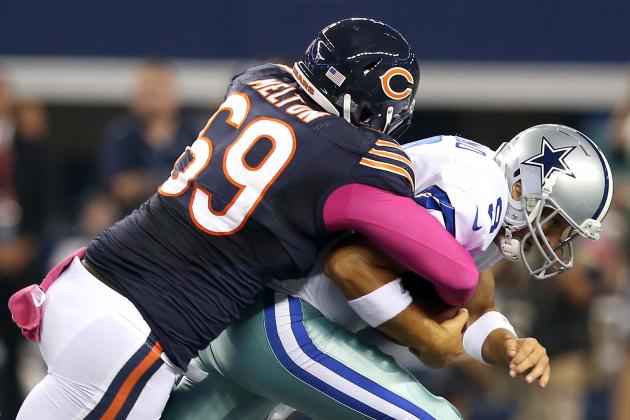 Ronald Martinez/Getty Images
Henry Melton
In the recent past the Bears' defense has been at its best when they have a dominant three technique defensive tackle. It should be no surprise the unit is playing well right now because of the standout effort of Henry Melton.
Since week one, Melton has been an unstoppable force up the middle. He currently has 4.5 sacks and a forced fumble to go with 18 tackles but that doesn't tell the entire story.
The Bears have 21 sacks as a team and have only given up 428 yards on the ground through six games. Melton has been the perfect combination of a pass rushing machine and forceful run stuffer. He's freed pass rushers to get after the quarterback and linebackers to shut down the run.
Should Melton continue on his season trend and finish with over 10 sacks while the team maintains top defensive honors in the league then there will be no question he is an All-Pro and should be considered as one of the best interior defensive lineman in the league.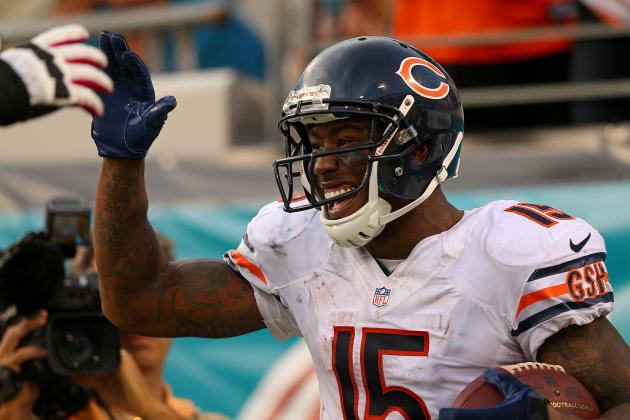 Mike Ehrmann/Getty Images
Brandon Marshall
Coming into the season there was a ton of hype surrounding Brandon Marshall and his move to the Bears. Thankfully for the team and its fans he has lived up to it.
Through six games, Marshall has 41 receptions for nearly 600 yards and four touchdowns. He is on pace to finish with around 100 receptions and be the first Bear to go over 1,000 yards receiving since Marty Booker in 2002.
Imagine what Marshall is faced with every week. He is the only All-Pro receiver on an offense dealing with injuries and inexperience at the same position. Every team who faces the Bears knows he is the guy they must slow down and yet he still is highly productive.
Marshall has gone over the middle, stretched the field and provided Jay Cutler with a high level of security. He has been a model citizen so far and easily the best player on offense for far for the team.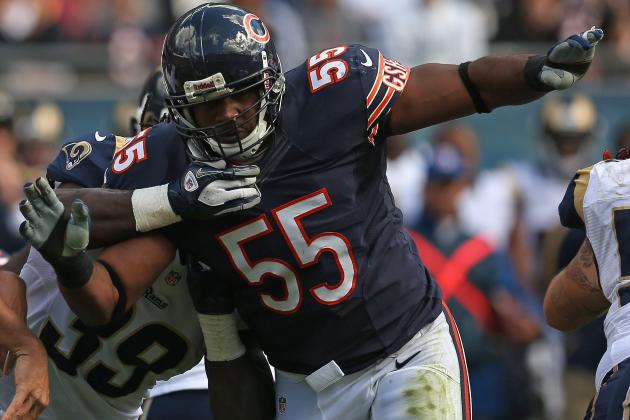 Jonathan Daniel/Getty Images
Lance Briggs
It's tough to say a guy who has been to seven Pro Bowls and who is in his 10th year is having his best start ever but here we are with Lance Briggs.
Briggs came into the season with three defensive touchdowns in his career. He's had two already this year both coming off interceptions. He also has a sack and two forced fumbles to go with his 37 tackles.
He has been at the top of his game and doesn't look at all 31-years-old he is. Briggs has been instrumental in shutting down the run and has made big plays in the passing game normally reserved for his teammate Brian Urlacher.
Briggs has never had over 2.5 sacks or four forced fumbles in a season. He could surpass both those season milestones and further add to his defensive touchdown total. Right now he has to be in the discussion for Defensive Player of the Year and will look to strengthen his case as the season goes along.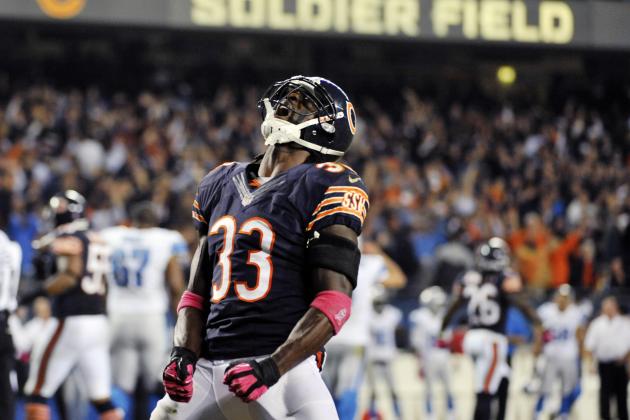 David Banks/Getty Images
Charles Tillman
The way the Bears have played this year it was a no brainer their best player so far was a defensive player. The dilemma was to choose one standout on the unit. Then when you look you can't help but see Charles Tillman standout.
Last season was Charles Tillman's first year as a Pro-Bowl player. Playing the way he is now they will be forced to invite him back. Tillman has two interceptions, both for touchdowns and three forced fumbles. He has been a lock down corner frustrating big league talents like Calvin Johnson, Jordy Nelson and Dez Bryant.
Tillman's play has allowed guys like Tim Jennings, Chris Conte and Major Wright to excel in other areas. Him being the anchor and leader of the secondary has had the unit playing at a very high level when they were looked at as a question mark coming into the season.
What sealed the deal for Tillman was his play on Calvin Johnson. There are a very limited amount of corners in the league who have the confidence and ability to do what he did to one of the best in football. His play was magnificent and has been the entire season.
Have the spotlight on you week in and week out of going up against a number one receiver and be able to shine then you deserve the crown. Without Charles Tillman the Bears are not on top of the division and he has been the team's best player so far.