Liverpool: Top 5 Candidates to Become the Reds' Next Big Star and Talisman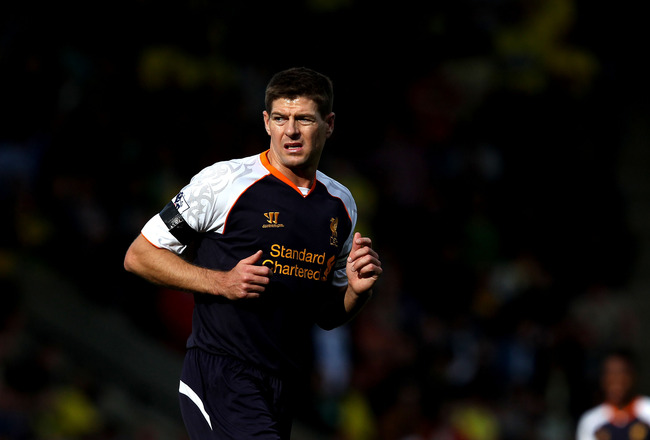 Jan Kruger/Getty Images
Times are tough at Anfield and have been for the past three or four seasons.
During these periods of doom and gloom, every club needs one or perhaps even several figures they can follow towards the light.
At the moment, many a Liverpool supporter would tell you that the duties of being the Reds' bastion are currently fulfilled by Steven Gerrard, but at the age of 32, eyes are now turning to the future.
In his 25-year stay at the Merseyside outfit, Gerrard has come up with the goods on countless occasions, bringing his side from the brink of defeat and leading them to more promising pastures.
So, with Gerrard ageing and the podium there to be occupied, who within Brendan Rodgers' squad will be the next team talisman that can be relied upon to combat adversity in the coming years?
Daniel Agger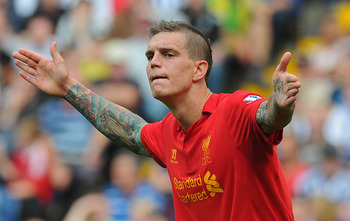 Michael Regan/Getty Images
Having arrived Merseyside in the middle of the 2005-06 campaign, injuries have played a major role in limiting the Liverpool career of Daniel Agger.
That said, the Danish stalwart has stuck around at Anfield, and is currently one of the club's premier defenders, slowly taking defensive duties away from senior figure Jamie Carragher.
Speculation has surrounded Agger's recent career, after the likes of Manchester City began to raise interest in his signature over the summer.
Despite the bad period that the club has been going through, the inked-up centre-back dissuaded any rumours and proved his loyalty to the club by penning a new four-year contract with the Premier League giants.
It's this kind of dedication that goes down well with the Kop faithful, and the popular saying goes that if you can't be with us when we're losing, don't be with us when we're winning.
As a signal of his intent, Agger got the popular Liverpool adage, YNWA (You'll Never Walk Alone), tattooed across the knuckles of his right hand, and fans will be hoping the player's stay is as permanent as the art on the defender's body.
Providing Agger can stave away injuries, the versatile defender can certainly be the beacon in the backline to build the foundation upon which Liverpool can enjoy any future success.
Luis Suarez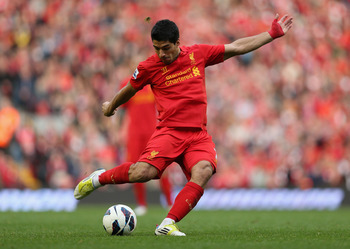 Clive Brunskill/Getty Images
Currently the leader of the Reds' attack, if anyone were to step up and be the man that leads Liverpool out of their current slump, Luis Suarez would seem the likeliest candidate.
By no means has the Uruguayan international revived the kind of prolific form that he enjoyed in his Ajax days, but Suarez is undoubtedly improving the longer he plays in the English top flight.
In his first full season at Liverpool, Suarez managed to net 17 goals in 39 appearances across all competitions, but is already on track to beat that tally in the current campaign.
With seven goals and four assists in his first 11 games of the 2012-13 term, Suarez has played a part in a goal every game on average, the kind of efficiency displayed by numerous Reds talismans over the years.
Although the South American is at the centre of controversy quite frequently, the 25-year-old recently made a massive statement of his intentions over the summer by agreeing to a new six-year deal at Anfield.
In the Premier League, long-term loyalty is sometimes hard to come by, and for Suarez to commit his considerable talents for such a period shows monumental loyalty.
While he may not necessarily see out that contract, it looks as if Suarez will remain the most probable source of goals at Anfield for some time to come, and he needs to lead by example.
Joe Allen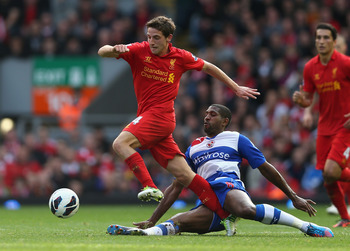 Clive Brunskill/Getty Images
Purchased with the intention of recapturing the kind of form displayed in Swansea City's miraculous 2011-12 campaign, Brendan Rodgers placed a lot of faith in Joe Allen, pursuing the midfielder for the majority of the summer transfer window.
Some have been critical of Allen's lack of penetrative play since moving to Merseyside, saying that his style of play encourages backward movement.
However, the value of retaining possession is sometimes underrated, and when you break this sport down to its bare bones, you can't score without the ball.
What's more, WhoScored recently pointed out that while 11.1 percent of Allen's passes have gone backwards, Steven Gerrard has made 16.8 percent of his backwards as well. While this isn't to prove who the better player is, it may restrain some critics from making such claims so often.
Although the 22-year-old isn't as attack-minded as current leader Gerrard, the British Olympian and Welsh international is already proving himself as a player of the Liverpool standard.
With a pass completion rate of 93.5 percent in his first 12 games as a Red (via WhoScored.com), Allen's midfield fluidity may be crucial in the waning years of the ageing Steven Gerrard.
Raheem Sterling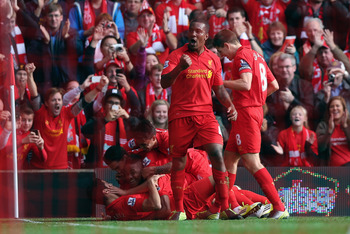 Clive Brunskill/Getty Images
After recently becoming Liverpool's second-youngest Premier League goalscorer of all time, there's no reason to think that, despite his age, Raheem Sterling can't become the club's attack for the next generation.
With Andy Carroll moving on loan to West Ham, and attacking assets hard to come by at Anfield, Sterling has excelled in his new responsibilities.
Many amongst the Liverpool fraternity will have been aware of Sterling's talents for some years already, but it's only now that the youngster is getting his fair share of playing time on the first team.
Just as Wayne Rooney was once part of Merseyside, Raheem Sterling could easily grow to become the leading starlet in the red half, and is already making considerable waves.
Raised in the club academy, the 17-year-old has made seven starts for the Reds across all competitions this campaign, and with the strength of the Kop faithful behind him, Sterling can flourish as the potential future of his club.
Lucas Leiva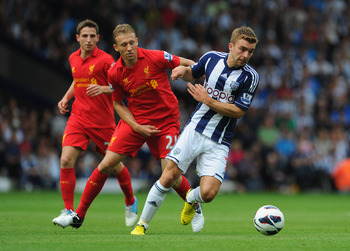 Michael Regan/Getty Images
Another Liverpool star to have struggled continuously with injury in recent years, Lucas Leiva's lack of playing time has been an unfortunate circumstance for the Merseyside outfit.
A series of ACL and thigh injuries have seen the Brazilian international ruled out for various periods of time during his five-year spell, not many of which have been mercifully short.
Seen as somewhat of a liability for patches of his first two seasons at Anfield, Lucas really started to come into his own during the 2010-11 campaign, and was a vital part of the Reds' squad prior to the season-ending injury he picked up in December 2011.
If the defensive midfielder can maintain his fitness and provide Liverpool with the central anchor, a position for which he has clearly shown his capability during his tenure, Lucas has the ability to be a pivotal component in Brendan Rodgers' side, regardless of a lack of attacking input.
Keep Reading

Liverpool: Like this team?