Boston Red Sox Media Needs to Redirect Criticism Towards Players and Management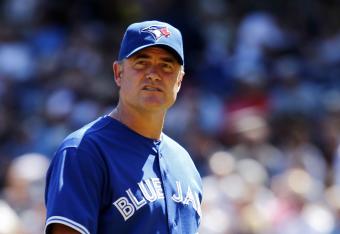 John Farrell needs to take charge of the clubhouse.
Jeff Zelevansky/Getty Images
The Boston Red Sox's 2012 season was an unmitigated disaster since the start of spring training.
The focus should be on the players, but rather than digging into the real issues, blame seems to be put onto recently fired manager Bobby Valentine.
During the season there were several miscues, but for the most part Valentine seemed to be a mere puppet wearing a Red Sox hat.
Though he was known for his out-of-the-box ideas, in Boston he was more known for his quirky attitude during pre and post-game press conferences.
Throughout the season fans grew increasingly agitated by the team, the media coverage and ownership.
When you're paying a league high $53.38 for the average non-premium ticket, the Fenway faithful deserve answers.
On September 12, Rich Shertenlieb, co-host of 98.5 The Sports Hub's Toucher and Rich morning show tried to get those answers.
"Toucher and Rich" took to twitter asking listeners to submit a question that Shertenlieb would ask at the pre-game press conference.
While the morning hosts lack direct experience working a beat like The Sports Hub's afternoon hosts Michael Felger and Tony Massarotti did prior to working on the radio, they treated this professionally and weren't looking to use this as a bit.
Did Toucher and Rich cross a line?
Shertenlieb began the press conference by asking Valentine "Obviously it's been a tough year for the fans of the Red Sox and if you had to make your case to those fans as to why you should remain the manager of the Red Sox next year, what would you say to them?"
Valentine replied: "I feel bad for those fans. I don't have to make a case to them, though. I've suffered with them."
Shertenlieb followed up asking "But from the outside looking in, what do you want to say to them in order to make them believe that if you were to stay next year would have a different result?"
"I'm the best man for the job," Valentine replied.
Rather than being praised, shortly after the press conference ended, members of the baseball media criticized Shertenlieb's questions.
In particular, Gordon Edes, who works for ESPN Boston, took issue with what has been dubbed an "incident" by saying "Radio talk-show hosts don't typically show up for pregame sessions, but Valentine presented WEEI's Glenn Ordway with a gift sound bite last week, so perhaps 'EEI's rivals were looking for the same. If so, they probably went away disappointed."
What started as a harmless question that fans rightfully wanted to ask turned into a point of contention among the Boston media.
But it didn't end there.
A little over a month after the press conference, Edes hypocritically used the same tactics that Toucher and Rich used.
Who is to blame for the 2012 season
Leading up to the introductory press conference for John Farrell, Edes reached out to his Twitter followers and compiled a list of 20 questions to ask Farrell.
However, unlike Shertenlieb, Edes didn't ask Farrell any of the 20 questions he compiled during the press conference.
Edes did ask Ben Cherington one of the questions, but didn't direct any of the submissions directly to Farrell.
Moving forward, beat writers should take a page from Toucher and Rich's book and be more critical of the organization.
Whether or not you agree with the tactics, Farrell is a step up from Valentine. Farrell is a straight shooter that won't side step questions and most likely will take the same approach with his players.
The 2012 offseason will be extremely important if the Red Sox are going to have success and return to the playoffs.
Hiring Farrell a month before the team hired Valentine last season is a giant step in the right direction.
Now that the manager has been decided, focus can now be directed towards fixing the roster which is the real reason why the team failed to reach the playoffs for the third straight season.
This article is
What is the duplicate article?
Why is this article offensive?
Where is this article plagiarized from?
Why is this article poorly edited?

Boston Red Sox: Like this team?