The Dumbest Traditions in Sports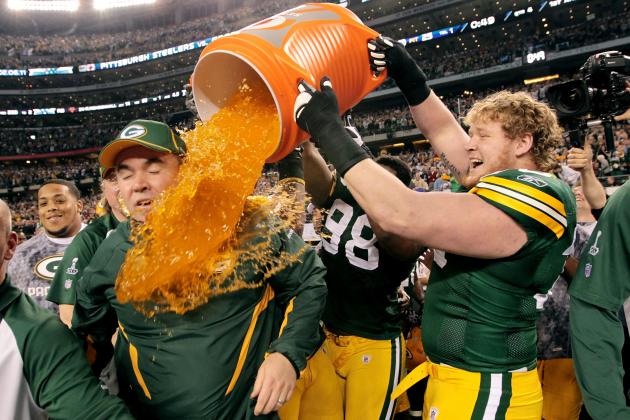 Jamie Squire/Getty Images

Trick-or-treating, blowing out candles, not stepping on sidewalk cracks—traditions endure.
In sports, however, some of the most obscure practices are embraced. Actions that could be considered disturbing or possibly illegal in certain crevices of the world have been tossed atop pedestals in the sports world.
With the NHL lockout firmly in place, we can't help but miss the mind-boggling acts of appreciation displayed during and after hockey games. Let's pay homage to all the octopuses usually tossed onto the Joe Louis Arena ice and look at the dumbest traditions in sports.
Begin Slideshow

»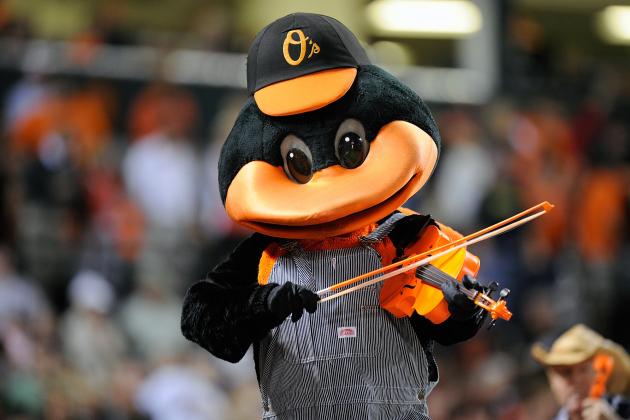 Greg Fiume/Getty Images

If we can watch Gone with the Wind without a pause, a three-hour baseball game shouldn't be an issue.
Especially considering that by the seventh inning we've already logged three miles hitting the restroom, refilling beer cups and grabbing napkins for our garlic fries.
Continually remixed versions of "Who Let The Dogs Out" should be tossed in the '90s garbage with mushroom haircuts and colored ketchup rather than overplayed during NBA timeouts and while guards dribble the ball upcourt.
And then again during halftime, and then again in double overtime.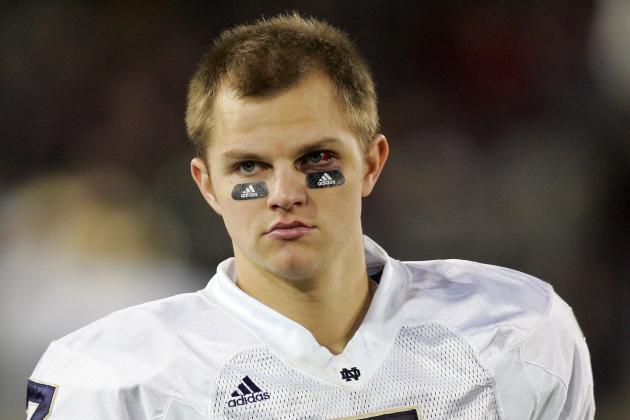 Ezra Shaw/Getty Images

With visors and sunglasses being just as effective, perhaps it's time to eliminate possible fodder from being scripted under athletes' eyes.
Save the area codes, psalms and "I heart huckabees" messages for Twitter or your diary. And for God's sake, please don't advertise...ahem, Jimmy Clausen.
Most boxers have been swinging fisticuffs since their first week out of the womb. One would expect them to be aware of the rules. However, that doesn't stop judges from repeating the same rules over and over again.
So what you're saying is that we still can't hit below the belt or in the groin? Just making sure.
One day, a judge will switch it up and institute one new rule: There are no rules. We're waiting...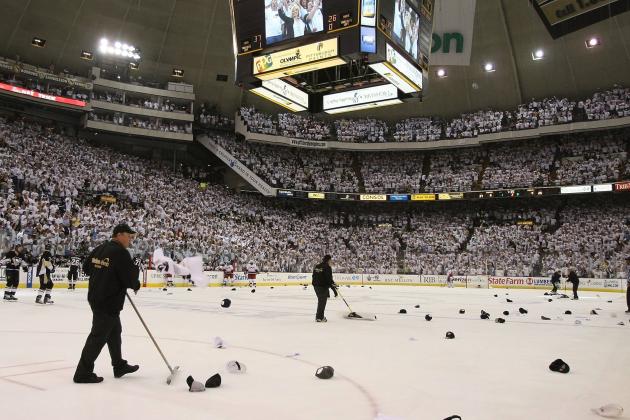 Bruce Bennett/Getty Images

Love the vibe, hate the financial backlash.
If buying hats in arenas didn't cut into your child's college education, we'd be ecstatic over the idea of tossing them on the ice. But we have to be frugal in our approach.
Here's an idea: folded sheets of paper with new commissioner suggestions.
Streaking has had its legendary moments, but for most of these culprits, the learning curve remains the same. No, we don't want to see your bare rump. And no, your eventual tazing is not quality television.
One of two things can happen to a streaker. Either he's leveled by an annoyed linebacker, or arrested after failure to cover up the license plate on his getaway vehicle.
Ross Kinnaird/Getty Images

This one is a head scratcher. Golfers get the silence that boxers and trainers yearn for when hitting a ball that isn't even in motion, while tennis players enjoy a quiet atmosphere so that—we assume—analysts can properly critique their grunts.
Only in sports where dialogue and verbal exchange is necessary are crowds the loudest. Seems fair.
Choices like President Barack Obama and comedy legend Bill Murray seem logical, but the Kardashians? Is the world ever tired of keeping up with this famous-for-being-famous crew of misfits?
On the other hand, they still did better than Wizards star John Wall.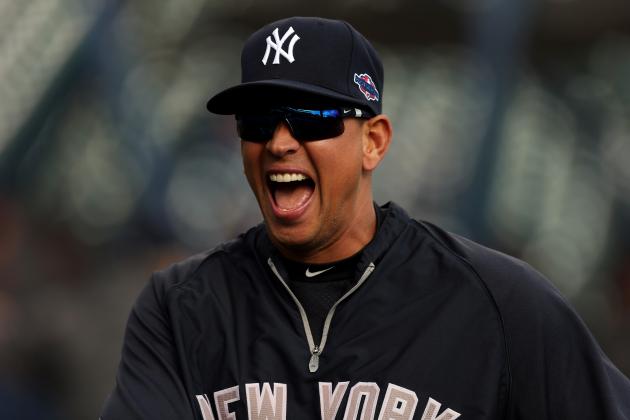 Jonathan Daniel/Getty Images

In some situations, like Alex Rodriguez at the dish, "overrated" chants can be applicable and almost necessary. At the same time, however, let's truly understand the essence of the chant and what it means for the home team.
This echoing opinion simply cheapens your team's victory. Perhaps a "correctly rated" chant would give the home team more proper kudos for beating a legitimate opponent.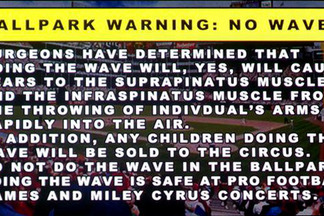 Image via cbssports.com
As if baseball fans need any other reason to stand up and sit down, the wave offers families an acceptable opportunity to annoy everyone sitting behind them.
No worries, we didn't want to see the actual game. Especially with two outs in the ninth of Game 7 of the World Series with the bases loaded. Thousands of flailing arms—now that's historic.
While loosely defined as a "tradition," diving has become a universal disgrace. More properly referred to as flopping, this face-to-palm art remains a frustrating visual that offers no solution.
Most of these footballers seem several self-tossing moments away from an Academy Award nomination.
Without arguing, Phillip Wellman would be just another unknown minor league manager spitting and scratching on the bench. And for highlight reels like this, we'll embrace any such tradition.
But rarely does it work. And by rarely, we mean never.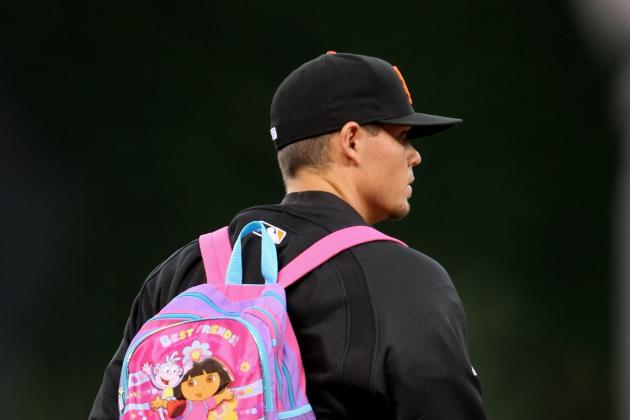 Doug Pensinger/Getty Images

Following five months of 25-man rosters, on September 1 to be precise, teams are allowed to expand their bench to 40.
Why is stockpiling extra relievers, hopeful prospects and third catchers in the most crucial month of the baseball season significant?
Well, it's simply unfair to have teams playing with varying amounts of players, and it diminishes the value of several teams' one-dimensional players. For example, lefty specialists become useless because opponents can stack their benches with right-handed hitters.
Let's have 40-man rosters during April, when teams are still finding their grooves. Not during playoff runs.
Whether they make the free shot or not, NBA players always lean in for expected daps following every release. As if $10 million a season wasn't enough, these athletes need more loving. In a perfect world, an air ball would lead to a slap in the face.
Andrew Bogut knows how it's done.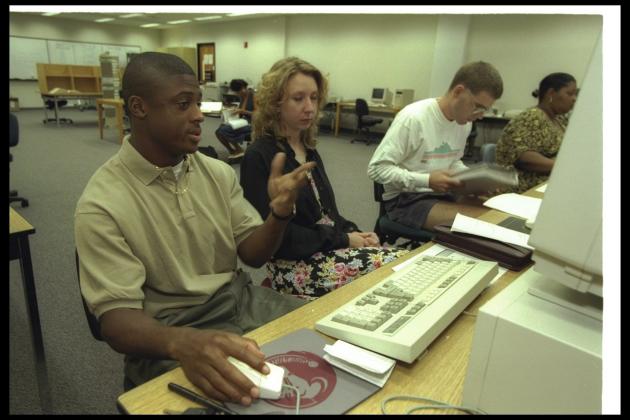 Andy Lyons/Getty Images

The only league that has a computer formula to produce championship candidates, NCAA football continues to leave fans with more questions than answers.
With more focus placed on how convincing a team's victories were and how stellar its uniforms looked (or so it seems), college pigskin might want to alter its FBS approach. Here's a thought: how about placing the 10 teams that play for the five BCS bowls into a tournament and letting them play for it. Asinine thought, right?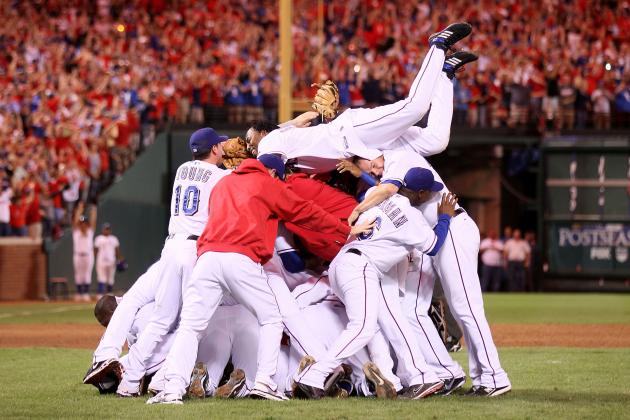 Elsa/Getty Images

It's all fun and games until someone gets hurt. Just ask UCLA second baseman Tyler Rahmatulla, whose wrist turned to crushed velvet after UCLA's 2010 club beat Cal State Fullerton to win their Super Regional and clinch a berth into the College World Series for the first time since 1997.
After his go-ahead two run home run in the ninth inning, Rahmatulla, hitting .328 at the time, was naturally surrounded by recklessly excited teammates. Because of the resulting broken wrist, he would miss the entire World Series.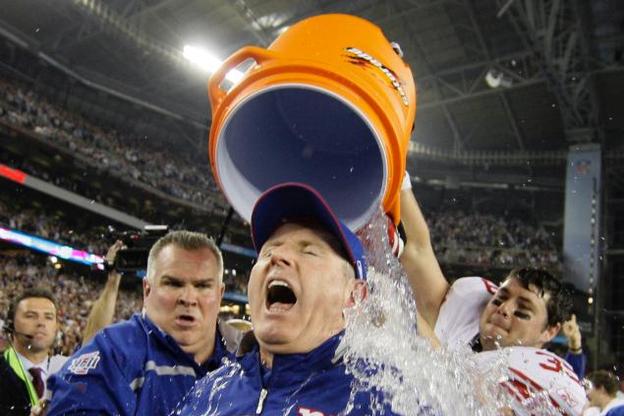 Image via bigblueunited.com
Dumping tubs of frozen sugar water on coaches and late-game heroes has become a universal ritual in sports. In the 110-degree Arizona heat, in fact, it's often encouraged.
But for individuals who've just spent 60 grueling minutes in Lambeau Field's icy confines, a Gatorade shower remains a distant second to a lava dousing. Let's try a vat of hot chocolate next time.
While two women could make this style of theater legendary, the kiss cam often highlights elderly couples who are too sick of each other to even exchange high fives.
So many possibilities, so many horrific executions.
Rich Lam/Getty Images

Regardless of result, you're bound to see thousands of slobbering fans chaotically chanting in the parking lot follow the game. Few instances more ridiculous than the Vancouver riots in 2011, following the Canucks' loss to the Bruins.
Smashed cars, trampling herds, fires and one tongue-locked couple. Pure madness.
Madness? This...is...SPORTS!
For college students, the champagne celebration is simply a waste of alcohol. For everyone else, the champagne celebration is a waste of alcohol.
Bottles of the bubbly are irresponsibly tossed around like sports cliches, and it makes us sick every time. Especially considering recovering alcoholics such as Josh Hamilton can't even engage in such activity. Once again, chocolate milk seems the proper alternative.
Follow me for more traditional nonsense. Follow @z_pumerantz