Lions vs. Bears: Detroit's Biggest Winners and Losers from NFL Week 7
Al Messerschmidt/Getty Images

Some will say this game was closer than the score suggests. Some will say it wasn't even that close.
Some will talk about how the game could have been completely different without the turnovers. Some will lament the play-calling, or time management, or something else. Some might even blame the defense for some reason.
The NFL won't care, because a loss is a loss.
The Detroit Lions are now 2-4 on the season after the 13-7 loss to the Chicago Bears, with some of their toughest games yet to come. On one hand, there is every reason to believe this is still a talented Lions team, and on the other, there is basically no reason to believe they can win week in and week out.
Really, there were plenty of ups and downs in this game, even though it was much like the Lions' other prime-time game against the San Francisco 49ers: The Lions were never really out of it, but never really in it, either.
Still, there were some bright spots, at least on an individual level. Let's think about those and the Tigers playing the Giants in the World Series instead for a while.
Begin Slideshow

»
Dennis Wierzbicki-US PRESSWIRE

Much like Kevin Smith in 2011, Alphonso Smith went from being cut by the Lions and sitting on his couch to playing for the Lions and having a huge game in just a couple days.
Smith didn't play a perfect game by any means, but he made a number of huge plays (particularly on fourth down) and gave up basically none.
Smith likely isn't any kind of answer for the Lions secondary, but he played well enough Monday to make the Lions happy to have him back.
It will be interesting to see how the Lions choose to use Smith once Bill Bentley and Jacob Lacey are back healthy.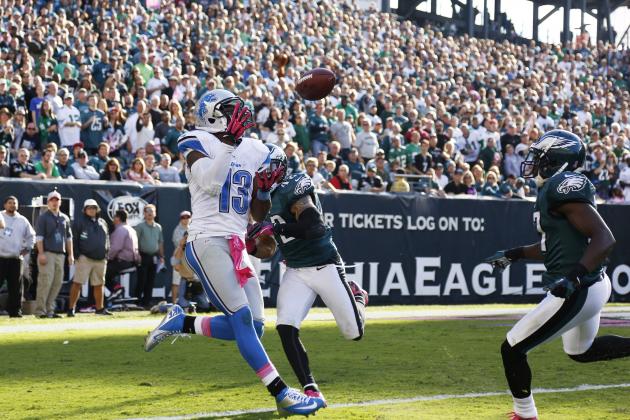 Joe Robbins/Getty Images

Burleson didn't do anything with his play that warrants this spot.
He's here because of this:
Lions lose Nate Burleson for season with broken leg wp.me/p14QSB-68H8

— ProFootballTalk (@ProFootballTalk) October 23, 2012
That's a huge blow to a receiving corps that was already struggling, and an equally large blow to the veteran Burleson, who already has a pair of young receivers on the depth chart waiting for their chance.
In addition to his strong play on the field, the Lions will sorely miss Burleson's leadership on and off the field.
However, there is a silver lining for the Lions here...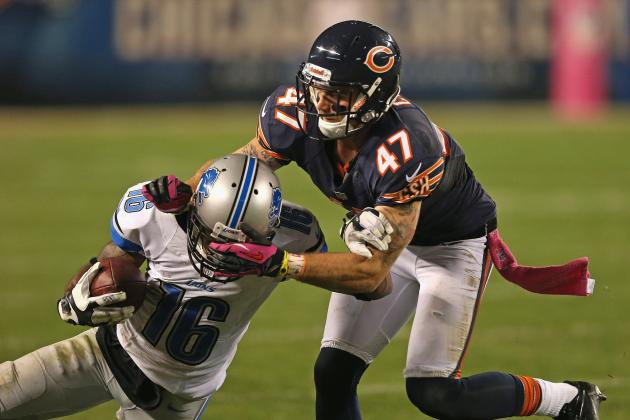 Jonathan Daniel/Getty Images

I don't want to say this is related or anything, because I don't think it is, but pretty much the moment Nate Burleson went out of the game, Titus Young and Ryan Broyles started coming up huge in the offense.
In fact, those two finished the game as the Lions' top two receivers.
Special mention to Broyles, who earned his first NFL reception and touchdown in the same game.
Young led the team with six receptions for 81 yards, most of that on late drives and in clutch situations.
I've been saying all season that secondary receivers needed to start making plays to take pressure off Calvin Johnson. It looks like today they finally did...although Johnson didn't exactly benefit from it this time.
Maybe in the next game these guys won't wait until the fourth quarter to get going. But based on what we've seen so far, they probably will.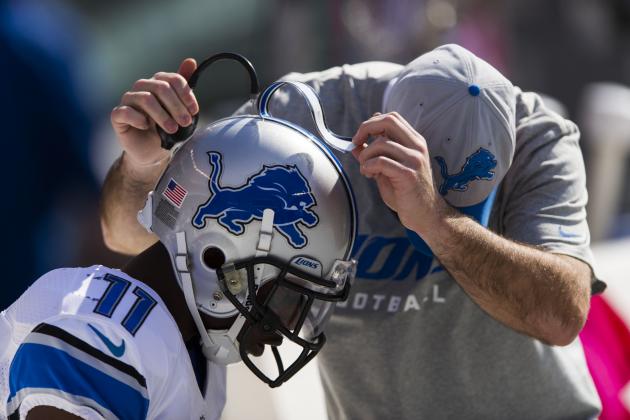 Howard Smith-US PRESSWIRE

Don't be surprised if Stefan Logan isn't on the roster come next weekend.
Logan didn't really have a chance to return much in this game, so he really had only one job: catch the ball on kicks and punts.
Twice, he failed at that job. Once, the ball tumbled harmlessly out of bounds. This second time, he turned it over and the Bears got a field goal that ended up being crucial.
Two other times, Logan handled balls he had no business being near, while they were tumbling around with Bears defenders everywhere.
Logan is only on the team for his special teams abilities, but the Lions surely have someone on the team who is able to field a punt properly. At this point, Logan isn't even doing that.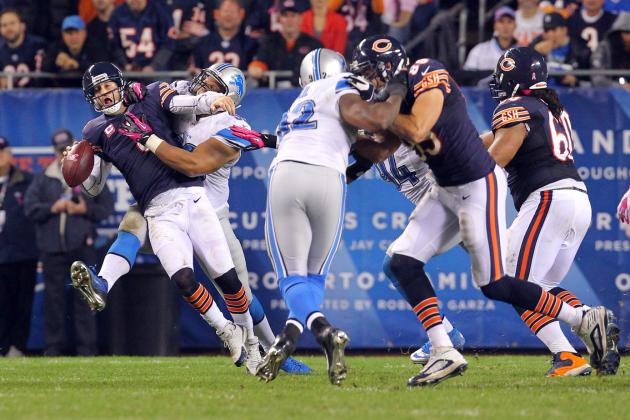 US PRESSWIRE

The only thing else the Lions could have asked of their defense is a turnover.
The Lions got sacks, they got stops, they blocked a kick, they bailed the special teams and offense out and basically were the only thing standing between the Bears and a blowout victory.
As basically the capstone of the defense's play, Ndamukong Suh spiked Jay Cutler into the turf in what is almost certainly the most vicious legal hit he has ever laid on a quarterback (other than the other legal hit on Jay Cutler that he got flagged and fined for in 2010).
Suh bruised Cutler's ribs on the play, and while Cutler continued to play, he didn't appear to be as sharp afterward. After that play, the Bears were only able to score a field goal after Stefan Logan's second muffed punt of the night.
This has been a theme for the Lions all season: The defense keeps the game close while the offense waits for its dramatic entrance.
Which brings me to my next point...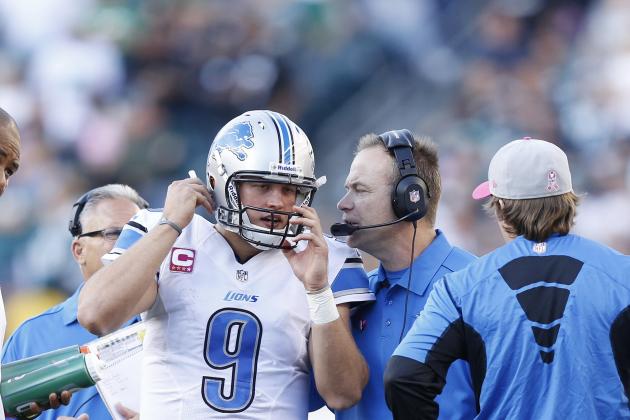 Joe Robbins/Getty Images

Is it Scott Linehan's fault? Quite possibly.
Matthew Stafford's? Maybe.
Jim Schwartz? Calvin Johnson? Who, or what, can we point to to explain why in the world the offense looks as bad as it does?
What possible reason can there be for one of the (theoretically) most explosive offenses in football to go scoreless for the first 59 minutes and 30 seconds of a game?
I'm not saying heads need to roll just yet, but if this trend doesn't reverse by the end of the season...well, something has to give.
But if we're going to blame Scott Linehan for the Lions' troubles, let's also credit Gunther Cunningham for quietly doing a fantastic job, and admit that special teams coordinator Danny Crossman had nothing to do with Stefan Logan muffing two punts.
And when we're done with that, resume being exasperated with the Lions' mystifying struggles on offense, and hope that maybe, just maybe, Ryan Broyles is the answer.
At least he can't make things worse.