Detroit Pistons: The 5 Most Frustrating Players on the Pistons Roster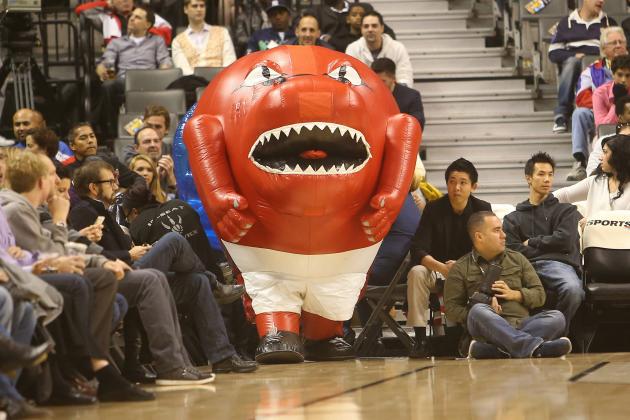 Tom Szczerbowski-US PRESSWIRE
Certain Pistons sure can make fans see red.
This season is full of youth, of promise, of hope generated from a Detroit Pistons team coming off a .500 run over the last 42 games of last year—a run which would get them into the playoffs, were they to repeat it this season.
But this article is not about youth or promise or hope.
It's about frustration.
It's about players paid to produce who haven't produced. Players who flash potential but don't sustain it. Players whom you sense have more to give but can't, or don't, give it. Players who madden, who infuriate, who make you want to throw something at the TV set or onto the court and yell words that would make your mother gasp in shock.
It would be nice to say the Pistons don't have any of these players. It would be nice.
But they have five of them. Five guys who have either run out the clock on fan patience and support from management, or for one reason or another, just get us cheesed.
So let's vent our frustration. It'll sure make us feel better. And who knows: maybe it'll light a fire under their (insert mother-unapproved expletive here).
Begin Slideshow

»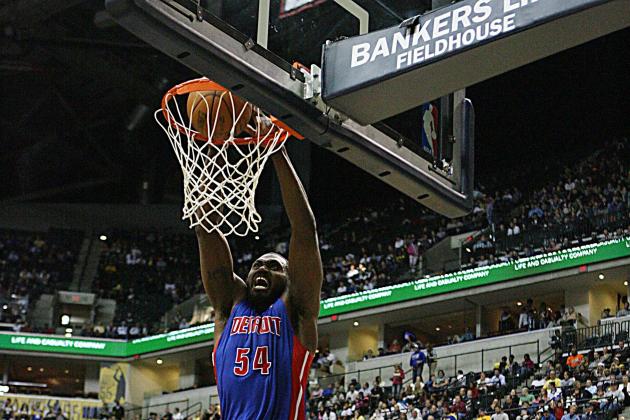 Brian Spurlock-US PRESSWIRE
Sure, Jason Maxiell can elevate. But a few more inches and he'd dominate.
Now hold on, before you get all hot under the collar, Jason Maxiell plays hard, is athletic, and honestly overachieves for his size.
And that's what's so frustrating. Am I the only guy who watches him and wonders what the guy could be if he were just a few inches taller?
Ben Wallace, who cannot be matched for ability but whose game Maxiell's somewhat resembles, was two inches taller. Look where it got him—four-time NBA Defensive Player of the Year, six-time All-NBA Defensive Team, the face of the Pistons franchise, and a max deal with the Bulls.
Three inches on Jason Maxiell and he coulda been a contender too, instead of just the valuable role player he is. Four or five inches, and the Pistons would never have needed to draft Andre Drummond (and they would never have been able to, because they wouldn't have been in the lottery last year).
They say size doesn't matter. Well, it does matter at the 4 or the 5. And with his heart and determination, Maxiell deserved just a few more inches.
But sometimes life isn't fair, is it?
Oh well. At least he's our undersized power forward.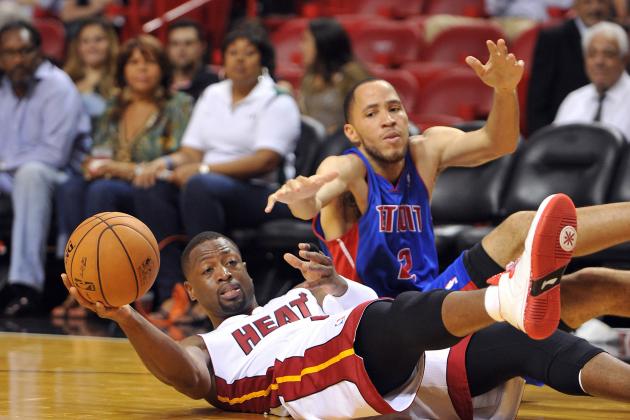 Steve Mitchell-US PRESSWIRE
With a little more killer attitude, Tayshaun Prince could be a perennial All-Star
Does anyone remember the clinching Game 7 in the playoffs against Tracy McGrady and the Orlando Magic, during Prince's rookie year? The wispy-thin small forward, who played so sparingly during the regular season, came out of nowhere to shock the world, scoring 20 points in just 24 minutes as his team completed their comeback from a 3-1 deficit to advance to the next round.
Prince's debut was reminiscent of Eric Hipple's Monday Night Football debut—we expected big things after that. But nothing truly big happened.
Now, with due respect, Prince's block on Reggie Miller was arguably the decade's signature defensive moment. He's averaged almost 13 points per game in 33 minutes. He's made four NBA All-Defensive second teams. He can even handle the ball well from the 3 if asked to. The guy is without a doubt a solid NBA pro.
But much like I watch Maxiell and wish he were taller, I watch Prince and wish he played angrier. With more determination. Asserting his leadership. Demanding the ball.
Instead, he quietly scores his points and heads to the locker room. And the image we're most often left with is not that of a fiery sparkplug willing his team on, but of Prince with his hands on his hips pouting to a referee.
I don't know what it's like to grow up in Compton, and I'm probably out of place to even speculate, but my sense is it's got to be massively tough. Tayshaun Prince not only made it in Compton, but he also stayed in college all four years and got his degree. That's a lot to be proud of, and thankful for.
But I find myself speculating sometimes that perhaps Prince's easygoing, calm, ruffle-no-feathers energy is what helped him through his formative years, helped him survive in a difficult environment...and yet those same qualities which might have served him and even saved him in his youth don't serve him as an NBA pro.
I truly mean the man no disrespect. I just see in him greatness that far too often manifests itself as merely goodness.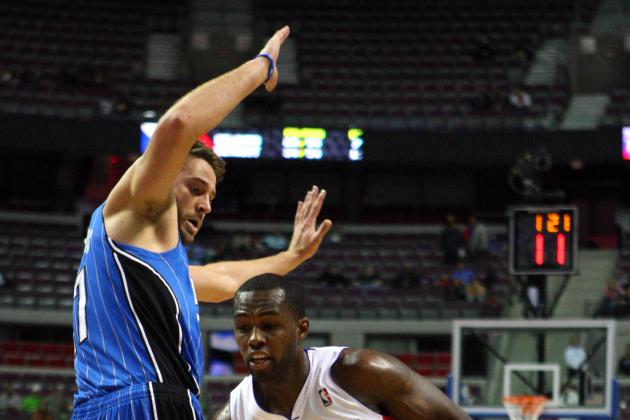 US PRESSWIRE
If Rodney Stuckey can put it all together for a full season, he'd be an All-Star.
Rodney Stuckey, like Prince, has serious ability and potential. Joe Dumars was originally so high on Stuckey he began grooming him to replace Chauncey Billups, a five-time All-Star and three-time All-NBA player.
But the Stuckey-at-the-Point Experiment, like Betamax and the motorized surfboard, was finally pronounced a failure. Instead, the Pistons returned Stuckey to his natural shooting guard position, and asked him to create shots, attack the basket, penetrate and draw double coverage or contact.
When he does attack the basket, Stuckey has improved his ability to get fouled, getting a career-best seven free-throw attempts per 36 minutes last year, compared to 6.3 and 5.2 in the two years prior. When he wants to be, he can be the Pistons' best and most dangerous offensive player.
But he seems to take plays off, quarters off, nights off.
Remember how we used to say Justin Verlander had all this potential but wasn't putting it all together? No, you forgot? Oh yeah, everybody used to say that...up until 2009. That's when Verlander changed his mentality. He started stalking the dugout before the game, earbuds in, a brand new scowl on his face, creating a take-no-prisoners, defeat-the-enemy outlook each and every start—heck, each and every pitch. Verlander put it all together because he decided to put it all together.
Rodney Stuckey has to do the same. If he does it, he could be the Pistons' own version of Tyreke Evans, and a yearly All-Star candidate.
But we've been saying that about Stuckey for years now. He's got the ability. He just needs to decide to bring it, each and every night, on each and every play.
Starting now.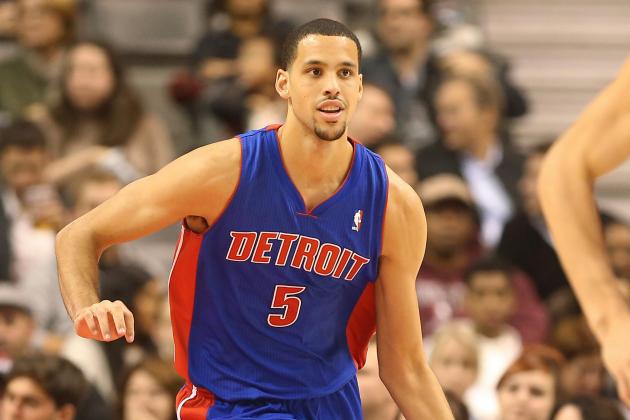 Tom Szczerbowski-US PRESSWIRE
Austin Daye's days are numbered in Detroit
Like Stuckey, Austin Daye was taken 15th overall. Unlike Stuckey, people aren't wishing he would bring it each and every night.
They're wondering whether he has anything to bring at all.
Once considered the heir apparent to Tayshaun Prince—who was taken eight spots lower than him in Prince's draft—Daye played with enough question marks in his second season that the Pistons decided to re-sign Prince.
After that, Daye proceeded to go from heir apparent to air apparent, shooting just 21 percent from three-point range last year, and effectively deleting his reputation as an outside sharpshooter.
Austin played just 14.7 minutes per game, averaging just 4.7 points and 2.2 rebounds. And on many nights, he looked absolutely lost on the court, like a contestant on the Voice who lip-synced his way onto the show.
Daye put on some weight, and the Pistons plan to give him some time at the 4, but with the superior Jerebko there and Monroe poised to move to power forward as well, the smart money says Austin Daye will get a lot of splinters this season. Yes, he managed to beat out Terrence Williams for a roster spot, but had Daye not had a guaranteed contract, it might well have been a different story.
The Pistons won't say it publicly, but privately they know Austin Daye is a bust, and that Daye's days are numbered in Detroit. I agree. And I dare Daye to prove us both wrong. (It won't happen.)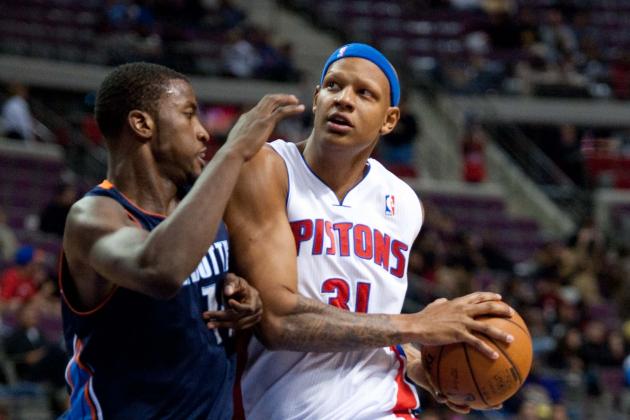 Tim Fuller-US PRESSWIRE
Unless Charlie shoots the lights out, you may not see much of him on the court this season.
It was a tough race between Daye and Villanueva, but since Charlie's contract is bigger, and since his expectations as a seventh overall pick and a premier second-tier free agent signing were much higher, Villanueva holds the top spot as the Pistons' most frustrating player.
Forget that he plays defense like Green Day plays Mantovani (hint: they don't). Villanueva's injured ankle, supposed to keep him out just a couple of weeks, sidelined him for two months. When he came back, he promptly injured his other ankle. But unlike previous years, where at least Pistons fans could count on his three-point scoring, Villanueva averaged only 7 points and 3.7 rebounds last year.
Charlie said it best himself: "Last year, I was nonexistent."
Unlike Daye, I have some hope for Villanueva. From all I've read, he seems both committed and revitalized by his newfound boxing regimen. The problem is, there may be nowhere for him to play. If Monroe moves to the 4, as is expected, then Charlie will be behind Jonas Jerebko on the depth chart. He'll have to shoot lights-out—and come up with another defensive strategy other than fouling--to grab himself meaningful minutes.
My guess is Charlie's going to be an insurance policy for the Pistons this season, in case of an injury to Jerebko or one of their other big men. And after this season, the Pistons will most probably finally use their amnesty on Villanueva, gleaning even more cap room to sign Josh Smith as Prince's replacement, and ending our massive frustration.
But I sincerely hope Villanueva proves me wrong. And Charlie, if you're reading this: no matter how much your punches have improved, no more shenanigans on the loading dock, OK?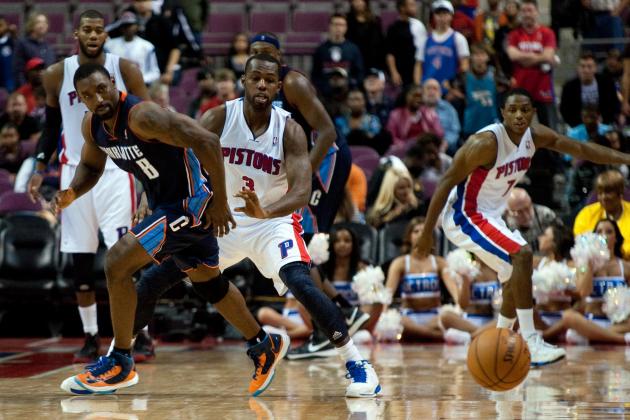 Tim Fuller-US PRESSWIRE
Fortunately, the Pistons have more to be optimistic about than frustrated.
The bad news is over, Pistons fans. The good news is, the top two most frustrating guys probably won't be seen much this season; the next two most frustrating guys are loaded with potential and, with our new young core, they have incentive to raise their games; and the last most frustrating guy is a really wonderful bench player.
There is much more to look forward to this season than there is to be frustrated about.
But if, sometime this season, Charlie V. lets another opposing player blow past him, or Austin Daye misses another three, remember—you're not alone in your frustration. This article is proof.
And if that doesn't help, steal a glance at Automotion. That usually works for me.